Ramelli, Ilaria 1973-
Overview
| | |
| --- | --- |
| Works: | 124 works in 435 publications in 6 languages and 5,332 library holdings |
| Genres: | History Criticism, interpretation, etc Biography‡vApocryphal and legendary literature Conference papers and proceedings |
| Roles: | Author, Editor, Translator, wst, Corrector, Author of introduction, Annotator |
| Classifications: | B577.H42, 188 |
Most widely held works by Ilaria Ramelli
Hierocles the Stoic : elements of ethics, fragments and excerpts
by
Ilaria Ramelli
( )
25 editions published between
2009
and 2014 in
English
and
Greek, Ancient
and held by 1,715 WorldCat member libraries worldwide
"Hierocles, the Stoic philosopher of the early imperial age, is a crucial witness to Middle and Neo-Stoicism, especially with regard to their ethical philosophy. In this volume, all of Hierocles' surviving works are translated into English for the first time, with the original Greek and a facing English translation: the Elements of Ethics, preserved on papyrus, along with all fragments and excerpts from the treatise On Duties, collected by Stobaeus in the fifth century C.E. and dealing mainly with social relationships, marriage, household, and family. In addition, Ramelli's introductory essay demonstrates how Hierocles was indebted to the Old Stoa and how he modified its doctrines in accord with Middle Stoicism and further developments in philosophy as well as his personal views. Finally, Ramelli's extensive commentary on Hierocles' works clarifies philosophical questions raised by the text and provides rich and updated references to existing scholarship."--Jacket
The Christian doctrine of Apokatastasis : a critical assessment from the New Testament to Eriugena
by
Ilaria Ramelli
( )
12 editions published between
2009
and 2013 in
English
and held by 876 WorldCat member libraries worldwide
The theory of 'apokatastasis' (restoration), most famously defended by the Alexandrian exegete, philosopher and theologian Origen, has its roots in both Greek philosophy and Jewish-Christian Scriptures and literature, and became a major theologico-soteriological doctrine in Patristic. This monograph - the first comprehensive, systematic scholarly study of the history of the Christian 'apokatastasis' doctrine - argues its presence and Christological and Biblical foundation in numerous Christian thinkers, including Syriac, and analyses its origins, meaning, and development over eight centuries, from the New Testament to Eriugena, the last Patristic philosopher. Surprises await readers of this book, which results from fifteen years of research. For instance, they will discover that even Augustine, in his anti-Manichaean phase, supported the theory of universal restoration
Evagrius, Kephalaia gnostika : a new translation of the unreformed text from the Syriac
by
Evagrius
( )
7 editions published in
2015
in
English
and held by 350 WorldCat member libraries worldwide
Evagrius exerted a striking impact on the development of spirituality, of Origenism, and of the spiritual interpretation of the Bible in Greek, Syriac, and Latin Christianity. This English translation of the most complete Syriac version of Kephalaia Gnostika makes Evagrius Ponticus's thoughts concerning reality, God, protology, eschatology, anthropology, and allegorical exegesis of Scripture widely available. (Publisher)
Terms for eternity : aiônios and aïdios in classical and Christian texts
by
Ilaria Ramelli
( )
13 editions published between
2007
and 2013 in
English
and
Undetermined
and held by 342 WorldCat member libraries worldwide
"What is truly timeless? This book explores the language of eternity, and in particular two ancient Greek terms that may bear the sense of "eternal": aionios and aidios. This fascinating linguistic chronicle is marked by several milestones that correspond to the emergence of new perspectives on the nature of eternity. These milestones include the advent of Pre-Socratic physical speculation and the notion of limitless time in ancient philosophy, the major shift in orientation marked by Plato's idea of a timeless eternity, and the further development of Pre-Socratic insights by Epicurean and Stoic thinkers. From the biblical perspective, the intersection of Greek and Hebrew conceptions is reflected in Septuagint, as well as new inflections in popular terminology in the Hellenistic and Roman periods, and in the role of eternity in the theology of the New Testament. The profound cross-fertilization of Christian and classical philosophical conceptions in the works of the Church fathers and their contemporaries is explored, bringing the topic into the Patristic period. Christian theology in the first five centuries of the Common Era and its choice of vocabulary prove to be most revealing of larger doctrinal commitments. Above all debate raged on the question of eternal damnation versus the idea (deemed heretical in the Christian church after the formal condemnation of Origenism) of apocastastis or universal salvation -- that is, the belief that the wicked are not condemned to eternal punishment but will eventually be included among the saved. Terminology for "eternity" is often at the core of how these issues were debated, and helps to identify which writers inclined to one or the other view of the matter."--Publisher's website
Social justice and the legitimacy of slavery : the role of philosophical asceticism from ancient Judaism to late antiquity
by
Ilaria Ramelli
( Book )
7 editions published between
2016
and 2017 in
English
and held by 296 WorldCat member libraries worldwide
"Were slavery and social injustice leading to dire poverty in antiquity and late antiquity only regarded as normal, "natural" (Aristotle), or at best something morally "indifferent" (the Stoics), or, in the Christian milieu, a sad but inevitable consequence of the Fall, or even an expression of God's unquestionable will? Social Justice and the Legitimacy of Slavery shows that there were also definitive condemnations of slavery and social injustice as iniquitous and even impious, and that these came especially from ascetics, both in Judaism and in Christianity, and occasionally also in Greco-Roman ("pagan") philosophy. Ilaria L. E. Ramelli argues that this depends on a link not only between asceticism and renunciation, but also between asceticism and justice, at least in ancient and late antique philosophical asceticism. Ramelli provides a careful investigation through all of Ancient Philosophy (not only Aristotle and the Stoics, but also the Sophists, Socrates, Plato, the Neoplatonists, and much more), Ancient to Rabbinic Judaism, Hellenistic Jewish ascetic groups such as the Essenes and the Therapeutae, all of the New Testament, with special focus on Paul and Jesus, and Greek, Latin, and Syriac Patristic, from Clement and Origen to the Cappadocians, from John Chrysostom to Theodoret to Byzantine monastics, from Ambrose to Augustine, from Bardaisan to Aphrahat, without neglecting the Christianized Sentences of Sextus. In particular, Ramelli considers Gregory of Nyssa and the interrelation between theory and practice in all of these ancient and patristic philosophers, as well as to the parallels that emerge in their arguments against slavery and against social injustice." --
Early Christian and Jewish narrative : the role of religion in shaping narrative forms
( Book )
9 editions published in
2015
in
English
and held by 156 WorldCat member libraries worldwide
"The authors of this volume elucidate the remarkable role played by religion in the shaping and reshaping of narrative forms in antiquity and late antiquity in a variety of ways. This is particularly evident in ancient Jewish and Christian narrative, which is in the focus of most of the contributions, but also in some "pagan" novels such as that of Heliodorus, which is dealt with as well in the third part of the volume, both in an illuminating comparison with Christian novels and in an inspiring rethinking of Heliodorus's relation to Neoplatonism. All of these essays, from diAerent perspectives, illuminate the interplay between narrative and religion, and show how religious concerns and agendas shaped narrative forms in Judaism and early Christianity. A series of compelling and innovative articles, all based on fresh and often groundbreaking research by eminent specialists, is divided into three large sections: part one deals with ancient Jewish narrative, and part two with ancient Christian narrative, in particular gospels, acts, biographies, and martyrdoms, while part three oAers a comparison with "pagan" narrative, and especially the religious novel of Heliodorus, both in terms of social perspectives and in terms of philosophical and religious agendas. Like the essays collected by Marília Futre Pinheiro, Judith Perkins, and Richard Pervo in 2013, which investigate the core role played by narratives in Christian and Jewish self-fashioning in the Roman Empire, the present volume fruitfully bridges the disciplinary gap between classical studies and ancient Jewish and Christian studies, oAers new insights, and hopefully opens up new paths of inquiry."--
Bardaisan of Edessa : a reassessment of the evidence and a new interpretation
by
Ilaria Ramelli
( Book )
8 editions published in
2009
in
English
and held by 103 WorldCat member libraries worldwide
After the presentation of the status quaestionis and open problems, and of the methodological guidelines of the present investigation, there comes a critical and comparative analysis of the sources on Bardaisan (Julius Africanus and Didymus; Hippolytus; Porphyry; the Liber Legum Regionum; the Acts of Thomas; Eusebius; Gregory of Nyssa; Diodore of Tarsus; the Vita Abercii; Jerome; the Dialogue of Adamantius; Kphrem; Epiphanias (thence Augustine and the Praedestinatus); Sozomen, Theodoret, and Nicephorus; Movses Xorenac'i; Rabbula of Edessa; the Chronicon Edessenum and other Syriac Chronicles; Philoxenus of Mabbug; Isho'dad of Merw; Jacob of Rdessa; the cosmological accounts: Barhadbshabba Bar Konai, Abu Qurra, Moses Bar Kepha, (Ps.) John of Dara, Agapius, Michel the Syrian, Barhebraeus, Mu'taman, comparisons with Ephrem and Ps. Maruta; other biographical and/or doxographical accounts), which allows for a rcinterpretation of his thought. The contribution of this study to research lies in pointing out profound points of contact between Bardaisan, Origen, and their schools; the right evaluations of the fragments preserved by Porphyry; the role of Plato's Timaeus and Middle Platonism in Bardaisan's thought, in addition to Stoicism. A critical assessment of the reliability of the sources undermines the picture of a Gnostic and heretic Bardaisan. Some charges against him (like those, similar, against Origen) prove unfounded. Bardaisan's thought emerges as a deeply Christian thought, depending on the exegesis of Scripture, read in the light of Greek philosophy (an enterprise accomplished by Philo earlier, and in Bardaisan's day by Origen). Positive ancient sources present him as a deacon or even a presbyter, as an author of refutations of Marcionism and Gnosticism, and as a confessor of the Christian faith during a persecution. It is telling that the most positive sources on Bardaisan are authors belonging to the Origenian tradition.--P. [4] de la couv
Compendio di teologia greca
by
Lucius Annaeus Cornutus
( Book )
15 editions published in
2003
in
Italian
and
Greek, Ancient
and held by 93 WorldCat member libraries worldwide
Le nozze di Filologia e Mercurio
by
Martianus Capella
( Book )
11 editions published between
2001
and 2004 in
Italian
and
Latin
and held by 79 WorldCat member libraries worldwide
more
fewer
Audience Level
0

1
Kids
General
Special
Audience level: 0.30 (from 0.05 for Hierocles ... to 0.94 for Corpus Her ...)
Related Identities
Associated Subjects
Allegory
Apokatastasis (The Greek word)
Asclepius
Bardesanes,
Christian literature, Early
Civilization
Corpus Hermeticum
Cosmology, Ancient
De anima et resurrectione (Gregory, of Nyssa, Saint)
De nuptiis Philologiae et Mercurii (Martianus Capella)
Eternity
Ethics
Ethics, Ancient
Etruscans
Europe--Etruria
Future life
Gnostikos (Evagrius, Ponticus)
Gods, Greek
Greece
Gregory,--of Nyssa, Saint,
Hierocles,--the Stoic,
Immortality--Christianity
Law, Greek
Learning and scholarship
Learning and scholarship in literature
Literature
Literature--Philosophy
Mercury--(Roman deity)
Mythology, Classical
Mythology, Greek
Mythology, Greek, in literature
Nomos (The Greek word)
Origen
Philosophy
Philosophy, Ancient
Religion and literature
Restorationism--History of doctrines
Resurrection
Rhetoric, Ancient
Romans
Rome (Empire)
Slavery
Slavery and Judaism
Slavery and the church
Slavery--Philosophy
Soul--Christianity
Stoics
Theologiae Graecae compendium (Cornutus, Lucius Annaeus)
Theology, Doctrinal
Timaeus (Plato)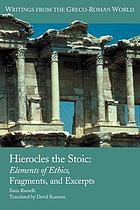 Covers
Alternative Names
Ilaria Ramelli Italiaans historica

Ilaria Ramelli Italian historian, author and academic

Ilaria Ramelli storica, autrice e accademica italiana

Ramelli, I.

Ramelli, I. 1973-

Ramelli, I. (Ilaria), 1973-

Ramelli, Ilaria L.E.

Ramelli Ilaria L. E. 1973-....

Languages