Angilirq, Paul Apak 1954-1998
Most widely held works by Paul Apak Angilirq
Atanarjuat = The fast runner
by
Zacharias Kunuk
( Visual )
69 editions published between
2000
and 2014 in 5 languages and held by 1,334 WorldCat member libraries worldwide
A retelling of an Inuit legend of love, jealousy, murder and revenge in the Igoolik brothers Atanarjuat and Amaqjuaq. Evil in the form of an unknown shaman divides a small community of Inuit, Twenty years later, two brothers emerge to challenge the evil order: Amaqjuag, the Strong One, and Atanarjuat, the Fast Runner. Atanarjuat wins the hand of the lovely Atuat away from the boastful son of the camp leader, Oki, who wows to get even. Oki ambushes the brothers in their sleep, killing Amaqjuaq, as Atanarjuat miraculously escapes running naked over the spring sea ice
Arviq! = Bowhead!
( Visual )
5 editions published between
1998
and 2009 in
Inuktitut
and
English
and held by 22 WorldCat member libraries worldwide
For untold centuries Inuit hunted the huge bowhead, or 'right' whale, as a main source of food, heating oil and building materials. Starting in the 1700's until the close of the 19th century, commercial whalers from Europe and America wiped out almost the entire world's population of bowhead whales. In the mid-20th century, the Canadian government made the eastern Arctic bowhead hunt illegal. In 1994 one of Canada's most respected Inuit elders, 95 year old Noah Piugatuk, announced that he wanted to taste the bowhead whale one more time before he died. Honouring the elder's wish, Piugatuk's son-in-law caught an illegal whale near Igloolik. A few months later, the whale hunters were charged and ordered to stand trial. In June 1996, the government finally dropped all charges against the Igloolik hunters. In August 1996, Inuit hunters from across the arctic gathered in Repulse Bay to catch the first legal bowhead in more than forty years. Arviq! traces the history of the bowhead in the Arctic up to the first legal hunt in 1996
Atanarjuat : La légende de l'homme rapide
by
Zacharias Kunuk
( Visual )
6 editions published between
2002
and 2013 in 4 languages and held by 16 WorldCat member libraries worldwide
A small nomadic community is cursed by an unknown shaman. When Atanarjuat falls in love with a woman already promised to the son of the clan's leader, he has to fight for her. She is won by Atanarjuat and the leader plots to attack him in his sleep. Escaping, he sets off running across the ice, embarking on a harrowing adventure of survival in the brutal wilderness. He returns stronger and wiser to reclaim his life and stop the curse that has divided his people
Atanarjuat - die Legende vom schnellen Läufer
( Visual )
7 editions published between
2005
and 2011 in
Inuktitut
and held by 11 WorldCat member libraries worldwide
Ein Nomadenstamm, der seit Jahrhunderten am nördlichen Polarkreis in der kanadischen Arktis lebt, wird durch einen fremden Schamanen mit einem Fluch belegt. Rivalität, Hass und Machtgier zerstören das friedliche Zusammenleben der Inuit: Der alte Stammeshäuptling wird das erste Opfer des aufkeimenden Hasses. Dem hinterhältigen Sauri gelingt es, sich gegen seinen alten Rivalen Tulimaq zu behaupten und neuer Führer der Gemeinschaft zu werden. Auch Amaqjuaq und Atanarjuat, die wegen ihrer Geschicklichkeit im ganzen Stamm beliebten Söhne Tulimaqs, bekommen den Hass Sauris zu spüren. Jahre später sind Amaqjuaq, der Starke, und Atanarjuat, der schnelle Läufer, die besten Jäger ihres Stammes. Als Atanarjuat das Herz der schönen Atuat gewinnt, die dem prahlerischen Oki, Sauris Sohn, versprochen war, spitzt sich die Situation zu. Nachdem Atanarjuat in einem rituellen Kampf Oki besiegt und Atuat heiraten darf, schleichen sich Oki und zwei seiner Männer in das Zelt der schlafenden Brüder und versuchen, beide hinterrücks zu ermorden. Atanarjuat gelingt jedoch die Flucht über das ewige Eis. Völlig erschöpft und dem Tod durch Erfrieren nah findet er Unterschlupf bei einem alten Inuitpaar, das sich vor Jahren vom Stamm abgewendet hat und ein einsames Leben in der arktischen Tundra führt. Die beiden Alten verstecken ihn und pflegen ihn gesund. Doch irgendwann ist für Atanarjuat die Zeit gekommen, sich dem Fluch zu stellen und den ewigen Kreislauf von Rache und Hass endgültig zu brechen
Qimuksik = Dog team
( Visual )
2 editions published in
1994
in
Inuktitut
and held by 8 WorldCat member libraries worldwide
Igloolik, Spring 1945. While imparting knowledge to the next generation, one family travels in the immense and beautiful arctic during spring. Inuaraq teaches his young son how to survive in the old way: driving the dogs, building the igloo, catching seals on the open water, running down caribou to feed the family
Atanarjuat the fast runner = Atanarjuat : la légende de l'homme rapide
by
Zacharias Kunuk
( Visual )
1 edition published in
2002
in
Inuktitut
and held by 4 WorldCat member libraries worldwide
Dans une petite communauté d'inuit nomades, deux frères s'imposent pour défier le mal qui divise le groupe depuis vingt ans : Amaqjuaq, l'homme fort et Atanarjuat, l'homme rapide. Atanarjuat gagne la main de la ravissante Atuat au détriment d'Oki, le fils vantard du chef de campement qui jure de se venger ... Atanarjuat échappera-t-il au tourbillon de vengeance laissé derrière lui?
Avaja
( Visual )
2 editions published in
1994
in
Inuktitut
and held by 4 WorldCat member libraries worldwide
Spring 1945. Inuaraq's family finally arrives at Avaja to a warm welcome. But on the hill above the tents, they now find a wooden church and a priest. Sharing the fresh caribou feast, telling stories, Inuit are interrrupted by the bell ringing. Inside the church the sermon is clear: Paul 4:22, "Turn away from your old way of life."
Espíritu del Ártico
( Visual )
1 edition published in
2005
in
English
and held by 3 WorldCat member libraries worldwide
A retelling of an Inuit legend of love, jealousy, murder and revenge in the Igloolik region, focusing on two brothers: Atanarjuat and Amaqjuaq
Aiviaq = Walrus
( Visual )
2 editions published in
1995
in
Inuktitut
and held by 3 WorldCat member libraries worldwide
Aiviaq, Summer 1946. The Priest arrives to study Inuit life, to dig in the ancient ruins and to see the hunt. When it's time to go hunting, Inuaraq thinks the Priest will bring bad luck, but Qulitalik finally gives in. Out in the open water, cutting up walrus on an ice floe, Inuaraq's prediction almost comes true
more
fewer
Audience Level
0

1
Kids
General
Special
Audience level: 0.32 (from 0.27 for Atanarjuat ... to 0.96 for Atanarjuat ...)
Related Identities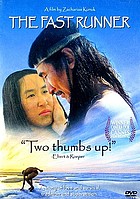 Alternative Names
Apak Angilirq, Paul

Apak Angilirq, Paul 1954-1998

Paul Apak Angilirq Canadees scenarioschrijver (1954-1998)

Paul Apak Angilirq Canadian screenwriter and film producer

Paul Apak Angilirq kanadischer Drehbuchautor und Filmproduzent

Пол Апак Ангилирк

Languages
Covers