Koller, Daphne
Most widely held works about Daphne Koller
Most widely held works by Daphne Koller
Probabilistic graphical models : principles and techniques
by
Daphne Koller
( Book )
15 editions published between
2009
and 2012 in
English
and held by 514 WorldCat member libraries worldwide
Proceedings of the annual Conference on Uncertainty in Artificial Intelligence, available for 1991-present. Since 1985, the Conference on Uncertainty in Artificial Intelligence (UAI) has been the primary international forum for exchanging results on the use of principled uncertain-reasoning methods in intelligent systems. The UAI Proceedings have become a basic reference for researches and practitioners who want to know about both theoretical advances and the latest applied developments in the field
TEDTalks : Daphne Koller - What We're Learning from Online Education
( Visual )
1 edition published in
2012
in
English
and held by 242 WorldCat member libraries worldwide
Educator Daphne Koller is enticing top universities to put their most intriguing courses online for free - not just as a service, but as a way to research how people learn. In this TEDTalk, Koller explains how Coursera, a social entrepreneurship company cofounded with Andrew Ng, tracks each keystroke, quiz, peer-to-peer discussion, and self-graded assignment to build an unprecedented pool of data on how knowledge is processed
From knowledge to belief
by
Daphne Koller
( Book )
7 editions published between
1993
and 1994 in
English
and held by 11 WorldCat member libraries worldwide
We use techniques from finite model theory to analyze the computational aspects of random worlds. The problem of computing degrees of belief is undecidable in general. However, for unary knowledge bases, a tight connection to the principle of maximum entropy often allows us to compute degrees of belief
Asymptotic conditional probabilities : the unary case
by
A. J Grove
( Book )
4 editions published in
1993
in
English
and held by 6 WorldCat member libraries worldwide
Abstract: "Motivated by problems that arise in computing degrees of belief, we consider the problem of computing asymptotic conditional probabilities for first-order sentences. Given first-order sentences [symbol] and [theta], we consider the structures with domain [1 ..., N] that satisfy [theta], and compute the fraction of them in which [symbol] is true. We then consider what happens to this fraction as N gets large. This extends the work on 0-1 laws that considers the limiting probability of first-order sentences, by considering asymptotic conditional probabilities. As shown in [Lio69, GHK93], in the general case, asymptotic conditional probabilities do not always exist, and most questions relating to this issue are highly undecidable. These results, however, all depend on the assumption that [theta] can use a nonunary predicate symbol. Liogon'kiĭ [Lio69] shows that if we condition on formulas [theta] involving unary predicate symbols only (but no equality or constant symbols), then the asymptotic conditional probability does exist and can be effectively computed. This is the case even if we place no corresponding restrictions on [symbol]. We extend this result here to the case where [theta] involves equality and constants. We show that the complexity of computing the limit depends on various factors, such as the depth of quantifier nesting, or whether the vocabulary is finite or infinite. We completely characterize the complexity of the problem in the different cases, and show related results for the associated approximation problem."
Representation dependence in probabilistic inference
by
Joseph Y Halpern
( Book )
2 editions published in
1995
in
English
and held by 6 WorldCat member libraries worldwide
Abstract: "Non-deductive reasoning systems are often representation dependent: representing the same situation in two different ways may cause such a system to return two different answers. This is generally viewed as a significant problem. For example, the principle of maximum entropy has been subjected to much criticism due to its representation dependence. There has, however, been almost no work investigating representation dependence. In this paper, we formalize this notion and show that it is not a problem specific to maximum entropy. In fact, we show that any probabilistic inference system that sanctions certain important patterns of reasoning, such as minimal default assumption of independence, must suffer from representation dependence. We then show that invariance under a restricted class of representation changes can form a reasonable compromise between representation dependence and other desiderata."
Random worlds and maximum entropy
by
A. J Grove
( Book )
2 editions published in
1994
in
English
and held by 3 WorldCat member libraries worldwide
Abstract: "Given a knowledge base KB containing first-order and statistical facts, we consider a principled method, called the random- worlds method, for computing a degree of belief that some formula [symbol] holds given KB. If the domain has size N, then we can consider all possible worlds, or first-order models, with domain [1 ..., N] that satisfy KB, and compute the fraction of them in which [symbol] is true. We define the degree of belief to be the asymptotic value of this fraction as N grows large. We show that when the vocabulary underlying [symbol] and KB uses constants and unary predicates only, we can naturally associate an entropy with each world. As N grows larger, there are many more worlds with higher entropy. Therefore, we can use a maximum entropy computation to compute the degree of belief. This result is in a similar spirit to previous work in physics (e.g., [Jay78]) and artificial intelligence (e.g., [PV89, Sha89]), but is far more general. Of equal interest to the actual results themselves are the numerous subtle issues we must address when formulating it. For languages with binary predicate symbols, the random-worlds method continues to make sense, but there no longer seems to be any useful connection to maximum entropy. It is difficult to see how maximum entropy can be applied at all. In fact, results from [GHK93a] show that even generalizations of maximum entropy are unlikely to be useful. These observations suggest unexpected limitations to the applicability of maximum entropy methods."
Unraveling the genetics of disease using structured probabilistic models
by Alexis Jane Battle
( )
1 edition published in
2013
in
English
and held by 2 WorldCat member libraries worldwide
Recent technological advances have allowed us to collect genomic data on an unprecedented scale, with the promise of revealing genetic variants, genes, and pathways disrupted in clinically relevant human traits. However, identifying functional variants and ultimately unraveling the genetics of complex disease from such data have presented significant challenges. With millions of genetic factors to consider, spurious associations and lack of statistical power are major hurdles. Further, we cannot easily assess functional roles even for known trait-associated variants, particularly for those that lie outside of protein-coding regions of the genome. To address these challenges in identifying the genetic factors underlying complex traits, we have developed probabilistic machine learning methods that leverage biological structure and prior knowledge. In this thesis, we describe four applications of such models. First, we present a method for reconstructing causal gene networks from interventional genetic interaction data in model organisms. Here, we are able to identify intricate functional dependencies among hundreds of genes affecting a complex trait. We have applied this method to understanding the genetics of protein folding in yeast, where we demonstrate ability to recapitulate the details, including ordering, of known pathways, and make novel functional predictions. Second, we present PriorNet, a method for incorporating gene network and path- way information into the analysis of population-level studies of genetic variation in human disease. PriorNet utilizes a flexible, Markov Random Field prior to propagate information between functionally related genes and related diseases, in order to improve statistical power in large-scale disease studies. We demonstrate a significant improvement in the discovery of disease-relevant genes in studies of three autoimmune diseases. Next, we extend the intuitions of PriorNet in a method for identifying interactions between genetic variants in human disease, to begin to understand how genes work together in complex disease processes. Our method, GAIT, leverages gene networks, network structure, and other patterns to adaptively prioritize candidate in- teractions for testing, and dramatically reduce the burden of multiple hypothesis correction to identify a large number of interactions in diverse human disease studies. Finally, we discuss the identification of functional variants on a large scale through the use of gene expression as a high-resolution cellular phenotype. We have sequenced RNA from 922 genotyped individuals to provide a direct window into the distribution, properties, and consequences of thousands of regulatory variants affecting diverse gene expression traits including splicing and allelic expression. From the identified variants, we also train a model, LRVM, for predicting regulatory consequences based on location and genomic properties of each variant
more
fewer
Audience Level
0

1
Kids
General
Special
Audience level: 0.55 (from 0.19 for TEDTalks : ... to 0.95 for Sensors & ...)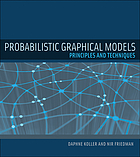 Alternative Names
Dafne Kollere

Daphne Koller amerykańska informatyczka

Daphne Koller informatica statunitense

Daphne Koller informatica uit Israël

Daphne Koller informaticienne américaine

Daphne Koller profesora estadounidense de informática

Daphne Koller US-amerikanische Informatikerin

Koller, Daphne

Дафна Коллер

Дафни Колер

Դաֆնա Կոլլեր

דפנה קולר

דפנה קולר מהנדסת ישראלית

دافنی کالر

دافنی کالەر

ダフニー・コラー

達芙妮·科勒

Languages
Covers