Kohayakawa, Yoshiharu
Most widely held works by Yoshiharu Kohayakawa
Fourth IFIP International Conference on Theoretical Computer Science - TCS 2006 : IFIP 19th World Computer Congress, TC-1, Foundations of Computer Science, August 23-24, 2006, Santiago, Chile
by
Gonzalo Navarro
( Book )
15 editions published in
2006
in
English
and held by 65 WorldCat member libraries worldwide
International Federation for Information Processing The IFIP series publishes state-of-the-art results in the sciences and technologies of information and communication. The scope of the series includes: foundations of computer science; software theory and practice; education; computer applications in technology; communication systems; systems modeling and optimization; information systems; computers and society; computer systems technology; security and protection in information processing systems; artificial intelligence; and human-computer interaction. Proceedings and post-proceedings of referred international conferences in computer science and interdisciplinary fields are featured. These results often precede journal publication and represent the most current research. The principal aim of the IFIP series is to encourage education and the dissemination and exchange of information about all aspects of computing. For more information about the 300 other books in the IFIP series, please visit www.springer.com. For more information about IFIP, please visit www.ifip.org
A two-player game on graph factors
by Renato Jos da Silva Carmo
( Book )
1 edition published in
2004
in
English
and held by 1 WorldCat member library worldwide
Abstract: "Motivated by a complexity issue raised in the analysis of a distributed database query evaluation problem [2], we introduce and analyze a two-player game on bipartite graphs."
Querying priced information in databases : the conjunctive case
by Eduardo Laber
( Book )
1 edition published in
2003
in
English
and held by 1 WorldCat member library worldwide
Abstract: "Query optimization that involves expensive predicates have received considerable attention in the database community. Typically, the output to a database query is a set of tuples that satisfy certain conditions, and, with expensive predicates, these conditions may be computationally costly to verify. In the simplest case, when the query looks for the set of tuples that simultaneously satisfy k expensive predicates, the problem reduces to ordering the evaluation of the predicates so as to minimize the time to output the set of tuples comprising the answer to the query. Here, we give a simple and fast deterministic k-approximation algorithm for this problem, and prove that k is the best possible approximation ratio for a deterministic algorithm, even if exponential time algorithms are allowed. We also propose a randomized, polynomial time algorithm with expected approximation ratio 1 + [square root of 2]/2 [approximately =] 1.707 for k = 2, and prove that 3/2 is the best possible expected approximation ratio for randomized algorithms. The approximation ratio achieved by our algorithm is not concentrated around its mean; however, we show that this limitation is inherent to the problem, rather than a weakness of our approach: we show that for any 0 [<or =] [epsilon] [<or =] 1, no randomized algorithm achieves approximation ratio smaller than 1 + [epsilon] with probability larger than (1 + [epsilon)/2."
Convergência na teoria de grafos aleatórios
by Alexandre Scalzitti
( Book )
1 edition published in
1999
in
Portuguese
and held by 1 WorldCat member library worldwide
O objeto de estudo desta dissertação é o modelo 'G IND.n, p(n)' de grafos aleatórios. Estudamos a probabilidade de 'G IND.n, p(n)' satisfazer propriedades que podem ser expressas numa teoria de primeira ordem de grafos. O estudo destaprobabilidadeé feito em termos assintóticos, ou seja, quando o número de vértices n de 'G IND.n, p(n)' tende ao infinito. Particularmente, estamos interessados no caso em que a probabilidade acima mencionada converge para 0 ou para 1 (leizero-um). Como ferramenta no estudo dessa probabilidade, utilizamos o Jogo de Ehrenfeucht. Apresentamos dois importantes resultados na área: o de Glebskii-Fagin e de Shelah-Spencer
O número cromático de grafos-distância sobre os inteiros
by Pavlos B Konstadinidis
( Book )
1 edition published in
2005
in
Portuguese
and held by 1 WorldCat member library worldwide
A maior parte dessa dissertação consiste em uma exposição dos resultados gerais mais importantes conhecidos atualmente que tratam do cálculo de x(Z(D)) para diversos tipos de conjuntos D que contém 'Z IND. +'
more
fewer
Audience Level
0

1
Kids
General
Special
Audience level: 0.59 (from 0.50 for Querying p ... to 0.96 for Upper boun ...)
Related Identities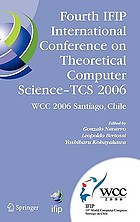 Languages
Covers