Woods, Thomas E.
Most widely held works by Thomas E Woods
The politically incorrect guide to American history
by
Thomas E Woods
( Book )
17 editions published between
2004
and 2008 in 3 languages and held by 909 WorldCat member libraries worldwide
Looks at American history with an irreverant and hard-hitting look at the nation's important people and events, concluding that the American Revolution was fought by conservatives and the First Amendment accepted state-sponsored churches
33 questions about American history you're not supposed to ask
by
Thomas E Woods
( Book )
3 editions published in
2007
in
English
and held by 851 WorldCat member libraries worldwide
Libertarian author Woods sets the record straight with a provocative look at the hidden truths about our nation's history--the ones that have been buried because they're too politically incorrect to discuss. Woods draws on real scholarship--as opposed to the myths, platitudes, and slogans so many other "history" books are based on--to ask and answer tough questions about American history. Woods's eye-opening exploration reveals how much has been whitewashed from the historical record, overlooked, and skewed beyond recognition.--From publisher description
How the Catholic Church built Western civilization
by
Thomas E Woods
( Book )
20 editions published between
2005
and 2015 in 5 languages and held by 792 WorldCat member libraries worldwide
Western civilization has given us the miracles of modern science, the wealth of free-market economics, the security of the rule of law, a unique sense of human rights and freedom, charity as a virtue, splendid art and music, a philosophy grounded in reason, and innumerable other gifts that we take for granted as the wealthiest and most powerful civilization in history. But what is the ultimate source of these gifts? Author Woods maintains: the Catholic Church. In this book, you'll learn: why modern science was born in the Catholic Church; how Catholic priests developed the idea of free-market economics five hundred years before Adam Smith; how the Catholic Church invented the university; why what you know about the Galileo affair is wrong; how Western law grew out of Church canon law; and how the Church humanized the West by insisting on the sacredness of all human life.--From publisher description
We who dared to say no to war : American antiwar writing from 1812 to now
by
Thomas E Woods
( Book )
8 editions published in
2008
in
English
and
Undetermined
and held by 633 WorldCat member libraries worldwide
A collection of speeches, articles, poetry, book excerpts, and political cartoons from the American antiwar tradition beginning with the War of 1812 offers the full range of the subject's richness and variety, with contributions from such notables as Daniel Webster, Mark Twain, Andrew Carnegie, and Patrick Buchanan
The church confronts modernity : Catholic intellectuals and the progressive era
by
Thomas E Woods
( Book )
17 editions published between
2004
and 2007 in
English
and held by 413 WorldCat member libraries worldwide
"As the twentieth century opened, American intellectuals grew increasingly sympathetic to Pragmatism and empirical methods in the social sciences. The Progressive program as a whole - in the form of Pragmatism, education, modern sociology, and nationalism - seemed to be in agreement on one thing: everything was in flux. The dogma and "absolute truth" of the Church were archaisms, unsuited to modern American citizenship and at odds with the new public philosophy being forged by such intellectuals as John Dewey, William James, and the New Republic magazine. Catholics saw this new public philosophy as at least partly an attack on them." "Focusing on the Catholic intellectual critique of modernity during the period immediately before and after the turn of the twentieth century, this book examines how the Catholic Church attempted to retain its identity in an age of pluralism. It shows a Church fundamentally united on major issues - quite unlike the present-day Catholic Church, which has been the site of a low-intensity civil war since the close of the Second Vatican Council in 1965. Defenders of the faith opposed James, Dewey, and other representatives of Pragmatism as it played out in ethics, education, and nationalism. Their goals were to found an economic and political philosophy based on natural law, to appropriate what good they could find in Progressivism to the benefit of the Church, and to make America a Catholic country." "The Church Confronts Modernity explores how the decidedly nonpluralistic institution of Christianity responded to an increasingly pluralistic intellectual environment. In a culture whose chief value was pluralism, they insisted on the uniqueness of the Church and the need for making value judgments based on what they considered a sound philosophy of humanity. In neither capitulating to the new creed nor retreating into a self-righteous isolation, American Catholic intellectuals thus laid the groundwork for a half-century of intellectual vitality."--Jacket
Nullification : how to resist Federal tyranny in the 21st century
by
Thomas E Woods
( Book )
3 editions published in
2010
in
English
and held by 405 WorldCat member libraries worldwide
Asserts that nullification is the constitutional remedy envisioned by the nation's founders to be used to resist Federal power. Presents documents showing the rationale used by States in historic debates
The politically incorrect guide to American history
by
Thomas E Woods
( )
9 editions published between
2005
and 2008 in
English
and held by 302 WorldCat member libraries worldwide
Everything, well, almost everything, you know about American history is wrong because most textbooks and popular history books are written by left-wing academic historians who treat their biases as fact. But fear not; Professor Thomas Woods refutes the popular myths in The politically incorrect guide to American history. Professor Woods's book reveals facts that you won't be, or never were, taught in school. It tells you about the "Books You're Not Supposed to Read" and takes you on a fast paced, politically incorrect tour of American history that will give you all the information you need to battle and confound left-wing professors, neighbors, and friends
Rollback : repealing big government before the coming fiscal collapse
by
Thomas E Woods
( Book )
1 edition published in
2011
in
English
and held by 289 WorldCat member libraries worldwide
America is on the brink of financial collapse. Decades of political overpromising and underfunding have created a wave of debt that could swamp our already feeble economy. And the politicians' favorite tricks--raising taxes, borrowing from foreign governments, and printing more money--will only make it worse. Only one thing might save us: Roll back the government. Historian Thomas E. Woods, Jr. explains that we may still have a chance to avert total economic disaster--but only by completely changing our understanding of government. With bracing candor, he dissects just how the political class has nearly destroyed America's economy, and suggests how the coming collapse can be turned to your advantage--and the advantage of all who believe in liberty and limited government.--From publisher description
more
fewer
Audience Level
0

1
Kids
General
Special
Audience level: 0.22 (from 0.06 for The church ... to 0.55 for The politi ...)
Associated Subjects
Alien and Sedition laws, 1798
American Revolution (1775-1783)
Bailouts (Government policy)
Calhoun, John C.--(John Caldwell),
Catholic Church
Choate, Rufus,
Christianity and culture
Civilization, Modern
Civilization, Western
College choice
Constitution (United States)
Constitutional history
Economic forecasting
Economic history
Economic policy
Economics--Religious aspects--Catholic Church
Embargo (1807-1809)
Executive power
Finance--Government policy
Financial crises
Free enterprise
Free enterprise--Religious aspects--Catholic Church
Global Financial Crisis (2008-2009)
Government spending policy
History
Influence (Literary, artistic, etc.)
Jackson, Andrew,
Jefferson, Thomas,
Kentucky and Virginia resolutions of 1798
Legislative power
Madison, James,
Monetary policy
Nullification (States' rights)
Pacifism
Peace movements
Political correctness
Political questions and judicial power
Political science
Political science--Philosophy
Politics and government
Reconstruction (United States : 1865-1877)
Secession
Theology, Doctrinal
Trumbull, Jonathan,
United States
Universities and colleges
War
War--Prevention
Welfare state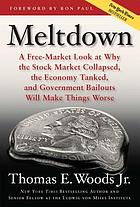 Alternative Names
Thomas Woods Amerikaans historicus

Thomas Woods amerikansk författare och historiker

Thomas Woods amerikansk skribent og historikar

Thomas Woods amerikansk skribent og historiker

Thomas Woods amerykański historyk i pisarz

Thomas Woods storico e scrittore statunitense

Woods, Thomas.

تامس وودز تاریخ‌نگار و نویسنده آمریکایی

توماس وودس

ウッズ, トーマス

トーマス・ウッズ

托马斯·伍兹

Languages
Covers