Wiseman, Ed
Most widely held works by Ed Wiseman
If you give a mouse a cookie
by
Laura Joffe Numeroff
( Visual )
7 editions published between
1988
and 2006 in
English
and held by 270 WorldCat member libraries worldwide
A reading of the book, "If you give a mouse a cookie" by Laura Joffe Numeroff. Discusses chain reactions from a bowling alley, leading into the reading of the main story. Then it's off to a factory where bowling balls are made and a domino expert demonstrates how he designs chain reactons as he sets up a domino art event. Reviews: "This is the key to the kingdom" by Diane Worfolk Allison, "The house that Jack built" illustrated by Jebby Stow, and "Smart dog" by Ralph Leemis
The piggy in the puddle
( Visual )
4 editions published between
1992
and 2008 in
English
and held by 233 WorldCat member libraries worldwide
Host LeVar Burton intoduces the art of claymation and participates in creating a production of "The Piggy in the puddle" by Charlotte Pomerantz. Also includes booktalks about "This house is made of mud" by Ken Buchanan, "The Hippopotamus song" by Michael Flanders and Donald Swann, and "Oink" by Arthur Geisert
If you give a mouse a cookie
( Visual )
3 editions published between
1993
and 2008 in
English
and held by 205 WorldCat member libraries worldwide
A reading of the book, "If you give a mouse a cookie" by Laura Joffe Numeroff. Discusses chain reactions from a bowling alley, leading into the reading of the main story. Then it's off to a factory where bowling balls are made and a domino expert demonstrates how he designs chain reactons as he sets up a domino art event. Reviews: "This is the key to the kingdom" by Diane Worfolk Allison, "The house that Jack built" illustrated by Jebby Stow, and "Smart dog" by Ralph Leemis
The secret shortcut
by
Mark Teague
( Visual )
4 editions published between
2000
and 2008 in
English
and held by 194 WorldCat member libraries worldwide
In this math-based episode, LeVar Burton spends time in New York City's Central Park, where he takes us on an orienteering excursion using a map and a compass to find special flags placed around the park. Featured book: The secret shortcut, by Mark Teague. Because Wendell and Floyd have a problem getting to school on time, they decide to take a shortcut which leads to unexpected adventures
How much is a million?
by
David M Schwartz
( Visual )
2 editions published between
1996
and 2003 in
English
and held by 193 WorldCat member libraries worldwide
Using New York once again, LeVar takes a stab at a vast array of numbers: How much food is delivered in a stadium? How many tickets are counted? How many people are expected to come and watch a football game? LeVar even takes the viewers on a tour of a factory where millions of crayons are made every year. Nick Sullivan, along with a curious of children, read How Much Is a Million?. In the book, they explore how to measure large sums like million, billion, and trillion, and how they would be explained in different terms, like how long would it take you to count up that high, how big a gold fish bowl should be to hold that many fish, and so on. In this unedited, original episode of Reading Rainbow, join LeVar Burton on an educational and entertaining adventure through classic books, video field trips and the always favorite "kid book reviews."
Always my dad
( Visual )
3 editions published between
2003
and 2008 in
English
and held by 173 WorldCat member libraries worldwide
A girl, whose parents are divorced, doesn't see her father very often but frequently thinks about him and treasures the time they have together. Other segments include: Family day picnic: LeVar joins a family day picnic and shares how he grew up in a single-parent family ; Love to go around: meet a single parent family and see how these four children and their father manage their lives together by sharing lots of love ; A special bond: a boy who doesn't hear from his father often shares how the Big Brother Big Sister program has paired him with a special friend
Dinosaur Bob and his adventures with the family Lazardo
by William Joyce
( Visual )
4 editions published between
2003
and 2008 in
English
and held by 168 WorldCat member libraries worldwide
Featured book Dinosaur Bob and his adventures with the family Lazardo about a dinosaur brought home from Africa which earns his right to stay in town by saving the baseball team from another loss is read by Ed Asner. Host LeVar Burton goes to the Oakland Athletics training camp, and watches a youth softball game. Reviewed books are Ronald Morgan goes to bat, Old Turtle's baseball stories and Casey at the bat
Badger's parting gifts
( Visual )
4 editions published between
2001
and 2007 in
English
and held by 154 WorldCat member libraries worldwide
After badger's death his friends comfort themselves by remembering personal moments and the good times they shared with their beloved pal. Other segments include: In remembrance: LeVar shares fond memories of his grandmother and her wonderful cooking. LeVar joins kids at Staten Island Academy working on artwork in remembrance of loved ones ; Let the spirit move you: a dancer at Alvin Ailey Dance Company shares how the founder's spirit is still present
Snowy day : stories and poems
( Visual )
5 editions published between
1991
and 2008 in
English
and held by 152 WorldCat member libraries worldwide
Inspired by "Snowy day : stories and poems," edited by Caroline Feller Bauer. Host LeVar Burton travels to Jackson Hole, Wyoming and viewers can see the variety of ways to enjoy the snow and escape the winter's chills. Reviewed books are "Winter" by Ron Hirschi; "Stopping by woods on a snowy evening" by Robert Frost, illustrated by Susan Jeffers; "Over the river and through the woods" by Lydia Maria Child
Bread is for eating
( Visual )
2 editions published between
2003
and 2007 in
English
and held by 148 WorldCat member libraries worldwide
In Bread is for eating, the love and hard work that goes into making a loaf of bread, from seeds to supermarket. Levar tries his hand at breadmaking and discusses the history of this very basic food
more
fewer
Audience Level
0

1
Kids
General
Special
Audience level: 0.21 (from 0.17 for Amazing gr ... to 0.25 for Game day ...)
Related Identities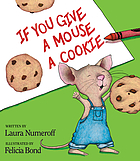 Languages
Covers