Intelligence Policy Center (U.S.)
Most widely held works by Intelligence Policy Center (U.S.)
Exploring religious conflict
by
Gregory F Treverton
( Book )
2 editions published in
2005
in
English
and held by 171 WorldCat member libraries worldwide
Reports the results of a workshop that brought together intelligence analysts and experts on religion with the goal of providing background and a framework of reference for assessing religious motivations in international politics and discovering what causes religiously rooted violence and how states have sought to take advantage of or contain religious violence -- with emphasis on radical Islam
The next steps in reshaping intelligence
by
Gregory F Treverton
( Book )
4 editions published in
2005
in
English
and held by 124 WorldCat member libraries worldwide
Two national commissions₂ findings helped to lay the groundwork for the December 2004 intelligence reorganization bill. Most notably, the bill calls for a new Director of National Intelligence (DNI) to head and coordinate the U.S. Intelligence Community. Currently, the DNI has broad responsibilities but only ambiguous authorities. Drawing on a number of projects for various intelligence agencies, as well as additional research, the author of this paper looks at this position of DNI and how it will interact and coordinate with intelligence agencies and other elements of the Executive Branch. In addition to organizational changes, the author looks at the cultural changes that need to take place in the community, including those related to capacity building, issued-based collection, analysis improvement, wider diversity of workforce, and targeting collection. In particular, the paper highlights the importance of moving toward center-based organizations and away from the ₃stovepipes₄ of the Cold War. In accomplishing such goals, the DNI will begin to turn his formal authority into real authority
Toward a theory of intelligence : workshop report
( Book )
4 editions published in
2006
in
English
and held by 123 WorldCat member libraries worldwide
In June 2005, the RAND Corporation and the Office of the Director of National Intelligence convened a one-day workshop to discuss how theories underlie intelligence and might lead to both a better understanding and better practice of U.S. intelligence. Forty attendees (practitioners, academics, and specialists) participated in four panels: What Is Intelligence Theory?; Is There an American Theory of Intelligence?; Which Assumptions Should Be Overturned?; and How Can Intelligence Results Be Measured? Issues debated included whether intelligence should be defined narrowly, as secret state activity, or broadly, as information for decisionmaking; whether there is a uniquely American theory or practice of intelligence, in its technology, militarization and congressional oversight; whether closer relationships between intelligence officers and policymakers leads to politicization; and how to devise metrics for assessing the performance of intelligence. Readers will find opinions that look familiar as well as others that challenge or refine the customary formulations
Syria as an arena of strategic competition
by
Jeffrey Martini
( Book )
3 editions published in
2013
in
English
and held by 61 WorldCat member libraries worldwide
"Less than two years since the beginning of the uprising in Syria, localized protests have morphed into full-blown civil conflict. Along with internal escalation, the conflict has drawn in external actors, including Syria's neighbors and extra-regional powers. With the regional balance of power hinging on the conflict's outcome, Middle Eastern and extra-regional states have taken sides -- some in support of the Assad regime, others in support of the opposition. RAND convened a group of 26 experts who cover Syria and the various external players to participate in an analytic exercise on November 16, 2012, to generate a greater understanding of the parties and issues in play. The report begins by analyzing what is driving both regional (e.g., Iran and Saudi Arabia) and extra-regional (e.g., Russia) players to intervene in the Syrian conflict. It then proceeds to look at the internal actors (e.g., the Free Syrian Army and Alawite community) that may operate as conduits of external influence. The report concludes with an examination of the relationships between external and internal actors and possible effects of these groups' actions."
A rapidly changing urban environment : how commercial technologies can affect military intelligence operations
by
William Young
( Book )
1 edition published in
2016
in
English
and held by 33 WorldCat member libraries worldwide
"Commonplace commercial technologies can be combined and used in unique ways to reshape an urban environment and disrupt how we live and work, in the United States and abroad. The technologies are not new but are becoming ubiquitous and are being used in new ways. The technologies highlight a democratizing trend that gives more people the freedom and power to use any number of new, commercially available technologies to innovate and to challenge existing government rules and community practices. This democratizing trend, however, comes at a cost to privacy, security, and secrecy and is changing the way people interact socially and politically. It is changing the way we conduct business, diplomacy, intelligence operations, and war, the future of which is likely to be increasingly urban in nature"--Publisher's description
Mullahs, Guards, and Bonyads : an exploration of Iranian leadership dynamics
( Book )
2 editions published in
2010
in
English
and held by 7 WorldCat member libraries worldwide
The Islamic Republic of Iran poses serious challenges to U.S. interests in the Middle East, and its nuclear program continues to worry, and bring condemnation and sanction from, the international community. Yet the U.S. ability to "read" the regime in Tehran and formulate appropriate policies has been handicapped by the lack of access to Iran experienced by U.S. diplomats and other citizens and by what many observers lament as the opacity of Iranian decisionmaking processes. The objective of this book is to offer a framework to help U.S. policymakers and analysts better understand existing and evolving leadership dynamics driving Iranian decisionmaking. The research herein provides not only a basic primer on the structure, institutions, and personalities of the government and other influential power centers but also a better understanding of Iranian elite behavior as a driver of Iranian policy formulation and execution. The book pays special attention to emerging fissures within the regime, competing centers of power, and the primacy of informal networks-- a particularly important yet not well understood hallmark of the Iranian system
Alert and ready : an organizational design assessment of Marine Corps intelligence
by
Christopher Paul
( Book )
1 edition published in
2011
in
English
and held by 4 WorldCat member libraries worldwide
As the U.S. Marine Corps (USMC) has grown in strength, it has needed to add intelligence capabilities. Since the end of the Cold War and, especially, since September 11, 2001, USMC intelligence has had to tailor its organization to meet the evolving demands of the operational environment. This has resulted in a number of ad hoc arrangements, practices, and organizations. A broad review of the organizational design of the USMC intelligence enterprise examined how to align it efficiently and effectively with current and future missions and functions. Specifically, the review, which included interviews with a range of USMC personnel and civilians, considered the organization of (and possible improvements to) the Intelligence Department, the Marine Corps Intelligence Activity, the intelligence organizations within the Marine Expeditionary Forces (specifically, the intelligence and radio battalions), and intelligence structures in the combat elements. A comparison of 48 organizational and functional issues with a series of USMC intelligence and functional issues resulted in a series of recommendations to help improve the ⁰́fit⁰́₊ of USMC intelligence organizations with their environmental context. In some cases, the service would benefit not from changing its intelligence structure but by realigning it; in other areas, restructuring would lend greater efficiency and effectiveness to the USMC intelligence enterprise
Financial futures of the Islamic State of Iraq and the Levant : findings from a RAND corporation workshop
by
Colin P Clarke
( Book )
1 edition published in
2017
in
English
and held by 3 WorldCat member libraries worldwide
"In June 2016, RAND held a small workshop on Islamic State of Iraq and the Levant (ISIL) finances. Participants in the workshop included professionals with expertise in the Middle East, ISIL, counterterrorism, and economics. This report describes the likely evolution of ISIL finances under three specific scenarios: a continuation of the current campaign, a negotiated settlement in Syria and political accommodation in Iraq, and military victory without negotiated settlement or political accommodation. The discussion of potential consequences for ISIL across these three contrasting scenarios offered a number of implications for the counter-ISIL effort. These included taking actions to counter specific means of raising money within ISIL territory, using financial information to damage the group, degrading its ability to raise money across its territory, and ensuring that it does not shift to raising money from beyond its territory"--Publisher's description
Global technology revolution 2020 : executive summary
( Book )
1 edition published in
2006
in
English
and held by 3 WorldCat member libraries worldwide
In 2020, areas of particular importance vis-à-vis technology trends will include biotechnology, nanotechnology, materials technology, and information technology. The authors of this report assessed a sample of 29 countries across the spectrum of scientific advancement (low to high) with respect to their ability to acquire and implement 16 key technology applications (e.g., cheap solar energy, rural wireless communications, genetically modified crops)
Turkish-Iranian relations in a changing Middle East
by
F. Stephen Larrabee
( Book )
2 editions published in
2013
in
English
and held by 3 WorldCat member libraries worldwide
Turkish-Iranian cooperation has visibly intensified in recent years, thanks in part to Turkish energy needs and Iran⁰́₉s vast oil and natural gas resources. However, Turkey and Iran tend to be rivals rather than close partners. While they may share certain economic and security interests, especially regarding the Kurdish issue, their interests are at odds in many areas across the Middle East. Turkey⁰́₉s support for the opposition in Syria, Iran⁰́₉s only true state ally in the Middle East, is one example. Iraq has also become a field of growing competition between Turkey and Iran. Iran⁰́₉s nuclear program has been a source of strain and divergence in U.S.-Turkish relations. However, the differences between the United States and Turkey regarding Iran⁰́₉s nuclear program are largely over tactics, not strategic goals. Turkey⁰́₉s main fear is that Iran⁰́₉s acquisition of nuclear arms could lead to a nuclear arms race in the Middle East. This, in turn, could increase pressure on the Turkish government to consider developing its own nuclear weapon capability. U.S. and Turkish interests have become more convergent since the onset of the Syrian crisis. However, while U.S. and Turkish interests in the Middle East closely overlap, they are not identical. Thus, the United States should not expect Turkey to follow its policy toward Iran unconditionally. Turkey has enforced United Nations sanctions against Iran but, given Ankara⁰́₉s close energy ties to Tehran, may be reluctant to undertake the harshest measures against Iran
more
fewer
Audience Level
0

1
Kids
General
Special
Audience level: 0.57 (from 0.02 for Reorganizi ... to 0.88 for Understand ...)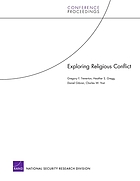 Alternative Names
IPC

IPC (Intelligence Policy Center (U.S.))

National Defense Research Institute (U.S.). Intelligence Policy Center.

Rand Corporation. National Security Research Division. Intelligence Policy Center.

Languages
Covers