Laurens, Stephanie
Most widely held works about Stephanie Laurens
Most widely held works by Stephanie Laurens
The taste of innocence
by
Stephanie Laurens
( Book )
43 editions published between
1984
and 2014 in 5 languages and held by 2,292 WorldCat member libraries worldwide
Charles Morwellan, as Lord Meredith, must marry, so he offers for his neighbor Sarah Conningham. She's intelligent enough to run his social life, beautiful enough to grace his arm, and old enough to know the value of his offer. But as a lady of independent means Sarah is unwilling to surrender unless it is for unbounded love. But he convinces Sarah to give him two weeks to win her, after which, if he succeeds, they will marry immediately. And so begins an intense courtship. By day, Charles and Sarah are models of decorum. Each night they steal away and sensual embraces turn to searing kisses, which soon become much more. After the wedding, despite nights of insatiable passion, Charles maintains an aloof distance. Sarah battles to prove that true love is a force that can't be contained, but it's only when she's engulfed in a web of increasingly dangerous incidents that Charles discovers how much he's willing to surrender to protect the taste of innocence
Where the heart leads
by
Stephanie Laurens
( Book )
39 editions published between
2007
and 2014 in
English
and
Undetermined
and held by 2,289 WorldCat member libraries worldwide
Penelope Ashford, Portia Cynster's younger sister, has grown up with every advantage - wealth, position, and beauty. Yet Penelope is anything but a typical ton miss -- forceful, willful and blunt to a fault, she has for years devoted her considerable energy and intelligence to directing an institution caring for the forgotten orphans of London's streets. But now her charges are mysteriously disappearing. Desperate, Penelope turns to the one man she knows who might help her -- Barnaby Adair. -- From publisher description
The ideal bride
by
Stephanie Laurens
( Book )
47 editions published between
1984
and 2014 in 4 languages and held by 2,250 WorldCat member libraries worldwide
Michael Anstruther-Wetherby, a new member of Parliament, searches for the perfect wife to complement his career and unexpectedly chooses diplomat's widow Caro, who resists the match for fear of entering another loveless political marriage
What price love?
by
Stephanie Laurens
( Book )
41 editions published between
2006
and 2014 in 6 languages and held by 2,222 WorldCat member libraries worldwide
Jaded and disillusioned with love, Dillon Caxton has no time for marriage-minded young ladies, but his plans take an unexpected turn when he meets beautiful Lady Priscilla Dalloway
The truth about love
by
Stephanie Laurens
( Book )
30 editions published between
2004
and 2009 in
English
and
Russian
and held by 2,196 WorldCat member libraries worldwide
Artist Gerrard Debbington accepts a commission to paint a young woman's portrait in exchange for access to her father's celebrated yet strictly private gardens, but when he learns the woman may be in danger, he appoints himself her protector
The perfect lover
by
Stephanie Laurens
( Book )
33 editions published between
2003
and 2014 in
English
and held by 2,132 WorldCat member libraries worldwide
Seeking a wife who will help him start a family, Simon Cynster woos Portia Ashford, whose childhood rivalry with Cynster proves challenging until Portia, who is being pursued by a dangerous stalker, falls for her unlikely suitor
Temptation and surrender
by
Stephanie Laurens
( Book )
30 editions published between
2008
and 2014 in
English
and held by 2,083 WorldCat member libraries worldwide
On a hunt for her family's treasure, orphaned and near penniless Emily Beauregard takes a position as an innkeeper for Jonas Tallent, Lucifer Cynster's brother-in-law, in the Devon town of Colyton. But someone else also has the Colyton treasure in their sights, and the closer Em draws to her family's legacy the greater the danger grows ... to her, her family, and the treasure she's discovered in Jonas's arms
The promise in a kiss : a Christmas novel
by
Stephanie Laurens
( Book )
29 editions published between
2001
and 2014 in
English
and
Undetermined
and held by 1,753 WorldCat member libraries worldwide
Helena first met Sebastian Cynster by chance in the courtyard of her convent school, but it is not until seven years later that they fall in love
By winter's light
by
Stephanie Laurens
( Book )
15 editions published between
2014
and 2015 in
English
and
Polish
and held by 1,720 WorldCat member libraries worldwide
As the six Cynster families gather together for the holidays at snowbound Casphairn Manor in Scotland, Claire Meadows, widow and governess to Gabriel Cynster's daughter starts a relationship with tutor Daniel Crosbie
Lord of the privateers
by
Stephanie Laurens
( Book )
19 editions published between
2016
and 2017 in 3 languages and held by 1,539 WorldCat member libraries worldwide
Can true love die? Or, neglected, does it lie dormant until the object of true desire is again within reach? Denied, does passion smolder, like embers waiting for the right conditions to flare into an all-consuming conflagration? #1 New York Times bestselling author Stephanie Laurens delivers the thrilling conclusion to her acclaimed series, THE ADVENTURERS QUARTET, a passionate Regency-era drama played out on the high seas and in the sweltering heat of tropical jungles, ultimately reaching a scintillating climax in the glittering ballrooms of Mayfair. The eldest of the Frobisher brothers and widely known as the lord of the privateers, Royd Frobisher expects to execute the final leg of the rescue mission his brothers have been pursuing. What he does not expect is to be pressured into taking his emotional nemesis, childhood sweetheart, ex-handfasted bride, and current business partner, Isobel Carmichael, with him. But is it Isobel doing the pressuring, or his own restless unfulfilled psyche? Resolute, determined, and an all but unstoppable force of nature, Isobel has a mission of her own?find her cousin Katherine and bring her safely home. And if, along the way, she can rid herself of the lingering dreams of a life with Royd that still haunt her, well and good. Neither expects the shock that awaits them as they set sail aboard Royd's ship, much less the new horizons that open before them as they call into London, then, armed with the necessary orders and all arrangements in place, embark on a full-scale rescue-assault on the mining compound buried in the jungle. Yet even with the support of his brothers and their ladies and, once rescued, all the ex-captives, Royd and Isobel discover that freeing the captives is only half the battle. In order to identify and convict the backers behind the illicit enterprise?and protect the government from catastrophic destabilization?they must return to the ballrooms of the haut ton, and with the help of a small army of supporters, hunt the villains on their home ground. But having found each other again, having glimpsed the heaven that could be theirs again, how much are they willing to risk in the name of duty? Learn the answer and revel in the action, drama, intrigue, and passion as the Frobishers?with help from Wolverstone, the Cynsters, and many familiar others?steer the adventure to a glorious end. Praise for the works of Stephanie Laurens "Stephanie Laurens' heroines are marvelous tributes to Georgette Heyer: feisty and strong." Cathy Kelly "Stephanie Laurens never fails to entertain and charm her readers with vibrant plots, snappy dialogue, and unforgettable characters." Historical Romance Reviews "Stephanie Laurens plays into readers' fantasies like a master and claims their hearts time and again." Romantic Times Magazine
more
fewer
Audience Level
0

1
Kids
General
Special
Audience level: 0.16 (from 0.12 for The perfec ... to 0.61 for The world ...)
Related Identities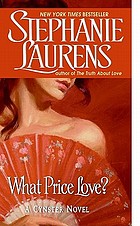 Alternative Names
Kretser, Theonne Anne de, 1953-

Laurens S.

Laurensová, Stephanie.

Lourens, Stefani

S LAURENS

Stephanie Laurens écrivaine australienne

Stephanie Laurens escritora australiana

Лоуренс С.

Лоуренс, Стефани

Стефани Лорънс

ステファニー・ローレンス

ローレンス, ステファニー

Languages
Covers