Cullman, Heather
Overview
| | |
| --- | --- |
| Works: | 11 works in 44 publications in 4 languages and 817 library holdings |
| Genres: | Fiction History |
| Roles: | Author |
| Classifications: | PS3553.U335, 813.54 |
Most widely held works by Heather Cullman
Scandal
by
Heather Cullman
( Book )
4 editions published between
2003
and 2015 in
English
and held by 177 WorldCat member libraries worldwide
When a man searching for his brother uncovers a secret that could destroy a powerful nobleman's life, he is offered the man's daughter in exchange for his silence -- but could their marriage of convenience turn into a love more powerful than the secrets keeping them apart? When Gideon Harwood returns to his home in Regency-era England after a trip to India makes him an immensely rich man, he is driven by two unrelenting quests: to raise his station in life for the sake of his young sisters and to find his missing brother. What he uncovers is a damning secret about Lord Stanwell, one of London's most powerful noblemen. Desperate to avoid a ruinous scandal, Lord Stanwell buys Gideon's silence by offering the one thing that will guarantee Gideon's entry into the beau monde's inner sanctum: his daughter, Julia. Now in her third insufferable social season, beautiful Lady Julia Barham has yet to meet a man deserving of her devotion. Rumors swirl about the towering, immensely wealthy Gideon Harwood, but he is a commoner, beneath her consideration⁰́₄and yet, as she learns, he is to be her husband. Julia comes to find that Gideon awakens passion in her that she didn't know she had. But dangerous secrets lie between them. Can they overcome the sins of the past and surrender to a once-in-a-lifetime love?
A perfect scoundrel
by
Heather Cullman
( Book )
7 editions published between
2000
and 2015 in
English
and
Undetermined
and held by 134 WorldCat member libraries worldwide
In the follow-up to For All Eternity, a perfect scoundrel finds perfect love Lord Quentin Somerville is smitten with society's most sought-after beauty. But as a debt-ridden second son, he knows his only chance of winning such a prize is to resort to trickery, and he concocts a plan to trap her into marrying him. But his plan to seduce Clarissa Edwardes at a masked ball backfires when he discovers that the woman in his arms isn't the one he desires. When Clarissa falls ill on the day of the ball, and the costume of her spinster stepsister, Jane Wentworth, meets with disaster, Clarissa hatches a plan of her own: Jane must go to the masquerade disguised as Clarissa. As planned, Jane is mistaken for Clarissa by everyone, including Quentin. Jane, who is secretly in love with Quentin, is thrilled by his notice. When her daring charade leads to a stolen kiss, she isn't prepared for his passionate response--or for the ensuing scandal. With Jane's honor compromised, Quentin proposes under the threat of being cut off by his father. Furious at being deceived, the young noble vows to continue his dissolute life in London and banishes Jane to his dreary estate in Worcestershire. But he underestimates the charms--and determination--of his wife, who has plans of her own.<br clear="all."
Secrets
by
Heather Cullman
( Book )
5 editions published between
2004
and 2015 in
English
and held by 106 WorldCat member libraries worldwide
Following on the heels of Heather Cullman's acclaimed Regency romance Scandal, the saga continues as an Englishman with amnesia struggles to uncover his true identity--and falls in love with a woman harboring secrets of her own Ever since Gideon Harwood rescued Christian English from brutal captivity in India, Christian can remember nothing of his former life. Indeed, the only thing he knows for certain is that he loves Gideon's sister, Bethany. But before they can wed, he must find out who he really is. Bethany can't hide from her past forever--and she knows that any future with Christian is an impossible dream. She can't risk the scandal of her shameful secret coming out, and the sooner she leaves Critchley Manor, the better. Everything changes when a chance encounter reveals Christian's true heritage. But reclaiming his rightful place in London society will have consequences neither he nor Bethany could have imagined. With Christian facing danger from an unexpected adversary--and Bethany forced to confront her own unresolved history--can she find the courage to choose love?
Bewitched
by
Heather Cullman
( Book )
6 editions published between
2000
and 2015 in
English
and held by 94 WorldCat member libraries worldwide
Only the most desperate woman in Londonwould wed a nobleman everyone believes to be mad ... Once upon a time, Michael Vane, Earl of Sherrington, was the most sought-after bachelor in London. Now he languishes in an isolated abbey on the English moors, shunned by society and rumored to be crazy. But the melancholy aristocrat has just been given an ultimatum by his scheming grandmother: Marry and produce an heir or be locked away forever in an insane asylum. All he has to do is find a woman willing to wed him. Three times engaged, her fiancés barely escaping with their lives, Emily Merriman has the best reason of all for agreeing to an arranged marriage with society's most notorious noble. Cursed by a malicious witch, the Boston beauty brings bad luck to any man unfortunate enough to win her heart. Since the Sherrington heir is a total stranger, he will be safe from harm. All Emily has to do is make sure she doesn't fall in love with her husband. Featuring a pair of unconventional matchmakers, Bewitched is the incandescent story of a man and a woman who marry for all the wrong reasons ... and discover a love worth fighting for
For all eternity
by
Heather Cullman
( Book )
5 editions published between
1998
and 2015 in
English
and
English, Old
and held by 78 WorldCat member libraries worldwide
<DIV>Heather Cullman has a degree in fashion and design and has always wanted to be a writer. She lives with her husband, a lawyer, in Long Beach, California. She is the author of eight historical romances.</DIV>
Tomorrow's dreams
by
Heather Cullman
( Book )
4 editions published between
1996
and 2015 in
English
and
Russian
and held by 77 WorldCat member libraries worldwide
In nineteenth-century New York, a woman shattered by yesterday's love and a man torn by today's secrets flee from their luxurious lives--and from each other--but are destined to meet again in the untamed Colorado Territory ... Can they mend their broken lives and fulfill tomorrow's dreams? Self-made millionaire Seth Tyler has the world on a string. He is rich, powerful, and about to marry the woman he loves. Then he uncovers the horrible family secret that will destroy him and any chance for future happiness. Penelope Parrish is the toast of New York. The beautiful, sought-after opera singer has everything she desires, including the man of her dreams--until the night their affair comes to a shattering end, leaving Penelope pregnant and alone. In the Colorado Territory, where she has reinvented herself as dance hall performer Lorelei Leroux in order to support herself and her toddler son, Penelope is shocked to discover that Seth is her new employer. As devastatingly attractive as ever, the man she vowed to hate forever is still the only one who can touch her heart. Against her will, Penelope is drawn back into Seth's embrace, unaware that he has come west to orchestrate a long-awaited act of revenge that could cost him his life
Yesterday's roses
by
Heather Cullman
( )
5 editions published between
1995
and 2015 in
English
and
Russian
and held by 75 WorldCat member libraries worldwide
In post-Civil War San Francisco, a forward-thinking female physician falls in love with a man who may have murdered his wife Jake Parrish is Dr. Hallie Gardiner's last hope. She needs a wealthy and powerful benefactor to save her foundering mission hospital in Philadelphia, and Jake, known as Young Midas, is just the kind of person she's looking for. At Parrish's magnificent San Francisco mansion, Hallie is stunned to discover that his pregnant wife, Serena, is suffering from a severe emotional disturbance that has caused her to lose touch with reality. At times, she is violent and incoherent; at others, she is frighteningly lucid. Drawn into Serena's bizarre world, Hallie does her best to help. But not long after Serena has her baby, she is found dead. Is Jake Parrish a cold-blooded murderer? Or a grieving widower haunted by terrible memories of war? As she falls dangerously in love with the handsome ex-soldier, Hallie tries to ignore the whispers. Her efforts to heal Jake--and uncover the truth about his wife's death--backfire when someone threatens her life and her chance for future happiness
Stronger than magic
by
Heather Cullman
( )
5 editions published between
1997
and 2015 in
English
and held by 73 WorldCat member libraries worldwide
In this enchanting romance, a cursed beauty and a man with an endangered soul are transported through space and time to be reunited in Regency-era England for one last chance at redemption--could their love be stronger than the spell that binds them? Born to a faerie father and a mortal mother, Lucan lacks one thing: a soul. To become complete, he must fall in love. When he does--with spoiled, willful Alys le Fayre--his life ends tragically. Too late, Alys realizes that Lucan was her soul mate. Now imprisoned in the faerie underworld as punishment for causing Lucan's death, she is fated to spend the next millennia helping humans find happiness. But she's never forgotten the love she lost. Her chance for redemption comes in 1816, when she's tasked with finding the perfect woman for Lucian Warre, the seventh Marquess of Thistlewood, who is Lucan reborn into his final life. The catch? She has only 130 days before tragedy once again befalls the half-mortal Lucian, who doesn't believe in love and never intends to marry. But Alys has other plans . . . Heather Cullman delivers a timeless romantic tale about two people whose love transcends time, fate, and intervention--both human and otherworldly
Uroczy hulaka
by
Heather Cullman
( Book )
1 edition published in
2002
in
Polish
and held by 2 WorldCat member libraries worldwide
Tomorrow's Dream
by
Heather Cullman
( )
in
English
and held by 1 WorldCat member library worldwide
Poverʹ i poli︠u︡bi : [roman]
by
Heather Cullman
( Book )
1 edition published in
2000
in
Russian
and held by 0 WorldCat member libraries worldwide
more
fewer
Audience Level
0

1
Kids
General
Special
Audience level: 0.42 (from 0.10 for Tomorrow's ... to 1.00 for Poverʹ i p ...)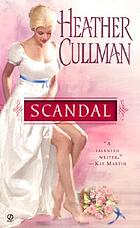 Covers
Alternative Names
Languages