McWilliams, Judith
Most widely held works by Judith McWilliams
The matchmaking machine
by
Judith McWilliams
( Book )
12 editions published between
2006
and 2015 in 3 languages and held by 110 WorldCat member libraries worldwide
Maggie Romer is about to teach her new boss a lesson he won't soon forget. The minute he took over her company and fired her friend Sam, John Richard Worthington became Maggie's enemy. But the man has many sides: It turns out that the sexy man Maggie has been dating-whom she mistook for a plumber-is none other than Worthington! Fortunately, his interest in her fits perfectly into Maggie's master plan. You see, she designed a program that will make him wildly attracted to her. And when the mighty man falls, well, let's just say that revenge will be mighty sweet
Dr. Charming
by
Judith McWilliams
( Book )
15 editions published between
2004
and 2016 in 6 languages and held by 85 WorldCat member libraries worldwide
When innocent Gina Tessereck is finally able to escape from her controlling mother, she finds herself alone in a world she knows little about. And when her car is stolen with all her possessions in it, she's left helpless. She is saved by Dr. Nick Balfour, who offers her a room in his home in exchange for housekeeping. This is the chance Gina has dreamed of--to finally get close to a sexy gentleman!
Practice husband
by
Judith McWilliams
( Book )
14 editions published between
1997
and 2013 in 7 languages and held by 69 WorldCat member libraries worldwide
WANTED: MARRIAGE-MINDED MENAddy Edson was looking for a husband, and she knew just the guy to help her with her search. But what she hadn't expected were the warm, sensuous "practice kisses" that her childhood friend Joe Barrington was bent on giving her-or the way they made her feel ... Joe was more than happy to help Addy find a groom, especially since it meant the redheaded beauty would be practicing her sexy charms on him! But how could he convince her that a lifetime of happiness-and nighttimes of passion-could be found in his arms'
The man from Atlantis
by
Judith McWilliams
( Book )
7 editions published between
1995
and 2003 in
English
and
French
and held by 69 WorldCat member libraries worldwide
He had inhabited a world destroyed ten thousand years ago, Atlantis, a place now lost to him forever. Kept alive in a state of suspended animation, Kynan awoke to find a more primitive Earth and only one woman to help him fight those who would destroy him. Archaeologist Jenna Farron had uncovered a man like no other, a man who sent her senses soaring and left her breathless with passion ... and despair. Though she longed to surrender herself to Kynan's powerful embrace, she feared he would be forever torn from her once he found others like himself. In a frantic search to find a lost civilization, they would face a most desperate choice: destiny or desire?
That's my baby
by
Judith McWilliams
( Book )
12 editions published between
1990
and 1993 in 6 languages and held by 67 WorldCat member libraries worldwide
Did you say--wife?
by
Judith McWilliams
( Book )
11 editions published between
2003
and 2015 in 4 languages and held by 67 WorldCat member libraries worldwide
THE BOSS HAD AMNESIA' 'and thought Jocelyn was his wife! Little did the domineering CEO know that the woman watching him with a love-softened gaze was none other than his secretary, Jocelyn Stemic. Though Lucas Forester had regained bits of his memory, he couldn't remember one wifely thing about her'not their wedding day or passionate nights together. But one thing was certain: he wanted to be her husband in every sanctioned way. Jocelyn had no choice but to keep up the amorous charade. After all, loving Lucas was easy'and being his "bride" was her deepest fantasy fulfilled. The hard part would be returning to her lonely life once her beloved boss discovered she wasn't the woman he thought she was'
Her secret children
by
Judith McWilliams
( Book )
11 editions published between
2003
and 2016 in 6 languages and held by 65 WorldCat member libraries worldwide
Un sueño maravilloso pero imposibleDespués de quedarse viuda, una mujer tan recelosa de los hombres como Vicky Sutton pensó que la maternidad había quedado fuera de su alcance. Hasta que ocurrió lo imposible. Los óvulos que le habían extraído a ella estaban siendo ilegalmente utilizados para darle hijos gemelos a un aristócrata inglés.Vicky juró y perjuró que ni siquiera el formidable y acaudalado James Thayer estaba a la altura para ser el padre de sus hijos. Estaba empeñada en ser la madre de esos pequeños, aunque para ello tuviera que contar algunas mentiras... Con lo que no contaba era con la atracción que sentiría por el aspirante a padre
The summer proposal
by
Judith McWilliams
( Book )
12 editions published between
2001
and 2014 in 5 languages and held by 60 WorldCat member libraries worldwide
A is for astonished and agog. Which were Julie Raffet's reactions when Caleb Tarrington, a most eligible'and wealthy'bachelor made his proposal! Caleb wanted a tutor for his newfound son'but was Julie interested in a temporary position' B is for bold and breathless. Caleb's determination was hard to refuse. Yet the sophisticated single dad shied away from women dedicated to their jobs'and still he wanted Julie! Could he forget the past long enough to see the caring heart behind Julie's prim facade' C is for Caleb! And for the charm that was nearly irresistible. Once the summer was over, would he offer Julie a permanent position'in his arms'
Anything's possible
by
Judith McWilliams
( Book )
10 editions published between
1995
and 2013 in 3 languages and held by 58 WorldCat member libraries worldwide
A Ghost of a ChanceJust one good deed was all it'd take for a certain rather lazy ghost to finally get into heaven and join his fiancee. And since the nice folks at the China View Inn figured a fake ghost would be good for business, well, maybe he'd give 'em the real thing ... And while he was at it, there were a couple of folks at the inn who were just about perfect for each other. And if a good old-fashioned things-that-go-bump-in-the-night haunting was what it'd take to get Cassie Whitney and Dan Travis together, why, he'd be more than happy to oblige
Another man's baby
by
Judith McWilliams
( Book )
12 editions published between
1997
and 2011 in 6 languages and held by 54 WorldCat member libraries worldwide
HOW FAR WOULD SHE GO.' The mission: Ginny Alton had agreed to impersonate her cousin and travel halfway around the world with a newborn in order to have the child meet his paternal grandfather. The complication: Everyone believed she was the child's mother! The man: Philip Lysander knew Ginny was lying about something, so in order to protect his family, he told everyone he was the baby's father. Ginny suddenly found herself hopelessly attracted to the one man who could destroy her carefully constructed charade. But how could she deny herself the intensity of Philip's lovemaking when their time together was so short' Especially when he was about to discover the truth'
more
fewer
Audience Level
0

1
Kids
General
Special
Audience level: 0.46 (from 0.19 for Suspicion ... to 0.71 for The royal ...)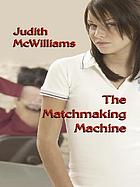 Covers
Alternative Names
Hines, Charlotte
Mac Williams Judith

MacWilliams Judith

Mc Williams Judith

Languages