Mitnick, Kevin D. (Kevin David) 1963-
Most widely held works about Kevin D Mitnick
more
fewer
Most widely held works by Kevin D Mitnick
The art of deception : controlling the human element of security
by
Kevin D Mitnick
( Book )
47 editions published between
2001
and 2013 in 10 languages and held by 1,529 WorldCat member libraries worldwide
Focusing on the human factors involved with information security, Mitnick explains why all the firewalls and encryption protocols in the world will never be enough to stop a savvy grifter intent on rifling a corporate database or an irate employee determined to crash a system. With the help of many fascinating true stories of successful attacks on business and government, he illustrates just how susceptible even the most locked-down information systems are to a slick con artist impersonating an IRS agent. Narrating from the points of view of both the attacker and the victims, he explains why each attack was so successful and how it could have been prevented. Mitnick also offers advice for preventing these types of social engineering hacks through security protocols, training programs, and manuals that address the human element of security
The art of intrusion : the real stories behind the exploits of hackers, intruders, & deceivers
by
Kevin D Mitnick
( Book )
14 editions published between
2005
and 2009 in
English
and held by 1,182 WorldCat member libraries worldwide
"Four pals clean up in Vegas with a pocket-sized computer. A bored Canadian teen gains access to the wire transfers section of a major Southern bank. A couple of kids are recruited to hack into Lockheed Martin and the Defense Information System Network by a terrorist with ties to Osama bin Laden." "Kevin Mitnick, whose own exploits have made him a veritable hacker's hero, shares more than a dozen true stories of cyber-invasions - devilishly ingenious, highly effective schemes that kick up your pulse rate even as you marvel at their sheer audacity. Each is followed by Mitnick's expert analysis of how the attack could have been prevented. And he is uniquely qualified to recommend effective security measures. Both a legend in the hacker underworld and a general in the war on cybercrime, Kevin Mitnick holds the one weapon most likely to take down the intruder - intimate knowledge of the hacker's brilliant and tenacious mind."--Jacket
The unknown war
( Visual )
5 editions published between
1978
and 2011 in
English
and held by 139 WorldCat member libraries worldwide
In 1978, the Soviet Union produced "The Unknown War" as something of a response to the 1973 U.S. series "The World At War" feeling that the latter series shortchanged the role that Russia played in WWII. While not outright propaganda, it is resolutely pro-Soviet, glorifying their soldiers and people. This includes episodes about everyday life for Russians during the war, and how the Soviet government moved their production facilities to Siberia to escape the Nazis (and ended up being the most productive country during the war). Despite plentiful, revelatory unearthed combat footage, it feels rather stodgy, which--given that it was commissioned by the Soviet government--is not all that surprising
No tech hacking : a guide to social engineering, dumpster diving, and shoulder surfing
by
Johnny Long
( Book )
10 editions published between
2007
and 2008 in
English
and held by 130 WorldCat member libraries worldwide
As the clich reminds us, information is power. In this age of computer systems and technology, an increasing majority of the world's information is stored electronically. It makes sense then that as an industry we rely on high-tech electronic protection systems to guard that information. As a professional hacker, I get paid to uncover weaknesses in those systems and exploit them. Whether breaking into buildings or slipping past industrial-grade firewalls, my goal has always been the same: extract the informational secrets using any means necessary. After hundreds of jobs, I discovered the secret to bypassing every conceivable high-tech security system. This book reveals those secrets, and as the title suggests, it has nothing to do with high technology. As it turns out, the secret isn't much of a secret at all. Hackers have known about these techniques for years. Presented in a light, accessible style, you'll get to ride shotgun with the authors on successful real-world break-ins as they share photos, videos and stories that prove how vulnerable the high-tech world is to no-tech attacks. As you browse this book, you'll hear old familiar terms like "dumpster diving", "social engineering", and "shoulder surfing". Some of these terms have drifted into obscurity to the point of becoming industry folklore; the tactics of the pre-dawn information age. But make no mistake; these and other old-school tactics work with amazing effectiveness today. In fact, there's a very good chance that someone in your organization will fall victim to one or more of these attacks this year. Will they be ready? .Dumpster Diving Be a good sport and don't read the two "D" words written in big bold letters above, and act surprised when I tell you hackers can accomplish this without relying on a single bit of technology (punny). .Tailgating Hackers and ninja both like wearing black, and they do share the ability to slip inside a building and blend with the shadows. .Shoulder Surfing If you like having a screen on your laptop so you can see what you're working on, don't read this chapter. .Physical Security Locks are serious business and lock technicians are true engineers, most backed with years of hands-on experience. But what happens when you take the age-old respected profession of the locksmith and sprinkle it with hacker ingenuity? .Social Engineering with Jack Wiles Jack has trained hundreds of federal agents, corporate attorneys, CEOs and internal auditors on computer crime and security-related topics. His unforgettable presentations are filled with three decades of personal "war stories" from the trenches of Information Security and Physical Security. .Google Hacking A hacker doesn't even need his own computer to do the necessary research. If he can make it to a public library, Kinko's or Internet cafe, he can use Google to process all that data into something useful. .P2P Hacking Let's assume a guy has no budget, no commercial hacking software, no support from organized crime and no fancy gear. With all those restrictions, is this guy still a threat to you? Have a look at this chapter and judge for yourself. .People Watching Skilled people watchers can learn a whole lot in just a few quick glances. In this chapter we'll take a look at a few examples of the types of things that draws a no-tech hacker's eye. .Kiosks What happens when a kiosk is more than a kiosk? What happens when the kiosk holds airline passenger information? What if the kiosk holds confidential patient information? What if the kiosk holds cash? .Vehicle Surveillance Most people don't realize that some of the most thrilling vehicular espionage happens when the cars aren't moving at all!
Criminals in cyberspace
( Visual )
1 edition published in
1996
in
English
and held by 68 WorldCat member libraries worldwide
Focuses on the challenges faced by both business and government agencies in dealing with computer hackers. The story of Kevin Mitnick, a convicted computer hacker, is highlighted in parts of this program
Die Kunst des Einbruchs : Risikofaktor IT
by
Kevin D Mitnick
( Book )
7 editions published between
2006
and 2013 in
German
and held by 51 WorldCat member libraries worldwide
Hauptbeschreibung Kevin Mitnick, einst der meistgesuchte Verbrecher der USA, saß fünf Jahre im Gefängnis, weil er in zahlreiche Netzwerke großer Firmen eingebrochen war. Heute ist er rehabilitiert, gilt aber nach wie vor weltweit als Prototyp des Hackers. Seit längerer Zeit hat Mitnick in der Hackerszene nach authentischen und spannenden Geschichten gesucht, die auch für Sicherheitsverantwortliche in Firmen hoch-interessante Erkenntnisse abwerfen. Die hier vorliegende Sammlung von Geschichten ist das Ergebnis dieser Suche.?Tauchen Sie aus der Sicherheit und Geborgenheit Ih
Ghost in the wires : my adventures as the world's most wanted hacker
by
Kevin D Mitnick
( Book )
8 editions published between
2011
and 2014 in
English
and
Chinese
and held by 15 WorldCat member libraries worldwide
Kevin Mitnick was the most elusive computer break-in artist in history. He accessed computers and networks at the world's biggest companies -- and however fast the authorities were, Mitnick was faster, sprinting through phone switches, computer systems, and cellular networks. He spent years skipping through cyberspace, always three steps ahead and labeled unstoppable. But for Kevin, hacking wasn't just about technological feats-it was an old fashioned confidence game that required guile and deception to trick the unwitting out of valuable information. Driven by a powerful urge to accomplish the impossible, Mitnick bypassed security systems and blazed into major organizations including Motorola, Sun Microsystems, and Pacific Bell. But as the FBI's net began to tighten, Kevin went on the run, engaging in an increasingly sophisticated cat and mouse game that led through false identities, a host of cities, plenty of close shaves, and an ultimate showdown with the Feds, who would stop at nothing to bring him down. Ghost in the Wires is a thrilling true story of intrigue, suspense, and unbelievable escape, and a portrait of a visionary whose creativity, skills, and persistence forced the authorities to rethink the way they pursued him, inspiring ripples that brought permanent changes in the way people and companies protect their most sensitive information. - Publisher
L'art de l'intrusion
by
Kevin D Mitnick
( Book )
2 editions published in
2005
in
French
and held by 14 WorldCat member libraries worldwide
Les récits d'attaques informatiques réalisées par des pirates piégés par la police contre de grandes sociétés. On y lit à propos de la manière dont le hacker a procédé et son état d'esprit durant la période où il a réalisé l'attaque. Les récits s'accompagnent de conseils pour augmenter la sécurité. Il y a également un chapitre sur les experts en manipulation. [SDM]
more
fewer
Audience Level
0

1
Kids
General
Special
Audience level: 0.22 (from 0.04 for Hardware h ... to 0.97 for L'arte del ...)
Associated Subjects
Arctic Ocean
Austria--Vienna
Balkan Peninsula
Belarus
Berlin, Battle of (Germany : 1945)
Caucasus, Northern
China
Computer crimes
Computer crimes--Investigation
Computer crimes--Prevention
Computer input-output equipment
Computer networks--Security measures
Computer security
Cyberterrorism
Eastern Front (World War (1939-1945))
Gang prevention
Gangs
German Occupation of Soviet Union (1941-1944)
Germany--Berlin
Gun control
Gun control--Public opinion
Hackers
Hackers--Psychology
History, Modern
Hungary--Budapest
Information superhighway--Security measures
Information technology--Social aspects
Internal security
Internet--Security measures
Kursk, Battle of (Russia : 1943)
Microcomputers--Maintenance and repair
Microcomputers--Upgrading
Military campaigns
Mitnick, Kevin D.--(Kevin David),
Moscow, Battle of (Russia : 1941-1942)
Poland
Reverse engineering
Russia
Russia (Federation)--Moscow
Russia (Federation)--Saint Petersburg
Russia (Federation)--Volgograd
Shimomura, Tsutomu,
Siege of Saint Petersburg (Russia : 1941-1944)
Soviet Union
Stalingrad, Battle of (Volgograd, Russia : 1942-1943)
Tobacco industry
Ukraine
United States
Whistle blowing
World War (1939-1945)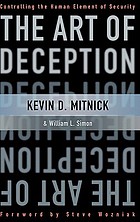 Alternative Names
Case, Thomas 1963-

Case, Thomas (haker).

Chernoff, Anton.

Chernoff, Anton 1963-

Condor.

Condor 1963-

Kevin David Mitnick

Kevin Mitnick Amerikaans auteur

Kevin Mitnick hacker, criminel et consultant

Kevin Mitnick hcker estadounidense

Kevin Mitnick informatyk (haker) amerykański

Kevin Mitnick programmatore statunitense

Kevin Mitnick US-amerikanischer Hacker und Experte im Bereich Social Engineering

Kevin Mitnik

Kevins Mitniks

Merrill, Brian.

Merrill, Brian 1963-

Mitnick, Kevin.

Mitnick, Kevin 1963-

Mitnick, Kevin D.

Mitnick, Kevin David.

Mitnick, Kevin David 1963-

N6NHG.

N6NHG 1963-

Nusbaum, Lee.

Nusbaum, Lee 1963-

Stanfill, David.

Stanfill, David 1963-

Weiner, Fred.

Weiner, Fred 1963-

Κέβιν Μίτνικ

Кевин Митник

Кевін Митник

קווין מיטניק

كيفين ميتنيك

کوین میتنیک

केविन मिटनिक

কেভিন মিটনিক

케빈 미트닉

ケビン・ミトニック

ミトニック, ケビン

凯文米特尼克

Languages
Covers