Fetzer, Amy J.
Most widely held works about Amy J Fetzer
Most widely held works by Amy J Fetzer
Come as you are
by
Amy J Fetzer
( Book )
4 editions published between
2007
and 2014 in
English
and held by 304 WorldCat member libraries worldwide
When a voice from her past crashes Tessa's perfect life, her only choice is to help a man she despises-- and put herself in the crosshairs of a ruthless killer
Perfect weapon
by
Amy J Fetzer
( Book )
8 editions published between
2006
and 2013 in
English
and
Japanese
and held by 275 WorldCat member libraries worldwide
The author of "Naked Truth" delivers a sexy and explosive novel of deadly passion between a tough-as-nails Marine and a doctor on the run from the government
Naked truth
by
Amy J Fetzer
( Book )
10 editions published between
2005
and 2006 in 3 languages and held by 212 WorldCat member libraries worldwide
Running for her life, operative Alexa Gavlin, stripped of her identity and memory, turns to former Marine Killian Moore for help, and as they race against time to find the truth, they stumble upon a terrorist plot that will test their tumultuous and passionate alliance
Tell it to the Marines
by
Amy J Fetzer
( Book )
13 editions published between
2004
and 2014 in
English
and
French
and held by 194 WorldCat member libraries worldwide
A collection of short stories from a rising new writer offers a parade ground of stories packed with such heroines as Peace Corps volunteer Samantha and scientist Katherine Collier and the marines who, despite all their training, love them
Damage control
by
Amy J Fetzer
( Book )
2 editions published in
2010
in
English
and held by 193 WorldCat member libraries worldwide
Explosives expert Sebastian Fontenot has patience in spades - whether he's deactivating bombs or gritting out three days beneath a pile of rubble. But when the hard-bodied operative learns his oldest friend is in trouble, he flies into action - and ends up on the Arctic Circle, where a sexy scientist holds clues that threaten his mission - and her life ... Olivia Corrigan can handle men. But Sebastian Fontenot is like no other she's encountered: hot as hell and in danger of thinking he can order her around with that delicious drawl of his. Lucky for her, the mesmerizing mercenary is on her side. And it's a good thing, too. Once they stumble onto a horrifying international cover up, it's up to Olivia and Sebastian to keep their hands off each other just long enough to keep a dangerous power from falling into the wrong hands
Hit hard
by
Amy J Fetzer
( Book )
6 editions published between
2006
and 2014 in
English
and held by 182 WorldCat member libraries worldwide
It Only Takes One Match. . . Vivi Fiori wondered how the day could have gotten so bad so fast. One minute, she's on a train moving through the Thai countryside, a precious archeological artifact in her hands;the next, she's being chased through the jungle by the Thai mafia with some hardcore American marine right behind her, shouting orders like she should be grateful for his macho interference. What Vivi needs is to get to her contact in Bangkok--warm shower, nice hotel, girly clothes, no dead bodies or sexy armed Marines. Her practical side is telling her to run like hell. Then again, her practical side never met a guy like Sam Wyatt. ... To Start An Uncontrollable Fire Sam has a mission--follow a trail of stolen diamonds, hoping it will lead him to the weapons sale he needs to stop. Finding the terrorists who took down his buddy will be the icing on the cake. But now, he's stuck babysitting a curvy, talk-a-mile-a-minute redhead who's hell-bent on playing Indiana Jones with her piece of Thai history. He can't just abandon her to the snakes, the crocs, the Mafia, and whatever else is out there. She wouldn't last ten seconds. And he can't deny that everything about her stirs a deep hunger in him--or that the power of their attraction is so electric he knows he can never really let her go. Now, protecting Vivi is his new mission--his most dangerous yet--and one that will lead them both to a deadly threat beyond all imagining. . . "A fabulous writer! Fetzer rocks!"--Cherry Adair
Un hombre duro
by
Amy J Fetzer
( Book )
18 editions published between
2004
and 2013 in 5 languages and held by 179 WorldCat member libraries worldwide
Injured marine Rick Wyatt didn't need a nursemaid, especially not his estranged wife, Kate. Having her so close, tending his wounds, only brought back longburied memories of everything they'd done together between the sheets-and everywhere else in the house. She had come home to help Rick get back in uniform, so why was he thinking about how fun it was to stay out of it' Kate had never stopped loving Rick, but she couldn't stay with a man whose walls were harder to scale than Kilimanjaro. He needed her only until he recovered-falling for him again was not an option. For once this wounded soldier was back in action, he wouldn't want her around.or would he'
Intimate danger
by
Amy J Fetzer
( Book )
6 editions published between
2007
and 2014 in
English
and held by 148 WorldCat member libraries worldwide
Scientist Clancy McRae is furious to learn that the nanotechnology she developed to enhance animal capabilities has been tested on humans ... especially when the animal test subjects begin to go berserk. Compelled to warn and help the soldiers involved in the experiment, she meets Mike Gannon, who has no idea he's received the dangerous implant. Mike has always operated in a world of black and white, good and evil, unwilling to let anyone close enough to him to get hurt. Now he and Clancy must team up against those who would do anything and hurt anyone to keep the experiment a secret
Fight fire with fire
by
Amy J Fetzer
( Book )
5 editions published between
2009
and 2013 in
English
and held by 140 WorldCat member libraries worldwide
Dragon One operative Riley Donovan is an expert at bringing em back alive, but his latest assignment takes an extreme detour when his prey is captured ... by someone else. Before you can say 'international incident, ' CIA agent Safia Troy has entered the fray. It just so happens the arms dealer Safia's after is the same scum who grabbed Donovan's man. If anyone can give Riley a run for his money in the kick-butt-then-take-names department, it's Safia. Not that Riley minds: he loves to watch her work ... Safia never thought she'd see Riley again since saving his life years ago - yet here he is, hotter than ever. If she must partner up, Riley certainly satisfies all her requirements. But Safia hasn't bargained for the twisted places this case will lead, revealing secrets about her past even she didn't know. Now, as Safia's drawn deeper into the heart of darkness, Riley's the only one she wants by her side
The SEAL's surprise baby
by
Amy J Fetzer
( Book )
17 editions published between
2002
and 2016 in 7 languages and held by 125 WorldCat member libraries worldwide
Tenían que casarse forzosamente.Una noche de ensueño se desató toda la pasión que el marinero Jack Singer sentía por Melanie Patterson, pero justo entonces él tuvo que marcharse en una misión de alto secreto. Cuando regresó quince meses después descubrió que ella había tenido un hijo suyo. Un hombre de principios como Jack sabía que el matrimonio era la única solución, jamás podría permitir que un hijo suyo creciera sin padre.La obligación y el deseo no eran suficientes para construir un matrimonio y Melanie no estaba dispuesta a convertirse en una condena para nadie. Pero, ¿cómo le podía negar un padre a su pequeña? Además, no sabía por cuánto tiempo iba a poder resistirse a la atracción que sentía por el hombre que amenazaba con derribar todas sus defensas
more
fewer
Audience Level
0

1
Kids
General
Special
Audience level: 0.32 (from 0.22 for Perfect we ... to 0.76 for Julie Mill ...)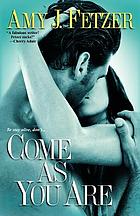 Covers
Alternative Names
Amy J. Fetzer

Fetzer, Amy J.

J MILLER

Miller, Julie

페처, 에이미 J

페처, 에이미 제이

페쳐, 에이미 제이

フェッツァー, エイミー

フェッツァー, エイミー・J

Languages