Australian Film Finance Corporation
Most widely held works about Australian Film Finance Corporation
Most widely held works by Australian Film Finance Corporation
Rabbit-proof fence
by
Phillip Noyce
( Visual )
25 editions published between
2002
and 2011 in
English
and held by 2,419 WorldCat member libraries worldwide
In 1931, Molly and her younger cousins, Gracie and Daisy, were three half-caste children from Western Australia who were taken from their parents under government edict and sent to an institution, were taught to forget their families, their culture, and re-invent themselves as members of "white" Australian society. The three girls begin an epic journey back to Western Australia, travelling 1,500 miles on foot with no food or water, and navigating by following the fence that has been build across the nation to stem an over-population of rabbits
The adventures of Priscilla, queen of the desert
by
Stephan Elliott
( Visual )
37 editions published between
1994
and 2011 in
English
and held by 1,411 WorldCat member libraries worldwide
With a contract to perform a drag show way out in the Australian desert, Tick, Adam and Ralph each has his own reason for wanting to leave the safety of Sydney. Christening their battered, pink tour bus "Priscilla," this wickedly funny and high-drama trio heads for the outback and into crazy adventures in even crazier outfits
Muriel's wedding
by
P. J Hogan
( Visual )
17 editions published between
1990
and 2014 in
English
and held by 960 WorldCat member libraries worldwide
No one ever paid much attention to Muriel and her humdrum small town life, so she and her best friend Rhonda decide to leave it behind and head for the big city ... where they end up having the exciting adventure of their lives! What's more, soon everyone takes notice when Muriel becomes engaged to a handsome and popular sports hero!
Lantana
by
Ray Lawrence
( Visual )
20 editions published between
2001
and 2013 in
English
and held by 780 WorldCat member libraries worldwide
Lantana: a noxious and troublesome weed with dense and spiky undergrowth, sometimes cultivated for its colorful, aromatic flowers (film website). Like the plant, this film is a thicket: lovely and sweet smelling on its surface, dense and thorny beneath. In Lantana, a quartet of married couples from different strata of urban Australian life--wealthy Valerie and John, the middle-class Zats, working-class Jane and her estranged husband Pete, and struggling, just barely working-class Nik and Paula--are connected by psychiatrist Valerie, whose disappearance is the event around which these couples lives begin to revolve. The delicately layered storyline reminds viewers of three essential truths about human existence: No one is exactly what he or she seems; actions generate ripples that reach far beyond the actions themselves; and life does go on, no matter what, but it is never the same as before. Before what? Before everything
Oscar and Lucinda
by
Peter Carey
( Visual )
7 editions published between
1997
and 2011 in
English
and held by 503 WorldCat member libraries worldwide
Oscar is an Anglican priest who gambles discreetly and donates his winnings to help the poor. Lucinda is an Australian businesswoman who boldly defies the rules of 19th-century society. When they meet over an innocent game of cards, their passion for gambling leads them both down a road of romance, chance and fate that changes their lives forever
The rage in Placid Lake
( Visual )
8 editions published between
2003
and 2014 in
English
and held by 476 WorldCat member libraries worldwide
A comedy drama about two parentally neglected teenagers, Placid Lake and Gemma, who find the courage to believe in themselves
Australia Land beyond time
( Visual )
8 editions published between
2004
and 2010 in
English
and held by 356 WorldCat member libraries worldwide
Australia is the world's largest island and smallest continent. It is an exotic and intriguing land shaped by it's isolation from all other lands. With thousands of miles of red desert sand dunes that characterize its famous Outback and lush coastal rainforests rich in unique wildlife, Australia is a place of extremes. Go on a breathtaking journey back in time to witness the birth and evolution of a mysterious land that harbors remnants of Earth's earliest life and many of its strangest creatures that exist nowhere else on the planet
Napoleon
by
MGM/UA Home Video (Firm)
( Visual )
5 editions published between
1996
and 2006 in
English
and
Spanish
and held by 348 WorldCat member libraries worldwide
Join a precocious Golden Retriever pup as he takes off on a magical journey to the wilds of the Australian Outback in this wonderful, all-animal adventure. Life as a housepet isn't much fun for young Muffin, a puppy who dreams of being a "wild dog." So when he gets his chance to escape his suburban backyard in a helium balloon-powered basket, the pup hops on board, changes his name to Napoleon and sets off on the adventure of a lifetime. Along the way he meets some very special friends -- a chatty parrot, a wise owl, a clever koala and more -- who help him on his journey for excitement. But fun isn't all that Napoleon discovers on his quest for adventure ... he also learns more about the world -- and himself -- than he ever thought possible. Featuring a host of delightful songs and the voices of Bronson Pinchot and Joan Rivers, this charming tale that "teaches valuable lessons" is a wonderful treat the whole family will love!
Beneath clouds
by
Ivan Sen
( Visual )
13 editions published between
2001
and 2012 in
English
and held by 333 WorldCat member libraries worldwide
Lena is a fair-skinned girl with an Aboriginal mother. She rejects the indigenous family that surrounds her and longs for the love of her Irish father. Vaughn is a dark-skinned teenage boy who lives in a prison camp. He is angry at the 'white' world that surrounds him. These two hardened souls escape from their worlds in a struggle for purpose, identity, and love
The tracker
by
Rolf De Heer
( Visual )
6 editions published between
2002
and 2005 in
English
and held by 318 WorldCat member libraries worldwide
The tracker: An Aborigine tracker is teamed with three mounted policemen to search for a fugitive suspected of murdering a white woman. A study in archetypes and stereotypes, as each individual moves closer to their own primal emotions and instincts as they move further into the outback. When the searchers come into contact with the native peoples of the wilderness, their urges find new and brutal outlets
more
fewer
Audience Level
0

1
Kids
General
Special
Audience level: 0.21 (from 0.00 for Review of ... to 0.63 for Selling si ...)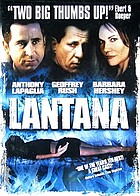 Alternative Names
Australia. Dept. of the Arts and Administrative Services. Australian Film Finance Corporation

Languages
Covers