Leonard, Robert S.
Overview
| | |
| --- | --- |
| Works: | 38 works in 78 publications in 1 language and 4,728 library holdings |
| Roles: | Author |
| Classifications: | UG1242.D7, 359.62120973 |
Most widely held works by Robert S Leonard
The arsenal ship acquisition process experience : contrasting and common impressions from the contractor teams and joint program office
by
Robert S Leonard
( Book )
7 editions published in
1999
in
English
and
Undetermined
and held by 166 WorldCat member libraries worldwide
The Arsenal Ship acquisition program was unique in two respects: it represented a new operational concept for Navy weapon systems, and its management structure and process represented a significant departure from traditional military ship-building programs. The Arsenal Ship program was, in effect, an experiment; while the Navy envisioned an array of mission capabilities for the ship, it set the project budget as the single immovable requirement. In the end, political and financial constraints caused the program's cancellation. Nevertheless, its acquisition approach and technical innovations have already had--and will continue to have--significant influence on other Navy ship-building programs. The lessons learned from the Arsenal Ship program, applied to existing and planned systems, should more than recover the money spent on it
Innovative management in the DARPA high altitude endurance unmanned aerial vehicle program : phase II experience
by
Jeffrey A Drezner
( Book )
6 editions published in
1999
in
English
and
Undetermined
and held by 163 WorldCat member libraries worldwide
The U.S. military's development of Unmanned Aerial Vehicles (UAVs) has been hampered by cost overruns, schedule slippage, and disappointing operational results. The High Altitude Endurance UAV (HAE UAV) joint program, initiated under the direction of the Defense Advanced Research Projects Agency (DARPA), incorporates several innovative elements in its acquisition strategy that depart radically from traditional acquisition approaches. The program's development phase for the Global Hawk and DarkStar air vehicles is analyzed in this research. The HAE UAV program has experienced problems that are typical of newly implemented methods, but it has produced significant benefits, and provides lessons that could improve a wide variety of future acquisition processes
Application of F-117 acquisition strategy to other programs in the new acquisition environment
by
Giles K Smith
( Book )
6 editions published in
1996
in
English
and held by 149 WorldCat member libraries worldwide
The argument is frequently made that special access or "black" programs accommodate more efficient and effective ways to buy weapon systems than do conventional acquisition programs. If so, perhaps some of the characteristics of these covert programs could be transferred to the more conventional procurement programs to enhance their efficiency. That hypothesis is what Project AIR FORCE researchers wanted to test by examining the F-117 Stealth Fighter acquisition program. They concluded that, although it was unlikely that the special set of circumstances surrounding the F-117 procurement could be fully replicated for many other programs (nor should they be), two elements of F-117 program management not only could be but also should be applied more broadly: greater delegation of authority to the program office and requiring only a very few performance requirements by contract. Applying these features to other programs requires considerable mutual trust among the government agencies involved and between the government and the contractor. The absence of such trust spawned many of the controls specifically waived for the F-117 program
Do joint fighter programs save money?
by
Mark A Lorell
( Book )
4 editions published in
2013
in
English
and held by 146 WorldCat member libraries worldwide
In the past 50 years, the U.S. Department of Defense has pursued numerous joint aircraft programs, the largest and most recent of which is the F-35 Joint Strike Fighter (JSF). Joint aircraft programs are thought to reduce Life Cycle Cost (LCC) by eliminating duplicate research, development, test, and evaluation efforts and by realizing economies of scale in procurement, operations, and support. But the need to accommodate different service requirements in a single design or common design family can lead to greater program complexity, increased technical risk, and common functionality or increased weight in excess of that needed for some variants, potentially leading to higher overall cost, despite these efficiencies. To help Air Force leaders (and acquisition decisionmakers in general) select an appropriate acquisition strategy for future combat aircraft, this report analyzes the costs and savings of joint aircraft acquisition programs. The project team examined whether historical joint aircraft programs have saved LCC compared with single-service programs. In addition, the project team assessed whether JSF is on track to achieving the joint savings originally anticipated at the beginning of full-scale development. Also examined were the implications of joint fighter programs for the health of the industrial base and for operational and strategic risk
Analysis of alternatives (AoA) for KC-135 recapitalization : executive summary
( Book )
2 editions published in
2006
in
English
and held by 116 WorldCat member libraries worldwide
Aerial refueling tankers are a critical part of U.S. military and national security strategy. The KC-135 constitutes the bulk of the current tanker force, but this fleet is nearing 50 years of age and has exhibited some technical difficulties and increased costs of operation. The work described here summarizes the activities and results of an Analysis of Alternatives undertaken to address the cost-effectiveness of a wide range of alternatives for KC-135 recapitalization, including both different replacement systems and different replacement schedules. Among the conclusions were that medium to large commercial derivatives are the most cost-effective replacement aircraft and that, as long as the capability of the current fleet meets or exceeds the requirement, the costs are relatively insensitive to timing
Global Hawk and Darkstar : transitions within and out of the HAE UAV ACTD program
by
Jeffrey A Drezner
( Book )
3 editions published in
2002
in
English
and held by 80 WorldCat member libraries worldwide
Over the past three decades, a number of attempts have been made to develop unmanned aerial vehicles, but many of these efforts have met with suboptimal results. Recently, however, the Defense Advanced Research Projects Agency (DARPA), in conjunction with the Defense Airborne Reconnaissance Office, launched an effort & mdash; designated the High-Altitude Endurance Unmanned Aerial Vehicle Advanced concept Technology Demonstration (HAE UAV ACTD) program & mdash; whose objective was to overcome past constraints in UAV development through the use of a new acquisition policy. This report assesses two transitions of the HAE UAV ACTD program & mdash; the first from DARPA to Air Force management and the second from an ACTD to a Major Defense Acquisition Program (MDAP) & mdash; toward the goal of determining which elements of the program's novel acquisition strategy facilitated these transitions and which engendered problems. The authors found that in aggregate, the innovative acquisition strategy adopted in the HAE UAV ACTD program had a positive effect on program execution in that it successfully attained the program's key goals: demonstrating a new operational concept at a lower cost and in a shorter time frame than would have been possible with a traditional acquisition approach. The program's transition from the ACTD construct to an MDAP, however & mdash; although ultimately successful & mdash; posed a number of challenges, many of which stemmed directly from its acquisition strategy. To circumvent these problems in the future, the authors recommend that all organizations involved in a program, particularly operational users, be given substantive input into program planning at the earliest possible juncture
Global Hawk and Darkstar : flight test in the HAE UAV ACTD program
by
Jeffrey A Drezner
( Book )
3 editions published in
2002
in
English
and held by 79 WorldCat member libraries worldwide
The past three decades have seen a number of less-than-successful efforts to develop high-altitude unmanned aerial vehicles. In 1994, the Defense Advanced Research Projects Agency, in conjunction with the Defense Airborne Reconnaissance Office, initiated an effort & mdash; designated the High-Altitude Endurance Unmanned Aerial Vehicle Advanced Concept Technology Demonstrator (HAE UAV ACTD) & mdash; whose goal was to facilitate the development of UAVs through the use of a new and innovative acquisition strategy. This report addresses the effect of that acquisition strategy on the flight test program of the two air vehicles: the conventional Global Hawk and the low-observable DarkStar. The authors found that because DarkStar was canceled after having logged only 6.5 flight hours, not enough flight experience was accumulated to allow for an understanding of the vehicle's flight characteristics or military utility. By contrast, Global Hawk accumulated ample experience to permit a demonstration of its military utility, achieving a level of performance that was close to predicted goals. The precise effect of the HAE UAV acquisition strategy remains the subject of debate. The strategy did, however, influence some key aspects of the flight test program, most notably its increased contractor involvement and its early operational testing in the form of user demonstrations. The flight test program also served to illustrate the vital need for early involvement of operational users to bolster the capabilities and perspective of the contractor
Global Hawk and Darkstar : HAE UAV ACTD program description and comparative analysis
by
Robert S Leonard
( Book )
3 editions published in
2002
in
English
and held by 78 WorldCat member libraries worldwide
The past three decades have seen a number of less-than-successfulefforts to develop high-altitude unmanned aerial vehicles. In 1994, theDefense Advanced Research Projects Agency, in conjunction with the DefenseAirborne Reconnaissance Office, initiated an effort--designated theHigh-Altitude Endurance Unmanned Aerial Vehicle Advanced Concept TechnologyDemonstrator (HAE UAV ACTD) --whose goal was to facilitate the developmentof UAVs through the use of a new and innovative acquisition strategy. Thisreport addresses the effect of that acquisition strategy on the flight testprogram of the two air vehicles: the conventional Global Hawk and thelow-observable DarkStar. The authors found that because DarkStar wascanceled after having logged only 6.5 flight hours, not enough flightexperience was accumulated to allow for an understanding of the vehicle'sflight characteristics or military utility. By contrast, Global Hawkaccumulated ample experience to permit a demonstration of its militaryutility, achieving a level of performance that was close to predicted goals. The precise effect of the HAE UAV acquisition strategy remains the subjectof debate. The strategy did, however, influence some key aspects of theflight test program, most notably its increased contractor involvement andits early operational testing in the form of user demonstrations. The flighttest program also served to illustrate the vital need for early involvementof operational users to bolster the capabilities and perspective of thecontractor
Global Hawk and Darkstar : their advanced concept, technology demonstration, program experience
by
Jeffrey A Drezner
( Book )
2 editions published in
2002
in
English
and held by 76 WorldCat member libraries worldwide
Boundaries that constrained system development, it also provided a high degree of flexibility to adjust the program execution. Areas of risk were addressed as they arose, and early flight test experience was assimilated into continuing system development efforts. Relatively modest changes in up-front planning processes, the structured participation of operational users early in the program, and contract language regarding oversight processes and incentives would ensure successful application of the acquisition strategy to a broader range of systems
more
fewer
Audience Level
0

1
Kids
General
Special
Audience level: 0.42 (from 0.02 for The arsena ... to 0.89 for William Sh ...)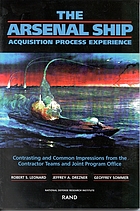 Languages
Covers