Achcar, Gilbert
Most widely held works by Gilbert Achcar
Perilous power : the Middle East & U.S. foreign policy : dialogues on terror, democracy, war, and justice
by
Noam Chomsky
( Book )
27 editions published between
2006
and 2009 in 5 languages and held by 875 WorldCat member libraries worldwide
"Two of the most astute analysts of this part of the world are Noam Chomsky, the preeminent critic of U.S. foreign policy, and Gilbert Achcar, a leading specialist on the Middle East who lived in that region for many years. In their first book together, Chomsky and Achcar bring a keen understanding of the internal dynamics of the Middle East and of the role of the United States. They take up all the key questions of interest to concerned citizens, including such topics as terrorism, fundamentalism, conspiracies, oil, democracy, self-determination, anti-Semitism, and anti-Arab racism, as well as the war in Afghanistan, the invasion and occupation of Iraq, the Israeli-Palestinian conflict, the 2006 Israel-Hamas-Hezbollah armed conflict, and the sources of U.S. foreign policy."--Jacket
The Arabs and the Holocaust : the Arab-Israeli war of narratives
by
Gilbert Achcar
( Book )
20 editions published between
2009
and 2013 in
English
and
German
and held by 574 WorldCat member libraries worldwide
Considers conflicting Middle-East perspectives on the Holocaust, analyzing such topics as Arab responses to Nazism, the creation of Israel, and the destruction of Palestine
The people want : a radical exploration of the Arab uprising
by
Gilbert Achcar
( Book )
17 editions published in
2013
in
English
and held by 293 WorldCat member libraries worldwide
""The people want.": This first half of slogans chanted by millions of Arab protesters since 2011 revealed a long-repressed craving for democracy. But huge social and economic problems were also laid bare by the protestors' demands. Simplistic interpretations of the uprising that has been shaking the Arab world since a young street vendor set himself on fire in Central Tunisia, on 17 December 2010, seek to portray it as purely political, or explain it by culture, age, religion, if not conspiracy theories. Instead, Gilbert Achcar locates the deep roots of the upheaval in the specific economic features that hamper the region's development and lead to dramatic social consequences, including massive youth unemployment. Intertwined with despotism, nepotism, and corruption, these features, produced an explosive situation that was aggravated by post-9/11 U.S. policies. The sponsoring of the Muslim Brotherhood by the Emirate of Qatar and its influential satellite channel, Al Jazeera, contributed to shaping the prelude to the uprising. But the explosion's deep roots, asserts Achcar, mean that what happened until now is but the beginning of a revolutionary process likely to extend for many more years to come. The author identifies the actors and dynamics of the revolutionary process: the role of various social and political movements, the emergence of young actors making intensive use of new information and communication technologies, and the nature of power elites and existing state apparatuses that determine different conditions for regime overthrow in each case. Drawing a balance-sheet of the uprising in the countries that have been most affected by it until now, i.e. Tunisia, Egypt, Yemen, Bahrain, Libya and Syria, Achcar sheds special light on the nature and role of the movements that use Islam as a political banner. He scrutinizes attempts at co-opting the uprising by these movements and by the oil monarchies that sponsor them, as well as by the protector of these same monarchies: the U.S. government. Underlining the limitations of the "Islamic Tsunami" that some have used as a pretext to denigrate the whole uprising, Gilbert Achcar points to the requirements for a lasting solution to the social crisis and the contours of a progressive political alternative. "--
Eastern cauldron : Islam, Afghanistan, Palestine and Iraq in a Marxist mirror
by
Gilbert Achcar
( Book )
10 editions published between
2003
and 2004 in
English
and held by 230 WorldCat member libraries worldwide
This volume brings together Gilbert Achcar's major writings on issues including: the political meaning of Islam, the relation of the West to the Islamic world, the new form of imperialism signaled by the Soviet and US occupations of Afghanistan and the intractable conflict over Palestine
The clash of barbarisms : the making of the new world disorder
by
Gilbert Achcar
( Book )
12 editions published in
2006
in
English
and held by 195 WorldCat member libraries worldwide
"The London bombings of July 7th, 2005, revived the debates that raged after 9/11. What relation did they bear to the foreign and war policies of the United Kingdom and the United States? Were they symptoms of a "cultural clash" between deep-seated 'values' or signs of a social crisis at the root of the ongoing conflict? How should we analyze the present-day emergence of fanatical forms of Islamic fundamentalism? The title of the book alludes to the famous thesis on the 'Clash of Civilizations'. Achcar develops a counterthesis, namely that the clashes we are witnessing do not oppose civilizations, but their dark sides. Each civilization produces a specific form of barbarism, which tends to take over in periods of crisis. Accordingly, the Bush administration doesn't embody the values of Western civilization nor does Islamic fanaticism of the al-Qa'ida type represent Islamic civilization. The clash between them is a 'clash of barbarisms' in which the main culprit remains the most powerful. The war of aggression and occupation in Iraq led to blatant manifestations of Western barbarism, most strikingly epitomized by the torture at Abu Ghraib, and inevitably nurtured fanatical Islamic and other counterbarbarisms."--Back cover
The legacy of Ernest Mandel
( Book )
5 editions published in
1999
in
English
and held by 179 WorldCat member libraries worldwide
Leader of the international Trotskyist movement, lifelong revolutionary and scholar of world renown, Ernest Mandel managed to combine the role of respected intellectual and political leader. This book critically appraises his theoretical work
Le choc des barbaries : terrorismes et désordre mondial
by
Gilbert Achcar
( Book )
12 editions published between
1999
and 2009 in
French
and
Spanish
and held by 104 WorldCat member libraries worldwide
Extrait de la couverture : "Au-delà de l'horreur, les attentats du 11 septembre 2001 soulèvent nombre de questions majeures. Le cycle infernal de la terreur ne témoigne-t-il pas du désordre mondial de l'après-Guerre froide ? Assistons-nous à un choc des civilisations ou à un choc des barbaries ? Que révèlent les différences de perceptions qu'a suscitées cet événement, objet d'un médiatisation inégalée ? Comment s'explique le fait que l'homme le plus haï de l'histoire des Etats-Unis soit originaire du royaume saoudien, un de leurs alliés les plus anciens, grand exportateur de pétrole et d'intégrisme islamique ? Quel rapport y a-t-il entre un "terrorisme" qui vise les points vulnérables de l'hyperpuissance américaine et l'impératif officiel de "dominance" mondiale qu'elle s'est asignée dans l'après-Guerre froide ? Et comment, du "nouvel ordre mondial" promis par Bush prère, en est-on arrivé, sous Bush fils, à ce monde chaotique, pris entre le feu dévorant des violences de toutes sortes et les eaux glaciales du calcul égoïste ? Ce sont quelques-unes des questions qu'aborde cet ouvrage."
more
fewer
Audience Level
0

1
Kids
General
Special
Audience level: 0.54 (from 0.40 for The Arabs ... to 0.91 for L'atlas ...)
Related Identities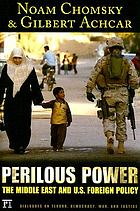 Alternative Names
Ašqar, Ǧilbīr al-

Gilbert Achcar franzsisch-libanesischer Politologe und Soziologe

Gilbert Achcar French communist

Gilbert Achcar politologo francese

Жильбер Ашкар

ا<<لأ>>شقر، جلبير

أشقر، جلبير.

أشقر، جيلبير، 1951-

الأشقر، جلبير

‏الأشقر، جلبير‏، 1951-

الأشقر، جيلبير

جلبير الأشقر، 1951-

アシュカル, ジルベール

ジルベール・アシュカル

Languages
Covers