Acharya, Amitav
Most widely held works by Amitav Acharya
Asia rising : who is leading?
by
Amitav Acharya
( )
17 editions published in
2008
in
English
and held by 1,542 WorldCat member libraries worldwide
"China, India and Japan are among the biggest players in the global economy today. However, Asia's future depends not just on its impressive growth rates or its immense natural resources and human talent: rather, it also hinges on the quality of leadership provided by the major nations and associations of Asia, and their ability to overcome persisting rivalries and respond to new transnational challenges." "Conflict and cooperation are the two central themes of this book - a collection of commentaries and opinion pieces by Professor Amitav Acharya from various newspapers and publications from 2002 to 2006. It covers a wide range of issues such as the rise of China, Asia's leadership legacy and the role of ASEAN. Also discussed are the late of democracy in Asia, and the implications of transnational dangers and the changing world order for Asia."--Jacket
Constructing a security community in Southeast Asia : ASEAN and the problem of regional order
by
Amitav Acharya
( )
53 editions published between
1968
and 2014 in 3 languages and held by 1,514 WorldCat member libraries worldwide
"This book contains the most comprehensive and critical account available of the evolution of ASEAN's norms and the viability of the ASEAN Way of conflict management. It is an invaluable resource for students and scholars of Asian Studies, International Relations and Politics."--Jacket
Singapore's foreign policy : the search for regional order
by
Amitav Acharya
( )
18 editions published between
2007
and 2008 in
English
and held by 1,479 WorldCat member libraries worldwide
The conventional understanding of Singapore's foreign policy can be summarized in three main propositions: first, it is dictated by the imperatives of being a small state; second, its primary purpose is to ensure Singapore's survival, given its small size; and third, this logic of survival dictates a realpolitik approach to foreign policy and national security. This book argues that an exclusively realist view of Singapore's foreign policy is inadequate. Singapore's foreign policy is also shaped by the positive effects of economic interdependence and regional institution-building instruments that realists tend to dismiss, but which Singapore has self-consciously tried to promote as instruments of regional order. The book first looks at the evolution of Singapore's foreign policy, before analyzing Singapore's international relations and national security in the context of economic growth and terrorism. It concludes with an interesting chapter on the impact of the rise of China and India on the regional landscape
Beyond Iraq : the future of world order
( )
12 editions published between
2010
and 2011 in
English
and held by 1,432 WorldCat member libraries worldwide
How does the Iraq War affect the future world order? And what kinds of problems has this war brought about, and what is needed to remedy these problems, so as to reconstruct an order in Iraq and beyond? This present volume is a collection of essays exploring these issues, written by leading scholars in their respective fields. Importantly, the Iraq War has caused numerous long-term security and economic problems in Iraq (Chapter 1) and in the Middle East (Chapter 2). In addition, this war represents a failure of the Western liberals' project of establishing a liberal market democracy, and thes
Human security : from concept to practice : case studies from Northeast India and Orissa
by
Subrat K Singhdeo
( )
11 editions published between
2010
and 2011 in
English
and held by 1,363 WorldCat member libraries worldwide
Introduction : Human security from concept to practice / Amitav Acharya, Subrat Kumar Singhdeo and M. Rajaretnam -- ch. 1. Constructing a human security governance index for Northeast India / Kalyan Das -- ch. 2. Human security mapping in conflict zones : The case of Northeast India / Nani G. Mahanta -- ch. 3. Conflict and development in the context of human security in Northeast India / Dilip Sarma [und weitere] -- ch. 4. A human security index for Orissa, India / Subrat Kumar Singhdeo and Manoranjan Mishra -- ch. 5. Human Security Impact Assessment (HSIA) : A suggested methodology / Biswaraj Patnaik -- ch. 6. People's perception of human security threats : A survey of three naxal-affected districts in Orissa, India / Subrat Kumar Singhdeo
Asia-Pacific security cooperation : national interests and regional order
by
See Seng Tan
( )
15 editions published between
2004
and 2015 in
English
and held by 1,350 WorldCat member libraries worldwide
Contributors explore: why some forms of security cooperation and institutionalization in the Asia-Pacific are more feasible than others; bilateral security cooperation and emerging multilateral structures; and factors needed to develop complementary relationships between states. Patterns of change and continuity are identified and analyzed
Whose ideas matter? : agency and power in Asian regionalism
by
Amitav Acharya
( )
18 editions published between
2009
and 2011 in
English
and held by 1,153 WorldCat member libraries worldwide
Asia is a crucial battleground for power and influence in the international system. It is also a theater of new experiments in regional cooperation that could redefine global order. Whose Ideas Matter? is the first book to explore the diffusion of ideas and norms in the international system from the perspective of local actors, with Asian regional institutions as its main focus.There's no Asian equivalent of the EU or of NATO. Why has Asia, and in particular Southeast Asia, avoided such multilateral institutions? Most accounts focus on U.S. interests and perceptions or intraregional rivalries to explain the design and effectiveness of regional institutions in Asia such as SEATO, ASEAN, and the ASEAN Regional Forum. Amitav Acharya instead foregrounds the ideas of Asian policymakers, including their response to the global norms of sovereignty and nonintervention. Asian regional institutions are shaped by contestations and compromises involving emerging global norms and the preexisting beliefs and practices of local actors.Acharya terms this perspective "constitutive localization" and argues that international politics is not all about Western ideas and norms forcing their way into non-Western societies while the latter remain passive recipients. Rather, ideas are conditioned and accepted by local agents who shape the diffusion of ideas and norms in the international system. Acharya sketches a normative trajectory of Asian regionalism that constitutes an important contribution to the global sovereignty regime and explains a remarkable continuity in the design and functions of Asian regional institutions
The making of Southeast Asia : international relations of a region
by
Amitav Acharya
( )
37 editions published between
2011
and 2013 in
English
and held by 1,107 WorldCat member libraries worldwide
Developing a framework to study "what makes a region," the author investigates the origins and evolution of Southeast Asian regionalism and international relations. He views the Association of Southeast Asian Nations (ASEAN) "from the bottom up"--As not only a U.S.-inspired ally in the Cold War struggle against communism but also an organization that reflects indigenous traditions. Although he deploys the notion of "imagined community" to examine the changes, especially since the Cold War, in the significance of ASEAN dealings for a regional identity, he insists that "imagination" is itself not a neutral but rather a culturally variable concept. The regional imagination in Southeast Asia imagines a community of nations different from NAFTA or NATO, the OAU, or the European Union
UN peace operations and Asian security
by
Mely Cabellero-Anthony
( )
11 editions published in
2005
in
English
and held by 893 WorldCat member libraries worldwide
This is an unparallelled analysis of the state of the United Nations peace operations and their impact on Asian security.This new volume examines new strategies being adopted by the UN; including doctrinal shifts in peace operation, and assesses the division of labour between the UN, regional organisation and non-governmental organisations/actors. Based on selected papers from mostly Asian scholars, the book offers regional perspectives from South, Southeast and Northeast Asia on the changing nature of UN Peace operations and analyses some of the core issues that are of critical relevance to regional security in Asia. In addition it reveals interesting new insights on the new players in the area of peace operations - i.e. China and Japan and considers their projected roles as defined by their respective security concepts. It also delves into issues of possible areas of concern caused by the new activism of these regional powers in peace operations. Finally, the book also revisits the significant lessons learnt from the UN experience in Cambodia and East Timor and examines their impact on future directions of peace operations. This book was previously published as a special issue of the leading journal International Peacekeeping
Indonesia matters : Asia's emerging democratic power
by
Amitav Acharya
( )
12 editions published between
2014
and 2015 in
English
and
Undetermined
and held by 785 WorldCat member libraries worldwide
"[This book] analyses Indonesia's foreign policy and international role under the democratic regime, with particular focus on its role as a leader of ASEAN, its relationship with the major powers of the Asia Pacific, and its place in global order of the 21st century"--
more
fewer
Audience Level
0

1
Kids
General
Special
Audience level: 0.18 (from 0.02 for Singapore' ... to 0.68 for Non-tradit ...)
Related Identities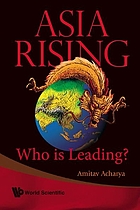 Covers
Alternative Names
Acharya, Amitav 1962-

Akaiya, Amitafu

Amitav Acharya.

Amitav Acharya 1962-....

Amitav Acharya American academic of Indian descent

অমিতাভ আচার্য

Languages