Conrad, Brian 1970-
Most widely held works by Brian Conrad
Grothendieck duality and base change
by
Brian Conrad
( Book )
21 editions published between
2000
and 2002 in
English
and held by 340 WorldCat member libraries worldwide
Grothendieck's duality theory for coherent cohomology is a fundamental tool in algebraic geometry and number theory, in areas ranging from the moduli of curves to the arithmetic theory of modular forms. Presented is a systematic overview of the entire theory, including many basic definitions and a detailed study of duality on curves, dualizing sheaves, and Grothendieck's residue symbol. Along the way proofs are given of some widely used foundational results which are not proven in existing treatments of the subject, such as the general base change compatibility of the trace map for proper Cohen-Macaulay morphisms (e.g., semistable curves). This should be of interest to mathematicians who have some familiarity with Grothendieck's work and wish to understand the details of this theory
Arithmetic algebraic geometry
by
Brian Conrad
( Book )
13 editions published between
2001
and 2008 in
English
and held by 254 WorldCat member libraries worldwide
The articles in this volume are expanded versions of lectures delivered at the Graduate Summer School and at the Mentoring Program for Women in Mathematics held at the Institute for Advanced Study/Park City Mathematics Institute. The theme of the program was arithmetic algebraic geometry. The choice of lecture topics was heavily influenced by the recent spectacular work of Wiles on modular elliptic curves and Fermat's Last Theorem. The main emphasis of the articles in the volume is on elliptic curves, Galois representations, and modular forms. One lecture series offers an introduction to these
Complex multiplication and lifting problems
by
Ching-Li Chai
( Book )
9 editions published between
2013
and 2014 in
English
and held by 224 WorldCat member libraries worldwide
Abelian varieties with complex multiplication lie at the origins of class field theory, and they play a central role in the contemporary theory of Shimura varieties. They are special in characteristic 0 and ubiquitous over finite fields. This book explores the relationship between such abelian varieties over finite fields and over arithmetically interesting fields of characteristic 0 via the study of several natural CM lifting problems which had previously been solved only in special cases. In addition to giving complete solutions to such questions, the authors provide numerous examples to illustrate the general theory and present a detailed treatment of many fundamental results and concepts in the arithmetic of abelian varieties, such as the Main Theorem of Complex Multiplication and its generalizations, the finer aspects of Tate's work on abelian varieties over finite fields, and deformation theory. This book provides an ideal illustration of how modern techniques in arithmetic geometry (such as descent theory, crystalline methods, and group schemes) can be fruitfully combined with class field theory to answer concrete questions about abelian varieties. It will be a useful reference for researchers and advanced graduate students at the interface of number theory and algebraic geometry. -- Provided by publisher
Pseudo-reductive groups
by
Brian Conrad
( Book )
13 editions published between
2010
and 2015 in
English
and
Undetermined
and held by 194 WorldCat member libraries worldwide
"Pseudo-reductive groups arise naturally in the study of general smooth linear algebraic groups over non-perfect fields and have many important applications. This self-contained monograph provides a comprehensive treatment of the theory of pseudo-reductive groups and gives their classification in a usable form. The authors present numerous new results and also give a complete exposition of Tits' structure theory of unipotent groups. They prove the conjugacy results (conjugacy of maximal split tori, minimal pseudo-parabolic subgroups, maximal split unipotent subgroups) announced by Armand Borel and Jacques Tits, and also give the Bruhat decomposition, of general smooth connected algebraic groups. Researchers and graduate students working in any related area, such as algebraic geometry, algebraic group theory, or number theory, will value this book as it develops tools likely to be used in tackling other problems"--
Classification of pseudo-reductive groups
by
Brian Conrad
( Book )
13 editions published between
2015
and 2016 in
English
and held by 183 WorldCat member libraries worldwide
In the earlier monograph Pseudo-reductive Groups, Brian Conrad, Ofer Gabber, and Gopal Prasad explored the general structure of pseudo-reductive groups. In this new book, Classification of Pseudo-reductive Groups, Conrad and Prasad go further to study the classification over an arbitrary field. An isomorphism theorem proved here determines the automorphism schemes of these groups. The book also gives a Tits-Witt type classification of isotropic groups and displays a cohomological obstruction to the existence of pseudo-split forms. Constructions based on regular degenerate quadratic forms and new techniques with central extensions provide insight into new phenomena in characteristic 2, which also leads to simplifications of the earlier work. A generalized standard construction is shown to account for all possibilities up to mild central extensions. The results and methods developed in Classification of Pseudo-reductive Groups will interest mathematicians and graduate students who work with algebraic groups in number theory and algebraic geometry in positive characteristic
Autour des schémas en groupes : group schemes, a celebration of SGA3
by
Sylvain Brochard
( Book )
12 editions published between
2014
and 2016 in 3 languages and held by 75 WorldCat member libraries worldwide
Volume 1 "contains the first part of the lecture notes of the Summer school 'Group Schemes, introduction to the SGA3 seminar of Demazure-Grothendieck, ' which was held at the Centre International de Rencontres Mathématiques (CIRM) at Luminy in September 2011. This summer school was devoted to the theory of group schemes and especially of reductive group schemes. The contributions in this first part are expanded versions of the talks introducing Grothendieck topologies (S. Brochard), group schemes of multiplicative type (J. Oesterlé) and reductive group schemes (B. Conrad)."
Pseudo-reductive groups
by
Brian Conrad
( Book )
10 editions published in
2015
in
English
and held by 66 WorldCat member libraries worldwide
"Pseudo-reductive groups arise naturally in the study of general smooth linear algebraic groups over non-perfect fields and have many important applications. This monograph provides a comprehensive treatment of the theory of pseudo-reductive groups and gives their classification in a usable form. In this second edition there is new material on relative root systems and Tits systems for general smooth affine groups, including the extension to quasi-reductive groups of famous simplicity results of Tits in the semisimple case. Chapter 9 has been completely rewritten to describe and classify pseudo-split absolutely pseudo-simple groups with a non-reduced root system over arbitrary fields of characteristic 2 via the useful new notion of 'minimal type' for pseudo-reductive groups. Researchers and graduate students working in related areas, such as algebraic geometry, algebraic group theory, or number theory will value this book, as it develops tools likely to be used in tackling other problems"--
more
fewer
Audience Level
0

1
Kids
General
Special
Audience level: 0.65 (from 0.36 for Classifica ... to 0.96 for Relèvemen ...)
Related Identities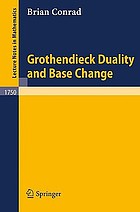 Alternative Names
Brian Conrad Amerikaans wiskundige

Brian Conrad amerikansk matematikar

Brian Conrad amerikansk matematiker

Brian Conrad matemàtic estatunidenc

Brian Conrad matematician american

Brian Conrad matematico americano

Brian Conrad matemático estadounidense

Brian Conrad mathématicien américain

Brian Conrad US-amerikanischer Mathematiker

Conrad, B.

Conrad B. 1970-....

Conrad, Brian.

Conrad, Brian David

Conrad, Brian David 1970-

Брайан Конрад

برایان کنراد ریاضی‌دان آمریکایی

ブライアン・コンラッド

Languages
Covers