Stewart, Devin J.
Most widely held works by Devin J Stewart
Islamic legal orthodoxy : twelver Shiite responses to the Sunni legal system
by
Devin J Stewart
( )
10 editions published between
1998
and 2007 in
English
and held by 1,901 WorldCat member libraries worldwide
Br> Islamic Legal Orthodoxy : Consensus and the Development of the Twelver Shiite Legal Madhhab by Stewart, Devin Terms of use A reading of Shiite jurisprudence that indicates the extent to which the consolidation of the Sunni "madhhabs" or schools of law, controlled the subsequent history of Islamic religious doctrine and institutions not only for the Sunni community but also for prominent marginal or minority groups such as the Shiites and the Kharijis. Finds that the orthodox Sunni legal system set the ground rules by which marginal sects negotiated their identity and place within the Muslim world. Annotation c. by Book News, Inc., Portland, Or. Descriptive content provided by Syndetics"! a Bowker service
Law and society in Islam
by
Devin J Stewart
( Book )
9 editions published between
1995
and 1996 in
English
and held by 236 WorldCat member libraries worldwide
Devin J. Stewart: Taqiyyah as performance: the travels of Baha al-Din
The Princeton encyclopedia of Islamic political thought
( )
2 editions published between
2012
and 2013 in
English
and held by 25 WorldCat member libraries worldwide
The first encyclopedia of Islamic political thought from the birth of Islam to today, this comprehensive, authoritative, and accessible reference provides the context needed for understanding contemporary politics in the Islamic world and beyond. With more than 400 alphabetically arranged entries written by an international team of specialists, the volume focuses on the origins and evolution of Islamic political ideas and related subjects, covering central terms, concepts, personalities, movements, places, and schools of thought across Islamic history. Fifteen major entries provide a synthetic treatment of key topics, such as Muhammad, jihad, authority, gender, culture, minorities, fundamentalism, and pluralism. Incorporating the latest scholarship, this is an indispensable resource for students, researchers, journalists, and anyone else seeking an informed perspective on the complex intersection of Islam and politics. Includes more than 400 concise, alphabetically arranged entries Features 15 in-depth entries on key topics Covers topics such as: Central themes and sources of Islamic political thought: caliph, modernity, knowledge, shari'a, government, revival and reform Modern concepts, institutions, movements, and parties: civil society, Islamization, secularism, veil, Muslim Brotherhood Islamic law and traditional Islamic societies: justice, taxation, fatwa, dissent, governance, piety and asceticism, trade and commerce Sects, schools, regions, and dynasties: Mu'tazilis, Shi'ism, Quraysh, Mecca and Medina, Baghdad, Indonesia, Nigeria, Central Asia, Ottomans Thinkers, personalities, and statesmen: Mawardi, Shafi'I, Saladin, Tamerlane, Akbar, Atatürk, Nasser, Khomeini Contains seven historical and contemporary maps of Muslim empires, postcolonial nation-states, populations, and settlements Guides readers to further research through bibliographies, cross-references, and an index
Disagreements of the jurists : a manual of Islamic legal theory
by
Abū Ḥanīfah Nuʻmān ibn Muḥammad
( Book )
1 edition published in
2015
in
English
and held by 13 WorldCat member libraries worldwide
"Al-Qāḍimal-Nu'mān was the chief legal theorist and ideologue of the North African Fatimid dynasty in the tenth century. This translation makes available in English for the first time his major work on Islamic legal theory (uṣūl al-fiqh), which presents a legal model in support of the Fatimids' principle of legitimate rule over the Islamic community. Composed as part of a grand project to establish the theoretical bases of the official Fatimid legal school, Disagreements of the Jurists expounds a distinctly Shi'i system of hermeneutics, which refutes the methods of legal interpretation adopted by Sunni jurists"--
Vitality and dynamism : interstitial dialogues of language, politics, and religion in Morocco's literary tradition
( Book )
2 editions published in
2014
in
English
and held by 7 WorldCat member libraries worldwide
Interstitial Dialogues of Language, Politics, and Religion in Moroccos Literary Tradition Anti-colonial literature is not necessarily combat literature as Fanon and Déjeux have both suggested in their own writings. While it is often combative, there is also anti-colonial literature that emphasizes the human and the humane rather than the oppositional and contentious; it cannot be fair to label all anti-colonial literature as combative, even if one were to expand the definition of combat to include peaceful struggles against oppression or dehumanization. This book suggests that the relationship between the West and the rest of the world has been imagined as a relationship of Self (the West) to Other (the rest of the world), ordered and bordered geographically by the whims of Europeans and creating a Center-Periphery paradigm. These invented boundaries of humanity serve to separate geographical sites, but more, they serve to enclose the Empire and exoticize other cultures. Boundaries are often spatial, but more often, they are related to relationships and colonialization. Kirstin Ruth Bratt is a professor of English, English pedagogy, and developmental studies at Saint Cloud State University. Youness M. Elbousty is a professor of Arabic Language and Literature at the Near Eastern Languages and Civilizations department at Yale University. Devin J. Stewart is a professor of Arabic and Islamic Studies at Emory. Bron: Flaptekst, uitgeversinformatie
Twelver shīʻī jurisprudence and its struggle with Sunnī consensus
by
Devin J Stewart
( Book )
5 editions published between
1991
and 1995 in
English
and held by 5 WorldCat member libraries worldwide
This study attempts to explain how and why the Twelver Shi'is adopted the guild- based system of jurisprudence first developed by the Sunnis. Drawing on Sunni le gal and theological works, it first outlines a theory of legal heresy in Sunni I slam based on the concept of 'violating the consensus' (mukhalafat al-ijma'). Th e study contends that this definition of heresy threatened to exclude Twelver Sh i'is from the system of legal education and scholarhsip, and that it provoked a number of reactions which are seen in Shi'i legal scholarship. Using biographica l dictionaries, ijazah documents, and works on law and legal methodology, this s tudy argues that Shi'i reactions to Sunni consensus may be seen as falling into three broad categories: rejection of consensus, conformance to consensus, and ad option of consensus. Scholarship on Shi'ism to date suggests that the first cate gory would be the prevalent one, since Shi'ism is seen as a religion of protest inclined to reject the majority. While the rejection of the majority's legal sys tem was a significant theme in Shi'i legal literature, and characterized in part icular the Shi'i Akhbari movement, it has not been historically the most importa nt trend. Shi'is often adopted the Shafi'i madhhab in order to participate in th e system of Sunni madhhabs, and have furthermore endeavored to establish Twelver Shi'ism as a madhhab on a par with those of the Sunnis. This last trend has bee n of enormous importance in the history of the development of Shi'i jurisprudenc e, and began in the late fourth/tenth and early fifth/eleventh centuries with th e Shi'i adoption of the concept of consensus
The sword of ambition : bureaucratic rivalry in medieval Egypt
by
ʻUthmān ibn Ibrāhīm Nābulusī
( Book )
1 edition published in
2016
in
English
and held by 3 WorldCat member libraries worldwide
Introduction -- The reprehensibility of employing dhimmis -- The Copts and their deceits -- Of secretaries and their art -- Ignorant men who have donned the garments of the secretaries
more
fewer
Audience Level
0

1
Kids
General
Special
Audience level: 0.09 (from 0.02 for Islamic le ... to 0.97 for Ibn Zaydun ...)
Related Identities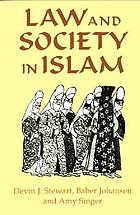 Covers
Alternative Names
Stewart, Devin

Stewart, Devin J.

Languages