Centlivre, Susanna 1667?-1723
Most widely held works about Susanna Centlivre
more
fewer
Most widely held works by Susanna Centlivre
A bold stroke for a wife
by Susanna Centlivre
( Book )
69 editions published between 1718 and 2005 in English and German and held by 1,022 libraries worldwide
The dramatic works of the celebrated Mrs. Centlivre, with a new account of her life
by Susanna Centlivre
( Book )
19 editions published between 1872 and 1986 in English and held by 325 libraries worldwide
The busie body (1709)
by Susanna Centlivre
( Book )
6 editions published between 1709 and 1967 in English and held by 274 libraries worldwide
The busy body a comedy
by Susanna Centlivre
( Book )
58 editions published between 1740 and 1977 in English and held by 234 libraries worldwide
The wonder; a woman keeps a secret! a comedy
by Susanna Centlivre
( Book )
98 editions published between 1714 and 2005 in English and held by 222 libraries worldwide
A bold stroke for a wife : a comedy
by Susanna Centlivre
( Book )
66 editions published between 1718 and 1977 in English and held by 211 libraries worldwide
A wife well manag'd a farce
by Susanna Centlivre
( Book )
24 editions published between 1715 and 2003 in English and held by 164 libraries worldwide
A satirical play about controlling a wife.
The wonder : a woman keeps a secret
by Susanna Centlivre
( Book )
27 editions published between 1714 and 2004 in 3 languages and held by 162 libraries worldwide
"Susanna Centlivre's play The Wonder (1714) was one of the most popular works on the eighteenth-century English stage. Set in Lisbon, the plot interweaves two romantic intrigues around one "secret": the heroine Violante is hiding her best friend, Isabella (who is the sister of her own lover, Don Felix), from Isabella's father, who wishes to marry her off to a rich but decrepit old merchant. Because she is sworn to secrecy, Violante cannot reveal Isabella's whereabouts, nor can she explain to Felix why Isabella's new lover, a dashing British soldier, happens to be about the house, prompting Felix's intense jealousy. Centlivre's critique on the tyrannical patriarchs in the world of the play is at the same time a veiled critique of similar conditions in Augustan-era Britain." "This Broadview edition includes contemporary responses (by Richard Steele and Arthur Bedford), biographical accounts, selections of Centlivre's poetry, and early nineteenth-century criticism (by Elizabeth Inchbald and William Hazlitt)."--BOOK JACKET.
A bold stroke for a wife; a comedy, in five acts
by Susanna Centlivre
( Book )
28 editions published between 1718 and 1981 in English and held by 125 libraries worldwide
The busie body a comedy
by Susanna Centlivre
( Book )
27 editions published between 1709 and 2007 in English and held by 121 libraries worldwide
more
fewer
Audience Level
0

1
Kids
General
Special
Associated Subjects
American drama--Women authors‍
Anecdotes‍
Arranged marriage‍
Behn, Aphra,--1640-1689‍
Biography‍
Caroline,--Queen, consort of George II, King of Great Britain,--1683-1737‍
Centlivre, Susanna,--1667?-1723‍
Charles--II,--King of England,--1630-1685‍
Charles--XII,--King of Sweden,--1682-1718‍
Civilization, Modern‍
Covent Garden Theatre‍
Criticism, interpretation, etc.‍
Criticism and interpretation‍
Drama‍
Dramatists, English‍
Drury Lane Theatre‍
Early works‍
England‍
English drama‍
English drama (Comedy)‍
English drama (Tragedy)‍
English drama--Restoration‍
English drama--Women authors‍
English literature‍
English poetry‍
Epistolary poetry, English‍
Female friendship‍
Fiction‍
Great Britain
Haywood, Eliza Fowler,--1693?-1756‍
Heraldic bookplates‍
History‍
Humorous plays‍
Husband and wife‍
India
International relations‍
Literature‍
Manley,--Mrs.--1663-1724‍
Marriage‍
Pilkington, Laetitia,--1712-1750‍
Poetry‍
Portraits‍
Rare books‍
South Sea Company‍
Specimens‍
Texts‍
Theater‍
William--III,--King of England,--1650-1702‍
Women‍
Women and literature‍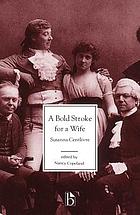 Alternative Names
Author of the Gamester 1667?-1723
Carrol, S. (Susanna), c. 1667-1723
Carrol, Susanna, 1667?-1723
Carrol, Susanna, c. 1667-1723
Carroll, S. 1667-1723
Carroll, S. (Susanna), 1667?-1723
Carroll, Susanna, 1667?-1723
Carroll, Susanna, ca 1667-1723
Carroll, Susannah 1667-1723
Cent Livre, Susanna, 1667?-1723
Cent Livre, Susanna, ca 1667-1723
Centlive, ... 1667-1723
Centlivre, ... 1667-1723
Centlivre, Susanna Carroll
Centlivre, Susanna Carroll, 1667?-1723
Centlivre, Susanna Carroll, ca 1667-1723
Centlivre, Susannah, 1667?-1723
Centlivre, Susannah, ca 1667-1723
Centlivre, Suzanne 1667?-1723
Fox, Susanna, 1667?-1723
Fox, Susanna, c. 1667-1723
Fox, Susannah 1667-1723
Fox, Susannah, ca 1667-1723
Freeman, Susanna, 1667?-1723
Freeman, Susanna, c. 1667-1723
Freeman, Susanna, ca 1667-1723
Freeman, Susannah 1667-1723
Gamester, author of The, 1667?-1723
Livre, Susanna Cent 1667-1723
Livre, Susanna Cent, ca 1667-1723

Languages
Covers