Newman, Randy
Overview
| | |
| --- | --- |
| Works: | 578 works in 1,307 publications in 18 languages and 44,266 library holdings |
| Genres: | Motion picture music Orchestral music Motion picture soundtracks |
| Roles: | Composer, Performer, Conductor, Singer, Arranger, Instrumentalist, Lyricist, Scenarist, Creator, Narrator, Musician, Interviewee, Host |
| Classifications: | pn1997, 791.4372 |
Most widely held works about Randy Newman
more
fewer
Most widely held works by Randy Newman
Toy story
( visu )
7 editions published between 1996 and 2010 in English and held by 2,588 libraries worldwide
Woody the cowboy and Buzz Lightyear, two talking toys, have a fantastic adventure when they go out into the world. This new version contains improved video and audio along with several new bonus features, including all-new games and music videos, new deleted scenes, documentary featurettes, and more.
Monsters, Inc
( visu )
10 editions published between 2001 and 2009 in 3 languages and held by 2,280 libraries worldwide
In the world behind our closet doors, James P. "Sulley" Sullivan and Mike Wazowski work hard. To be exact, monsters like Mike and Sulley pick up their paychecks at Monsters Inc., the utility company that generates energy for the monster world from our children's screams. These days, it's getting harder and harder to shock kids properly--they've been spoiled by television--so much so that now there's an energy shortage! One day Sulley, the number one frightener, accidentally lets a human child in, and as every monster knows that kids are poisonous, pandemonium ensues. Mike and Sulley decide to take the little girl back through her door into her room. But her presence is more than just a mere accident, and now, Mike and Sulley have to face an enemy within their own ranks. Can they foil a devious plot to rid Monstropolis of its power problems?
Toy story 3
( visu )
3 editions published in 2010 in English and held by 2,061 libraries worldwide
Andy is 17 years old and headed off to college, meaning he doesn't have a place in his life for childhood things. The toys (save for Woody), fearing they'll be packed away in the attic and forgotten about forever, are mistakenly donated to the local daycare facility. There, their wishes to be played with once again are fulfilled all too well. They also meet a new collection of toys, including Barbie, Ken, Mr. Pricklepants, Chuckles the clown, and the grandfatherly Lots-O' Huggin' Bear, who may not be exactly who he seems to be. When Woody realizes that Andy still wants his toys, it's up to him to stage a daring rescue effort and break his friends out of Sunnyside Day Care.
The princess and the frog
( visu )
7 editions published in 2010 in English and Hmong and held by 1,941 libraries worldwide
New Orleans. Arrogant, carefree Prince Naveen and hardworking waitress Tiana cross paths. Prince Naveen is transformed into a frog by a conniving voodoo magician. Tiana follows suit when she decides to kiss the amphibian royalty. With the help of a trumpet-playing alligator, a Cajun firefly, and an old blind lady who lives in a boat in a tree, Naveen and Tiana must race to break the spell and fulfill their dreams.
Seabiscuit
( visu )
5 editions published between 2003 and 2009 in English and held by 1,802 libraries worldwide
Based on a true story. A half-blind ex-prizefighter and mustang breaker team up with a millionaire and his rough-hewn, undersized horse, Seabiscuit. The men bring Seabiscuit to incredible heights, helping to turn a long shot into a legend. Eventually, Seabiscuit earns Horse of the Year honors in 1938.
Meet the Fockers
( visu )
10 editions published between 2005 and 2010 in English and French and held by 1,601 libraries worldwide
When Pam and Greg get their parents together it turns into one disaster after another. The hippie Fockers are the direct opposite of the uptight Byrneses. With one pitfall after the next, the film takes awkward in-law experiences to new heights.
Pleasantville
( visu )
10 editions published between 1998 and 2004 in 5 languages and held by 1,573 libraries worldwide
Twin siblings David and Jennifer couldn't be more different: she curses, smokes, and sleeps around; David is a prototypical nerdy outcast. Then, one dark and stormy night, they're sucked into the TV and Pleasantville: a perfect suburban Disneyland suffused with church-social niceness and Rotary Club boosterism. Jennifer despises it all. So, like a pint-size Lauren Bacall, she refuses to play the role of poodle-skirted good girl and introduces one of the boys to sex, after which this bland, black and white world magically begins changing into color. Through the combined forces of sex and rock 'n' roll, it becomes clear that the things that make life worth living--passion, knowledge, and love--are far removed from safety, stability, and bland sterility. Before too long, the whole town is wondering: what's outside Pleasantville?
A bug's life
( visu )
3 editions published between 1999 and 2010 in English and Portuguese and held by 1,238 libraries worldwide
Cute and clever, "A Bug's Life" is a relatively straight retelling of Kurosawa's "The Seven Samurai," except of course that the characters are bugs! Idealistic young ant Flik is a sweet-natured dreamer and inventor. But his innovative thinking makes him an outcast when one of his inventions goes awry and destroys the food sacrifice that the colony makes annually to a gang of grasshopper hooligans led by the sinister Hopper. Disgraced, Flik is sent to look for "warrior bugs," mercenaries to fight them. What he finds--and hires--are a motley crew of circus bugs including a preening master-thespian mantis, a glamorous gypsy moth, a cranky ladybug, a dimwitted beetle, and sundry other dimwitted, craven troupers. The ant colony is inspired by the troupe and mobilizes, but when they discover that the "warriors" are just circus clowns they lose faith. In the end, of course, Flik and crew save the day and free the colony from the oppressive grasshoppers.
Cars
( visu )
5 editions published in 2006 in English and Spanish and held by 1,164 libraries worldwide
Hotshot rookie race car Lightning McQueen is living life in the fast lane until he hits a detour on his way to the most important race of his life. Stranded in Radiator Springs, a forgotten town on old Route 66, he meets Sally, Mater, Doc Hudson, and a variety of quirky characters who help him discover that there's more to life than trophies and fame.
Pixar short films collection. Volume 1
( visu )
2 editions published in 2007 in English and held by 1,085 libraries worldwide
Collection of animated short films from Pixar.
more
fewer
Audience Level
0

1
Kids
General
Special
Related Identities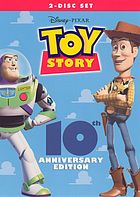 Alternative Names
Newman, Randall Stuart, 1943-

Languages
Covers