McCann, Colum 1965-
Most widely held works about Colum McCann
Most widely held works by Colum McCann
Let the great world spin : a novel
by Colum McCann
( Book )
37 editions published between 2009 and 2010 in 6 languages and held by 2,452 libraries worldwide
A rich vision of the pain, loveliness, mystery, and promise of New York City in the 1970s. A radical young Irish monk struggles with his own demons as he lives among the prostitutes in the middle of the burning Bronx. A group of mothers gather in a Park Avenue apartment to mourn their sons who died in Vietnam, only to discover just how much divides them even in grief. A young artist finds herself at the scene of a hit-and-run that sends her own life careening sideways. A 38-year-old grandmother, turns tricks alongside her teenage daughter, determined not only to take care of her family but to prove her own worth. Weaving together these and other seemingly disparate lives, McCann's allegory comes alive in the voices of the city's people, unexpectedly drawn together by hope, beauty, and the "artistic crime of the century"--A mysterious tightrope walker dancing between the Twin Towers.--From publisher description.
Dancer : a novel
by Colum McCann
( Book )
49 editions published between 2002 and 2009 in 9 languages and held by 1,394 libraries worldwide
A Russian peasant who became an international legend, a Cold War exile who inspired millions, an artist whose name stood for genius, sex, and excess--the magnificence of Rudolf Nureyev's life and work are known, but in this novel McCann reinvents this erotically charged figure, willful, lustful, and driven by a never-to-be-met need for perfection, through the light he cast on those who knew him. Spanning four decades and many worlds, from the horrors of Stalingrad to the wild abandon of New York in the eighties, McCann tells the story through a chorus of voices: there is Rudi's first ballet teacher, who rescues her protégé from the stunted life of his town; Yulia, whose sexual and artistic ambitions are thwarted by her Soviet-sanctioned marriage; and Victor, the Venezuelan hustler, who reveals the lurid underside of the gay celebrity set. McCann evokes the distinct consciousness of the man and the glittering reflection of the myth.--From publisher description.
This side of brightness : a novel
by Colum McCann
( Book )
31 editions published between 1998 and 2010 in 8 languages and held by 1,355 libraries worldwide
When an Irish immigrant is killed, building the 1910s New York subway, a black co-worker supports his family, marrying the widow. The story is contrasted with today's subway, a place not of hope, but despair.
Zoli : a novel
by Colum McCann
( Book )
50 editions published between 2006 and 2009 in 9 languages and held by 1,303 libraries worldwide
"A passionate story of love, loss, and renewal set against the political upheavals of twentieth century Europe, Zoli captures the world of Gypsies more vibrantly than any other novel of the modern era. Zoli Novotna, a young woman raised in the traveling Gypsy tradition, is a poet by accident as much as desire. As fascism spreads over 1930s Czechoslovakia, Zoli and her grandfather flee to join a clan of fellow Romani harpists. But as Zoli's fame grows and her poetic skills deepen, the ruling Communists begin to use her for their own repressive purposes. Cast out from her family, Zoli finally abandons her past to journey to the West." From the bookjacket.
Songdogs : a novel
by Colum McCann
( Book )
27 editions published between 1995 and 2007 in 5 languages and held by 678 libraries worldwide
Un homme raconte la vie aventureuse de son père, photographe irlandais, dans les années qui précèdent la guerre d'Espagne. Celui-ci quitta l'Irlande pour l'Europe, puis le Mexique, avant de revenir définitivement dans son pays natal.
Everything in this country must : a novella and two stories
by Colum McCann
( Book )
10 editions published between 2000 and 2001 in English and held by 585 libraries worldwide
At the fights : American writers on boxing
( Book )
1 edition published in 2011 in English and held by 450 libraries worldwide
Features literary excerpts and articles written by sportswriters and authors that celebrate one hundred years of American boxing.
Fishing the sloe-black river : stories
by Colum McCann
( Book )
7 editions published between 1993 and 2004 in English and French and held by 444 libraries worldwide
Set in Ireland and America, McCann's stories are peopled with "oddballs and outcasts, misfits and travelers--...all in search of a way back home, or a way to leave it."--Jacket.
Best European fiction 2011
( Book )
1 edition published in 2010 in English and held by 299 libraries worldwide
In Year two of the celebrated Best European Fiction series, editor Aleksandar Hemon offers an even wider array of stories, including forty authors from countries as diverse as Belarus, Cyprus, Moldova, and Turkey. With well-known figures such as Hilary Mantel (England) and Ingo Schulze (Germany) alongside authors appearing in English for the first time, Best European Fiction 2011 takes modern story telling to places English-language readers have never gone before. --Book Jacket.
Fishing the sloe-black river
by Colum McCann
( Book )
19 editions published between 1994 and 2007 in 4 languages and held by 200 libraries worldwide
Noveller fra Irland og USA om en række skæve skæbner, som livet ikke har behandlet godt. Men alle har stort behov for at komme videre i tilværelsen og arbejder hårdt for det.
more
fewer
Audience Level
0

1
Kids
General
Special
Related Identities
Associated Subjects
Audiobooks‍
Ballet dancers‍
Boxing‍
Boxing stories‍
Criticism, interpretation, etc.‍
Czechoslovakia
Drama‍
Europe‍
Fathers and sons‍
Feature films‍
Fiction‍
Grandparent and child‍
Great Britain
Grief‍
Guerin, Veronica,--1958-1996‍
Historical fiction‍
History‍
Homeless persons‍
Immigrants‍
Ireland
Ireland--Dublin‍
Irish‍
Irish Americans‍
Irish fiction‍
Journalists‍
Judges' spouses‍
Juvenile works‍
Large type books‍
Literature‍
Male dancers‍
Manners and customs‍
McCann, Colum,--1965-‍
New York (State)--New York‍
Nineteen seventies‍
Northern Ireland
Nureyev, Rudolf,--1938-1993‍
Petit, Philippe,--1949-‍
Psychological fiction‍
Readers (Elementary)‍
Romanies‍
Russia
Sandhogs‍
Short stories, European‍
Social conflict‍
Social history‍
Teenage mothers‍
Tightrope walking‍
Video recordings‍
Women poets‍
Women poets, Slovak‍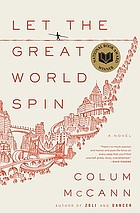 Alternative Names
Mac Cann, Colum
Mac Cann, Colum 1965-....
MacCann, Colum
MacCann, Colum, 1965-
Mc Cann, Colum
Mc Cann, Colum 1965-....
コラム・マッキャン
מקאן, קולום

Languages
Covers