Lindström, Martin 1970-
Overview
| | |
| --- | --- |
| Works: | 104 works in 445 publications in 9 languages and 10,048 library holdings |
| Genres: | Case studies |
| Roles: | Author, Other |
Most widely held works by Martin Lindström
Buy ology : truth and lies about why we buy
by
Martin Lindström
( Book )
37 editions published between
2008
and 2010 in 4 languages and held by 2,016 WorldCat member libraries worldwide
How much do we know about why we buy? What truly influences our decisions in today's message-cluttered world? An eye-grabbing advertisement, a catchy slogan, an infectious jingle? Or do our buying decisions take place below the surface, so deep within our subconscious minds that we're barely aware of them? Marketing guru Lindstrom presents the startling findings from his three-year, seven-million-dollar neuromarketing study, a cutting-edge experiment that peered inside the brains of 2,000 volunteers from all around the world as they encountered various ads, logos, commercials, brands, and products. His startling results shatter much of what we have long believed about what seduces our interest and drives us to buy.--From publisher description
Brandchild : remarkable insights into the minds of today's global kids and their relationships with brands
by
Martin Lindström
( )
36 editions published between
1995
and 2011 in
English
and held by 1,996 WorldCat member libraries worldwide
"Based on the world's most extensive study of tween attitudes and behaviours ever conducted, BRANDchild is the first book to look in-depth at the phenomena behind global kids and their relationships with brands. Conducted by Millward Brown, the leading global market research agency, the BRANDchild survey involved several thousand kids from more than 70 cities in 15 countries (throughout Europe, Asia, the United States and South America). Several renowned experts including best-selling author Patricia B Seybold (Customers.com) share their unique views on kids' trends and fascinating marketing techniques." "BRANDchild summarizes this research, as well as decades of experience from a variety of other sources on how to market to kids. It looks at their life priorities, hopes and dreams and reveals the true drivers of kids' trends by analyzing teen-minority groups, communities and clubs."
Brandwashed : tricks companies use to manipulate our minds and persuade us to buy
by
Martin Lindström
( Book )
29 editions published between
2011
and 2013 in
English
and
Undetermined
and held by 1,527 WorldCat member libraries worldwide
In this shocking, no-holds-barred expose, the author draws on more than 20 years spent in the back rooms and board rooms to reveal all the manipulative ways marketers and advertisers tap into our most deeply seated fears, vulnerabilities, impulses, dreams, and desires, all in the service of taking our dollars. A marketing visionary, he has been on the front lines of the branding wars for over twenty years. Here, he turns the spotlight on his own industry, drawing on all he has witnessed behind closed doors, exposing for the first time the full extent of the psychological tricks and traps that companies devise to win our hard-earned dollars. Picking up from where Vance Packard's bestselling classic, The Hidden Persuaders, left off more than half-a-century ago, this book reveals: New findings that reveal how advertisers and marketers intentionally target children at an alarmingly young age, starting when they are still in the womb! Shocking results of an fMRI study which uncovered what heterosexual men really think about when they see sexually provocative advertising (hint: it isn't their girlfriends). How marketers and retailers stoke the flames of public panic and capitalize on paranoia over global contagions, extreme weather events, and food contamination scares. The first ever neuroscientific evidence proving how addicted we all are to our iPhones and our Blackberrys (and the shocking reality of cell phone addiction, it can be harder to shake than addictions to drugs and alcohol). How companies of all stripes are secretly mining our digital footprints to uncover some of the most intimate details of our private lives, then using that information to target us with ads and offers "perfectly tailored" to our psychological profiles. How certain companies, like the maker of one popular lip balm, purposely adjust their formulas in order to make their products chemically addictive. What a 3-month long guerilla marketing experiment, conducted specifically for this book, tells us about the most powerful hidden persuader of them all. This searing expose introduces a new class of tricks, techniques, and seductions, the hidden persuaders of the 21st century, and shows why they are more insidious and pervasive than ever
Small data : the tiny clues that uncover huge trends
by
Martin Lindström
( Book )
30 editions published between
2016
and 2017 in 3 languages and held by 1,101 WorldCat member libraries worldwide
"Hired by the world's leading brands to find out what makes their customers tick, Martin Lindstrom spends 300 nights a year overseas, closely observing people in their homes. His goal: to uncover their hidden desires and turn them into breakthrough products for the world's leading brands. In a world besotted by the power of Big Data, he works like a modern-day Sherlock Holmes, accumulating small clues to help solve a stunningly diverse array of challenges. In Switzerland, a stuffed teddy bear in a teenage girl's bedroom helped revolutionize 1,000 stores, spread across twenty countries, for one of Europe's largest fashion retailers. In Dubai, a bracelet strung with pearls helped Jenny Craig offset its declining membership in the United States and increase loyalty by 159 percent in only a year. And in China, the look of a car dashboard led to the design of the Roomba vacuum - a great American success story. How? Lindstrom connects the dots in this globetrotting narrative that will fascinate not only marketers and brand managers, but anyone interested in the infinite variations of human behavior. The Desire Hunter combines armchair travel with forensic psychology into an interlocking series of international clue-gathering detective stories. It presents a rare behind-the-scenes look at what it takes to create global brands; and along the way, reveals surprising and counter-intuitive truths about what connects us all as humans"--
Brand sense : build powerful brands through touch, taste, smell, sight, and sound
by
Martin Lindström
( Book )
27 editions published between
2005
and 2010 in
English
and
German
and held by 798 WorldCat member libraries worldwide
"Based on the largest study ever conducted on how our five senses affect the creation of brands, BRAND sense explains Martin Lindstrom's innovative six-step program for bringing brand building into the twenty-first century. The study, covering more than a dozen countries worldwide, was conducted exclusively for this book by Millward Brown, one of the largest business research institutions in the world. Drawing on countless examples of both product creation and retail experience, Lindstrom shows how to establish a marketing approach that appeals to all the senses, not simply the conventional reliance on sight and sound. Research shows that a full 75 percent of our emotions are in fact generated by what we smell, and the author explains how to capitalize on that finding. Included are innovative tools for evaluating a brand's place on the sensory scale, analyzing its future sensory potential, and enhancing its appeal to reach the broadest base of consumers. Lindstrom lists the top twenty brands for the future based on their sensory awareness. (The top three: Singapore Airlines, Apple, and Disney.)"--Jacket
Brand building on the Internet
by
Martin Lindström
( Book )
26 editions published between
1997
and 2001 in 3 languages and held by 302 WorldCat member libraries worldwide
This volume analyzes a range of international companies to demonstrate how the Internet demands a strategic way of thinking about marketing interactive brands to consumers. It also gives readers concrete tools to create a brand strategy on the Internet
Brand sense : sensory secrets behind the stuff we buy
by
Martin Lindström
( Book )
22 editions published between
2005
and 2014 in 3 languages and held by 280 WorldCat member libraries worldwide
Did you know that the gratifying smell that accompanies the purchase of a new automobile actually comes from a factory-installed aerosol can containing "new car" aroma? Or that Kellogg's trademarked "crunch" is generated in sound laboratories? Or that the distinctive click of a just-opened jar of Nescafé freeze-dried coffee, as well as the aroma of the crystals, has been developed in factories over the past decades? Or that many adolescents recognize a pair of Abercrombie & Fitch jeans not by their look or cut but by their fragrance? In perhaps the most creative and authoritative book on how our senses affect our everyday purchasing decisions, global branding guru Martin Lindstrom reveals how the world's most successful companies and products integrate touch, taste, smell, sight, and sound with startling and sometimes even shocking results. In conjunction with renowned research institution Millward Brown, Lindstrom's innovative worldwide study unveils how all of us are slaves to our senses -- and how, after reading this book, we'll never be able to see, hear, or touch anything from our running shoes to our own car doors the same way again. An expert on consumer shopping behavior, Lindstrom has helped transform the face of global marketing with more than twenty years of hands-on experience. Firmly grounded in science, and disclosing the secrets of all our favorite brands, Brand Sense shows how we consumers are unwittingly seduced by touch, smell, sound, and more
Buyology : how everything we believe about why we buy is wrong
by
Martin Lindström
( Book )
23 editions published between
2008
and 2012 in
English
and held by 217 WorldCat member libraries worldwide
Anti-smoking campaigns unwittingly encourage smoking. Negative messages from politicians win votes. Product placement in films rarely work. Many multi-million pound advertising campaigns are a complete waste of time. These are just a few of the findings of Martin Lindstrom's groundbreaking study of what makes consumers tick
Clicks, bricks & brands
by
Martin Lindström
( Book )
21 editions published between
2001
and 2002 in
English
and held by 212 WorldCat member libraries worldwide
Featuring a mix of theory, case study, and practical advice, this text provides retailers and dot.com companies with a clear picture of how to make successful the marriage of traditional offline retailing with the new world of e-tailers
Brandwashed : [tricks companies use to manipulate our minds and persuade us to buy]
by
Martin Lindström
( Recording )
6 editions published in
2011
in
English
and held by 209 WorldCat member libraries worldwide
Martin Lindstrom offers an insider's guide to the marketing industry, shedding light on long-held secrets and tricks of the trade. Here, listeners will discover how advertisers intentionally target children, how men react to provocative ads, and how marketers capitalize on public panic and paranoia
more
fewer
Audience Level
0

1
Kids
General
Special
Audience level: 0.31 (from 0.17 for Brandchild ... to 0.86 for Shou mai g ...)
Related Identities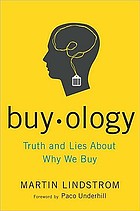 Covers
Alternative Names
Lindstrøm, M. 1970-

Lindstrøm, Martin

Lindström, Martin 1970-

Martin Lindstrom American business writer

Martin Lindstrom schrijver uit Denemarken

Martinas Lindstromas

Линдстром М.

Линдстром Мартин

Мартин Линдстрем

מרטין לינדסטרום

린드스트롬, 마틴

린드스트롬, 마틴 1970-

린드스트룸, 마틴 1970-

リンストローム, マーチン

リンストローム, マーティン

Languages