Martin, Charles 1969-
Most widely held works about Charles Martin
Most widely held works by Charles Martin
The mountain between us
by
Charles Martin
( Book )
57 editions published between
2010
and 2018 in 13 languages and held by 2,659 WorldCat member libraries worldwide
On a stormy winter night, two strangers wait for a flight at the Salt Lake City airport. Ashley Knox is an attractive, successful writer, who is flying East for her much anticipated wedding. Dr. Ben Payne has just wrapped up a medical conference and is also eager to get back East for a slate of surgeries he has scheduled for the following day. When the last outgoing flight is cancelled due to a broken de-icer and a forthcoming storm, Ben finds a charter plane that can take him around the storm and drop him in Denver to catch a connection. And when the pilot says the single engine prop plane can fit one more, if barely, Ben offers the seat to Ashley knowing that she needs to get back just as urgently. And then the unthinkable happens. The pilot has a heart attack mid-flight and the plane crashes into the High Uintas Wilderness -- one of the largest stretches of harsh and remote land in the United States. Ben, who has broken ribs and Ashley, who suffers a terrible leg fracture, along with the pilot's dog, are faced with an incredibly harrowing battle to survive. Fortunately, Ben is a medical professional and avid climber (and in a lucky break, has his gear from a climb earlier in the week). With little hope for rescue, he must nurse Ashley back to health and figure out how they are going to get off the mountain, where the temperature hovers in the teens. Meanwhile, Ashley soon realizes that the very private Ben has some serious emotional wounds to heal as well. He explains to Ashley that he is separated from his beloved wife, but in a long standing tradition, he faithfully records messages for her on his voice recorder reflecting on their love affair. As Ashley eavesdrops on Ben's tender words to his estranged wife she comes to fear that when it comes to her own love story, she's just settling. And what's more: she begins to realize that the man she is really attracted to, the man she may love, is Ben. As the days on the mountains become weeks, their survival become increasingly perilous. How will they make it out of the wilderness and if they do, how will this experience change them forever?
Where the river ends
by
Charles Martin
( Book )
43 editions published between
2008
and 2017 in 8 languages and held by 2,150 WorldCat member libraries worldwide
When Abbie faces a life-threatening illness, her husband Doss battles it with her every step of the way. And when she makes a list of ten things she hopes to accomplish before she loses the fight for good, Doss is there, too. Together they steal away in the middle of the night to embark upon a 130-mile trip down the St. Mary's River, a voyage Doss promised Abbie in the early days of their courtship
Thunder and rain
by
Charles Martin
( Book )
20 editions published between
2012
and 2014 in 3 languages and held by 1,827 WorldCat member libraries worldwide
Modern cowboy Tyler Steele must raise his son, Brodie, save his ranch, and rebuild his life after his wife leaves him for being emotionally distant and ultimately learns that being a man means confronting your true weaknesses
When crickets cry
by
Charles Martin
( Book )
36 editions published between
1984
and 2018 in 7 languages and held by 1,610 WorldCat member libraries worldwide
"It begins on the shaded town square in a sleepy Southern town. A spirited seven-year-old has a brisk business at her lemonade stand. Her latest customer, a bearded stranger, drains his cup and heads for his car, his mind on a boat he's restoring at a nearby lake. But the little girl's pretty yellow dress can't quite hide the ugly scar on her chest. The stranger understands more about it than he wants to admit. And the beat-up bread truck careening around the corner withits radio blaring is about to change the trajectory of both of their lives."--Cover
Unwritten : a novel
by
Charles Martin
( Book )
16 editions published between
2013
and 2015 in 3 languages and held by 1,571 WorldCat member libraries worldwide
"Sunday leads a solitary existence, spending most of his time reading and fishing on his boat, hidden among the Ten Thousand Islands off the Florida coast. It has been years since he has spoken with anyone outside of his priest and confidant, Steady. Because Steady once saved his life, Sunday can't refuse when he asks him to save another. Katie Quinn, a world-famous actress, has been driven by a secret and the pressures of her fame to end her life. Sunday provides an alternate escape, a way to write herself a new life by helping her to fake her death. But Katie still must confront her past before she can find peace, and she'll need Sunday to leave his secluded home and travel to the French countryside to help her"--
Long way gone
by
Charles Martin
( Book )
16 editions published between
2014
and 2017 in 3 languages and held by 1,528 WorldCat member libraries worldwide
"No matter where you go, no matter whether you succeed or fail, stand or fall, no gone is too far gone. You can always come home."At the age of eighteen, musician and songwriter Cooper O'Connor took everything his father held dear and drove 1,200 miles from home to Nashville, his life riding on a six-string guitar and the bold wager that he had talent. But his wager soon proved foolish. Five years after losing everything, he falls in love with Daley Cross, an angelic voice in need of a song. But just as he realizes his love for Daley, Cooper faces a tragedy that threatens his life as well as his career. With nowhere else to go, he returns to his remote home in the Colorado Mountains, searching for answers about his father and his faith. When Daley shows up on his street corner twenty years later, he wonders if it's too late to tell her the truth about his past and if he is ready to face it. A radical retelling of the story of the prodigal son, Long Way Gone takes us from tent revivals to the Ryman Auditorium to the tender relationship between a broken man and the father who never stopped calling him home"--
Water from my heart : a novel
by
Charles Martin
( Book )
14 editions published between
2015
and 2016 in 3 languages and held by 1,455 WorldCat member libraries worldwide
"New York Times bestselling author Charles Martin's breathtaking novel of love and redemption. Charlie Finn had to grow up fast, living alone by age sixteen. Highly intelligent, he earned a life-changing scholarship to Harvard, where he learned how to survive and thrive on the outskirts of privileged society. That skill served him well in the cutthroat business world, as it does in more lucrative but dangerous ventures he now operates off the coast of Miami. Charlie tries to separate relationships from work. But when his choices produce devastating consequences, he sets out to right wrongs, traveling to Central America where he will meet those who have paid for his actions, including a woman and her young daughter. Will their fated encounter present Charlie with a way to seek the redemption he thought was impossible--and free his heart to love one woman as he never knew he could?"--
Send down the rain
by
Charles Martin
( Book )
10 editions published in
2018
in
English
and
Dutch
and held by 1,444 WorldCat member libraries worldwide
"Allie is still recovering from the loss of her family's beloved waterfront restaurant on Florida's Gulf Coast when she loses her second husband to a terrifying highway accident. Devastated and losing hope, she shudders to contemplate the future--until a cherished person from her past returns. Joseph has been adrift for many years, wounded in both body and spirit and unable to come to terms with the trauma of his Vietnam War experiences. Just as he resolves to abandon his search for peace and live alone at a remote cabin in the Carolina mountains, he discovers a mother and her two small children lost in the forest. A man of character and strength, he instinctively steps in to help them get back to their home in Florida. There he will return to his own hometown--and witness the accident that launches a bittersweet reunion with his childhood sweetheart, Allie. When Joseph offers to help Allie rebuild her restaurant, it seems the flame may reignite--until a 45-year-old secret from the past begins to emerge, threatening to destroy all hope for their second chance at love."--
A life intercepted : a novel
by
Charles Martin
( Book )
16 editions published between
2014
and 2017 in 3 languages and held by 1,400 WorldCat member libraries worldwide
"From New York Times bestselling author Charles Martin, when a man wins everything only to lose it, he recognizes the love of his life is the only thing worth having. Twelve years ago Matthew "The Rocket" Rising had it all. Married to his high school sweetheart and graduating as one of the winningest quarterbacks in the history of college football, he was selected as the #1 pick in the NFL. But on the night of the draft, after reaching the pinnacle of success, he plummeted. Accused of a crime with irrefutable evidence, he lost everything--his career, his reputation, his freedom, and the love of his life. Having served his sentence and never played a down of professional football, he walks out of prison with one goal--to win back his wife, Audrey, whom no one has seen since the trial. He returns to an unwelcoming reception from his hometown only to discover that Audrey has taken shelter from the media and the outside world at a convent. As chance would have it, there she has found a young man with the ability to have the football career Matthew should have had. All he needs is the right coach. Though helping the boy means Matthew violates the conditions of his release and, if discovered, will be forced to return to prison for the rest of his life, he's willing to take this singular chance to prove his innocence and win back Audrey's love"--
Chasing fireflies : a novel of discovery
by
Charles Martin
( Book )
19 editions published between
2007
and 2019 in 3 languages and held by 1,360 WorldCat member libraries worldwide
A woman on a suicide run kicks her abused son out of the car. The little boy, apparently mute, is an artistic prodigy who excels at chess
more
fewer
Audience Level
0

1
Kids
General
Special
Audience level: 0.14 (from 0.10 for When crick ... to 0.28 for When crick ...)
Related Identities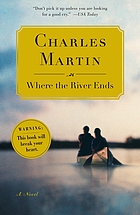 Covers
Alternative Names
Charles Martin Americký spisovatel.

Charles Martin amerikanischer Autor, geboren 1969

Charles Martin auteur américain, né en 1969

Charles Martin escritor estadounidense

Charles Martin Martin, Charles, 1969-

Charles Martin Pisarz ameryk.

Charles Martin schrijver

Mārtins, Čārlzs 1969-

Чарлс Мартин

Чарльз Мартин

Чарльз Мартін американський письменник

تشارلز مارتن كاتب أمريكي

查爾斯·馬丁

Languages