McAfee, Andrew
Most widely held works about Andrew McAfee
Most widely held works by Andrew McAfee
The second machine age : work, progress, and prosperity in a time of brilliant technologies
by
Erik Brynjolfsson
( Book )
28 editions published between
2014
and 2018 in
English
and held by 2,138 WorldCat member libraries worldwide
A revolution is under way. In recent years, Google's autonomous cars have logged thousands of miles on American highways and IBM's Watson trounced the best human Jeopardy! players. Digital technologies -- with hardware, software, and networks at their core -- will in the near future diagnose diseases more accurately than doctors can, apply enormous data sets to transform retailing, and accomplish many tasks once considered uniquely human. In The Second Machine Age MIT's Erik Brynjolfsson and Andrew McAfee -- two thinkers at the forefront of their field -- reveal the forces driving the reinvention of our lives and our economy. As the full impact of digital technologies is felt, we will realize immense bounty in the form of dazzling personal technology, advanced infrastructure, and near-boundless access to the cultural items that enrich our lives. Amid this bounty will also be wrenching change. Professions of all kinds, from lawyers to truck drivers, will be forever upended. Companies will be forced to transform or die. Recent economic indicators reflect this shift: fewer people are working, and wages are falling even as productivity and profits soar. Drawing on years of research and up-to-the-minute trends, Brynjolfsson and McAfee identify the best strategies for survival and offer a new path to prosperity. These include revamping education so that it prepares people for the next economy instead of the last one, designing new collaborations that pair brute processing power with human ingenuity, and embracing policies that make sense in a radically transformed landscape. A fundamentally optimistic book, The Second Machine Age will alter how we think about issues of technological, societal, and economic progress. - Publisher
Machine, platform, crowd : harnessing our digital future
by
Andrew McAfee
( Book )
16 editions published between
2017
and 2018 in
English
and held by 819 WorldCat member libraries worldwide
"We live in strange times. A machine plays the strategy game Go better than any human; upstarts like Apple and Google destroy industry stalwarts such as Nokia; ideas from the crowd are repeatedly more innovative than corporate research labs. MIT's Andrew McAfee and Erik Brynjolfsson know what it takes to master this digital-powered shift: we must rethink the integration of minds and machines, of products and platforms, and of the core and the crowd. In all three cases, the balance now favors the second element of the pair, with massive implications for how we run our companies and live our lives."--
Leading digital : turning technology into business transformation
by
George Westerman
( Book )
16 editions published between
2014
and 2015 in
English
and held by 546 WorldCat member libraries worldwide
"Leading Digital makes the provocative argument that the next imminent phase of digital technology adoption - driven by the convergence of mobility, analytics, social media, cloud computing, and embedded devices - will make everything that's happened so far look like a prelude. The authors, a trio of highly regarded thought leaders on corporate digital transformation, say changes in the digital realm so far have focused on high tech and media companies - but there's still a whopping 94% of the business economy that needs to change. This book will show them how. George Westerman of MIT, Didier Bonnet of Capgemini Consulting, and Andrew McAfee, also at MIT, say there is opportunity for these businesses to learn from those that have already mastered the digital landscape. Based on a study of more than 400 large, mainstream firms in every industry around the globe, the authors usefully break down how these organizations have used their own digital transformation to gain strategic, competitive advantage. Readers will learn how these digital leaders have transformed their businesses through smart and rigorous digital investments, and through smart and effective leadership of the change. Leading Digital offers practical, real-life tested frameworks that can be instantly applied. Case studies include Nike, Caesars, Burberry, Asian Paints, Pages Jaunes, Codelco, and more"--
Enterprise 2.0 : new collaborative tools for your organization's toughest challenges
by
Andrew McAfee
( Book )
19 editions published between
2009
and 2013 in
English
and held by 480 WorldCat member libraries worldwide
"Most organizations realize that to succeed in today's turbulent world, they need to perform as an integrated whole to tap into innovations and good ideas. Yet many still find it difficult to capture the collective intelligence of their employees and customers. Companies don't know what they know--but they need to learn soon. Thanks to a new class of collaborative technologies, organizations can now leverage information in valuable new ways, including: capturing accumulated knowledge, connecting employees who need information with the experts who have it, and enabling the best ideas to emerge organically. These technologies--labeled "Web 2.0"--First appeared on the Internet, where they powered successful social communities and collaborative platforms like Facebook and Wikipedia. Web 2.0 tools, practices, and philosophies are now being deployed by a wide range of organizations, making them more agile, productive, and innovative. This is the phenomenon of Enterprise 2.0. In this compelling book, Andrew McAfee--a veteran researcher and writer on the business impact of technology, and the originator of the phrase "Enterprise 2.0"--describes the power of Enterprise 2.0 and shows readers how to harness it"--Page 2 of cover
The second machine age : wie die nächste digitale Revolution unser aller Leben verändern wird
by
Erik Brynjolfsson
( Book )
18 editions published between
2014
and 2018 in 5 languages and held by 190 WorldCat member libraries worldwide
Seit Jahren arbeiten wir mit Computern und Computer für uns. Mittlerweile sind die Maschinen so intelligent geworden, dass sie zu Leistungen fähig sind, die vor Kurzem noch undenkbar waren: Sie fahren Auto, sie schreiben eigene Texte und sie besiegen Grossmeister im Schach. Dieser Entwicklungssprung ist nur der Anfang. In ihrem neuen Buch zeigen zwei renommierte Professoren, welch atemberaubende Entwicklungen uns noch bevorstehen: Die zweite industrielle Revolution kommt! Welche Auswirkungen wird das haben? Welche Chancen winken, welche Risiken drohen? Was geschieht dabei mit den Menschen, was mit der Umwelt? Und was werden Gesellschaft und Politik tun, um die Auswirkungen dieser neuen digitalen Intelligenz für alle bestmöglich zu gestalten? Dieses Buch nimmt Sie mit auf eine Reise in eine Zukunft, die schon längst begonnen hat
The second machine age : work, progress, and prosperity in a time of brilliant technologies
by
Erik Brynjolfsson
( Recording )
6 editions published between
2013
and 2015 in
English
and held by 187 WorldCat member libraries worldwide
The future of business, work, and the economy in a digital world. In recent years, computers have learned to diagnose diseases, drive cars, and win at Jeopardy!. Advances like these have created unprecedented economic bounty, but in their wake median income has stagnated and the share of the population with jobs has fallen. MIT's Erik Brynjolfsson and Andrew McAfee reveal the technological forces driving this reinvention of the economy and chart a path toward future prosperity
Le deuxième âge de la machine : travail et prospérité à l'heure de la révolution technologique
by
Erik Brynjolfsson
( Book )
2 editions published in
2015
in
French
and held by 79 WorldCat member libraries worldwide
La révolution technologique vient seulement de commencer ! Tel est le propos de ce livre, écrit par deux grands experts américains des nouvelles technologies. Leur optimisme se fonde sur la fameuse loi de Moore, qui veut que les capacités de calcul des ordinateurs doublent tous les dix-huit mois. Une loi exponentielle qui accouche d'un monde nouveau tous les dix-huit mois... Des voitures autonomes se jouant des aléas de la circulation aux robots capables de nous remplacer dans les tâches ménagères, en passant par toutes les innovations de la santé et de l'information, ce livre nous entraîne au cœur de la Silicon Valley avant de nous faire pénétrer les arcanes de ce que les auteurs appellent le « deuxième âge de la machine » : une révolution industrielle sans précédent, qui mêle intelligence artificielle, robotique et économie numérique. Très accessible, ce livre est une contribution décisive au débat sur la croissance et la productivité. Et même s'il n'annonce pas encore la disparition du travail, il en appelle cependant aux entreprises et aux gouvernements pour accompagner ces mutations et répartir l'abondance
Gagner avec le digital : comment les technologies numériques transforment les entreprises
by
George Westerman
( Book )
3 editions published in
2016
in
French
and held by 45 WorldCat member libraries worldwide
La 4è de couv. indique : "Comment conduire une transformation digitale réussie, quels que soient la taille de votre entreprise et votre secteur d'activité. Vous croyez peut-être que la transformation numérique ne concerne que les stars de la Silicon Valley ou les start-up ... Détrompez-vous! Les appareils mobiles, les outils d'analyse numériques, les capteurs intelligents, le cloud computing et les médias sociaux ont déjà profondément modifié le paysage du monde professionnel, qu'il s'agisse des métiers, des entreprises, des processus internes, ou des prises de décisions. Les auteurs se basent sur une analyse très poussée de plus de 400 entreprises traditionnelles de secteurs d'activités variés qui ont réussi cette transformation, comme Nike, Pernod Ricard, Les Pages Jaunes, Lloyds Banking Group. Ils dévoilent comment ces groupes sont partis de problèmes concrets pour trouver des solutions digitales et ont pu ainsi concevoir de nouveaux produits ou services, améliorer leur relation client, leurs processus internes, pour en tirer un avantage compétitif sur leurs concurrents et gagner en profitabilité. Ce guide vous aidera à préciser la vision du numérique de votre entreprise, définir les différentes étapes de votre transformation avec vos équipes, les mobiliser autour de ce projet, pour tirer au mieux parti du digital."
Enterprise 2.0 : new collaborative tools for your organization's toughest challenges
by
Andrew McAfee
( )
4 editions published between
2010
and 2013 in
English
and held by 39 WorldCat member libraries worldwide
HARNESS NEW COLLABORATIVE TECHNOLOGIES FOR COMPETITIVE GAIN: Most organizations realize that to succeed in today's turbulent world, they need to perform as an integrated whole to tap into innovations and good ideas. Yet many still find it difficult to capture the collective intelligence of their employees and customers. Companies don't know what they know, but they need to learn soon
more
fewer
Audience Level
0

1
Kids
General
Special
Audience level: 0.37 (from 0.17 for TEDTalks : ... to 0.90 for Des machin ...)
Related Identities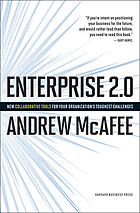 Covers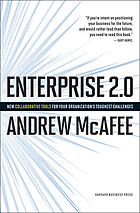 Alternative Names
Andrew McAfee American author

Andrew McAfee Amerikaans econoom

Andrew McAfee economista estadounidense

Mac Afee Andrew

MacAfee Andrew

MacAfee, Andrew 1967-

Macafee, Andrew P.

Macafee, Andrew P. 1967-

Mc Afee Andrew

Mc Afee, Andrew 1967-

McAfee, Andrew P.

McAfee, Andrew P. 1967-

매카피, 앤드루 1967-

맥아피, 앤드루 1967-

アンドリュー・マカフィー

マカフィー, アンドリュー

安德鲁·迈克菲 美国科技作家

Languages