Epictetus
Most widely held works about Epictetus
more
fewer
Most widely held works by Epictetus
The golden sayings of Epictetus
by
Epictetus
( )
22 editions published between
1903
and 2019 in
English
and held by 1,384 WorldCat member libraries worldwide
"Are these the only works of Providence within us? What words suffice to praise or set them forth? Had we but understanding, should we ever cease hymning and blessing the Divine Power, both openly and in secret, and telling of His gracious gifts? Whether digging or ploughing or eating, should we not sing the hymn to God: Great is God, for that He hath given us such instruments to till the ground withal: Great is God, for that He hath given us hands and the power of swallowing and digesting; of unconsciously growing and breathing while we sleep! Thus should we ever have sung; yea and this, the grandest and divinest hymn of all: Great is God, for that He hath given us a mind to apprehend these things, and duly to use them! What then! seeing that most of you are blinded, should there not be some one to fill this place, and sing the hymn to God on behalf of all men? What else can I that am old and lame do but sing to God? Were I a nightingale, I should do after the manner of a nightingale. Were I a swan, I should do after the manner of a swan. But now, since I am a reasonable being, I must sing to God: that is my work: I do it, nor will I desert this my post, as long as it is granted me to hold it; and upon you too I call to join in this self-same hymn."--Amazon.com
The enchiridion, or, Handbook : with a selection from the discourses of EpictetusEpictetus
by
Epictetus
( )
8 editions published between
1888
and 2013 in
English
and held by 1,226 WorldCat member libraries worldwide
No writings of Epictetus himself are really known. His discourses were transcribed and compiled by his pupil Arrian (author of the Anabasis Alexandri). The main work is The Discourses, four books of which have been preserved (out of an original eight). Arrian also compiled a popular digest, entitled the Enchiridion, or Handbook. In a preface to the Discourses, addressed to Lucius Gellius, Arrian states that "whatever I heard him say I used to write down, word for word, as best I could, endeavouring to preserve it as a memorial, for my own future use, of his way of thinking and the frankness of his speech."
Discourses and Enchiridion
by
Epictetus
( Book )
13 editions published between
1944
and 1972 in
English
and held by 942 WorldCat member libraries worldwide
The Handbook of Epictetus also known as Enchiridion written by legendary Greek Stoic philosopher Epictetus is a manual of Stoic ethical advice. This great classic is, for many, required reading for various courses and curriculums. The philosophy of Epictetus, a freed slave in the Roman Empire, has been profoundly influential on Western thought: it offers not only stimulating ideas but practical guidance in living one's life
Epictetus; the Discourses as reported by Arrian, the Manual, and fragments
by
Epictetus
( Book )
30 editions published between
1925
and 1989 in 3 languages and held by 770 WorldCat member libraries worldwide
EPICTETUS ('Acquired', probably his real name) was a crippled Greek slave of Phyrgia during Nero's reign (A.D. 54-68) who heard lectures by the Stoic Musonius before he was freed. Expelled with other philosophers by the emperor Domitian in 89 or 92 he settled permanently in Nicopolis in Epirus and, in a school which he called 'healing place for sick souls', taught a practical philosophy, details of which were taken down by his pupil Flavius Arrianus and survive in four books of 'Diatribae' or Discourses and a smaller 'Encheiridion' or Handbook which gives briefly the chief doctrines of the other work. He lived apparently into the reign of Hadrian (A.D. 117-138). Epictetus was a teacher and preacher of practical Stoic ethics, broad and firm in method, sublime in thought, and now humorous, now sad or severe in spirit. How should one live righteously? Our god-given will is our paramount possession, and we must not covet others'. We must not resist fortune. Man is part of a system of men and God; men are reasoning beings (in feeble bodies) and must conform to God's mind and the will of nature. Epictetus presents us also with a pungent picture of the perfect (Stoic) man
How to be free : an ancient guide to the stoic life : Encheiridion and selections from Discourses
by
Epictetus
( )
7 editions published in
2018
in
English
and held by 713 WorldCat member libraries worldwide
"Born a slave, the Roman Stoic philosopher Epictetus (c. 55-135 AD) taught that mental freedom is supreme, since it can liberate one anywhere, even in a prison ... Freedom, for Epictetus, is not a human right or a political prerogative but a psychological and ethical achievement, a gift that we alone can bestow on ourselves ... How to Be Free features splendid new translations and the original Greek on facing pages, a compelling introduction that sets Epictetus in context and describes the importance of Stoic freedom today, and an invaluable glossary of key words and concepts. The result is an unmatched introduction to this powerful method of managing emotions and handling life's situations, from the most ordinary to the most demanding."--Provided by the publisher
The works of Epictetus : consisting of his Discourses, in four books, the Enchiridion, and Fragments
by
Epictetus
( Book )
51 editions published between
1807
and 2018 in
English
and held by 499 WorldCat member libraries worldwide
"Elizabeth Carter's version of Epictetus has outlived every English prose translation of its day, and has admirably held its ground with readers. I hesitated for some time, whether to call this book simply a revision of Elizabeth Carter's translation, or a new one based on hers. The latter alternative was finally chosen, less in order to claim for myself any credit of hers, than to save her from sharing any discredit of mine. Epictetus limits himself strictly to giving a code of practical ethics. Not ignoring metaphysics in their proper place, he directs his aims elsewhere. His essential principles are very simple. All things (he holds) receive their character from our judgment concerning them; all objects, all events, are merely semblances or phenomena, to be interpreted according to the laws which nature gives us. An obvious classification at once occurs; all things are either controllable by will, or uncontrollable"--Preface. (PsycINFO Database Record (c) 2010 APA, all rights reserved)
The discourses of Epictetus
by
Epictetus
( Book )
9 editions published between
1900
and 2013 in
English
and held by 495 WorldCat member libraries worldwide
Yet the stress on endurance, self--restraint and power of the will to withstand calamity can often seem coldhearted. It is Epictetus, a lame former slave exiled by the Emperor Domitian, who offers by far the most positive and humane version of stoic ideals. The Discourses, assembled by his pupil Arrian, catch him in action, publicly setting out his views on ethical dilemmas. -- Amazon
The philosophy of Epictetus
by
Epictetus
( Book )
9 editions published between
1903
and 1998 in
English
and held by 344 WorldCat member libraries worldwide
Discourses of Epictetus, as reported by Arrian, based on the translation of T.W. Higginson
more
fewer
Audience Level
0

1
General
Special
Audience level: 0.32 (from 0.01 for The enchir ... to 0.81 for Entretien ...)
Related Identities
Associated Subjects
Ancient Greek literature
Antisthenes,
Arrian
Bible.--Epistles of Paul
Bible.--Matthew
Bible.--New Testament
Bion,--of Borysthenes,
Carter, Elizabeth,
Conduct of life
Crates,
Cynics (Greek philosophy)
Diogenes,
Discourses (Epictetus)
Epictetus
Ethics
Ethics, Ancient
Greece
Greek literature
Greek literature, Hellenistic
Greek prose literature
Greeks
Higginson, Thomas Wentworth,
Jesus Christ
Jewish law
Latin literature
Law
Law--Philosophy
Long, George,
Manual (Epictetus)
Marcus Aurelius,--Emperor of Rome,
Military biography
Montaigne, Michel de,
Paul,--the Apostle, Saint
Philosophy
Philosophy, Ancient
Prisoners of war
Psychotherapy
Pythagoras and Pythagorean school
Rational emotive behavior therapy
Seneca, Lucius Annaeus,
Simplicius,--of Cilicia
Social psychology
Stockdale, James B
Stoics
Teacher of Righteousness
Teachings
United States
Vegetarianism
Vegetarianism--Religious aspects
Vietnam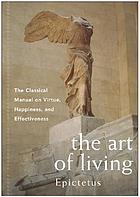 Covers
Alternative Names
Ἐπτ̈̔«"αε·κτητος

Aibiketaide 50-130

Epict.

Epictet 50-130

Épictète

Épictète 50-130

Épictète, ca.50-ca.138

Epictète de Hierapolis 50-130

Epictetes 50-130

Epicteto

Epicteto 50-130

Epictetus

Epictetus Hierapolitanus 50-130

Epictetus Hierapolitanus Phryx

Epictetus Philosophus

Epictetus Philosophus 50-130

Epictetus Romanus 50-130

Epicticus 50-130

Ėpiktet

Épiktét 50-130

Epiktet, ca.50-ca.138

Epiktetas 50-130

Epiktetes 50-130

Epikteto, ca.50-ca.138

Epiktétos

Epiktētos 50-130

Epiktetos, ca.50-ca.138

Epiktetos Stoischer Philosoph 50-130

Epiktetos von Hierapolis 50-130

Epiktit

Epitecto 50-130

Epitteto

Epitteto 50-130

Epitteto, ca.50-ca.138

Ἐπίκτητος

עפיקטעט

爱比克泰德 50-130

Languages