Schettler, Gotthard
Most widely held works about Gotthard Schettler
Most widely held works by Gotthard Schettler
Lipids and lipidoses
by
Gotthard Schettler
( Book )
23 editions published between
1967
and 2013 in
English
and
German
and held by 290 WorldCat member libraries worldwide
Advances which have been made in the field of lipid chemistry and bio chemistry during the last ten years mainly are the results of progress in metho dology. The introduction of isotopic and chromatographic techniques has not only enriched our knowledge of normal lipid metabolism but has also greatly enhanced the understanding of the various lipidoses. This is well illustrated by a comparison of the contents of the present monograph with those of my 1955 review in Handbuch der Inneren Medizin (Springer). In addition to better information about the classic lipid thesaurismoses Nie mann-Pick
Principles and treatment of lipoprotein disorders
by
Gotthard Schettler
( Book )
9 editions published between
1993
and 1994 in 3 languages and held by 232 WorldCat member libraries worldwide
Major advances have been made in the understanding of the molecular mechanisms of atherosclerosis, the disease that still affects more than 50 percent of the population in the highly industrialized countries. This volume covers the most recent advances in the treatment of hyperlipidemia. It represents a necessary update because molecular mechanisms of atherogenesis have been discovered in the past few years and their molecular mechanisms of action identified. Extensively treated are the molecular mechanisms of disease etiology of arteriosclerosis in relation to the major risk factor "hyperlipidemia", rationale for more effective treatment of this disease by dietary means, the treatment of associated or causing diseases, and the treatment using hypolipidemic drugs
Atherosclerosis : is it reversible?
by
Gotthard Schettler
( Book )
11 editions published in
1978
in
English
and
Undetermined
and held by 204 WorldCat member libraries worldwide
Even though numerous questions with regard to the pathogenesis of athero sclerosis have not yet been answered, the accumulated evidence indicates significant regression of lesions in experimental animals. This is discussed extensively in this monograph, as are the mechanisms involved in regression of lesions. Whether human atherosclerosis has the potential for regression appears to be the most important, but at the same time the most difficult question to answer. Contrary to experimental atherosclerosis in animals, which can be produced and which can regress within a few months, human lesions in general develop slowly over many years. Therefore, measures aimed at modifying this process may also require many years to be successful. In addition, repeated direct examination of lesions in the human is usually not possible. Nevertheless, recent reports in patients with hyperlipoproteinemias indicate that pronounced and maintained control of hyperlipidemias may lead, even within months, to regression as evidenced by angiography or sophisticated measurements of peripheral circulation. The monograph is divided into two sections. The first will deal with of lipid deposition in the arterial wall, whether "atherogenesis": mechanisms or not there is evidence of monoclonal origin of human atherosclerosis plaques, cell culture and factors that stimulate smooth muscle proliferation, and animal models of atherogenesis. This section is concluded with a discussion of dietary factors other than lipids in atherogenesis
European food composition tables in translation
by
L Arab-Kohlmeier
( Book )
10 editions published in
1987
in
English
and
German
and held by 179 WorldCat member libraries worldwide
The limited resources available for chemical analyses of components of interest in food has forced scientists to borrrow data from published food composition works of other countries. Due to language barriers, this is often undertaken without due knowledge of the background and instructions for use. This book contains English-language translations of the introductory material and guidelines for use included in the most recent editions of 21 published food composition tables of 14 European countries. It has been compiled with the assistance and cooperation of many collaborators throughout the world. This information is meant to help scientists referring to foreign food tables have a better understanding of the information they are using and to help prevent misuse and undue comparison
Molecular biology of the arterial wall
by
Gotthard Schettler
( Book )
12 editions published in
1987
in
English
and
German
and held by 174 WorldCat member libraries worldwide
The outstanding contributions to this volume are designed to shed light on some fields of cell biology and cellular pathology, including newly observed phenomena of cell-cell interactions, which might be applicable in studying the pathological process of atherosclerosis. The topics included cover: lipoproteins and lipoprotein receptors; growth factors; endocytosis and exocytosis; ONC Genes and proliferative disease; white blood cells; prostaglandins and leukotrienes; and the biology of smooth muscle and endothelium. The volume provides a complete summary of the most important developments in the field with great impact for arteriosclerosis research
Molecular mechanisms of aging
by
K Beyreuther
( Book )
11 editions published in
1990
in
English
and held by 172 WorldCat member libraries worldwide
Reperfusion and revascularization in acute myocardial infarction
by
Gotthard Schettler
( Book )
15 editions published in
1988
in
English
and
German
and held by 168 WorldCat member libraries worldwide
Numerous new and important findings relating to the reconstruction of disturbed circulatory conditions in the coronary area are reported in this book. Fundamental aspects of therapeutic and prophylactic possibilities are covered in detail. Recommendations are then made to practitioners and clinicians for their everyday work. Critical standards for the indications and risks of the recommended procedures are given. Particular emphasis is laid on the possibilities for revascularization by means of dissolution of blood thrombi. The book aims to present top-level guidance to the pros and cons of reconstructive measures in coronary disorders
Atherosclerosis IV : proceedings of the fourth international symposium
by
Gotthard Schettler
( Book )
16 editions published between
1976
and 2013 in
English
and
German
and held by 165 WorldCat member libraries worldwide
The presence of monotypism in thick atherosclerotic lesions of black females with G-6-PD mosaicism first reported by the Benditts (1973) has been confirmed in two other laboratories. However, we believe that it is premature to conclude that the finding of monotypism necessarily indicates monoclonal origin of athero sclerotic lesions. We have suggested two alternative explanations for the obser vation of monotypism which we believe must be shown to be invalid before accept ing monoclonal origin as the only plausible way to account for the observed G-6-PD monotypism. One of these two alternatives relates to clonal heterogeneity of cell growth potential, i. e., during the course of progressive growth of a le sion, progeny of one cell may overgrow all others in a portion of the lesion. The other alternative is that one of the G-6-PD alleles may be linked to genes that afford a preferential survival characteristic in the abnormal environment present in atheroscerotic lesions. Thus, cells with one allele may be able to grow better than cells with the other allele, and this characteristic may be unrelated to "A-ness" or "B-ness". We have studied initiation of lesions in He diet-fed swine and demonstrated that all active lesions that were studied were of multiple cell origin (not monoclo nal). We have studied cell growth patterns in developing atherosclerotic lesions in He diet-fed swine and found evidence consistent with clonal heterogeneity in growth potential of lesion cells
more
fewer
Audience Level
0

1
Kids
General
Special
Audience level: 0.73 (from 0.65 for Atheroscle ... to 0.90 for Erlebtes u ...)
Related Identities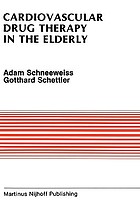 Covers
Alternative Names
Gotthard Schettler deutscher Mediziner

Gotthard Schettler Duits arts (1917-1996)

Gotthard Schettler German physician

Gotthard Schettler médico alemán

Gotthard Schettler tysk professor

Schettler, F. G.

Schettler, F. G. 1917-1996

Schettler, F. G. (Friedrich Gotthard)

Schettler, F. Gotthard

Schettler, Friedrich G. 1917-1996

Schettler, Friedrich Gotthard.

Schettler, Friedrich Gotthard 1917-1996

Schettler, Friedrich Gotthart 1917-1996

Schettler, G.

Schettler, G. 1917-1996

Schettler, G. (Gotthard)

Schettler, Gotthard

Schettler, Gotthard Friedrich

Schettler, Gotthart 1917-1996

シェトラー

Languages