Roederer, Juan G. 1929-
Most widely held works about Juan G Roederer
more
fewer
Most widely held works by Juan G Roederer
Introduction to the physics and psychophysics of music
by
Juan G Roederer
( Book )
68 editions published between
1973
and 2013 in
English
and
German
and held by 1,579 WorldCat member libraries worldwide
Viii book we shall refer a great deal to the discipline of psycho physics, which in a broad sense tries to establish in a quan titative form the causal relationship between the "physical" input from our senses and the psychological sensations and physiological reactions evoked in our mind and body, re spectively. Actually, we shall try to weave a rather close mesh between physics and psychophysics-or, more pre cisely, psychoacoustics. After all, they appear naturally interwoven in music itself: not only pitch, loudness and timbre are a product of physical and psychoacoustical proc esses, but so are the sensations related to consonance and dissonance, tonic dominance, trills and ornamentation, vibrato, phrasing, beats, tone attack, duration and decay, rhythm, and so on. Many books on physics of music or musical acoustics are readily available. An up-to-date text is the treatise of John Backus (1969). No book on psychoacoustics is available at the elementary level, though. Several review articles on pertinent topics can be found in Tobias (1970) and in Plomp and Smoorenburg (1970). A comprehensive discussion is given in Flanagan's book on speech (1972). And, of course, there is the classical treatise of von Bekesy (1960). A com prehensive up-to-date analysis of general brain processes can be found in Sommerhoff (1974); musical psychology is discussed in classical terms in Lundin (1967)
The physics and psychophysics of music : an introduction
by
Juan G Roederer
( Book )
46 editions published between
1994
and 2009 in 4 languages and held by 1,138 WorldCat member libraries worldwide
This book deals with the physical systems and physiological processes that intervene in music. It analyzes what objective, physical properties of sound are associated with what subjective psychological sensations of music, and it describes how these sound patterns are actually generated in musical instruments, how they propagate through the environment, and how they are detected by the ear and interpreted in the brain. Using the precise language of science, but without complicated mathematics, the author weaves a close mesh of the physics, psychophysics and physiology relevant to music. A prior knowledge of physics, mathematics, physiology or psychology is not required to understand most of the book; it is, however, assumed that the reader is familiar with music - in particular, with musical notation, musical scales and intervals, and some of the basics of musical instruments. --From publisher's description
Information and its role in nature
by
Juan G Roederer
( )
17 editions published in
2005
in
English
and
Undetermined
and held by 845 WorldCat member libraries worldwide
"Information and Its Role in Nature presents an in-depth interdisciplinary discussion of the concept of information and its role in the control of natural processes. After a brief review of classical and quantum information theory, the author addresses numerous central questions, including: Is information reducible to the laws of physics and chemistry? Does the Universe, in its evolution, constantly generate new information? Or are information and information-processing exclusive attributes of living systems, related to the very definition of life? If so, what is the role of information in classical and quantum physics? In what ways does information-processing in the human brain bring about self-consciousness? Accessible to graduate students and professionals from all scientific disciplines, this book will help to shed light on many controversial issues at the heart of modern science."--Jacket
Dynamics of geomagnetically trapped radiation
by
Juan G Roederer
( Book )
20 editions published between
1970
and 2012 in 3 languages and held by 405 WorldCat member libraries worldwide
"Since the discovery of geomagnetically trapped radiation by Van Allen in 1958, an impressive amount of experimental information on the earth's particle and field environment has nourished research work for scores of scientists and thesis work for their students. This quest has challenged space-age technology to produce better and more sophisticated instruments and has challenged the international scientific community and governments to establish more, and more effective, cooperative programs of research and information exchange. As a result, an orderly picture of the principal physical mechanisms governing the earth's radiation environment is beginning to emerge. The interest in this topic has reached far beyond the domain of geophysics. Indeed, we find trapped radiation elsewhere in the universe: Jupiter's radiation belts, particle trapping in sunspot magnetic fields, cosmic rays confined in interstellar fields and, possibly, ultra-high-energy particles trapped in the magnetic fields of rotating neutron stars. There is abundant technical and scientific literature available on Van Allen radiation; comprehensive reviews are published regularly in journals* or have been collected in book form**, and books have been written on the subject***. The aim of this monograph is to complement the existing literature with a concise discussion of the basic dynamical processes that control the earth's radiation belts. It is mainly intended to help a graduate student or a researcher new to this field to understand the underlying physics and to provide him with guidelines for quantitaƯtive, numerical applications of the theory."--Publisher's website
Dynamics of magnetically trapped particles : foundations of the physics of radiation belts and space plasmas
by
Juan G Roederer
( )
15 editions published between
2013
and 2016 in
English
and
Undetermined
and held by 355 WorldCat member libraries worldwide
"This book is a new edition of Roederers classic Dynamics of Geomagnetically Trapped Radiation, updated and considerably expanded. The main objective is to describe the dynamic properties of magnetically trapped particles in planetary radiation belts and plasmas and explain the physical processes involved from the theoretical point of view. The approach is to examine in detail the orbital and adiabatic motion of individual particles in typical configurations of magnetic and electric fields in the magnetosphere and, from there, derive basic features of the particles collective macroscopic behavior in general planetary environments. Emphasis is not on the what but on the why of particle phenomena in near-earth space, providing a solid and clear understanding of the principal basic physical mechanisms and dynamic processes involved. The book will also serve as an introduction to general space plasma physics, with abundant basic examples to illustrate and explain the physical origin of different types of plasma current systems and their self-organizing character via the magnetic field. The ultimate aim is to help both graduate students and interested scientists to successfully face the theoretical and experimental challenges lying ahead in space physics in view of recent and upcoming satellite missions and an expected wealth of data on radiation belts and plasmas"--Page 4 of cover
Progress in solar-terrestrial physics : fifth international symposium held at Ottawa, Canada, May 1982
by
Juan G Roederer
( Book )
15 editions published in
1983
in
English
and
Undetermined
and held by 116 WorldCat member libraries worldwide
Solar-Terrestrial Physics: The Study of Mankind's Newest Frontier Solar-Terrestrial Physics (STP) has been around for 100 years. However, it only became known as a scientific discipline under that name when the physical domain studied by STP became accessible to in situ observation and measurement by man or man-made instruments. Indeed, it was STP that provided the initial scientific driving force for the launching of man-made devices into extra-terrestrial space during the International Geophysical Year - aided of course by the genetically engrained drive of humans to expand their frontiers of knowledge, influence and dominance. We may define STP as the discipline dealing with the variable components of solar corpuscular and electromagnetic emissions, the physical processes governing their sources and their propagation through interplanetary space, and the physical-chemical processes related to their interaction with the Earth and other bodies in interplanetary space. Much of STP deals with fully-or partially-ionized gas flows and related energy, momentum and mass transfer in what now appears as one single system made up of distinct but strongly interacting parts, reaching from the photosphere out to the confines of the heliopause, engulfing planets and other solar system bodies, and dipping deep into 6 the Earth's atmosphere
more
fewer
Audience Level
0

1
Kids
General
Special
Audience level: 0.49 (from 0.34 for Informatio ... to 0.99 for Traité de ...)
Associated Subjects
Akasofu, Syun-Ichi
Alaska
Arctic Regions
Atmosphere, Upper
Auroras
Baldwin, Ralph Belknap,
Biosphere
Chapman, Sydney,
Cold regions
Computer science
Cosmic physics
Earth sciences
Ecology
Elvey, C. T.--(Christian Thomas),
Evolution (Biology)
Geodynamics
Geophysicists
Geophysics
Glasnost
Hines, C. O.--(Colin O.)
Howell, Benjamin F.--(Benjamin Franklin),
Information retrieval
Information theory in biology
Life sciences
Magnetohydrodynamics
Magnetosphere
Mathematics
Mather, Keith Benson
Mechanics
Music
Music--Acoustics and physics
Neurobiology
Outer space
Particles (Nuclear physics)
Perestroĭka
Physics
Radiation belts
Research
Research--International cooperation
Roederer, Juan G.,
Science and state
Solar radiation
Soviet Union
Space plasmas
Space sciences
Sun
United States
United States.--Arctic Research Commission
University of Alaska Fairbanks.--Geophysical Institute
Van Allen radiation belts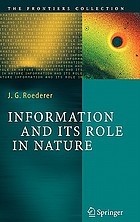 Covers
Alternative Names
Juan G. Roederer

Juan G. Roederer físico estadounidense

Juan Gualterio Roederer Argentijns natuurkundige

Juan Gualterio Roederer physicien américain

Rederer, H.

Roederer, J. G.

Roederer, J. G. 1929-

Roederer, J. G. (Juan G.)

Roederer, J. G. (Juan G.), 1929-

Roederer, Juan G.

Roederer, Juan Gualterio 1929-

خوان قوآلتریو رودرر

خوان گوآلتریو رودرر فیزیک‌دان آرژانتینی

ローダラー, ホアン・G

Languages