Liebich, André 1948-
Most widely held works about André Liebich
Most widely held works by André Liebich
Le Libéralisme classique
by
André Liebich
( )
13 editions published in
1985
in
French
and
English
and held by 1,166 WorldCat member libraries worldwide
Un choix de textes des principaux penseurs du libéralisme (Hobbes, Rousseau, Smith, Stuart Mill, etc.), qui permet de suivre l'évolution de cette doctrine et d'en mesurer l'impact sur l'histoire moderne des sociétés occidentales. Chaque section fait l'objet d'une présentation
Between ideology and utopia : the politics and philosophy of August Cieszkowski
by
André Liebich
( Book )
17 editions published between
1974
and 2013 in
English
and held by 267 WorldCat member libraries worldwide
Nineteenth-century European intellectual history has given rise to such varied and abundant research that one is surprised to find certain important problems long identified and yet still relatively unexplored. Such is the case for certain aspects of the crucial transition from Hegel to Marx, for minority tendencies among French socialists and for the Messianic phenomenon, national and religious, so central to the period, particularly in Eastern Europe, and so rarely studied in detail. Certainly, these lacunae are exemplified by the absence of any com prehensive work on August Cieszkowski whose overall contribution to the history of the period may be marginal but whose specific role in each of the areas mentioned is both significant in itself and illustrative of certain wider problems. Cieszkowski first achieved recognition as the author of the Pro legomena zur Historiosophie in 1838. This short tract never became popular among the Berlin Hegelians for whom it was intended but it affected a number of radical intellectuals outside their circle. His next work, Gott und Palingenesie, was a defense of personal immortality against Hegelian revisionism. The following year, however, he founded as a bulwark of the Hegelian school the Philosophische Gesellschaft against external critics and internal dissolution
L'Europe centrale et ses minorités vers une solution européenne?
by
Sebastian Bartsch
( Book )
13 editions published between
1993
and 2015 in
French
and
Undetermined
and held by 248 WorldCat member libraries worldwide
Si l'effondrement des régimes communistes a permis aux peuples de l'Europe centrale-orientale de recouvrer leur identité européenne, il a aussi favorisé la résurgence d'anciens conflits ethniques et culturels propres à la région danubienne. Le problème des minorités figure en bonne place parmi les causes de la dissolution de la monarchie austro-hongroise. Il est aussi largement responsable de ses mauvais rapports inter-étatiques de la période entre les deux guerres. Les politiques adoptées envers les nationalités après 1945 n'ont rien fait pour arranger la situation même si elles ont eu "l'avantage" plus que douteux de "simplifier" les cartes ethniques ou linguistiques de la région. Sous les rubriques "le poids du passé", "la tentation de l'indépendance", "une coexistence impossible", et "en vue d'une solution", ce volume examine la question des minorités en Europe centrale, du point de vue de l'histoire et de l'actualité. Il analyse les solutions envisagées dans le passé et au présent, de l'empire des Habsbourgs et de la Société des Nations à la CSCE. Il traite du mouvement à l'indépendance dans les deux Etats fédérés sous le communisme; la Tchécoslovaquie et la Yougoslavie. Il s'interroge sur les racines du contentieux minoritaire et sur la spécificité de la région centre-européenne. Enfin, les collaborateurs de ce volume posent les jalons possibles d'une solution future, à la fois difficile et nécessaire
Citizenship, East and West
( Book )
12 editions published between
1995
and 2009 in
English
and held by 205 WorldCat member libraries worldwide
The outcome of the political transition in Eastern Europe depends not only on the politics pursued but on the understanding of politics in the countries involved. This volume examines a key aspect of this understanding, the notion of 'citizenship' as it is being defined in Eastern Europe today. Formally, 'citizenship' refers to the criteria of membership in a political community. More broadly, it raises key questions of identity, contract and culture, which bear upon the future of such issues as human rights, mobility and the relations between state and civil society in the post-communist world. This interdisciplinary collection brings together sociologists, jurists and political theorists from Poland, Hungary, Slovakia and the Czech Republic as well as from Switzerland, France, Great Britain and the United States. The volume seeks to articulate and compare the meanings and implications of 'citizenship' in terms of key issues and in several national contexts. Common to all contributions is the conviction that a comparison among different understandings of citizenship illuminates national specificities and brings into focus some of the constraints on the emergence of a democratic consensus shared by East and West
Construire l'Europe : mélanges en hommage à Pierre du Bois
by
André Liebich
( Book )
9 editions published between
2008
and 2015 in
French
and
Undetermined
and held by 170 WorldCat member libraries worldwide
Ce volume, publié sous forme d'hommage au professeur Pierre du Bois, décédé subitement en juin 2007, regroupe les contributions de ses collègues, amis et anciens doctorants sur le thème de la construction européenne qui était l'un de ses thèmes de prédilection. Cinq aspects de la question européenne sont mis en lumière par les différents auteurs : les origines de l'idée d'Europe (Bruno Arcidiacono, Jean-François Bergier, Lubor Jilek, Alfonso Mattera), l'Europe et ses constructeurs (André Reszler, Benedikt Schoenborn, Georges- Henri Soutou), l'Union européenne et les institutions (Marie-Thérèse Bitsch, Victor-Yves Ghebali, Gilles Grin), l'Union européenne et le monde (Franz Blankart, Mohammad-Reza Djalili et Thierry Kellner, Jussi Hanhimäki), et enfin l'élargissement de l'Union européenne (Adrian Ivan, André Liebich). L'ouvrage débute par un essai biobibliographique sur Pierre du Bois (Basil Germond et François Jequier). Ces Mélanges, riches et diversifiés, mettent en lumière une interrogation pluridisciplinaire sur la question européenne, où histoire, science politique, économie, droit et philosophie sont indissociables
From communism to anti-communism. Photographs from the Boris Souvarine Collection at the Graduate Institute, Geneva
by
André Liebich
( )
4 editions published between
2016
and 2017 in
English
and held by 58 WorldCat member libraries worldwide
Boris Souvarine moved from communism, in the first years of the Soviet régime, to anti-communism by the 1930s and throughout the rest of his long life. This book gives us a new and original perspective on the period that runs from the Russian Revolution to the 1950s and allows us to better understand that era. The documents come from the Boris Souvarine Collection consisting of his working notes, press clippings, and documentation concerning East-West relations collected by Souvarine
more
fewer
Audience Level
0

1
Kids
General
Special
Audience level: 0.45 (from 0.02 for Le Libéra ... to 0.84 for Les minori ...)
Related Identities
Associated Subjects
Austria
Bauer, Otto,
Cieszkowski, August,
Citizenship
Civilization, Western
Communism
Economic history
Ethnic groups
Ethnic relations
Europe
Europe, Central
Europe, Eastern
European federation
European Union
Exiles
Hilferding, Rudolf,
History
International relations
Kautsky, Karl,
Liberalism
Liberty
Martov, L.,
Mensheviks
Minorities
Nationalism
Philosophy
Political and social views
Political science--Philosophy
Politics and government
Regional planning
Romanies
Rossiĭskai︠a︡ sot︠s︡ial-demokraticheskai︠a︡ rabochai︠a︡ partii︠a︡
Russia
Russia (Federation)
Social history
Socialism
Socialism--Periodicals
Socialist parties
Socialists
Soviet Union
Totalitarianism
Ukraine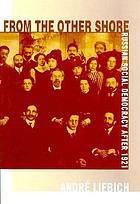 Covers
Alternative Names
André Liebich Politologe

André Liebich Zwitsers universitair docent (1948-)

Libich, A.

Libich, A. 1948-

Libich, André 1948-

Libich, André L. 1948-

Libich, André Leonard 1948-

Libih, A.

Libih, Andre.

Libikh, A. 1948-

Liebich, A. 1948-

Liebich, André

Liebich, André L. 1948-

Liebich, André Leonard 1948-

Либих, А 1948-

Либих, Андре

Languages