Sargent, Thomas J.
Most widely held works about Thomas J Sargent
more
fewer
Most widely held works by Thomas J Sargent
Recursive macroeconomic theory
by
Lars Ljungqvist
( )
51 editions published between
2000
and 2018 in
English
and held by 2,302 WorldCat member libraries worldwide
"Recursive methods offer a powerful approach for characterizing and solving complicated problems in dynamic macroeconomics. Recursive Macroeconomic Theory provides both an introduction to recursive methods and advanced material, mixing tools and sample applications. The second edition contains substantial revisions to about half the original material, and extensive additional coverage appears in seven chapters new to this edition. The updated and added material covers new topics that further illustrate the power and pervasiveness of recursive methods."--Jacket
Rational expectations and econometric practice
by
Robert E Lucas
( )
45 editions published between
1977
and 2011 in
English
and held by 1,510 WorldCat member libraries worldwide
Assumptions about how people form expectations for the future shape the properties of any dynamic economic model. To make economic decisions in an uncertain environment people must forecast such variables as future rates of inflation, tax rates, governme
The big problem of small change
by
Thomas J Sargent
( )
29 editions published between
1997
and 2014 in
English
and held by 1,384 WorldCat member libraries worldwide
"The Big Problem of Small Change offers the first credible and analytically sound explanation of how a problem that dogged monetary authorities for hundreds of years was finally solved. Two leading economists, Thomas Sargent and François Velde, examine the evolution of Western European economies through the lens of one of the classic problems of monetary history--the recurring scarcity and depreciation of small change. Through penetrating and clearly worded analysis, they tell the story of how monetary technologies, doctrines, and practices evolved from 1300 to 1850; of how the "standard formula" was devised to address an age-old dilemma without causing inflation. One big problem had long plagued commodity money (that is, money literally worth its weight in gold): governments were hard-pressed to provide a steady supply of small change because of its high costs of production. The ensuing shortages hampered trade and, paradoxically, resulted in inflation and depreciation of small change. After centuries of technological progress that limited counterfeiting, in the nineteenth century governments replaced the small change in use until then with fiat money (money not literally equal to the value claimed for it)--ensuring a secure flow of small change. But this was not all. By solving this problem, suggest Sargent and Velde, modern European states laid the intellectual and practical basis for the diverse forms of money that make the world go round today. This keenly argued, richly imaginative, and attractively illustrated study presents a comprehensive history and theory of small change. The authors skillfully convey the intuition that underlies their rigorous analysis. All those intrigued by monetary history will recognize this book for the standard that it is."--Back cover
Macroeconomic theory
by
Thomas J Sargent
( Book )
54 editions published between
1979
and 2018 in 5 languages and held by 1,329 WorldCat member libraries worldwide
Nonstochastic macroeconomics; Introduction to stochastic macroeconomics; Linear stochastic differnece equations; The consumption function; Investment under uncertainty; Optimal monetary policy; Aspects of the new classical macroeconomics
Rational expectations and inflation
by
Thomas J Sargent
( Book )
40 editions published between
1985
and 2017 in 3 languages and held by 1,090 WorldCat member libraries worldwide
This collection of essays uses the lens of rational expectations theory to examine how governments anticipate and plan for inflation, and provides insight into the pioneering research for which Thomas Sargent was awarded the 2011 Nobel Prize in economics. Rational expectations theory is based on the simple premise that people will use all the information available to them in making economic decisions, yet applying the theory to macroeconomics and econometrics is technically demanding. Here, Sargent engages with practical problems in economics in a less formal, noneconometric way, demonstrat
Recursive models of dynamic linear economies
by
Lars Peter Hansen
( )
22 editions published between
2013
and 2018 in
English
and held by 839 WorldCat member libraries worldwide
A common set of mathematical tools underlies dynamic optimization, dynamic estimation, and filtering. In Recursive Models of Dynamic Linear Economies, Lars Peter Hansen and Thomas Sargent use these tools to create a class of econometrically tractable models of prices and quantities. They present examples from microeconomics, macroeconomics, and asset pricing. The models are cast in terms of a representative consumer. While Hansen and Sargent demonstrate the analytical benefits acquired when an analysis with a representative consumer is possible, they also characterize the restrictiveness of assumptions under which a representative household justifies a purely aggregative analysis. Based on the 2012 Gorman lectures, the authors unite economic theory with a workable econometrics while going beyond and beneath demand and supply curves for dynamic economies. They construct and apply competitive equilibria for a class of linear-quadratic-Gaussian dynamic economies with complete markets. Their book stresses heterogeneity, aggregation, and how a common structure unites what superficially appear to be diverse applications. An appendix describes MATLAB (R) programs that apply to the book's calculations
Robustness
by
Lars Peter Hansen
( Book )
12 editions published between
2008
and 2016 in
English
and held by 758 WorldCat member libraries worldwide
"The standard theory of decision making under uncertainty advises the decision maker to form a statistical model linking outcomes to decisions and then to choose the optimal distribution of outcomes. This assumes that the decision maker trusts the model completely. But what should a decision maker do if the model cannot be trusted?" "Lars Hansen and Thomas Sargent, two leading macroeconomists, push the field forward as they set about answering this question. They adapt robust control techniques and apply them to economics. By using this theory to let decision makers acknowledge misspecification in economic modeling, the authors develop applications to a variety of problems in dynamic macroeconomics."--Jacket
The conquest of American inflation
by
Thomas J Sargent
( Book )
20 editions published between
1999
and 2018 in
English
and
Chinese
and held by 713 WorldCat member libraries worldwide
In The Conquest of American Inflation, Thomas J. Sargent presents an analysis of the rise and fall of U.S. inflation after 1960. He examines two broad explanations for the behavior of inflation and unemployment in this period: the natural rate hypothesis joined to the Lucas critique and a more traditional econometric policy evaluation modified to include adaptive expectations and learning. His purpose is not only to determine which is the better account, but also to codify for the benefit of the next generation the economic forces that cause inflation. Providing an original methodological link between theoretical and policy economics, this book will engender much debate and become an indispensable text for academics, graduate students, and professional economists
Dynamic macroeconomic theory
by
Thomas J Sargent
( Book )
19 editions published between
1987
and 1997 in 3 languages and held by 665 WorldCat member libraries worldwide
Describes the general equilibrium models that have been built to help interpret time series observations of economic aggregates and predicts the consequence of alternative government interventions
Bounded rationality in macroeconomics
by
Thomas J Sargent
( Book )
25 editions published in
1993
in 3 languages and held by 488 WorldCat member libraries worldwide
Focusing on a new development in economic theory which involves bounded or limited rationality, the author describes two laboratory experiments that test versions of his macroeconomic models. He analyzes some promising applications of the methods surveyed
more
fewer
Audience Level
0

1
Kids
General
Special
Audience level: 0.44 (from 0.24 for Uncertaint ... to 0.99 for Miss Marga ...)
Related Identities
Associated Subjects
Brunner, Karl,
Canada
Chase, Moses
Coinage
Coins
Coxe, John Redman,
Currency question
Eaton, Thomas,
Econometric models
Econometrics
Economic forecasting
Economic policy
Economic policy--Mathematical models
Economics--Mathematical models
Economists
Energy policy
Equilibrium (Economics)--Mathematical models
Equilibrium--Mathematical models
Europe
Finance, Public--Econometric models
Goodhue, William
Hill, Elisha
Inflation (Finance)
Kalman filtering
Louisiana--New Orleans
Macroeconomics
Macroeconomics--Mathematical models
Mints
Monetary policy
Monetary policy--Mathematical models
Money
Morse, Anthony
Page, Robert
Petroleum industry and trade--Government policy
Plaisted, Elisha
Rational expectations (Economic theory)
Rational expectations (Economic theory)--Mathematical models
Rationalism
Recursive functions
Robust control
Robust optimization
Sargent, Thomas J
Sargent, William
Statics and dynamics (Social sciences)
Time-series analysis
Tobin, James,
Uncertainty
United States
Wheelwright, John
Wheelwright, Samuel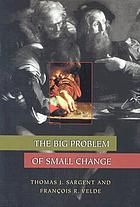 Covers
Alternative Names
Sargent T.J.

Sargent, T. J. 1943-

Sargent, Th. J. 1943-

Sargent, Thomas 1943-

Sargent, Thomas John 1943-

Thomas J. Sargent American economist

Thomas J. Sargent amerikai közgazdász

Thomas J. Sargent amerikansk ekonom

Thomas J. Sargent amerikansk økonom

Thomas J. Sargent economista estadounidense

Thomas J. Sargent economista estatunidenc

Thomas J. Sargent economista statunitense

Thomas John Sargent

Thomas Sargent

Thomas Sargent americký ekonóm

Thomas Sargent Amerikaans econoom

Thomas Sargent economist american

Thomas Sargent économiste américain

Thomas Sargent ekonomista amerykański

Thomas Sargent US-amerikanischer Ökonom

Thomas Sargent usona ekonomikisto

Tomas Sercent

Tomass Sārdžents

Τόμας Σάρτζεντ

Сарджент, Томас

Сарджент, Томас американский экономист

Томас Сарджент

Томас Сарджэнт

Թոմաս Սարջենթ

תומאס סרג'נט

תומאס סרג'נט כלכלן אמריקאי

توماس ج سارجنت

توماس ج سارجنت عالم اقتصاد أمريكي

توماس جی. سارجنت اقتصاددان آمریکایی

تھامس جے سارجنٹ

تھامس سارجنٹ

টমাস জন সার্জেন্ট

টমাস জন সার্জেন্ট মার্কিন অর্থনীতিবিদ

தாமஸ் ஜான் சார்ஜெண்ட்

თომას სარჯენტი

토머스 사전트

サージェント, トーマス・J

トーマス・サージェント

托瑪斯·薩金特

托马斯·萨金特

Languages