Wandycz, Piotr S. (Piotr Stefan)
Most widely held works about Piotr S Wandycz
Most widely held works by Piotr S Wandycz
The twilight of French eastern alliances, 1926-1936 : French-Czechoslovak-Polish relations from Locarno to the remilitarization of the Rhineland
by
Piotr S Wandycz
( )
21 editions published between
1988
and 2014 in
English
and held by 1,617 WorldCat member libraries worldwide
Although France, Poland, and Czechoslovakia were in jeopardy from a recovery of German power after World War I and from a potential German hegemony in Europe, France failed in her efforts to maintain a system of alliances with her two imperiled neighbors. Focusing on the period from 1926 to 1936, Piotr Wandycz seeks to explain how and why these three nations, with so much at risk, neglected to act in concert. Wandycz is the author of a well-known study on the series of alliances constructed by France, Poland, and Czechoslovakia in the years following the Treaty of Versailles. In this curren
The price of freedom : a history of East Central Europe from the Middle Ages to the present
by
Piotr S Wandycz
( Book )
51 editions published between
1992
and 2017 in
English
and held by 1,454 WorldCat member libraries worldwide
In this comparative, regional history of East Central Europe, Piotr Wandycz traces the turbulent history of Poland, Bohemia/Czechoslovakia and Hungary from their medieval origins to the post-Communist present. Contemporary events, the author argues, only become intelligible when viewed in their historical context. Each chapter focuses on a particular theme, raising questions and discussing existing controversies. Chronological tables at the end of the book serve as a guide to the sequence of events, and there is a comprehensive bibliography. Exploring such issues as the tension between the industrial, urbanizing West, and agrarian East Central Europe, problems of interrupted statehood, the impact of industrialization, the rise of modern nationalism, democracy and authoritarianism and Communism, the author concludes that the price of freedom has been high in this region, and never more so than today. This will be an invaluable text for historians and students of East European history and Soviet Studies
The lands of partitioned Poland, 1795-1918
by
Piotr S Wandycz
( Book )
40 editions published between
1974
and 1996 in
English
and
Polish
and held by 1,246 WorldCat member libraries worldwide
The Lands of Partitioned Poland, 1795-1918 comprehensively covers an important, complex, and controversial period in the history of Poland and East Central Europe, beginning in 1795 when the remnanst of the Polish Commonwealth were distributed among Prussia, Austria, and Russia, and culminating in 1918 with the re-establishment of an independent Polish state. Until this thorough and authoritative study, literature on the subject in English has been limited to a few chapters in multiauthored works. Chronologically, Wandycz traces the histories of the lands under Prussian, Austrian, and Russian rule, pointing out their divergent evolution as well as the threads that bound them together. The result is a balanced, comprehensive picture of the social, political, economic, and cultural developments of all nationalities inhabiting the land of the old commonwealth, rather than a limited history of one state (Poland) and one people (the Poles)
Soviet-Polish relations, 1917-1921
by
Piotr S Wandycz
( Book )
14 editions published between
1968
and 2014 in
English
and
Undetermined
and held by 852 WorldCat member libraries worldwide
Professor Wandycz has written the first monograph in the English language on the turbulent diplomatic and military relations between Poland and Soviet Russia during the critical years 1917-1921. Soviet Russia, rules in 1917 by the newly triumphant Bolsheviks, faced Poland, a nation that had just recovered independence after more than a century of oppression. The Bolsheviks feared their revolution would fail if confined to Russia alone; Poland lay directly in their path to the West and international conquest. The resulting controversy, ending with the Treaty of Riga in 1921, spans one of the most complicated and crucial periods in the long and tulmultuous history of Russian-Polish relations. Although this conflict of 1917-1921 was part of the immediate international struggle of revolution and counterrevolution, centuries of antagonism and war were characteristic of the earlier relations between the two countries. The current dispute went far deeper than a Communist-nonCommunist clash; the entire balance of power in Eastern Europe was at stake. Pilsudski's great plan was to push Russia back to its seventeenth-century borders, thus creating an important and powerful Poland. For the Bolsheviks, a successful march on Warsaw might initiate the destruction of the Versailles settlement and the European post-war system. Using recently published documents and Russian, Polish, English, and American archives, the author presents an objective and sophisticated picture of the complicated Soviet-Polish relations in this period. He is careful to examine these affairs in the light of the historical background of the two nations, for although many of these relations were newly esetablished, few were entirely divorced from the past. The first chapter dips back in time for a brief outline of the social and political events behind the deep antagonism of the two nations. Included is an examination of the basic disharmony between their civilizations, caused by the philosophical differences in their respective religions, Polish Catholicism and Greek Orthodoxy. Chapter Two introduces political figures and theories and the development in the half century preceding the Bolshevik Revolution of 1917. The nine remaining chapters are devoted to the struggles between the two countries over the territorial, ideological, and socio-political problems that dominated their relations. The Peace Treaty of Riga, signed in March 1921, proved to be only a stalemate, the negative effects of which were more pronounced for Poland than Russia. As Mr. Wandycz concludes, " The former lost the chance of becoming a real power; the plans of the latter were merely delayed." -- from dust jacket
The United States and Poland
by
Piotr S Wandycz
( Book )
15 editions published between
1979
and 1980 in
English
and held by 756 WorldCat member libraries worldwide
Forfatteren sidestiller USAs og Polens udvikling og beskriver hvilken indflydelse historien har på de mellemstatslige relationer
Ideology, politics, and diplomacy in East Central Europe
( )
2 editions published in
2003
in
English
and held by 353 WorldCat member libraries worldwide
No region of the world has been more affected by the various movements of the twentieth century than East Central Europe. Broadly defined as comprising the historic territories of the Czechs, Hungarians, Poles, and Slovaks, East Central Europe has been shaped by the interaction of politics, ideology, and diplomacy, especially by the policies of the Great Powers towards the east of Europe. This book addresses Czech politics in Moravia and Czech politics in Bohemia in the nineteenth century, the international politics of relief during World War I, the Morgenthau Mission and the Polish Pogroms of1919, the Hitler-Stalin Pact and its influence on Poland in 1939, Hungarian-Americans during World War II, and Polish-East German relations after World War II.<BR><BR> Contributors: Bruce Garver, M. B. B. Biskupski, Neal Pease, William L. Blackwood, Anna M. Cienciala, Steven Bela Vardy, and Douglas Selvage.<BR><BR> M. B. B. Biskupski is Professor of History at Central Connecticut State University
La Pologne et l'Europe du partage à l'élargissement XVIIIe-XXIe siècles
by
Isabelle Davion
( Book )
1 edition published in
2007
in
French
and held by 69 WorldCat member libraries worldwide
"Depuis la disparition de la Pologne comme État indépendant à la fin du XVIIIe siècle, la " question polonaise " ne cesse de hanter l'Europe. Du Congrès de Vienne à la réunification allemande de 1989, des soulèvements tragiques du XIXe siècle à la tragédie des années 1940 et à la conférence de Potsdam qui redessine ses frontières, la Pologne aura été la mauvaise conscience de l'Europe contemporaine et n'aura jamais été traitée autrement que comme une variable d'ajustement, révélatrice de l'état et de la signification du système européen. L'entrée de la Pologne dans l'Union européenne nous a paru le moment opportun pour dresser un bilan des deux siècles passés, qui furent pour ce pays deux siècles dramatiques. Comme le lecteur pourra s'en rendre compte, les recherches sur ces questions ont connu un grand développement depuis quelques années : les thèses s'affinent, elles s'affirment aussi, parfois elles se heurtent, dans un aller-retour passionné entre le passé et le présent auquel l'Europe, après les bouleversements qu'elle a connus, n'échappe pas. Mais la Pologne n'a-t-elle pas toujours été une passion européenne?
more
fewer
Audience Level
0

1
Kids
General
Special
Audience level: 0.38 (from 0.22 for The twilig ... to 0.95 for Il prezzo ...)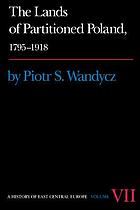 Covers
Alternative Names
Piotr S. Wandycz Amerikaans historicus

Piotr S. Wandycz historiador polacoestadounidense

Piotr S. Wandycz lengyel-amerikai történész

Piotr S. Wandycz Polish-American historian

Piotr Stefan Wandycz

Vandič, P'otăr.

Wandycz P.S.

Wandycz Piotr

Wandycz, Piotr 1923-

Wandycz, Piotr 1923-2017

Wandycz, Piotr S.

Wandycz, Piotr S. 1923-

Wandycz Piotr Stefan

Wandycz, Piotr Stefan 1923-2017

Wandycz, Piotr Stephan

Wandyz, Piotr S. 1923-2017

Вандич Петр

Languages