Van der Merwe, Alwyn
Most widely held works by Alwyn Van der Merwe
Quantum mechanics, mathematics, cognition, and action : proposals for a formalized epistemology
by
Mioara Mugur-Schächter
( )
18 editions published between
2002
and 2011 in
English
and held by 511 WorldCat member libraries worldwide
The purpose of this book is to initiate a new discipline, namely a formalized epistemological method drawn from the cognitive strategies practised in the most effective among the modern scientific disciplines, as well as from general philosophical thinking. Indeed, what is lacking in order to improve our knowledge and our domination of the modes which nowadays are available for the generation and communication of knowledge, thoroughly and rapidly and with precision and detail? It is a systematic explication of the epistemological essence encrypted in the specialized languages and algorithms of the major modern scientific approaches, a systematic cross-referencing of the explicated results, and a final elaboration of a new coherent whole. Quantum mechanics, like a diver, can take us down to the level of the very first actions of our conceptualization of reality. And starting from there, it can induce an explicit understanding of certain fundamental features of the new scientific thinking. A formalized epistemology should not be mistaken for a crossdisciplinary or a multidisciplinary project. The latter projects are designed to offer to nonspecialists access to information, to results obtained inside specialized disciplines, as well as a certain understanding of these results; whereas a formalized epistemology should equip anyone with a framework for conceptualizing himself in whatever domain and direction he or she might choose. A formalized epistemology should not be mistaken either for an approach belonging to the modern cognitive sciences. These try to establish as neutrally as possible descriptions of how the human body-and-mind work spontaneously when knowledge is generated; whereas a method of conceptualization should establish what conceptual-operational deliberate procedures have to be applied in order to represent and to achieve processes of generation of knowledge optimized accordingly to any definite aims. This book addresses philosophers of science, physicists, mathematicians, logicians, computer scientists, researchers in cognitive sciences, and biologists, as well as any intellectual who is interested in scientific and philosophical thinking
Controlled nucleosynthesis : breakthroughs in experiment and theory
by
Stanislav Adamenko
( )
12 editions published in
2007
in
English
and held by 405 WorldCat member libraries worldwide
"This collection of papers presents the main results of a logical analysis of extensive theoretical and experimental searches for efficient ways to overcome two long-standing scientific and technical problems: (1) the creation of a driver of inertial thermonuclear synthesis with a positive gain of energy and (2) the naturalization of artificially created radioactive materials accumulated as a product of the human activity"--Introduction
Old and new questions in physics, cosmology, philosophy, and theoretical biology : essays in honor of Wolfgang Yourgrau
by
Alwyn Van der Merwe
( Book )
10 editions published in
1983
in
English
and held by 340 WorldCat member libraries worldwide
Simply to say that this is a collection of essays in honor of the late Wolfgang Yourgrau (1908-1979) is to explain, at least for-the obviously many-"insiders," the unusually wide-ranging title of the present volume. In a Foreword to the Proceedings of the First International Colloquium (focusing on logic, physical reality, and history), held at the University of Denver in May of 1966 under their leadership, Wolfgang Y ourgrau and Allen Breck wrote, in an oblique reference to C. P. Snow: "Indeed there are not two or three or four cultures: there is only one culture; our generation has lost its awareness of this . . . . Historians, logicians, physicists-all are banded in one common enterprise, namely in their des ire to weave an enlightened fabric of human knowledge. " Augment, if you will, the foregoing categories of scholars with biologists, philos­ ophers, cosmologists, and theologians-all of whom, in addition to historians, Wolf­ gang Yourgrau, by dint of his inextinguishable enthusiasm and charismatic qualities, assembled in Denver for the Second and Third International Colloquia (in 1967 and 1974, respectively)-and a few other besides, and one arrives at a statement of the credo wh ich Y ourgrau not only professed, but consistently exemplified throughout his adult life
Open questions in quantum physics : invited papers on the foundations of microphysics
by
G Tarozzi
( Book )
18 editions published between
1984
and 1985 in
English
and held by 319 WorldCat member libraries worldwide
Due to its extraordinary predictive power and the great generality of its mathematical structure, quantum theory is able, at least in principle, to describe all the microscopic and macroscopic properties of the physical world, from the subatomic to the cosmological level. Nevertheless, ever since the Copen hagen and Gottingen schools in 1927 gave it the definitive formu lation, now commonly known as the orthodox interpretation, the theory has suffered from very serious logical and epistemologi cal problems. These shortcomings were immediately pointed out by some of the principal founders themselves of quantum theory, to wit, Planck, Einstein, Ehrenfest, Schrodinger, and de Broglie, and by the philosopher Karl Popper, who assumed a position of radical criticism with regard to the standard formulation of the theory. The aim of the participants in the workshop on Open Questions in Quantum Physics, which was held in Bari (Italy), in the Department of Physics of the University, during May 1983 and whose Proceedings are collected in the present volume, accord ingly was to discuss the formal, the physical and the epistemo logical difficulties of quantum theory in the light of recent crucial developments and to propose some possible resolutions of three basic conceptual dilemmas, which are posed respectively ~: (a) the physical developments of the Einstein-Podolsky-Rosen argument and Bell's theorem, i. e
Between quantum and cosmos : studies and essays in honor of John Archibald Wheeler
by
Wojciech Hubert Zurek
( Book )
12 editions published between
1986
and 2017 in
English
and held by 243 WorldCat member libraries worldwide
Miller, Y. Ne'eman, I. D. Novikov, A. Peres, I. Prigogine, I. Robinson, L. S. Schulman, M. O. Scully, D. H. Sharp, L. C. Shepley, A. Y. Shiekh, C. Teitelboim, E. Teller, K. S. Thorne, W. G. Unruh, R. M. Wald, L. Wilets, W. K. Wootters, J. W. York, Jr., and W. H. Zurek.Originally published in 1988.The Princeton Legacy Library uses the latest print-on-demand technology to again make available previously out-of-print books from the distinguished backlist of Princeton University Press. These editions preserve the original texts of these important books while presenting them in durable paperback and hardcover editions. The goal of the Princeton Legacy Library is to vastly increase access to the rich scholarly heritage found in the thousands of books published by Princeton University Press since its founding in 1905
Waves and particles in light and matter
by
Alwyn Van der Merwe
( Book )
11 editions published in
1994
in
English
and held by 177 WorldCat member libraries worldwide
The Great Veil, Reality, and Louis de Broglie (O. Costa de Beauregard). The Fallacy of the Arguments Against Local Realism in Quantum Phenomena (A.O. Barut). Restoring Locality with FasterThanLight Velocities (P.H. Eberhard). The WaveParticle Duality and the AharonovBohm Effect (M. Ferrero, E. Santos). De Broglie's Waves in Space and Time (A. Garuccio). Interferometry with De Broglie Waves (F. Hasselbach). Quantum Mechanics of Ultracold Neutrons (V.K. Ignatovich). The Physical Interpretation of Special Relativity (S.J. Prokhovnik). Quantum Neutron Optics (H. Rauch). Some Comments on th
more
fewer
Audience Level
0

1
Kids
General
Special
Audience level: 0.56 (from 0.22 for Quantum me ... to 0.71 for Fundamenta ...)
Related Identities
Associated Subjects
Artificial intelligence
Bell's theorem
Biology
Broglie, Louis de,
Condensed matter
Cosmology
Dirac, P. A. M.--(Paul Adrien Maurice),
Festschriften
Information theory
Knowledge, Theory of
Landé, Alfred,
Logic, Symbolic and mathematical
Majorana, Ettore
Mathematical physics
Microphysics--Philosophy
Nuclear physics
Nucleosynthesis
Physical measurements
Physicists
Physics
Physics--Experiments--Technique
Physics--Philosophy
Plasma (Ionized gases)
Quantum electrodynamics
Quantum theory
Science--Philosophy
Space and time
Stochastic processes
Surfaces (Physics)
United States
Wave-motion, Theory of
Wave-particle duality
Wheeler, John Archibald,
Wigner, Eugene Paul,
Yourgrau, Wolfgang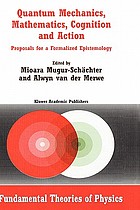 Covers
Alternative Names
Alwyn Van der Merwe amerikai fizikus

Alwyn Van der Merwe físico estadounidense

Alwyn Van der Merwe natuurkundige uit Zuid-Afrika

Alwyn Van der Merwe physicien américain

Der Merwe Alwyn van

Der Merwe, Alwyn van 1927-

Merwe, A. van der.

Merwe, Alvyn van Der.

Merwe Alwyn van der

Merwe, Alwyn van der 1927-

Van Der Merve, A.

Van der Merwe, A.

Van der Merwe, A. (Alwyn)

VanDerMerwe, Alwyn 1927-

آلوین وان در مرو فیزیک‌دان اهل آفریقای جنوبی

Languages