Carracci, Annibale 1560-1609
Overview
| | |
| --- | --- |
| Works: | 1,093 works in 1,616 publications in 6 languages and 13,779 library holdings |
| Genres: | Criticism, interpretation, etc Exhibition catalogs Catalogs Pictorial works Art History |
| Roles: | Author, Illustrator, Inventor, Artist, Other, Bibliographic antecedent, Engraver, Draftsman, Dedicatee, Contributor, Author of introduction, Recipient, Designer, Honoree, Creator, 901 |
| Classifications: | ND623.C4, 759.5 |
Most widely held works about Annibale Carracci
more
fewer
Most widely held works by Annibale Carracci
The drawings of Annibale Carracci
by
Annibale Carracci
( Book )
7 editions published in
2000
in
English
and held by 119 WorldCat member libraries worldwide
"Widely regarded as one of the greatest draftsmen of all time, Annibale Carracci (1560-1609) is celebrated for his naturalism. Born in a time when the elegant deformations and exaggerations of Italian mannerism were still in vogue, Annibale turned instead to nature and reality as his principal inspirations. Much attuned to the everyday world around him, he took as much interest in studying a man bowling, a butcher weighing a piece of meat, or a street entertainer with his monkey as he did in the preparatory studies for his grand mythological and religious paintings." "The fruit of this intensive study is abundantly evident in his magnificent drawings of the human figure - from his early works in Bologna to those made in preparation for his greatest commission, the decoration of the Farnese Gallery in Rome." "This publication brings together the powerful and evocative drawings to provide a unique insight into the technique and skill of one of the premier artists of his time."--Jacket
Le arti di Bologna
by
Annibale Carracci
( Book )
28 editions published between
1730
and 1979 in
Italian
and
French
and held by 65 WorldCat member libraries worldwide
Le incisioni dei Carracci
by
Maurizio Calvesi
( Book )
3 editions published in
1965
in
Italian
and held by 60 WorldCat member libraries worldwide
Romulus in Bologna : die Fresken der Caracci im Palazzo Magnani
by
Samuel Vitali
( Book )
1 edition published in
2011
in
German
and held by 56 WorldCat member libraries worldwide
Der gemalte Fries mit Szenen aus dem römischen Gründungsmythos, mit dem Ludovico, Agostino und Annibale Carracci um 1590-92 den Palast des Bologneser Senators Lorenzo Magnani schmückten, stellt das Hauptwerk der drei Bologneser Künstler in ihrer Heimatstadt und zugleich den Auftakt der barocken Wandmalerei dar. Der Band bietet die erste umfassende Untersuchung zum Magnani-Fries. Dank gründlicher Archivstudien kann ein präziseres Bild des Auftraggebers gezeichnet und damit der historische Kontext des Werks beleuchtet werden, dessen ausgeprägt römisches Thema als Reverenz an den Papst zu deuten ist. Im Zentrum der Untersuchung stehen sodann die Analyse des Dekorationssystems sowie der Bilderzählung, insbesondere der von der Emblemliteratur geprägten Bezüge zwischen Text und Bild
Annibale Carracci
by
Annibale Carracci
( Book )
8 editions published in
2006
in
Italian
and
Undetermined
and held by 51 WorldCat member libraries worldwide
more
fewer
Audience Level
0

1
Kids
General
Special
Audience level: 0.56 (from 0.15 for A History ... to 0.96 for L'opera co ...)
Related Identities
Associated Subjects
Arcadia in art
Art, Baroque
Art, Carolingian
Art, European
Art, Gothic
Art, Italian
Art, Renaissance
Art, Romanesque
Bernini, Gian Lorenzo,
Botticelli, Sandro,
Brancusi, Constantin,
Caravaggio, Michelangelo Merisi da,
Carracci, Agostino,
Carracci, Annibale,
Carracci, Lodovico,
Cézanne, Paul,
Courbet, Gustave,
Cubism
Daumier, Honoré,
Degas, Edgar,
Duccio,--di Buoninsegna,
Dürer, Albrecht,
Eyck, Jan van,
Giotto,
Grünewald, Matthias,
Italy
Italy--Bologna
Italy--Rome
Kandinsky, Wassily,
Landscape painting
Leonardo,--da Vinci,
Lorrain, Claude,
Manet, Édouard,
Mannerism (Art)
Mantegna, Andrea,
Mural painting and decoration
Mural painting and decoration, Baroque
Nature (Aesthetics)
Painting, Baroque
Painting, Italian
Palazzo Farnese (Rome, Italy)
Picasso, Pablo,
Pissarro, Camille,
Poussin, Nicolas,
Rembrandt Harmenszoon van Rijn,
Renoir, Auguste,
Riemenschneider, Tilman,
Rodin, Auguste,
Rubens, Peter Paul,
Seurat, Georges,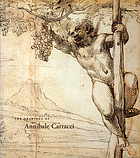 Covers
Alternative Names
A. Carracho

A. Carratz

An. Caracca

An. Caracci

An. Carache

An: Carracci

An. Carrache

An. Carraci

An Carrats

An. Carrcci

an.le carracci

Ani. Carrac.

anib. carracci

Anib. Carraci

Anibal

Anibal Caracci

Anibal Caraccioli

Anibal Carache

Anibal Caraggi

Anibal Caraggio

Anibal Carasso maestro di Guido Reno

Anibal Carats

Anibal Caratz

Anibal Carazio

Anibal Carazza

Anibal Carazzi

Anibal Carracci

Anibal Carrache

Anibal Carragge

Anibal Corache

Anibal Coraci

Anibale

Anibale Caracci

Anibale Caraccia

Anibale Caraccio

Anibale Caraccioli

Anibale Caracciolo

Anibale Caraci

Anibale Caraggi

Anibale Carazza

Anibale Carazzi

Anibale Carracci

Anibale Carraccia

Anibale Carraccio

Anibale Carraciolo

Anibale Carrazza

Anibali Caracci

Anival Caracio

ann.

Ann. Car.

Ann. Caracci

Ann. Carache

Ann: Carracci

Ann, Carrach

Ann. Carrache

Annabal Carracts

Annabal Carrats

Annabali Caracci

Annb. Caracci

Anni. Carracci

Anni. Carrache

Annib. Caracci

Annib. Carracci

Annib. Carrache

Annib. Carratz

Annib.e Carrazza

Annibal Caracchi

Annibal Caracci

Annibal Caraccio

Annibal Caraccioli

Annibal Caracciolo

Annibal Carache

Annibal Carachi

Annibal Caraggi

Annibal Caratius

Annibal Carats

Annibal Caratz

Annibal Caraz

Annibal Carazza

Annibal Carazzi

Annibal Carracche

Annibal Carracci

Annibal Carraccio

Annibal Carraccius

Annibal Carrace

Annibal Carrache

Annibal Carrache, Bolonais

Annibal Carrachi

Annibal Carraci

Annibal Carrage

Annibal Carrats

Annibal Carrazza

Annibal Carrazzi

Annibal Cartocci

Annibal Le Carrache

Annibala Carracci

Annibale

annibale Car.

Annibale Caracce

Annibale Caracci

Annibale Caracci Bolognese

annibale caracci pinx

Annibale Caraccia

Annibale Caraccio

Annibale Caraccioli

Annibale Caracciolo

Annibale Carace

Annibale Caracon

Annibale Carazza

Annibale Carazzi

[Annibale Carracci]

Annibale Carracci Bolognese

Annibale Carracci Bolognese painter of the Baroque

Annibale Carracci Italiaans kunstschilder

Annibale Carracci italienischer Maler und Kupferstecher

Annibale Carracci italský malíř

Annibale Carracci pintor y grabador italiano del barroco

Annibale Carracci włoski malarz

Annibale Carraccioli

Annibale Carrache

Annibale Carrache peintre italien

Annibale Carraci

Annibale Carracio

Annibale Carrazza

Annibale Carrazzi

Annibali Caracci

Annible Carrache

Annival Carrache

Arnibal Caracci

Caracci 1560-1609

caracci, a.

Caracci, Anib.

Caracci Anibal

Caracci, Anibal, Bolog.

Caracci, Anibale 1560-1609

caracci annibale

Caracci, Annibale 1560-1609

Caracci, H.

Caraccio, Annibale 1560-1609

Caraccio Hannib.

Carache, Annibal 1560-1609

Carats 1560-1609

carracci, a.

carracci, anibale

Carracci, Anibale 1560-1609

carracci, ann.

Carracci, Annibal

Carracci, Annibal, Bolog.

carracci annibale

Carracci, Annibale 1560-1609

Carracci, Hannibal 1560-1609

Carraccio, Annibale

Carraccio, Annibale 1560-1609

Carraccio, Hannibale

Carraccio, Hannibale 1560-1609

Carraccius, Annibal

Carraccius Annibal 1560-1609

Carrache, Anibal 1560-1609

Carrache, Annibal.

Carrache Annibal 1560-1609

Carrache Annibal Bolog.

Carrache Annibale

Carraci, Annibale

Carraci, Annibale 1560-1609

Carracio, Annibal

Carracio, Annibal 1560-1609

Carratius, Hannibal 1560-1609

Crats

Guide Carrache

gusto caraccesco

H. Caracci

H. Carats

H. Caratz

H. Carracci

H. Carraccio

H. Carrache

H. Carrachi

H. Carrats

Han. Caracche

Han. Caracci

Han. Carats

Han. Carracci

Han. Carrache

Han. Carrachi

Han. Carrats

Hani Caragio

Hanib. Caracci

Hanibal Caracci

Hanibal Carache

Hanibal Carats

Hanibal Carraccii

Hanibal Carraci

Hanibal Coraccius

Hanibal Crats

Hanl. Carracci

Hannabal Carracci

Hannib. Caraccio

Hannib. Caratzs

Hannibal Caracci

Hannibal Caraccio

Hannibal Carache

Hannibal Carats

Hannibal Caratz

Hannibal Carauio

Hannibal Carracci

Hannibal Carraccio

Hannibal Carrache

Hannibal Carraggio

Hannibal Carrats

Hannibal Carratz

Harnwal Carazzi

Haunibal Caragio

Le Guide Carache

Ανιμπάλε Καράτσι

Αννίμπαλε Καρράτσι Ιταλός ζωγράφος της εποχής του Μπαρόκ

Анибале Карачи

Аннибале Карраччи итальянский живописец и гравёр

Аннібале Карраччі

Անիբալե Կարաչի

אניבל קארצ'י אמן איטלקי

קראצ'י, אניבאלה 1560-1609

קרצ'י, אניבלה 1560-1609

أنيبيل كاراتشي

آنیباله کاراچی نقاش ایتالیایی

อันนีบาเล การ์รัชชี

ཨན་ནི་བ་ལེ་ཁས་ར་ཅི།

안니발레 카라치

アンニーバレ・カラッチ

安尼巴萊·卡拉齊

Languages