De Mello, Anthony 1931-1987
Most widely held works about Anthony De Mello
more
fewer
Most widely held works by Anthony De Mello
Sadhana, a way to God : Christian exercises in Eastern form
by
Anthony De Mello
( Book )
19 editions published between
1978
and 1998 in
English
and held by 620 WorldCat member libraries worldwide
One of the world's foremost spiritual guides responds to the modern hunger for self-awareness and holistic living with a series of spiritual exercises blending psychology, spiritual therapy, and practices drawn from both Eastern and Western traditions of meditation. --Publisher description
The song of the bird
by
Anthony De Mello
( Book )
85 editions published between
1982
and 2016 in 9 languages and held by 574 WorldCat member libraries worldwide
Offers brief meditations and stories which teach lessons about grace, faith, truth, individuality, holiness, spirituality, perception, and fate
Awareness : a de Mello spirituality conference in his own words
by
Anthony De Mello
( Book )
15 editions published between
1990
and 2002 in
English
and held by 531 WorldCat member libraries worldwide
The heart of Anthony de Mello's bestselling spiritual message is awareness. Mixing Christian spirituality, Buddhist parables, Hindu breathing exercises, and psychological insight, de Mello's words of hope come together in Awareness in a grand synthesis. In short chapters for reading in quiet moments at home or at the office, he cajoles and challenges: We must leave this go-go-go world of illusion and become aware. And this only happens, he insists, by becoming alive to the needs and potential of others, whether at home or in the workplace. Here, then, is a masterful book of the spirit, challenging us to wake up in every aspect of our lives. Mixing Christian spirituality, Buddhist parables, Islamic sayings, Hindu breathing exercises, and psychological insight, spiritualist and Jesuit priest Anthony de Mello challenges readers to identify our most submerged, darkest feeling, accept them, not let them rule us, and allow this new awareness of ourselves to change us
One minute wisdom
by
Anthony De Mello
( Book )
47 editions published between
1985
and 2013 in 6 languages and held by 477 WorldCat member libraries worldwide
Bestselling author Anthony de Mello has earned international acclaim for his profound spiritual insights and his unique approach to the inner life. In One Minute Wisdom, he points the way toward new levels of contemplation and contentment, love and harmony, wisdom and enlightenment. In more than two hundred parables and lessons about living life fully yet simply, de Mello gives examples filled with wisdom that cannot be conveyed in regular direct discourse. Rooted in the spirit of the Gospel and spanning the mystical traditions of East and West, this invigorating volume -- like all the author's previous books -- is intended to enliven our faith and free us from whatever imprisons our mind, body, and soul. One Minute Wisdom will lead from sense to sensitivity, from mood to meaning, from thought to feeling. And as de Mello writes, "Wisdom can come without the slightest effort -- in the time it takes to open your eyes." Wherever your spiritual belief may lie -- or even if you have no beliefs at all -- you will find in these pages needed and helpful direction on continuing the process of self-discovering and on finding the satisfying riches that lie deep within you
Wellsprings : a book of spiritual exercises
by
Anthony De Mello
( Book )
23 editions published between
1984
and 1994 in
English
and held by 462 WorldCat member libraries worldwide
One of the most important inspirational writers of our time, and an internationally acclaimed spiritual guide, Anthony de Mello here presents a way toward peace of mind, inner power, and joy through simple spiritual exercises that blend the ancient traditions of the East with the psychological and philosophical perspectives of the West. Wellsprings is intended to guide us to a deeper appreciation of the physical and mystical realms within us. In these pages, numerous aspects of self-awareness are explored that for many people are often left uncultivated in the rapid pace of modern life. In the tradition of the great spiritual leaders of the past, de Mello directs the whole person toward a state of harmony and grace -- in heart and mind, body and soul. This book's great insights into our universal spiritual yearnings have had tremendous resonance the world over, and its simple lessons of the spirit have touched the lives of millions. Wellsprings is indeed a book for everyone who thirsts for inner growth -- regardless of age, religion, or cultural background. If read carefully, its exercises will lead from mind to body, from thought to fantasy and feeling. It is then that we are both freed and empowered, awakened to reality and our real selves. For, as the teacher explains, "in solitude your self is given back to you."
Taking flight : a book of story meditations
by
Anthony De Mello
( Book )
6 editions published between
1988
and 2012 in
English
and held by 302 WorldCat member libraries worldwide
"Contains over 250 stories, grouped under the themes of prayer, awareness, religion, grace, the "saints," the self, love, and truth."
The way to love : the last meditations of Anthony de Mello
by
Anthony De Mello
( Book )
6 editions published between
1991
and 2011 in
English
and held by 300 WorldCat member libraries worldwide
"The Way to Love contains the final flowering of Anthony de Mello's thought. Here, more than ever before in his bestselling writing, he grapples with the ultimate question of love." "In thirty-one meditations, each several pages long and each preceded by a Gospel quotation, he implores his readers with his usual pithiness to break through illusion, the great obstacle to love. "Love springs from awareness," de Mello insists, saying that it is only when we see the other as he or she really is that we begin to love." "The second act of love, he says, is seeing ourselves without illusion - without the coercive nature of our needs, desires, memories, prejudices, and projections. If these steps are taken, then love will steal upon a person or into a relationship. But the task is not easy. "The most painful act the human can perform," de Mello says, "is the act of seeing. It is in that act of seeing that love is born." These are meditations to be savored and shared. This is a book - in a handy gift sizeto be held close to the heart."--Jacket
Mastering sadhana : on retreat with Anthony De Mello
by
Carlos G Valles
( Book )
4 editions published in
1988
in
English
and held by 261 WorldCat member libraries worldwide
Here in essay form are teachings on loves, suffering, the self and non-self, change, awareness, role-playing and more
The heart of the enlightened : a book of story meditations
by
Anthony De Mello
( Book )
11 editions published between
1989
and 2013 in
English
and held by 255 WorldCat member libraries worldwide
"Said the river to the seeker: 'Does one really have to fret about enlightenment' No matter which way I turn, I'm homeward bound.'"--Anthony de Mello We are like bears pacing in a cage, Anthony de Mello says. Even if the cage is removed, we keep pacing in the same timid limits. We are afraid to get out. And we think that the only way out is by endless striving and thinking. But this profound healer and spiritual master shows us another way. The Heart of the Enlightened, the sequel to the highly successful Taking Flight, contains more than two hundred of de Mello's favorite stories. Whether Buddhist tales, Hindu fables, Islamic sayings, or Christian parables, the stories de Mello has chosen are sure to seep through to the heart. They touch on relationships, human nature, service, spirituality, and enlightenment. These are stories to be read slowly and savored. They are the key to liberating us from all that would pen us in
Anthony De Mello : writings
by
Anthony De Mello
( Book )
3 editions published between
1999
and 2007 in
Korean
and
English
and held by 226 WorldCat member libraries worldwide
"Bringing together the wisdom of East and West, Anthony de Mello used stories and parables to awaken his listeners to an awareness of God's presence in their midst. Since his death in 1987, countless readers have been challenged to encounter the God who lies behind words, concepts, and religious formulas. At the same time, de Mello's critique of the capacity of "religion" to interfere with our relationship with God has drawn criticism from various quarters, including the Vatican. In the penetrating introduction by fellow - Jesuit William Dych and in his selection of de Mello's essential writings, readers may assess for themselves the message of a true spiritual master for our times."--BOOK JACKET
more
fewer
Audience Level
0

1
Kids
General
Special
Audience level: 0.43 (from 0.30 for Awareness ... to 0.95 for Messaggio ...)
Related Identities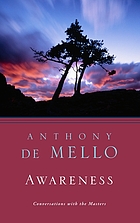 Covers
Alternative Names
Anthony De Mello 1931-1987

Anthony de Mello écrivain indien

Anthony de Mello escriptor indi

Anthony de Mello escritor indio

Anthony de Mello gesuita e scrittore indiano

Anthony de Mello Indiaas schrijver (1931-1987)

Anthony de Mello Indian writer

Anthony de Mello indischer Jesuitenpriester und spirituellen Lehrer

Anthony de Mello psychoterapeuta pochodzenia indyjskiego, jezuita

Anthony de Mello scriitor indian

Antonio de Мelo

Antonius de Mello

De Mello A.

De Mello A. 1931-1987

De Mello, Anthony 1931-1987

De Mello, Antonio 1931-1987

De Mello, Antony

De Mello, Tony

De Mello, Tony 1931-1987

De Melo, Antoni

DeMello, Anthony 1931-1987

Dŭ Mello, Antʻoni 1931-1987

Mello A.

Mello A. 1931-1987

Mello A. de

Mello A. de 1931-1987

Mello, Anthony 1931-1987

Mello Anthony de

Mello, Anthony de 1931-

Mello Anthony De 1931-1987

Mello, Antonio de 1931-1987

Mello, Tony de 1931-1987

Melo, Antoni de

Мелло Э. де

Мелло Э. де 1931-1987

Мелло, Энтони де

Էնթոնի Դե Մելլո

אנתוני דה מלו

אנתוני דה מלו סופר הודי

أنتوني دي ميلو كاتب هندي

அந்தோனி டி மெல்லோ இந்திய எழுத்தாளர்

드 멜로, 안소니 1931-1987

드 멜로, 안토니 1931-1987

드 멜로, 앤서니 1931-1987

드 멜로, 앤소니 1931-1987

드멜로, 앤소니 1931-1987

멜로, 안토니 드 1931-1987

멜로, 앤소니 1931-1987

멜로, 앤소니 드 1931-1987

멜로, 앤터니 드 1931-1987

アンソニー・デ・メロ

デ・メロ, アントニー

デ・メロ, トニー

Languages