Ackerman, Bruce A.
Overview
| | |
| --- | --- |
| Works: | 210 works in 774 publications in 5 languages and 36,391 library holdings |
| Genres: | History Trial and arbitral proceedings Constitutions Trials, litigation, etc Treaties Constitution Commercial treaties Abstracts |
| Roles: | Author, Editor, Author of introduction, Performer, Other, wpr, Creator |
| Classifications: | KF4541, 342.73029 |
Most widely held works about Bruce A Ackerman
Most widely held works by Bruce A Ackerman
We the people
by
Bruce A Ackerman
( )
48 editions published between
1991
and 2018 in 3 languages and held by 3,173 WorldCat member libraries worldwide
Volume 1, Publisher description: Bruce Ackerman offers a sweeping reinterpretation of our nation's constitutional experience and its promise for the future. Integrating themes from American history, political science, and philosophy, We the People confronts the past, present, and future of popular sovereignty in America. Only this distinguished scholar could present such an insightful view of the role of the Supreme Court. Rejecting arguments of judicial activists, proceduralists, and neoconservatives, Ackerman proposes a new model of judicial interpretation that would synthesize the constitutional contributions of many generations into a coherent whole. The author ranges from examining the origins of the dualist tradition in the Federalist Papers to reflecting upon recent, historic constitutional decisions. The latest revolutions in civil rights, and the right to privacy, are integrated into the fabric of constitutionalism. Today's Constitution can best be seen as the product of three great exercises in popular sovereignty, led by the Founding Federalists in the 1780s, the Reconstruction Republicans in the 1860s, and the New Deal Democrats in the 1930s. Ackerman examines the roles played during each of these periods by the Congress, the Presidency, and the Supreme Court. He shows that Americans have built a distinctive type of constitutional democracy, unlike any prevailing in Europe. It is a dualist democracy, characterized by its continuing effort to distinguish between two kinds of politics: normal politics, in which organized interest groups try to influence democratically elected representatives; and constitutional politics, in which the mass of citizens mobilize to debate matters of fundamental principle. Although American history is dominated by normal politics, our tradition places a higher value on mobilized efforts to gain the consent of the people to new governing principles. In a dualist democracy, the rare triumphs of constitutional politics determine the course of normal politics. More than a decade in the making, and the first of three volumes, this compelling book speaks to all who seek to renew and redefine our civic commitments in the decades ahead
The failure of the founding fathers : Jefferson, Marshall, and the rise of presidential democracy
by
Bruce A Ackerman
( )
28 editions published between
2005
and 2009 in
English
and held by 2,921 WorldCat member libraries worldwide
Describes previously unknown aspects of the electoral college crisis of 1800, presenting a revised understanding of the early days of two great institutions that continue to have a major impact on American history: the plebiscitarian presidency and a Supreme Court that struggles to put the presidency's claims of a popular mandate into constitutional perspective. Through close studies of two Supreme Court cases, Ackerman shows how the court integrated Federalist and Republican themes into the living Constitution of the early republic. The ink was barely dry on the Constitution when it was almost destroyed by the rise of political parties in the United States. As Bruce Ackerman shows, the Framers had not anticipated the two-party system, and when Republicans battled Federalists for the presidency in 1800, the rules laid down by the Constitution exacerbated the crisis. [Publisher web site]
Social justice in the liberal state
by
Bruce A Ackerman
( )
29 editions published between
1980
and 2010 in 3 languages and held by 2,669 WorldCat member libraries worldwide
Ackerman offers "his vision of a just society -- a world in which each of us may live in his own way without denying the same right to others." Ackerman argues that neither the myth of a social contract nor the search for social utility can do justice to the liberal ideal. He appeals instead to the most ancient of all philosophical devices -- the dialogue
What Brown v. Board of Education should have said : the nation's top legal experts rewrite America's landmark civil rights decision
by
J. M Balkin
( )
15 editions published between
2001
and 2002 in
English
and held by 2,567 WorldCat member libraries worldwide
"Its meaning, however, remains as contested as the case is celebrated. In the decades since the original decision, constitutional interpreters of all stripes have found within it different meanings. Both supporters and opponents of affirmative action have claimed the mantle of Brown, criticizing the other side for betraying its spirit. Meanwhile, the opinion itself has often been criticized as bland and uninspiring, carefully written to avoid controversy and maintain unanimity among the Justices."
Before the next attack : preserving civil liberties in an age of terrorism
by
Bruce A Ackerman
( )
26 editions published between
2006
and 2008 in
English
and
Spanish
and held by 2,489 WorldCat member libraries worldwide
Terrorist attacks regularly trigger the enactment of repressive laws, setting in motion a vicious cycle that threatens to devastate civil liberties over the twenty-first century. In this book, Bruce Ackerman peers into the future and presents a practical alternative. He proposes an ʺemergency constitutionʺ that enables government to take extraordinary actions to prevent a second strike in the short run while prohibiting permanent measures that destroy our freedom over the longer run. Ackerman's ʺemergency constitutionʺ exposes the dangers lurking behind the popular notion that we are fighting a ʺwarʺ on terror. He criticizes court opinions that have adopted the war framework, showing how they uncritically accept extreme presidential claims to sweeping powers. Instead of expanding the authority of the commander in chief, the courts should encourage new forms of checks and balances that allow for decisive, but carefully controlled, presidential action during emergencies. In making his case, Ackerman explores emergency provisions in constitutions of nations ranging from France to South Africa, borrowing some useful aspects and adapting others. He shows that no country today is well equipped to both fend off terrorists and preserve fundamental liberties, drawing particular attention to recent British reactions to terrorist attacks: Book jacket
The stakeholder society
by
Bruce A Ackerman
( )
21 editions published between
1900
and 2008 in
English
and held by 2,429 WorldCat member libraries worldwide
"What would happen, ask Bruce Ackerman and Anne Alstott, if America were to make good on its promise of equal opportunity by granting every qualifying young adult a citizen's stake of eighty thousand dollars? Ackerman and Alstott argue that every U.S. citizen has the right to share in the wealth accumulated by preceding generations. The distribution of wealth is currently so skewed that the stakeholding fund could be financed by an annual tax of 2 percent on the property owned by the richest 40 percent of Americans." "Ackerman and Alstott analyze their initiative from moral, political, economic, legal, and human perspectives. By summoning the political will to initiate stakeholding, they argue, we can achieve a society that is more democratic, productive, and free."--Jacket
Bush v. Gore : the question of legitimacy
( )
17 editions published between
2002
and 2010 in
English
and held by 2,315 WorldCat member libraries worldwide
The Supreme Court's intervention in the 2000 election will shape American law and democracy long after George W. Bush has left the White House. This book brings together a broad range of preeminent legal scholars who address the larger questions raised by the Supreme Court's actions. Did the Court's decision violate the rule of law? Did it inaugurate an era of super-politicized jurisprudence? How should Bush v. Gore change the terms of debate over the next round of Supreme Court appointments? The contributors -- Bruce Ackerman, Jack Balkin, Guido Calabresi, Steven Calabresi, Owen Fiss, Charles Fried, Robert Post, Margaret Jane Radin, Jeffrey Rosen, Jed Rubenreid, Cass Sunstein, Laurence Tribe, and Mark Tushnet -- represent a broad political spectrum. Their reactions to the case are varied and surprising, filled with sparkling argument and spirited debate
The decline and fall of the American republic
by
Bruce A Ackerman
( )
27 editions published between
2010
and 2013 in
English
and
Italian
and held by 2,135 WorldCat member libraries worldwide
" ... Shows how the institutional dynamics of the last half-century have transformed the American presidency into a potential platform for political extremism and lawlessness"--Jacket
Private property and the Constitution
by
Bruce A Ackerman
( )
22 editions published between
1977
and 2008 in
English
and held by 2,091 WorldCat member libraries worldwide
The proper construction of the compensation clause of the Constitution has emerged as the central legal issue of the environmental revolution, as property owners have challenged a steady stream of environmental statutes that have cut deeply into traditional notions of property rights. When may they justly demand that the state compensate them for the sacrifices they are called upon to make for the common good? Ackerman argues that there is more at stake in the present wave of litigation than even the future shape of environmental law in the United States. To frame an adequate response, lawyers must come to terms with an analytic conflict that implicates the nature of modern legal thought itself. Ackerman expresses this conflict in terms of two opposed ideal types--Scientific Policymaking and Ordinary Observing--and sketches the very different way in which these competing approaches understand the compensation question. He also tries to demonstrate that the confusion of current compensation doctrine is a product of the legal profession's failure to choose between these two modes of legal analysis. He concludes by exploring the large implications of such a choice--relating the conflict between Scientific Policymaking and Ordinary Observing to fundamental issues in economic analysis, political theory, metaethics, and the philosophy of language
more
fewer
Audience Level
0

1
Kids
General
Special
Audience level: 0.15 (from 0.07 for What Brown ... to 0.94 for Giustizia ...)
Associated Subjects
Air--Pollution--Law and legislation
Brown, Oliver,
Bush, George W.--(George Walker),
Campaign funds
Coal--Law and legislation
Constitutional history
Constitutional law
Contested elections
Discrimination in education--Law and legislation
Eastern Europe
Eminent domain
Environmental policy
Europe
European federation
Executive power
Federal government
Florida
Gore, Al,
Income distribution
Jefferson, Thomas,
Justice
Justice, Administration of
Law
Law--Philosophy
Law--Political aspects
Lawyers
Liberalism
Marshall, John,
Middle Atlantic States
Politics and government
Presidents
Presidents--Election
Property
Right of property
Segregation in education--Law and legislation
Separation of powers
Social justice
Taxation
Tax incidence
Terrorism
Terrorism--Prevention--Law and legislation
Topeka (Kan.).--Board of Education
Trials
United States
United States.--Supreme Court
United States--Delaware River
War and emergency legislation
Water--Pollution--Economic aspects
Wealth
Welfare economics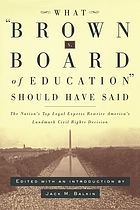 Covers
Alternative Names
Ackerman B.

Ackerman Bruce

Ackerman, Bruce 1943-

Ackerman, Bruce A.

Ackerman, Bruce A., 1943-

Ackerman , Bruce Arnold

Ackerman, Bruce Arnold 1943-

Bruce Ackerman americký filozof

Bruce Ackerman Amerikaans filosoof

Bruce Ackerman amerykański prawnik, politolog i filozof polityczny

Bruce Ackerman filosofo statunitense

Bruce Arnold Ackerman US-amerikanischer Philosoph

Брюс Экерман

ברוס אקרמן

بروس أكيرمان باحث قانون دستوري

بروس آکرمن فیلسوف آمریکایی

애커만, 브루스 1943-

애커만, 브루스 A. 1943-

액커만, 브루스 1943-

액커만, 브루스 A. 1943-

アッカマン, ブルース

布鲁斯·阿克曼

Languages