Knuuttila, Simo 1946-
Most widely held works by Simo Knuuttila
Mind and modality : studies in the history of philosophy in honour of Simo Knuuttila
by
Toivo J Holopainen
( )
15 editions published in
2006
in
English
and held by 1,374 WorldCat member libraries worldwide
This volume offers a wide-ranging and profound collection of essays on philosophical psychology and conceptions of modality from antiquity to the present day, with some essays on the philosophy of religion as well. The contributions deal with mind's cognitive and emotional functions, the modal notions and the philosophical approaches to religion as well as logical, semantic and epistemological issues concerning them. Of twenty-one contributions, six focus on ancient thought, nine on medieval thought, and six on modern and contemporary thought. The book illustrates how philosophical theories of mind and modalities developed through the centuries in western philosophy. It is particularly useful for those interested in the analysis of emotions, their cognitive bearing and ethical significance
Emotions in ancient and medieval philosophy
by
Simo Knuuttila
( Book )
34 editions published between
2004
and 2010 in
English
and held by 614 WorldCat member libraries worldwide
Emotions are the focus of intense debate both in contemporary philosophy and psychology and increasingly also in the history of ideas. Simo Knuuttila presents a comprehensive survey of philosophical theories of emotion from Plato to Renaissance times, combining rigorous philosophical analysis with careful historical reconstruction. The first part of the book covers the conceptions of Plato and Aristotle and later ancient views from Stoicism to Neoplatonism and, in addition, their reception and transformation by early Christian thinkers from Clement and Origen to Augustine and Cassian. Knuuttila then proceeds to a discussion of ancient themes in medieval thought, and of new medieval conceptions, codified in the so-called faculty psychology from Avicenna to Aquinas, in thirteenth century taxonomies, and in the voluntarist approach of Duns Scotus, William Ockham, and their followers. - Publisher
Theories of perception in medieval and early modern philosophy
by
Simo Knuuttila
( )
18 editions published in
2008
in
English
and held by 475 WorldCat member libraries worldwide
This collection sheds light on the developments in the theories of sense-perception in medieval Arabic and Latin philosophy, their ancient background and traditional and new themes in early modern thought
The Logic of being : historical studies
by
Simo Knuuttila
( Book )
16 editions published between
1985
and 1986 in
English
and held by 394 WorldCat member libraries worldwide
The last twenty years have seen remarkable developments in our understanding of how the ancient Greek thinkers handled the general concept of being and its several varieties. The most general examination of the meaning of the Greek verb 'esti'/'einai'/'on' both in common usage and in the philosophical literature has been presented by Charles H. Kahn, most extensively in his 1973 book The Verb 'Be' in Ancient Greek. These discussions are summarized in Kahn's contribution to this volume. By and large, they show that conceptual schemes by means of which philosophers have recently approached Greek thought have not been very well suited to the way the concept of being was actually used by the ancients. For one thing, being in the sense of existence played a very small role in Greek thinking according to Kahn. Even more importantly, Kahn has argued that Frege and Russell's thesis that verbs for being, such as 'esti', are multiply ambiguous is ill suited for the purpose of appreciating the actual conceptual assumptions of the Greek thinkers. Frege and Russell claimed that a verb like 'is' or'esti' is ambiguous between the 'is' of identity, the 'is' of existence, the copulative 'is', and the generic 'is' (the 'is' of class-inclusion). At least a couple of generations of scholars have relied on this thesis and fre quently criticized sundry ancients for confusing these different senses of 'esti' with each other
Sourcebook for the history of the philosophy of mind : philosophical psychology from Plato to Kant
by
Simo Knuuttila
( )
16 editions published between
2013
and 2014 in
English
and held by 350 WorldCat member libraries worldwide
"Fresh translations of key texts, exhaustive coverage from Plato to Kant, and detailed commentary by expert scholars of philosophy add up to make this sourcebook the first and most comprehensive account of the history of the philosophy of mind. Published at a time when the philosophy of mind and philosophical psychology are high-profile domains in current research, the volume will inform our understanding of philosophical questions by shedding light on the origins of core conceptual assumptions often arrived at before the instauration of psychology as a recognized subject in its own right. The chapters closely follow historical developments in our understanding of the mind, with sections dedicated to ancient, medieval Latin and Arabic, and early modern periods of development. The volumes structural clarity enables readers to trace the entire progression of philosophical understanding on specific topics related to the mind, such as the nature of perception. Doing so reveals the fascinating contrasts between current and historical approaches. In addition to its all-inclusive source material, the volume provides subtle expert commentary that includes critical introductions to each thematic section as well as detailed engagement with the central texts. A voluminous bibliography includes hundreds of primary and secondary sources. The sheer scale of this new publication sheds light on the progression, and discontinuities, in our study of the philosophy of mind, and represents a major new sourcebook in a field of extreme importance to our understanding of humanity as a whole"
Modalities in medieval philosophy
by
Simo Knuuttila
( Book )
14 editions published in
1993
in
English
and
Undetermined
and held by 262 WorldCat member libraries worldwide
Studies in modal notions, such as necessity, possibility or impossibility, have always played an important role in philosophical analysis. The history of these conceptions is a fascinating story of a variety of assumptions which have given shape to one part of rational discourse. A typical modern approach to modality is codified in what is generally known as possible worlds semantics. According to this view, necessity refers to what is actual in any alternative state of affairs, possibility to what is actual in some, and impossibility to what is not actual in any alternative domain. The idea of spelling out the meaning of modal terms with the synchronic alternatives hardly occurred at all in ancient thinkers. They did not draw any sharp distinction between conceptual and real modalities and they were inclined to think that all generic possibilities must prove their mettle through actualization. Why and when did ancient modal conceptions and the modes of thought based on them lose their dominance? The main thesis of this book is that the idea of modality as multiplicity of reference with respect to alternative domains emerged in early medieval discussions and that it was originally influenced by the theological conception of God acting by choice. After a discussion of ancient modal paradigms, the author traces the interplay of old and new modal views in medieval logic and semantics, philosophy and theology. A detailed account is given of late medieval discussions of the new modal paradigms and attempts to apply them to modal logic, epistemic logic, and the logic of norms. These theories show striking similarities to some basic tenets of contemporary approaches to modal matters. This work will thus be of considerable interest to historians of philosophy and ideas, and philosophers of intensional logic and metaphysics
more
fewer
Audience Level
0

1
Kids
General
Special
Audience level: 0.44 (from 0.03 for Mind and m ... to 0.93 for Knowledge ...)
Related Identities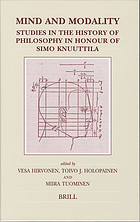 Covers
Alternative Names
Knuuttila, S.

Knuuttila, S. 1946-

Knuuttila, S. (Simo), 1946-

Knuuttila, Simo Jussi Iisakki.

Knuuttila Simo Jussi Iisakki 1946-....

Simo Knuuttila Finnish professor (emeritus) of theological ethics and the philosophy of religion at the University of Helsinki, academy professor (Academy of Finland)

Simo Knuuttila Fins theoloog

Simo Knuuttila suomalainen teologisen etiikan ja uskonnonfilosofian emeritusprofessori (Helaingin yliopisto), akatemiaprofessori (Suomen Akatemia)

Languages