Sitchin, Zecharia
Most widely held works about Zecharia Sitchin
more
fewer
Most widely held works by Zecharia Sitchin
The 12th planet
by
Zecharia Sitchin
( Book )
79 editions published between
1976
and 2017 in 16 languages and held by 978 WorldCat member libraries worldwide
The 12th Planet brings to life the Sumerian civilization, presenting millennia-old evidence of the existence of Nibiru, the home planet of the Anunnaki and of the landings of the Anunnaki on Earth every 3,600 years, and reveals a complete history of the solar system as told by these early visitors from another planet
The stairway to heaven
by
Zecharia Sitchin
( Book )
36 editions published between
1980
and 2018 in 9 languages and held by 612 WorldCat member libraries worldwide
"Combining the enigma of the Pyramids with legends of human attempts to ascend like gods to Heaven in search of immortality, [Sitchin] delves into the lives of the pharaohs of Egypt, who taught how to travel the Route of the Gods to the "eternal afterlife"; to the Sumerian king Gilgamesh, who journeyed to distant lands in his quest to "scale heaven" and ward off his mortal fate; Alexander the Great, who believed he was actually the son of a god; and Ponce de Leon, who explored Florida in search of the legendary Fountain of Youth. Finally, he leads us along the gaze of the Sphinx, the "Sacred Guide," for remarkable insight into the archetypal search for eternal life."--Back cover
Discovering the mysteries of ancient America : lost history and legends, unearthed and explored
by
Frank Joseph
( )
6 editions published between
2005
and 2006 in
English
and held by 526 WorldCat member libraries worldwide
The nursery rhyme begins, "In 1492, Columbus sailed €the ocean blue." Less well-known is the line that follows: " & o learn if the old maps were true." How can there be "old maps" of a land no one knew existed? Were others here before Columbus? What were their reasons for coming, and what unexplained artifacts did they leave behind? The oceans were highways to America rather than barriers, and when discoverers put their ships ashore, they were greeted by unusual inhabitants. In Discovering the Mysteries of Ancient America, the author of The Atlantis Encyclopedia turns his sextant towards this hemisphere. Here is a collection of the most controversial articles selected from 70 issues of the infamous Ancient American magazine. They range from the discovery of Roman relics in Arizona and California's Chinese treasure, to Viking rune-stones in Minnesota and Oklahoma and the mysterious religions of ancient Americans. Many questions will be raised including: * What role did extraterrestrials have in the lives of ancient civilizations? * What ancient pyramids and towers tell us about the people who built them? Are they some sort of portals to another dimension? € * What prehistoric technologies have been discovered, and what can they tell us €about early settlers, their religious beliefs and possible other-worldy visitors? * Did El Dorado exist, and what of the legendary Fountain of Youth? * Was Atlantis in Cuba? * What are America's lost races, and what happened to them? Discovering the Mysteries of Ancient America brings to light the once-hidden, true past of America's earliest civilizations. Frank Joseph is the author of The Atlantis Encyclopedia (New Page Books), as well as a dozen other books on history, prehistory and metaphysics. He has been the editor-in-chief of Ancient American magazine since its first issue in 1993. He lives in Wisconsin. Wayne May is the founder-publisher of Ancient American. Laura Lee is the award-winning producer and host of the nationally syndicated Laura Lee Show. David Hatcher Childress wrote the bestselling Lost Cities series. Zecharia Sitchin is the author of the bestselling Earth Chronicles series. Andrew Collins is world-renowned for his consistent bestsellers, including Gateway to Atlantis
The lost realms
by
Zecharia Sitchin
( Book )
31 editions published between
1990
and 2018 in 9 languages and held by 444 WorldCat member libraries worldwide
In the sixteenth century, Spanish conquerors came to the New World in search of El Dorado, the fabled city of gold. Instead, they encountered inexplicable phenomena that have puzzled scholars and historians ever since: massive stone edifices constructed in the Earth's most inaccessible regions . . . great monuments forged with impossible skill and unknown tools . . . intricate carvings describing events and places half a world away. Who were the bearded "gods of the golden wand" who had brought civilization to the Americas millennia before Columbus? Who were the giants whose sculpted stone heads in Mesoamerica still mystify to this day?
The end of days : Armageddon and prophecies of the return
by
Zecharia Sitchin
( Book )
6 editions published between
2007
and 2014 in
English
and held by 396 WorldCat member libraries worldwide
A conclusion to the Earth Chronicles series brings the author's theories about the Anunnaki extraterrestrial beings full circle, addressing key questions pertaining to such topics as the biblical Daniel, Sir Isaac Newton, and the end of the world
The wars of gods and men
by
Zecharia Sitchin
( Book )
27 editions published between
1985
and 2018 in 9 languages and held by 381 WorldCat member libraries worldwide
"Thousands of years ago, the Earth was a battlefield. These were the wars that would shape man's destiny?terrible conflicts that began lifetimes earlier on another planet. Parting the mists of time and myth, the internationally renowned scholar Zecharia Sitchin takes us back in this volume to the violent beginnings of the human story, when gods?not men?ruled the Earth. In a spellbinding reconstruction of epic events preserved in legends and ancient writings, he traces the conflicts that began on another world, continued on Earth, and culminated in the use of nuclear weapons?an event recorded in the Bible as the upheaval of Sodom and Gomorrah."--Publisher's website
When time began
by
Zecharia Sitchin
( Book )
29 editions published between
1993
and 2018 in 9 languages and held by 361 WorldCat member libraries worldwide
Offers evidence that visitors from outer space helped usher in humankind's first new age of scientific growth and spiritual enlightenment
Genesis revisited : is modern science catching up with ancient knowledge?
by
Zecharia Sitchin
( Book )
11 editions published between
1980
and 2002 in
English
and held by 315 WorldCat member libraries worldwide
Traces topics in contemporary science, such as genetic engineering, back to ancient origins, arguing that alien visitors shaped humankind's destiny thousands of years ago
The cosmic code
by
Zecharia Sitchin
( Book )
25 editions published between
1998
and 2010 in 6 languages and held by 297 WorldCat member libraries worldwide
In this sixth volume of "The Earth Chronicles," Zecharia Sitchin unveils writings from the past to decipher prophesies, and reveals how the DNA-matched Hebrew alphabet and the numerical values of its letters serve as a code that bares the secrets of mortal man's fate and mankind's celestial destiny
more
fewer
Audience Level
0

1
Kids
General
Special
Audience level: 0.30 (from 0.01 for Discoverin ... to 0.77 for Dünya tar ...)
Related Identities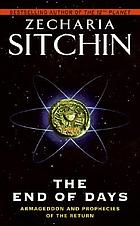 Covers
Alternative Names
Sitchin, Zakharii︠a︡

Sitchin, Zecharia, 1920-2010

Sitčin, Zaharija

Siṭshin, Zakharyah 1920-2010

Zaharija Sitčin

Zaxariya Sitçin

Zecharia Sitchin americko-izraelský spisovatel

Zecharia Sitchin Amerikaans auteur

Zecharia Sitchin descubrimos UFO ect

Zecharia Sitchin scrittore azero

Zecharia Sitchin US-amerikanischer Bestsellerautor

Ζεκάρια Σίτσιν Αζεροεβραίος συγγραφέας

Захарія Сітчин

Зекария Сичин

Зехарија Сичин

Ситчин З.

Ситчин Захария

Ситчин, Захария 1920-

Сичин Захария

זכריה סיטשין

זכריה סיטשין סופר יהודי אמריקאי ממוצא אזרבייג'ני

ذکریا ستچین نویسنده آمریکایی

زكريا سيتشين

زكريا طقيع جزائري الجنسية

เซชาเรีย ซิตชิน

시친, 제카리아 1920-2010

제카리아 시친

シッチン, ゼカーリア

ゼカリア・シッチン

撒迦利亞·西琴

Languages