Quammen, David 1948-
Most widely held works about David Quammen
more
fewer
Most widely held works by David Quammen
Spillover : animal infections and the next human pandemic
by
David Quammen
( Book )
26 editions published between
2012
and 2016 in 3 languages and held by 2,607 WorldCat member libraries worldwide
This work examines the emergence and causes of new diseases all over the world, describing a process called "spillover" where illness originates in wild animals before being passed to humans and discusses the potential for the next huge pandemic. The emergence of strange new diseases is a frightening problem that seems to be getting worse. In this age of speedy travel, it threatens a worldwide pandemic. We hear news reports of Ebola, SARS, AIDS, and something called Hendra killing horses and people in Australia; but those reports miss the big truth that such phenomena are part of a single pattern. The bugs that transmit these diseases share one thing: they originate in wild animals and pass to humans by a process called spillover. As globalization spreads and as we destroy the ancient ecosystems, penetrating ever deeper into the furthest reaches of the planet, we encounter strange and dangerous infections that originate in animals but can be transmitted to humans. It is reckoned that at least 60% of our infections diseases derive from animals. Diseases that were contained are being set free and the results are potentially catastrophic. The author tracks this subject around the world. He recounts adventures in the field, netting bats in China, trapping monkeys in Bangladesh, stalking gorillas in the Congo, with the world's leading disease scientists. He takes the reader along on this quest to learn how, where from, and why these diseases emerge, and he asks the terrifying question: What might the next big one be?
The song of the dodo : island biogeography in an age of extinctions
by
David Quammen
( Book )
51 editions published between
1996
and 2014 in 3 languages and held by 2,204 WorldCat member libraries worldwide
Thirty years ago, two young biologists named Robert MacArthur and Edward O. Wilson triggered a far-reaching scientific revolution. In a book titled The Theory of Island Biogeography, they presented a new view of a little-understood matter: the geographical patterns in which animal and plant species occur. Why do marsupials exist in Australia and South America, but not in Africa? Why do tigers exist in Asia, but not in New Guinea? Influenced by MacArthur and Wilson's book, an entire generation of ecologists has recognized that island biogeography - the study of the distribution of species on islands and islandlike patches of landscape - yields important insights into the origin and extinction of species everywhere. The new mode of thought focuses particularly on a single question: Why have island ecosystems always suffered such high rates of extinction? In our own age, with all the world's landscapes, from Tasmania to the Amazon to Yellowstone, now being carved into islandlike fragments by human activity, the implications of island biogeography are more urgent than ever. Until now, this scientific revolution has remained unknown to the general public. But over the past eight years, David Quammen has followed its threads on a globe-circling journey of discovery. In Madagascar, he has considered the meaning of tenrecs, a group of strange, prickly mammals native to that island. On the island of Guam, he has confronted a pestilential explosion of snakes and spiders. In these and other places, he has prowled through wild terrain with extraordinary scientists who study unusual beasts. The result is The Song of the Dodo, a book filled with landscape, wonder, and ideas. Besides being a grand outdoor adventure, it is, above all, a wake-up call to the age of extinctions
Monster of God : the man-eating predator in the jungles of history and the mind
by
David Quammen
( Book )
20 editions published between
2003
and 2014 in
English
and held by 1,847 WorldCat member libraries worldwide
Publisher's description: For millennia, lions, tigers, and their man-eating kin have kept our dark, scary forests dark and scary, and their predatory majesty has been the stuff of folklore. But by the year 2150 big predators may only exist on the other side of glass barriers and chain-link fences. Their gradual disappearance is changing the very nature of our existence. We no longer occupy an intermediate position on the food chain; instead we survey it invulnerably from above--so far above that we are in danger of forgetting that we even belong to an ecosystem. Casting his expert eye over the rapidly diminishing areas of wilderness where predators still reign, the award-winning author of The Song of the Dodo examines the fate of lions in India's Gir forest, of saltwater crocodiles in northern Australia, of brown bears in the mountains of Romania, and of Siberian tigers in the Russian Far East. In the poignant and troublesome ferocity of these embattled creatures, we recognize something primeval deep within us, something in danger of vanishing forever
On the origin of species
by
Charles Darwin
( Book )
19 editions published between
2008
and 2011 in
English
and held by 1,402 WorldCat member libraries worldwide
Reintroduces the author's work about the theory of evolution with over three hundred fifty illustrations and photographs, accompanied by excerpts from his diaries, letters, and other writings
Ebola : the natural and human history of a deadly virus
by
David Quammen
( Book )
8 editions published in
2014
in
English
and held by 1,038 WorldCat member libraries worldwide
Overview: 1976 a deadly virus emerged from the Congo forest. As swiftly as it came, it disappeared, leaving no trace. Over the four decades since, Ebola has emerged sporadically, each time to devastating effect. It can kill up to 90 percent of its victims. In between these outbreaks, it is untraceable, hiding deep in the jungle. The search is on to find Ebola's elusive host animal. And until we find it, Ebola will continue to strike. Acclaimed science writer and explorer David Quammen first came near the virus while he was traveling in the jungles of Gabon, accompanied by local men whose village had been devastated by a recent outbreak. Here he tells the story of Ebola-its past, present, and its unknowable future. Extracted from Spillover by David Quammen, updated and with additional material
The flight of the iguana : a sidelong view of science and nature
by
David Quammen
( Book )
16 editions published between
1988
and 2012 in
English
and
Chinese
and held by 955 WorldCat member libraries worldwide
The author brings to life the weird and wonderful pageant of nature in essays ranging from tales of vegetarian piranha to dogs without voices
Natural acts : a sidelong view of science and nature
by
David Quammen
( Book )
13 editions published between
1985
and 2001 in
English
and held by 777 WorldCat member libraries worldwide
Explores the mysteries and patterns of the natural world with perception and beauty
The tangled tree : a radical new history of life
by
David Quammen
( Book )
10 editions published between
2018
and 2019 in
English
and held by 775 WorldCat member libraries worldwide
"Nonpareil science writer David Quammen explains how recent discoveries in molecular biology can change our understanding of evolution and life's history, with powerful implications for human health and even our own human nature. In the mid-1970s, scientists began using DNA sequences to reexamine the history of all life. Perhaps the most startling discovery to come out of this new field--the study of life's diversity and relatedness at the molecular level--is horizontal gene transfer (HGT), or the movement of genes across species lines. It turns out that HGT has been widespread and important. For instance, we now know that roughly eight percent of the human genome arrived not through traditional inheritance from directly ancestral forms, but sideways by viral infection--a type of HGT. In The Tangled Tree David Quammen, "one of that rare breed of science journalists who blends exploration with a talent for synthesis and storytelling" (Nature), chronicles these discoveries through the lives of the researchers who made them--such as Carl Woese, the most important little-known biologist of the twentieth century; Lynn Margulis, the notorious maverick whose wild ideas about "mosaic" creatures proved to be true; and Tsutomu Wantanabe, who discovered that the scourge of antibiotic-resistant bacteria is a direct result of horizontal gene transfer, bringing the deep study of genome histories to bear on a global crisis in public health. Quammen explains how molecular studies of evolution have brought startling recognitions about the tangled tree of life--including where we humans fit upon it. Thanks to new technologies such as CRISPR, we now have the ability to alter even our genetic composition--through sideways insertions, as nature has long been doing. The Tangled Tree is a brilliant guide to our transformed understanding of evolution, of life's history, and of our own human nature."--Dust jacket
The boilerplate rhino : nature in the eye of the beholder
by
David Quammen
( Book )
14 editions published between
2000
and 2004 in
English
and
Chinese
and held by 596 WorldCat member libraries worldwide
Twenty-six of the author's essays, never before printed in any of his earlier books and written in a fifteen year span, from his monthly column, "Natural acts," published in Outside magazine
more
fewer
Audience Level
0

1
Kids
General
Special
Audience level: 0.23 (from 0.15 for Yellowston ... to 0.86 for Shu zai gu ...)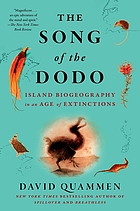 Covers
Alternative Names
David Quammen American science author

David Quammen Amerikaans schrijver

David Quammen amerikansk författare

David Quammen amerikansk skribent

David Quammen tác giả khoa học người Mỹ

David Quammen US-amerikanischer Schriftsteller und Wissenschaftsjournalist

Quammen, D.

דייוויד קומן

קומון, דוד, 1948-

קומן, דוד, 1948-

콰먼, 데이비드 1948-

쾀멘, 데이비드 1948-

クアメン, デビッド

クォメン, デイヴィッド

大卫·夸门

Languages