Dijkstra, Edsger W.
Most widely held works about Edsger W Dijkstra
more
fewer
Most widely held works by Edsger W Dijkstra
A discipline of programming
by
Edsger W Dijkstra
( Book )
29 editions published between
1976
and 2013 in 7 languages and held by 1,000 WorldCat member libraries worldwide
Executional abstraction; The role of programming languages; States and their characterization; The characterization of semantics; The semantic characterization of a programming language; Two theorems; On the design of properly terminating; Euclid's algorithm revisited; The formal treatment of some small examples; The linear search theorem; The problem of the next permutation
Structured programming
by
Ole-Johan Dahl
( Book )
45 editions published between
1972
and 1990 in
English
and
Undetermined
and held by 776 WorldCat member libraries worldwide
Selected writings on computing : a personal perspective
by
Edsger W Dijkstra
( Book )
14 editions published between
1982
and 2011 in
English
and
Undetermined
and held by 603 WorldCat member libraries worldwide
Stepwise program construction. Parallelism in multi-record transactions. Finding the maximum strong components in a directed granph. trip reporte E.W.Dijkstra, summer school munich. The solution to a cyclic relaxation problem. Trip reporte IBM seminar "communication and computers". Self-stabilization in spite of distributed control. Acceptance speech for the AFIPS harry goode memorial award 1974. Speech at the occasion of an anniversary. Inside "mathematics inc". A multidisciplinary approach to mathematics. Ond the role of scientific thought. A time-wise hierarchy imposed upon the use of a two-level store. A new elephant built from mosquitoes humming in harmony. Monotonic replacement algorithms and their implementation. Trip report E.W.Dijkstra. Trip report visit ETH Zurich. A letter to my old friend Jonathan. "Craftsman or scientist?". Exercises in making programs robust. Trip report E.W.Dijkstra. how do we tell truths that might hurt?. Variation on a theme: an open letter to C.A.R hoare. A post-scriptum to EWD501. Erratum and embellishmething . A synthesis merging?. Commets at a symposium. Trip report E.W.Dijkstra. On a warning from E.A.Hauch. More on auck's warning. A collection of beautiful proofs. Mathematics inc., a private letter from its chairman. A personal summary of the gries-owicki theory. A "non Trip report". Formal techniques and sizearble programs. An exercises for Dr.R.M.Burstall. A great improvement. To H.D.Mills, chairman software methodology panel. On subgoal induction. Trip report E.W.Dijkstra. More about the function. A proof of a theorem communicated to us. Trip report E.W.Dijkstra. A parable. Trip report E.W.Dijkstra. A correctness proof for communicating processes: a small exercise. An elephant inspered by the dutch national flag. On the fact the atlantic ocean has two sides. Trip report E.W.Dijkstra. A somewhat open letter to EAA. On webster, users, bugs, and aristotle, On making solution more and more fine-grained. The mathematics behind the banker's algorithm. On two beautiful solutions designed by martin rem. Trip report E.W.Dijkstra. why naive program transformation systems are unlikely to word. The three golden rules for successful scientific research. The introduction of MAES. A class of simple communication patterns. "Why is software so expensive?" an explanation to the hardware designer. A theorem about odd powes of odd integers. Porgram inversion. On weak and strong termination. The equivalence of bounded nondeterminacy and continuity. A story that starts with a very good computer
Predicate calculus and program semantics
by
Edsger W Dijkstra
( Book )
18 editions published between
1989
and 2012 in
English
and held by 519 WorldCat member libraries worldwide
This booklet presents a reasonably self-contained theory of predicate trans­ former semantics. Predicate transformers were introduced by one of us (EWD) as a means for defining programming language semantics in a way that would directly support the systematic development of programs from their formal specifications. They met their original goal, but as time went on and program derivation became a more and more formal activity, their informal introduction and the fact that many of their properties had never been proved became more and more unsatisfactory. And so did the original exclusion of unbounded nondeterminacy. In 1982 we started to remedy these shortcomings. This little monograph is a result of that work. A possible -and even likely- criticism is that anyone sufficiently versed in lattice theory can easily derive all of our results himself. That criticism would be correct but somewhat beside the point. The first remark is that the average book on lattice theory is several times fatter (and probably less self­ contained) than this booklet. The second remark is that the predicate transformer semantics provided only one of the reasons for going through the pains of publication
A method of programming
by
Edsger W Dijkstra
( Book )
17 editions published between
1988
and 1994 in
English
and
Italian
and held by 310 WorldCat member libraries worldwide
Reasoning about programs
by
Edsger W Dijkstra
( Visual )
8 editions published between
1990
and 2009 in
English
and held by 79 WorldCat member libraries worldwide
Lecture illustrating two critical problems in program correctness proof: invariance and termination
Methodik des Programmierens
by
Edsger W Dijkstra
( Book )
3 editions published in
1985
in
German
and
Undetermined
and held by 66 WorldCat member libraries worldwide
Software -- Programming Techniques
Beauty is our business : a birthday salute to Edsger W. Dijkstra
by
W. H. J Feijen
( Book )
7 editions published between
1900
and 1990 in 3 languages and held by 36 WorldCat member libraries worldwide
More than anything else, this book is a tribute to Edsger W. Dijkstra, on the occasion of his sixtieth birthday, by just a few of those fortunate enough to be influenced by him and his work and to be called his friend or relation, his master, colleague, or pupil. This book contains fifty-four technical contributions in different areas of endeavor, although many of them deal with an area of particular concern to Dijkstra: programming. Each contribution is relatively short and could be digested in one sitting. Together, they form a nice cross section of the discipline of programming at the beginning of the nineties. While many know of Dijkstra's technical contributions, they may not be aware of his ultimate goal, the mastery of complexity in mathematics and computing science. He has forcefully argued that beauty and elegance are essential to this mastery. The title of this book, chosen to reflect his ultimate goal, comes from a sentence in an article of his on some beautiful arguments using mathematical induction: " ... when we recognize the battle against chaos, mess, and unmastered complexity as one of computing sci- ence's major callings, we must admit that 'Beauty Is Our Business'."
more
fewer
Audience Level
0

1
Kids
General
Special
Audience level: 0.55 (from 0.44 for A discipli ... to 1.00 for [Papers] ...)
Associated Subjects
ALGOL (Computer program language)
Algorithms
American Federation of Information Processing Societies
Artificial intelligence
Baskett, Forest
Burroughs Corporation
Calculus
Computer algorithms
Computer industry
Computer networks
Computer programming
Computer programs
Computers
Computer science
Computer software
Dijkstra, Edsger W
Electronic data processing
Electronic data processing--Distributed processing
Europe
Fault-tolerant computing
Feigenbaum, Edward A
Functional analysis
Gibbons, James F
Golub, Gene H.--(Gene Howard),
Hoare, C. A. R.--(Charles Antony Richard),
Interpolation
Knuth, Donald Ervin,
Logic design
Mathematics
Mathematisch Centrum (Amsterdam, Netherlands)
Miller, William F
Nilsson, Nils J.,
Object-oriented databases
Object-oriented methods (Computer science)
Predicate calculus
Programming languages (Electronic computers)--Semantics
Punched card systems
Real-time data processing
Recursion theory
Science
Semantics
Software engineering
Structured programming
Theoretical physics
Turing, Alan,
United States
University of Texas at Austin.--Department of Computer Sciences
Wirth, Niklaus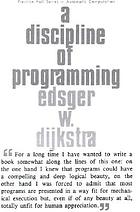 Covers
Alternative Names
Dejkstra, È.

Dijkstra E.W.

Dijkstra, E.W. 1930-2002

Dijkstra, E. W. (Edsger Wybe)

Dijkstra, Edsger W.

Dijkstra, Edsger W. 1930-2002

Dijkstra, Edsger W. (Edsger Wybe)

Dijkstra, Edsger Wybe

Dijkstra, Edzger W. 1930-2002

Edsger Dijkstra holenderski informatyk

Edsger Dijkstra informático neerlandés

Edsger Dijkstra informatico olandese

Edsger Dijkstra mathématicien et informaticien néerlandais

Edsger Dijkstra nederlanda komputosciencisto

Edsger Dijkstra Nederlands wiskundige en informaticus met name gestructureerd programmeren

Edsger Dijkstra nederlandsk matematikar, fysikar, informatikar og ingeniør

Edsger Dijkstra nederländsk matematiker, fysiker, datavetare och ingenjör

Edsger Dijkstra nederlandsk matematiker, fysiker, informatiker og ingeniør

Edsger W. Deykstra

Edsger W. Dijkstra Dutch computer scientist

Edsger W. Dijkstra niederländischer Informatiker

Edsger Wybe Dijkstra

Edsger Wybe Dijkstra holland matematikus, fizikus, informatikus

Edsgers Deikstra

Έντσγκερ Ντάικστρα

Дейкстра, Э.

Дейкстра, Эдсгер Вибе нидерландский учёный

Дейкстра, Эдсгер Вибе нидерландский учёный в области информатики и программирования

Дийкстра, Э.

Едсгер Дейкстра

Едсгер Дејкстра холандски информатичар

Едсхер Дајкстра

Едсхер Дейкстра

Эдсгер Дейкстра

אדסחר דייקסטרה

אדסחר דייקסטרה מדען מחשב הולנדי

إدسخر ديكسترا

ادسخر دیسترا ریاضی‌دان، فیزیک‌دان، دانشمند علوم کامپیوتر، و مهندس هلندی

ادسخر دیكسترا

ادسخر دیکسترا

एड्सगर डिक्स्ट्रा

এট্‌সখার ডেইক্‌স্ট্রা

എഡ്ഗർ ഡൈക്സ്ട്രാ

에츠허르 데이크스트라

エドガー・ダイクストラ

ダイクストラ, E. W.

艾兹赫尔·戴克斯特拉

Languages