Schacter, Daniel L.
Most widely held works about Daniel L Schacter
Most widely held works by Daniel L Schacter
The seven sins of memory : how the mind forgets and remembers
by
Daniel L Schacter
( Book )
16 editions published between
2001
and 2009 in
English
and held by 2,312 WorldCat member libraries worldwide
"Daniel L. Schacter, chairman of Harvard University's Psychology Department and a leading expert on memory, has developed the first framework that describes the basic memory miscues we all encounter. Just like the seven deadly sins, the seven memory sins appear routinely in everyday life. Schacter explains how transience reflects a weakening of memory over time, how absent-mindedness occurs when failures of attention sabotage memory, and how blocking happens when we can't retrieve a name we know well. Three other sins involve distorted memories: misattribution (assigning a memory to the wrong source), suggestibility (implanting false memories), and bias (rewriting the past based on present beliefs). The seventh sin, persistence, concerns intrusive recollections that we cannot forget - even when we wish we could. Although these sins may cause difficulties, as Schacter notes, they're surprisingly vital to a keen mind."--BOOK JACKET
Searching for memory : the brain, the mind, and the past
by
Daniel L Schacter
( Book )
26 editions published between
1996
and 2008 in 3 languages and held by 1,838 WorldCat member libraries worldwide
Drawing on his own work and that of other cognitive, clinical, and neuroscientists, Schacter gives us overwhelming evidence for the thesis that we possess more than one memory system, which explains why some brain-damaged people cannot remember past events, and others cannot acquire new knowledge or call up old. He also shows us how new breakthroughs in brain imaging are allowing us to see, for the first time, the many parts of the brain that must interact to enable us to encode or retrieve a memory. Searching for Memory contains fascinating firsthand accounts of patients with striking - and sometimes bizarre - amnesias resulting from brain injury or psychological trauma. Schacter also takes us into the hidden world of implicit memories - unconscious influences of the past that, outside our awareness, affect our judgments, preferences, and actions. And he examines the nature and accuracy of emotionally traumatic memories, using the latest advances in cognitive neuroscience to clarify vexing issues in the heated controversy over repressed memories of childhood trauma
Memory systems 1994
by
Daniel L Schacter
( )
19 editions published between
1994
and 1997 in
English
and
Undetermined
and held by 1,793 WorldCat member libraries worldwide
Awareness of deficit after brain injury : clinical and theoretical issues
by
George P Prigatano
( )
11 editions published in
1991
in
English
and held by 1,164 WorldCat member libraries worldwide
1. Introduction, George P. Prigatano and Daniel L. Schacter. 2. Anosognosia Related to Hemiplegia and Hemianopia, Edoardo Bisiach and Guiliano Geminiani. 3. Anosognosia of Linguistic Deficits in Patients with Neurological Deficits, Alan B. Rubens. 4. Anosognosia: Possible Neuropsychological Mechanisms, Kenneth M. Heilman. 5. Disturbance of Self-Awareness After Frontal System Damage, Donald T. Stuss. 6. Unawareness of Deficits in Dementia and Schizophrenia, Susan M. McGlynn and Alfred W. Kaszniak. 7. Disturbances of Self-Awareness of Deficit After Traumatic Brain Injury, George P. Prigatano. 8
Memory distortion : how minds, brains, and societies reconstruct the past
by
Daniel L Schacter
( Book )
27 editions published between
1995
and 2000 in
English
and held by 838 WorldCat member libraries worldwide
Hypnosis, confabulation, source amnesia, flashbulb memories, repression - these and numerous additional topics are explored in this timely collection of essays by eminent scholars in a range of disciplines. This is the first book on memory distortion to unite contributions from cognitive psychology, psychopathology, psychiatry, neurobiology, sociology, history, and religious studies. It brings the most relevant group of perspectives to bear on some key contemporary issues, including the value of eyewitness testimony and the accuracy of recovered memories of sexual abuse
Sleep and cognition
( Book )
22 editions published between
1990
and 1994 in
English
and
Italian
and held by 684 WorldCat member libraries worldwide
Despite impressive advances in understanding sleep as a biological phenomenon and in understanding the nature of mental processes in the normal waking state, our knowledge of mental life during sleep remains extremely impoverished. The common identification of cognition with consciousness leaves the impression that little or no mental activity occurs during sleep. The present volume represents the Proceedings of the Arizona Conference on Sleep and Cognition, held in Tucson January 19-22, 1989. A principal concern of the conference was the implications of recent work on implicit memory and other aspects of information-processing outside of awareness for studies of cognitive processes during sleep, and the role of the sleep laboratory as a vehicle for studying various aspects of information processing outside of awareness, in the absence of the active deployment of attention. To this end, selected investigators in the area of sleep who have an interest in cognitive processes were brought together with their counterparts in the area of cognition who have an interest in sleep. We hope that one outcome of this meeting, and publication of the Proceedings, will be a new agenda for research on sleep that will carry investigators of both camps well into the 21st century. (PsycINFO Database Record (c) 2004 APA, all rights reserved)
Memory, brain, and belief
by
Daniel L Schacter
( Book )
17 editions published between
1999
and 2001 in
English
and held by 677 WorldCat member libraries worldwide
"The Scientific Research literature on memory is enormous. Yet until now no single book has focused on the complex interrelationships of memory and belief. This book brings together eminent scholars from neuroscience, cognitive psychology, literature, and medicine to discuss such provocative issues as "false memories," in which people can develop vivid recollections of events that never happened; retrospective biases, in which memories of past experiences are influenced by one's current beliefs; and implicit memory, or the way in which nonconscious influences of past experience shape current beliefs."--Jacket
Forgotten ideas, neglected pioneers : Richard Semon and the story of memory
by
Daniel L Schacter
( Book )
17 editions published between
2001
and 2016 in
English
and held by 455 WorldCat member libraries worldwide
"Richard Semon was a German evolutionary biologist who, during the first decade of the twentieth century, wrote two fascinating analyses of the workings of human memory that were ahead of their time. This book not only examines Semon's contribution to memory research, but also tells the story of an extraordinary life set against the background of a turbulent period in European history and major developments in science and evolutionary theory. The resulting book is an engaging blend of biographical, historical and psychological material."--Jacket
Neuropsychology of memory
( Book )
2 editions published in
2002
in
English
and held by 437 WorldCat member libraries worldwide
Publisher's description: Now in its fully revised and updated third edition, this classic reference and text brings together leading neuroscientists to describe current approaches to the study of memory. The volume has been completely rewritten to reflect the last decade's tremendous advances in the field -- in particular, the emergence of neuroimaging as one of the most active areas of research. Other major approaches covered are lesions, electrophysiology, single-unit recording, pharmacology, and molecular genetics, including new work with genetically modified mice. Chapters are organized into three sections, presenting state-of-the-art studies of memory in humans, nonhuman primates, and rodents and birds. Each chapter explicates the theoretical and methodological underpinnings of the authors' research program, reviews the latest empirical findings, and identifies salient directions for future investigation. Included are more than 50 illustrations
more
fewer
Audience Level
0

1
Kids
General
Special
Audience level: 0.28 (from 0.05 for Awareness ... to 0.92 for Wir sind E ...)
Related Identities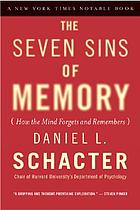 Covers
Alternative Names
Daniel Schacter Amerikaans psycholoog

Daniel Schacter amerikai pszichológus

Daniel Schacter lanavan Lamerikänik

Daniel Schacter psicologo statunitense

Daniel Schacter psychologue américain

Daniel Schacter Usana psikologo

Daniel Schacter usona psikologo

Schacter, D. L.

Schacter, Daniel Lawrence

دانیل شکتر

샥터, 대니얼 L

스캐터, 다니엘 L

シャクター, ダニエル・L

Languages