Herodes Atticus
Most widely held works about Herodes Atticus
more
fewer
Most widely held works by Herodes Atticus
"Peri politeias."
by
Herodes
( Book )
15 editions published between
1908
and 2006 in 5 languages and held by 87 WorldCat member libraries worldwide
Herodes Atticus reflected in occasional poetry of Antonine Athens
by
Fotini Skenteri
( Book )
2 editions published in
2005
in
English
and held by 51 WorldCat member libraries worldwide
"The subject of this book is Herodes Atticus, the enormously rich Athenian of the second century AD, who became one of the politically important persons in his City and who was one of the leading intellectuals of his time in his capacity of sophist, orator, and teacher to students from all over the Roman Empire. Evidence of his munificence were scattered over Greece and Italy, in the shape of statues, buildings and shrines that he sponsored. They contributed to creating an image of a benevolent and generous benefactor." "This book focuses on one of the tools that he used for disseminating his image, namely poetry. The approach of this study is different from previous research in the sense that it is totally focused on verse inscriptions connected to Herodes Atticus and found in two different regions of the Roman Empire. Those inscriptions have been studied previously, but they have almost exclusively been used as sources for Herodes biography and treated as reflections of his person. In this study, the texts are also treated as illustrations of how occasional poetry functioned in the contemporary society and of how an individual like Herodes exploited the poetic medium in order to enhance his own person, his family and his endeavours." "By a careful study of the epigrams in question, the somewhat stereotype picture of Herodes becomes modified, and a complex figure appears. Without exaggeration, Herodes Atticus was one of the most interesting personalities in Athens of the Early Roman Empire."--BOOK JACKET
Erode Attico: Peri politeias
by
Herodes Atticus
( Book )
1 edition published in
1968
in
Italian
and held by 16 WorldCat member libraries worldwide
more
fewer
Audience Level
0

1
Kids
General
Special
Audience level: 0.35 (from 0.08 for The murder ... to 0.99 for Államéle ...)
Related Identities
Associated Subjects
Aelian,
Antiquities
Architecture, Roman
Attic Greek dialect
Authors, Latin
Authorship
Benefactors
Civilization, Greco-Roman
Classical antiquities
Consuls, Roman
Dio,--Chrysostom
Dionysius,--of Halicarnassus
Epigrams, Greek
Excavations (Archaeology)
Greece
Greece--Athens
Greece--Kato Doliana
Greece--Kato Doliana--Villa of Herodes Atticus Site
Greek language
Greek language, Hellenistic (300 B.C.-600 A.D.)
Greek language, Hellenistic (300 B.C.-600 A.D.)--Grammar
Greek literature
Greek philology
Hellenica Oxyrhynchia
Herodes Atticus
Homes
Influence (Literary, artistic, etc.)
Inscriptions, Greek
Intellectuals
Laudatory poetry, Classical
Literature
Manuscripts, Greek (Papyri)
Millionaires
Musées royaux d'art et d'histoire (Belgium)
Occasional verse, Classical
Oratory, Ancient
Peloponnesian War (Greece : 431-404 B.C.)
Philostratus,--the Athenian,
Politics and government
Regilla
Rhetoric, Ancient
Rome (Empire)
Sculpture, Ancient
Sophists (Greek philosophy)
Statesmen
Theopompus,--of Chios
Trials (Murder)
Upper class women
Uxoricide
Wife abuse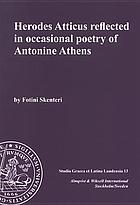 Covers
Alternative Names
Àtic, Herodes 101-177

Atticus H.

Atticus H. ок.101-177

Atticus, Herodes

Atticus Herodes 0101-0177

Atticus, Herodes 101-177

Atticus, Herodes ca 101-ca 177

Atticus, Herodes Sophist, Rhetor, Politiker 101-177

Atticus Marathonius

Atticus Marathonius 0101-0177

Atticus Marathonius 101-177

Atticus, orateur

Attikos Herodes

Claudius Atticus Herodes, Lucius Vibullius Hipparchus Tiberius

Claudius Atticus Herodes T.

Claudius Atticus Herodes T. ок.101-177

Claudius Atticus Herodes, Tiberius

Claudius Atticus Herodes, Tiberius 101-177

Claudius Herodes

Claudius Herodes 0101-0177

Claudius Herodes 101-177

Erode 101-177 Attico

Erode, Attico

Erode Attico 0101-0177

Erode Attico 101-177

Erode Attico ca.177-101 v. Chr

Erode Attico oratore e politico greco antico

Herod Atik

Herod Atiški

Herod Attyk

Hérode 101-177 Atticus

Hérode 101-177 de Marathon

Hérode Atticus

Hérode Atticus 101-177

Herode Atticus ок.101-177

Hérode de Marathon 101-177

Herodes

Herodes 0101-0177

Herodes 101-177

Herodes 101-177 Atheniensis

Herodes 101-177 Attikos

Herodes 101-177 Historicus

Herodes 101-177 Rhetor

Herodes 101-177 Romanus

Herodes 101-177 Sophist

Herodes 101-177 Sophista

Herodes 101-177 von Attika

Herodes 101-177 von Marathon

Herodes Atheniensis 101-177

Herodes Àtic

Herodes Ático

Herodes, Atticus

Herodes Atticus 0101-0177

Herodes Atticus 101-177

Herodes Atticus ancient greek rhetorician

Herodes Atticus griechisch-römischer Redner, Politiker und Mäzen

Herodes Atticus, Lucius Vibullus Hipparchus Tiberius Claudius 101-177

Herodes Atticus ókori görög-római szónok, politikus

Herodes Atticus politicus uit Oude Athene (101-177)

Herodes Atticus, Sophist, Rhetor, Politiker 101-177

Herodes Atticus, Tiberius Claudius Atticus 101-177

Héródés Attikos

Hērōdēs Attikos 101-177

Herodes Attikos, Sophist, Rhetor, Politiker 101-177

Herodes Attikos ок.101-177

Herodes Attikus

Herodes Attyk

Herodes Attykus

Hērōdēs ca.177-101 v. Chr

Herodes Historicus 101-177

Hērṓdēs ho ʾAttikós

Hērṓdēs ho 'Attikós 0101-0177

Herodes, Lucius Vibullius Hipparchus Tiberius Claudius Atticus 101-177

Herodes Rhetor 101-177

Herodes Romanus 101-177

Herodes Sophist 101-177

Herodes Sophista 101-177

Herodes, Tiberius C. 101-177

Herodes, Tiberius Claudius 101-177

Herodes Tiberius Claudius Atticus

Herodes, Tiberius Claudius Sophist, Rhetor, Politiker 101-177

Herodes von Attika 101-177

Herodes von Marathon 101-177

Herodo Atiko

Hipparchus Herodes

Hipparchus Herodes 0101-0177

Hipparchus Herodes 101-177

Hīrṓdīs ho 'Attikós

Hīrṓdīs ho 'Attikós 0101-0177

L. Vibullius Hipparchos Tib. Claudius Attikos Herodes

Lucius Vibullius Hipparchus Tiberius Claudius Atticus Herodes

Lucius Vibullius Hipparchus Tiberius Claudius Atticus Herodes 0101-0177

Lucius Vibullius Hipparchus Tiberius Claudius Atticus Herodes Marathonios

Lucius Vibullius Tiberius Claudius Atticus Herodes

Lucius Vibullus Hipparchus Tiberius Claudius

Lucius Vibullus Hipparchus Tiberius Claudius ок.101-177

Tiberius Claudius Atticus Herodes

Tiberius Claudius Atticus Herodes 101-177

Tiberius Herodes

Tiberius Herodes 0101-0177

Tiberius Herodes 101-177

Tyberiusz Klaudiusz Attyk Herod

Vibullius Herodes

Vibullius Herodes 0101-0177

Vibullius Herodes 101-177

Ἡρώδης ὁ Άττικός

Ἡρώδης ὁ Άττικός 0101-0177

Ηρώδης ο Αττικός αρχαίος αθηναίος ευεργέτης

Ἡρῴδης, Atticus

Герод Аттик

Ирод Атик

Ірод Аттичний

Հերովդես Ատտիկուս հին հույն ճարտասան, պետական և մշակութային գործիչ, փիլիսոփա

הרודס אטיקוס

헤로데스 아티쿠스

ヘロデス・アッティクス

赫罗狄斯·阿提库斯

Languages