Edelman, Gerald M.
Most widely held works about Gerald M Edelman
more
fewer
Most widely held works by Gerald M Edelman
Wider than the sky : the phenomenal gift of consciousness
by
Gerald M Edelman
( )
29 editions published between
2004
and 2008 in
English
and
Italian
and held by 2,140 WorldCat member libraries worldwide
"Dr. Gerald M. Edelman draws on a lifetime of scientific inquiry into the workings of the brain to formulate answers to the mind-body questions that intrigue all thinking people. In direct, non-technical language, he explains pertinent facts about neuroscience and describes how consciousness arises in complex brains. Edelman explores the relation of consciousness to causation, to evolution, to the development of the self, and to the origins of feelings, learning, and memory. He examines the connection of language to higher-order consciousness, and he seeks to clarify the place of values in a world of facts." "Wider Than the Sky presents an analysis of the brain activities underlying consciousness that is based on remarkable recent advances in biochemistry, immunology, medical imaging, neuroscience, and evolutionary biology. But the implications of this rewarding book extend farther, well beyond the worlds of science and medicine into virtually every area of human inquiry."--Jacket
Second nature : brain science and human knowledge
by
Gerald M Edelman
( )
24 editions published between
2006
and 2008 in 3 languages and held by 2,066 WorldCat member libraries worldwide
Burgeoning advancements in brain science are opening up new perspectives on how we acquire knowledge. Indeed, it is now possible to explore consciousness the very center of human concern by scientific means. In this illuminating book, Dr. Gerald M. Edelman offers a new theory of knowledge based on striking scientific findings about how the brain works. And he addresses the related compelling question: Does the latest research imply that all knowledge can be reduced to scientific description? Edelman s brain-based approach to knowledge has rich implications for our understanding of creativity, of the normal and abnormal functioning of the brain, and of the connections among the different ways we have of knowing. While the gulf between science and the humanities and their respective views of the world has seemed enormous in the past, the author shows that their differences can be dissolved by considering their origins in brain functions. He foresees a day when brain-based devices will be conscious, and he reflects on this and other fascinating ideas about how we come to know the world and ourselves
Bright air, brilliant fire : on the matter of the mind
by
Gerald M Edelman
( Book )
60 editions published between
1991
and 2008 in 5 languages and held by 1,586 WorldCat member libraries worldwide
We are on the brink of understanding ancient mysteries: how we know, what governs our nature, what makes a person different from a thing. In the last decade, more than twenty disciplines dealing with every aspect of the brain have contributed to a revolution in the neurosciences--a revolution as significant, in the view of many observers, as the Galilean and Copernican revolutions in mathematics and physics or the Darwinian revolution in biology. In this book, one of the world's foremost brain scientists gives us a glimpse into the workings of the human brain--the most complex material object in the universe. A match head's worth of the brain contains about a billion connections that can combine in ways which can only be described as hyperastronomical--on the order of ten followed by millions of zeros (there are only about ten followed by eighty zeros' worth of positively charged particles in the whole known universe). Gerald Edelman takes us on a dazzling tour through such diverse topics as Turing machines, Darwin's "program," Jamesian flights and perchings, genetics, quantum physics, and the nature of perception, language, and individuality. He argues that biology will provide the key to understanding the brain and ultimately the mind. Underlying this argument is the evolutionary view that the mind arose at a definite time in history. This sweeping book considers our place in nature and how we came to be able to describe and change it. It examines the implications of understanding the brain for philosophy, for curing mental disease, and for the possibility of building conscious artifacts. Edelman does not hesitate to take on cognitive and behavioral approaches that leave biology out of the picture, as well as the currently fashionable view of the brain as a computer. He argues that the workings of the brain more closely resemble the living ecology of a jungle than they do the activities of an electric company. Some startling conclusions emerge from these ideas: individuality is necessarily at the very center of what it means to have a mind; no creature is born value-free; no physical theory of the universe can claim to be a "theory of everything" without including an account of how the brain gives rise to the mind. There is no greater scientific challenge than understanding the brain. Here's the book that provides a window on that understanding
Neural Darwinism : the theory of neuronal group selection
by
Gerald M Edelman
( Book )
32 editions published between
1987
and 2018 in 3 languages and held by 772 WorldCat member libraries worldwide
This work presents a radical new view of the function of the brain and nervous system. It suggests that the nervous system in each individual operates as a selective system resembling natural selection in evolution but operating different mechanisms. By providing a fundamental neural basis for categorization of the things of the world it unifies perception, action and learning. This theory revises our view of memory, considering it as a dynamic process of recategorization which has implications for the various psychological states from attention to dreaming. It will stimulate discussion about the mind-body problem, the origins of knowledge and the perceptual bases of language. The author won the 1972 Nobel Prize for Physiology of Medicine. - Publisher's Description
A universe of consciousness : how matter becomes imagination
by
Gerald M Edelman
( Book )
19 editions published between
2000
and 2016 in
English
and
Polish
and held by 626 WorldCat member libraries worldwide
"In A Universe of Consciousness, Edelman and Tononi present an empirically supported full-scale theory of consciousness. The theory provides a scientific understanding of the most general and fundamental properties of consciousness - the private and unitary nature of experience and yet the infinite variety of conscious states, stretching as widely as one's memory and as far as one's imagination." "Edelman and Tononi apply all of the resources and insights of modern neuroscience, from the largest computer models of the brain ever constructed to new experiments that detect the changes in brain activity that actually occur when we are conscious or unconscious of a stimulus. Their arguments build on the radical ideas introduced by Edelman in works that apply Darwinian principles to the development of brain and mind."--Jacket
more
fewer
Audience Level
0

1
Kids
General
Special
Audience level: 0.37 (from 0.10 for Wider than ... to 0.92 for Xin ling z ...)
Related Identities
Associated Subjects
Artificial intelligence
Auditory pathways
Axelrod, Julius,
Benzer, Seymour
Brain
Brain--Evolution
Brain--Growth
Brain mapping
Brain--Physiology
Bullock, Theodore Holmes
Cell adhesion
Cell adhesion--Molecular aspects
Cell adhesion molecules
Cell junctions
Cellular control mechanisms
Cerebral cortex
Chemical embryology
Clonal selection theory
Cognition
Consciousness
Consciousness--Physiological aspects
Developmental neurobiology
Edelman, Gerald M
Genetic regulation
Hearing
Higher nervous activity
Kandel, Eric R
Kety, Seymour S
Learning--Physiological aspects
Levi-Montalcini, Rita
Milner, Brenda
Mind and body
Molecular biology
Morphogenesis
Morphology (Animals)
Natural selection
Neural circuitry
Neural networks (Neurobiology)
Neurophysiology
Neuroplasticity
Neuropsychology
Neuropsychology--Philosophy
Neurosciences
Neuroscientists
Neurotransmitters
Philosophical anthropology
Philosophy of mind
Sokoloff, Louis,
Synapses
Thought and thinking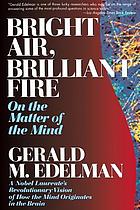 Covers
Alternative Names
Edelman, G. M. 1929-2014

Edelman, Gerald 1929-2014

Edelman, Gerald M.

Edelman, Gerald Maurice

Edelman, Gerald Maurice 1929-2014

Edelman Jerald Moris

Edelmen, Dž.

Gerald Edelman

Gerald Edelman ahli biologi asal Amerika Serikat

Gerald Edelman American biologist

Gerald Edelman americký imunolog, neurovědec a filozof

Gerald Edelman Amerikaans bioloog (1929-2014)

Gerald Edelman biochemik amerykański, noblista

Gerald Edelman biologiste américain

Gerald Edelman biologo statunitense

Gerald M. Edelman

Gerald M. Edelman amerikanischer Mediziner

Gerald M. Edelman biólogo estadounidense

Gerald Maurice Edelman

Джералд Еделман

Джералд Эдельман

Джеральд Едельман

Джэралд Морыс Эдэльман

Эдельман, Джералд

ג'רלד אדלמן

ג'רלד אדלמן ביולוג אמריקאי

جرالد ادلمن

جيرالد إيدلمان

گیرالڈ ایڈر مین

گیرالڈ ایڈلمین

জেরাল্ড এডেলম্যান

గెరాల్డ్ ఎడెల్మాన్

에덜먼, 제럴드 1929-2014

에델만, 제럴드 M. 1929-2014

에델만, 제렐드 1929-2014

제럴드 에덜먼

エーデルマン, ジェラルド・M

ジェラルド・モーリス・エデルマン

傑拉爾德·埃德爾曼

Languages