Serrin, J. (James) 1926-2012
Most widely held works about J Serrin
Most widely held works by J Serrin
New perspectives in thermodynamics
by
J Serrin
( Book )
13 editions published in
1986
in
English
and
Undetermined
and held by 281 WorldCat member libraries worldwide
The material included in this book was first presented in a series of lectures de livered at the University of Minnesota in June 1983 in connection with the con ference "Thermodynamics and Phase Transitions". This conference was one of the principal events in the first year of operation of the Institute for Mathematics and its Applications (lMA) at the University of Minnesota. The Institute was founded under the auspices of the National Science Foun dation of the United States and the University of Minnesota and is devoted to strengthening and fostering the relation of mathematics with its various applica tions to problems of the real world. The present volume constitutes an important element in the continuing pub lication program of the Ipstitute. Previous publications in this program have ap peared as lecture notes in the well-known Springer series, and future ones will be part of a new series "IMA Volumes in Applied Mathematics". Preface Until recently it was believed that thermodynamics could be given a rigorous foundation only in certain restricted circumstances, particularly those involving reversible and quasi-static processes. More general situations, commonly arising in continuum theories, have therefore been treated on the assumption that inter nal energy, entropy and absolute temperature are a priori given quantities, or have been dealt with on a more or less ad hoc basis, with emphasis for example on various types of variational formulations and maximization rules
The maximum principle
by
Patrizia Pucci
( Book )
20 editions published in
2007
in
English
and held by 204 WorldCat member libraries worldwide
"Maximum principles are bedrock results in the theory of second order elliptic equations. This principle, simple enough in essence, lends itself to a quite remarkable number of subtle uses when combined appropriately with other notions. Intended for a wide audience, the book provides a clear and comprehensive explanation of the various maximum principles available in elliptic theory, from their beginning for linear equations to recent work on nonlinear and singular equations."--Jacket
Nonlinear analysis and continuum mechanics : papers for the 65th birthday of James Serrin
( Book )
3 editions published in
1998
in
English
and held by 135 WorldCat member libraries worldwide
The chapters in this volume deal with four fields with deep historical roots that remain active areas reasearch: partial differential equations, variational methods, fluid mechanics, and thermodynamics. The collection is intended to serve two purposes: First, to honor James Serrin, in whose work the four fields frequently interacted; and second, to bring together work in fields that are usually pursued independently but that remain remarkably interrelated. Serrin's contributions to mathematical analysis and its applications are fundamental and include such theorems and methods as the Gilbarg- Serrin theorem on isoated singularities, the Serrin symmetry theorem, the Alexandrov-Serrin moving-plane technique, The Peletier-Serrin uniqueness theorem, and the Serrin integal of the calculus of variations. Serrin has also been noted for the elegance of his mathematical work and for the effectiveness of his teaching and collaborations
The Breadth and depth of continuum mechanics : a collection of papers dedicated to J.L. Ericksen on his sixtieth birthday
by
C. M Dafermos
( Book )
3 editions published in
1986
in
English
and held by 95 WorldCat member libraries worldwide
This volume collects papers dedicated to Jerry Ericksen on his sixtieth birthday, December 20, 1984. They first appeared in Volumes 82-90 (1983-1985) of the Archive for Rational Mechanics and Analysis. At the request of the Editors the list of authors to be invited was drawn up by C.M. Dafermos, D.D. Joseph, and F.M. Leslie. The breadth and depth of the works here reprinted reflect the corresponding qualities in Jerry Ericksen's research, teaching, scholarship, and inspiration. His interests and expertness center upon the mechanics of materials and extend to everything that may contribute to it: pure analysis, algebra, geometry, through all aspects of theoretical mechanics to fundamental experiment, all of these illumi nated by an intimate and deep familiarity with the sources, even very old ones. He is independent of school and contemptuous of party spirit; his generosity in giving away his ideas is renowned, but not everyone is capable of accepting what is offered. His writings are totally free of broad claims and attributions beyond his own study. Some are decisive, some are prophetic, and all are forthright. His work has served as a beacon of insight and simple honesty in an age of ever more trivial and corrupt science. The authors of the memoirs in this volume are his students, colleagues, admirers, and (above all) his friends
Analysis and thermomechanics : a collection of papers dedicated to W. Noll on his sixtieth birthday
by Bernard D Coleman
( Book )
8 editions published in
1987
in
English
and held by 72 WorldCat member libraries worldwide
This book presents a collection of papers giving the flavor of current research activities in continuum mechanics, fluid mechanics, thermodynamics and the mathematical analysis related to these topics. Written by leading experts in the field, all the papers in this collection have been carefully refereed according to the standards of the "Archive for Rational Mechanics and Analysis."
Nonlinear diffusion equations and their equilibrium states II : proceedings of a microprogram held August 25 - September 12, 1986
by
W.-M Ni
( Book )
6 editions published in
1988
in
English
and held by 17 WorldCat member libraries worldwide
In recent years considerable interest has been focused on nonlinear diffu sion problems, the archetypical equation for these being Ut = ~U + f(u). Here ~ denotes the n-dimensional Laplacian, the solution u = u(x, t) is defined over some space-time domain of the form n x [O, T], and f(u) is a given real function whose form is determined by various physical and mathematical applications. These applications have become more varied and widespread as problem after problem has been shown to lead to an equation of this type or to its time-independent counterpart, the elliptic equation of equilibrium ~u+f(u)=O. Particular cases arise, for example, in population genetics, the physics of nu clear stability, phase transitions between liquids and gases, flows in porous media, the Lend-Emden equation of astrophysics, various simplified com bustion models, and in determining metrics which realize given scalar or Gaussian curvatures. In the latter direction, for example, the problem of finding conformal metrics with prescribed curvature leads to a ground state problem involving critical exponents. Thus not only analysts, but geome ters as well, can find common ground in the present work. The corresponding mathematical problem is to determine how the struc ture of the nonlinear function f(u) influences the behavior of the solution
more
fewer
Audience Level
0

1
Kids
General
Special
Audience level: 0.68 (from 0.55 for The maximu ... to 0.97 for Selected p ...)
Related Identities
Associated Subjects
Amundson, Neal R.--(Neal Russell),
Argento, Dominick
Aris, Rutherford
Beck, Robert H.--(Robert Holmes)
Borchert, John R
Boundary layer
Chipman, John Somerset,
Comstock, Ralph E
Continuum mechanics
Dagley, Stanley
Differential equations, Elliptic
Differential equations, Nonlinear
Differential equations, Parabolic
Differential equations, Partial
Diffusion--Mathematical models
Eckert, E. R. G.--(Ernst Rudolf Georg),
Ergodic theory
Ericksen, J. L.--(Jerald L.),
Fluid dynamics
Fluid mechanics
Good, Robert A.,
Gorham, Eville
Heller, Walter W
Hurwicz, Leonid
Hydrodynamics
Jones, Tom B.--(Tom Bard),
MacKenzie, Warren
Markus, L.--(Lawrence),
Mathematical analysis
Mathematical physics
Mathematics
Maximum principles (Mathematics)
Mechanics, Analytic
Meehl, Paul E.--(Paul Everett),
Najarian, John S.,
Ney, Edward Purdy,
Nier, Alfred O.--(Alfred Otto),
Noll, W.--(Walter),
Nonlinear theories
Physics
Potential theory (Mathematics)
Serrin, J.--(James),
Spink, Wesley W.--(Wesley William),
Thermodynamics
Turner, John E.--(John Elliot),
Universities and colleges--Faculty
University of Minnesota
Vortex-motion
White, James G
Wright, H. E.--(Herbert Edgar),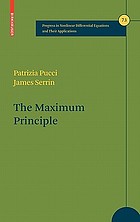 Alternative Names
James Serrin American mathematician

James Serrin Amerikaans wiskundige (1926-2012)

James Serrin amerikansk matematikar

James Serrin amerikansk matematiker

James Serrin US-amerikanischer Mathematiker

Serin, Dž 1926-2012

Serin, James 1926-2012

Serrin, Dž.

Serrin, Dž. 1926-2012

Serrin, J.

Serrin, J. 1926-

Serrin, J. 1926-2012

Serrin, J. (James), 1926-

Serrin, James

Serrin, James 1926-2012

Serrin James B.

Serrin, James B. 1926-2012

Serrin, James Burton

Serrin, James Burton 1926-2012

Languages
Covers