McCubbins, Mathew D. (Mathew Daniel) 1956-
Most widely held works by Mathew D McCubbins
Legislative leviathan : party government in the House
by
Gary W Cox
( )
31 editions published between
1993
and 2007 in
English
and held by 3,043 WorldCat member libraries worldwide
The second edition of Legislative Leviathan provides an incisive new look at the inner workings of the House of Representatives in the post-World War II era. Re-evaluating the role of parties and committees, Gary W. Cox and Mathew D. McCubbins view parties in the House - especially majority parties - as a species of 'legislative cartel'. These cartels seize the power, theoretically resident in the House, to make rules governing the structure and process of legislation. Most of the cartel's efforts are focused on securing control of the legislative agenda for its members. The first edition of this book had significant influence on the study of American politics and is essential reading for students of Congress, the presidency, and the political party system
Setting the agenda : responsible party government in the U.S. House of Representatives
by
Gary W Cox
( )
16 editions published between
2005
and 2007 in
English
and held by 1,413 WorldCat member libraries worldwide
Scholars of the U.S. House disagree over the importance of political parties in organizing the legislative process. On the one hand, non-partisan theories stress how congressional organization serves members' non-partisan goals. On the other hand, partisan theories argue that the House is organized to serve the collective interests of the majority party. This book advances our partisan theory and presents a series of empirical tests of that theory's predictions (pitted against others). It considers why procedural cartels form, arguing that agenda power is naturally subject to cartelization in busy legislatures. It argues that the majority party has cartelized agenda power in the U.S. House since the adoption of Reed's rules in 1890. The evidence demonstrates that the majority party seizes agenda control at nearly every stage of the legislative process in order to prevent bills that the party dislikes from reaching the floor
The origins of liberty : political and economic liberalization in the modern world
by
Paul W Drake
( Book )
9 editions published in
1998
in
English
and held by 641 WorldCat member libraries worldwide
Why would sovereigns ever grant political or economic liberty to their subjects? Under what conditions would rational rulers who possess ultimate authority and who seek to maximize power and wealth ever give up any of that authority? This book draws on a wide array of empirical and theoretical approaches to answer these questions, investigating both why sovereign powers might liberalize and when
The democratic dilemma : can citizens learn what they need to know?
by
Arthur Lupia
( Book )
21 editions published between
1996
and 2003 in
English
and held by 626 WorldCat member libraries worldwide
In The Democratic Dilemma, Professors Arthur Lupia and Mathew McCubbins explain how citizens make decisions about complex issues. Combining insights from economics, political science, and the cognitive sciences, they develop theories and experiments about learning and choice. They use these tools to identify the requirements for reasoned choice - the choice that a citizen would make if he or she possessed a certain (perhaps greater) level of knowledge. The results clarify debates about voter, juror, and legislator competence and also reveal how the design of political institutions affects citizens' abilities to govern themselves effectively
Party, process, and political change in Congress : new perspectives on the history of Congress
( Book )
16 editions published between
2002
and 2007 in
English
and held by 588 WorldCat member libraries worldwide
This work addresses the development of congressional practices and institutions and ties the changes to key political and economic events. In connecting political and economic events with changes in Congress, the authors examine the political economy of the history of Congress. They draw upon history to offer insights about contemporary issues such as party polarization, filibuster reform, direct election of politicians, intercameral bargaining, and the role of committees in the political process. Through this approach the authors help us to understand how politics and economics interact to affect Congress
Elements of reason : cognition, choice, and the bounds of rationality
( Book )
16 editions published between
2000
and 2012 in
English
and held by 426 WorldCat member libraries worldwide
Many social scientists want to explain why people do what they do. A barrier to constructing such explanations used to be a lack of information on the relationship between cognition and choice. Now, recent advances in cognitive science, economics, political science, and psychology have clarified this relationship. In Elements of Reason, eighteen scholars from across the social sciences use these advances to uncover the cognitive foundations of social decision making. They answer tough questions about how people see and process information and provide new explanations of how basic human needs, the environment, and past experiences combine to affect human choices. Elements of Reason is written for a broad audience and should be read by anyone for whom 'Why do people do what they do?' is an important question. It is the rare book that transforms abstract debates about rationality and reason into empirically relevant explanations of how people choose
The logic of delegation : congressional parties and the appropriations process
by
D. Roderick Kiewiet
( Book )
10 editions published between
1991
and 1993 in
English
and held by 415 WorldCat member libraries worldwide
Why do majority congressional parties seem unable to act as an effective policy-making force? They routinely delegate their power to others--internally to standing committees and subcommittees within each chamber, externally to the president and to the bureaucracy. Conventional wisdom in political science insists that such delegation leads inevitably to abdication--usually by degrees, sometimes precipitously, but always completely. In The Logic of Delegation, however, D. Roderick Kiewiet and Mathew D. McCubbins persuasively argue that political scientists have paid far too much attention to what congressional parties can't do. The authors draw on economic and management theory to demonstrate that the effectiveness of delegation is determined not by how much authority is delegated but rather by how well it is delegated. In the context of the appropriations process, the authors show how congressional parties employ committees, subcommittees, and executive agencies to accomplish policy goals. This innovative study will force a complete rethinking of classic issues in American politics: the "autonomy" of congressional committees; the reality of runaway federal bureaucracy; and the supposed dominance of the presidency in legislative-executive relations
Presidents, parliaments, and policy
( Book )
14 editions published between
2000
and 2015 in
English
and
Italian
and held by 414 WorldCat member libraries worldwide
Advocates of parliamentary rule have been highly critical of presidentialism for dividing powers and providing the opportunity for gridlock between branches. Fixed executive terms can saddle publics with ineffectual leaders who are not easily removed. Yet the great theorists of presidential rule, beginning with the Federalists, saw very different qualities in the same institutions: a desirable combination of strong leadership with checks on executive discretion. These diverse assessments arise because we have surprisingly little comparative work on how presidential democracies function. The introductory essays in this volume lay the theoretical groundwork for such comparative analysis. Drawing on detailed cases of economic policymaking in Asia, Latin America, and Central Europe, this book shows the diversity of presidential systems and isolates the effects of presidentialism from other factors that influence public policy, such as party systems. In doing so, it casts doubt on the critics of presidential rule and underscores the continuing vitality of this particular form of democratic rule
more
fewer
Audience Level
0

1
Kids
General
Special
Audience level: 0.30 (from 0.07 for Legislativ ... to 0.97 for Administra ...)
Related Identities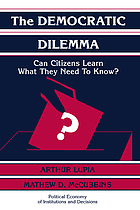 Covers
Alternative Names
Mac Cubbins Mathew Daniel

MacCubbins, Mathew D. 1956-

MacCubbins Mathew Daniel

MacCubbins, Mathew Daniel 1956-

Mathew D. McCubbins Amerikaans politicoloog

Mathew D. McCubbins politólogo estadounidense

Mathew Daniel McCubbins

Mc Cubbins, Mathew D. 1956-

Mc Cubbins Mathew Daniel

McCubbins, Mathew D

McCubbins, Mathew D. 1956-

McCubbins, Mathew Daniel.

McCubbins, Mathew Daniel 1956-

マカビンズ, マシュー・D

Languages