Haltiwanger, John C.
Most widely held works by John C Haltiwanger
Microeconomic evidence of creative destruction in industrial and developing countries
( )
1 edition published in
2004
in
English
and held by 34 WorldCat member libraries worldwide
In this paper we provide an analysis of the process of creative destruction across 24 countries and 2-digit industries over the past decade. We rely on a newly assembled dataset that draws from different micro data sources (business registers, census, or representative enterprise surveys). The novelty of our approach is in the harmonisation of firm level data across countries, which enables international comparisons and the identification of country specific factors as opposed to sectoral and time effects. All countries display a massive reallocation of resources, with the entry and exit of many firms in all markets, the failure of many newcomers and the expansion of successful ones. This process of creative destruction affects productivity directly, by reallocating resources towards more productive uses, but also indirectly through the effects of increased market contestability. There are also large differences across groups of countries. While entry and exit rates are fairly similar across industrial countries, post entry performance differs markedly between Europe and the U.S., a potential indication of the importance of barriers to firm growth as opposed to barriers to entry. Transition economies show an even more impressive process of creative destruction and, amongst them, those that have progressed the most towards a market economy show better outcomes from this process. Finally, Mexico shows large firm dynamics with many new firms entering the battle but also many failing rapidly, while Argentina resembles more of Continental Europe with smaller flows and less impressive post-entry growth of successful firms
Cross country differences in productivity: the role of allocation and selection
by
Eric J Bartelsman
( )
11 editions published between
2009
and 2010 in
English
and held by 30 WorldCat member libraries worldwide
This paper combines different strands of the productivity literature to investigate the effect of idiosyncratic (firm-level) policy distortions on aggregate outcomes. On the one hand, a growing body of empirical research has been relating cross-country differences in key economic outcomes, such as productivity or output per capita, to differences in policies and institutions that shape the business environment. On the other hand, a branch of empirical research has attempted to shed light on the determinants of productivity at the firm level and the evolution of the distribution of productivity across firms within each industry. In this paper, we exploit a rich source of data with harmonized statistics on firm level variation within industries for a number of countries. Our key empirical finding is that there is substantial variation in the within-industry covariance between size and productivity across countries, but this covariance varies significantly across countries and is affected by the presence of idiosyncratic distortions. We develop a model in which heterogeneous firms face adjustment frictions (overhead labor and quasi-fixed capital) and idiosyncratic distortions. We show that the model can be readily calibrated to match the observed cross-country patterns of the within-industry covariance between productivity and size and thus help to explain the observed differences in aggregate performance
Job creation and destruction
by
Steven J Davis
( Book )
1 edition published in
1996
in
English
and held by 18 WorldCat member libraries worldwide
Annotation
Aggregate Growth What Have We Learned from Microeconomic Evidence?
by
John C Haltiwanger
( )
1 edition published in
2000
in
English
and held by 15 WorldCat member libraries worldwide
This paper provides a synthesis of what is known about the determinants of output growth based on studying microeconomic data sets. It starts with a summary of the theoretical explanations which help reconcile heterogeneous performance observed across establishments in the same sector. The related theoretical literature on creative destruction models of growth is also discussed. This is followed by a review of the recent empirical literature on the relationship between microeconomic and macroeconomic productivity growth. The final section discusses the main empirical findings, the caveats of interpretation and the main issues of interpretation underlying the relationship between reallocation and growth
Microeconomic evidence of creative destruction in industrial and developing countries
by
Eric J Bartelsman
( Book )
3 editions published in
2004
in
English
and held by 5 WorldCat member libraries worldwide
In this paper we provide an analysis of the process of creative destruction across 24 countries and 2-digit industries over the past decade. We rely on a newly assembled dataset that draws from different micro data sources (business registers, census, or representative enterprise surveys). The novelty of our approach is in the harmonisation of firm level data across countries, which enables international comparisons and the identification of country-specific factors as opposed to sectoral and time effects. All countries display a massive reallocation of resources, with the entry and exit of many firms in all markets, the failure of many newcomers and the expansion of successful ones. This process of creative destruction affects productivity directly, by reallocating resources towards more productive uses, but also indirectly through the effects of increased market contestability. There are also large differences across groups of countries. While entry and exit rates are fairly similar across industrial countries, post entry performance differs markedly between Europe and the U.S., a potential indication of the importance of barriers to firm growth as opposed to barriers to entry. Transition economies show an even more impressive process of creative destruction and, amongst them, those that have progressed the most towards a market economy show better outcomes from this process. Finally, Mexico shows large firm dynamics with many new firms entering the battle but also many failing rapidly, while Argentina resembles more of Continental Europe with smaller flows and less impressive post-entry growth of successful firms
The link between aggregate amd micro productivity growth : evidence from retail trade
by
Lucia Foster
( Book )
1 edition published in
2002
in
English
and held by 5 WorldCat member libraries worldwide
Understanding the nature and magnitude of resource reallocation, particularly as it relates to productivity growth, is important both because it affects how we model and interpret aggregate productivity dynamics, and also because market structure and institutions may affect the reallocation's magnitude and efficiency. Most evidence to date on the connection between reallocation and productivity dynamics for the U.S. and other countries comes from a single industry: manufacturing. Building upon a unique establishment-level data set of U.S. retail trade businesses, we provide some of the first evidence on the connection between reallocation and productivity dynamics in a non-manufacturing sector. Retail trade is a particularly appropriate subject for such a study since this large industry lies at the heart of many recent technological advances, such as E-commerce and advanced inventory controls. Our results show that virtually all of the productivity growth in the U.S. retail trade sector over the 1990s is accounted for by more productive entering establishments displacing much less productive exiting establishments. Interestingly, much of the between-establishment reallocation is a within, rather than between-firm phenomenon
Wage and productivity dispersion in U.S. manufacturing : the role of computer investment
by
Timothy Dunne
( Book )
3 editions published between
2000
and 2002 in
English
and held by 5 WorldCat member libraries worldwide
By exploiting establishment-level data, this paper sheds new light on the sources of the changes in the structure of production, wages, and employment that have occurred over the last several decades. We investigate the following two related hypotheses. First, that most of the recent increase in the dispersion of wages and productivity has occurred across establishments and these changes are linked. Second, that the increased dispersion in wages and productivity across establishments is linked to differential rates of technological adoption across establishments. Our findings are largely supportive of these hypotheses. Specifically, we find that (1) the between-plant component of wage dispersion is an important and growing part of total wage dispersion; (2) much of the between plant increase in wage dispersion is within industries; (3) the between-plant measures of wage and productivity dispersion have increased substantially over the last few decades; and (4) a significant fraction of the rising dispersion in wages and (to a lesser extent) productivity is accounted for by changes in the distribution of computer investment across plants as well as changes in the wage and productivity differentials associated with the computer investment
Aggregate productivity growth : lessons from microeconomic evidence
by
Lucia Foster
( Book )
1 edition published in
1998
in
English
and held by 4 WorldCat member libraries worldwide
In this paper, we exploit establishment-level data to examine the relationship between microeconomic productivity dynamics and aggregate productivity growth. After synthesizing the evidence from recent studies, we conduct our own analysis using establishment-level data for U.S. manufacturing establishments as well for selected service industries. The use of longitudinal micro data on service sector establishments is one of the novel features of our analysis. Our main findings are summarized as follows: (i) the contribution of reallocation of outputs and inputs from less productive to more productive establishments plays a significant role in accounting for aggregate productivity growth; (ii) for the selected service industries considered, the contribution of net entry (more productive entering establishments displacing less productive exiting establishments) is dominant; (iii) the contribution of net entry to aggregate productivity growth is disproportionate and is increasing in the horizon over which the changes are measured since longer horizon yields greater differentials from selection and learning effects; (iv) the contribution of reallocation to aggregate productivity growth varies over time (e.g. is cyclically sensitive) and industries and is somewhat sensitive to subtle differences in measurement and decomposition methodologies
The effect of structural reforms on productivity and profitability : enhancing reallocation evidence from Colombia
by
Marcela Eslava
( Book )
3 editions published in
2004
in
English
and held by 4 WorldCat member libraries worldwide
In the U.S., some sectoral evidence suggests that growth is driven mainly by productivity enhancing reallocation. In countries with greater barriers to entry and imperfect competition, the reallocation process may be inefficient. Therefore, for developing countries, an open question is whether reallocation is productivity enhancing. Using a unique plant-level longitudinal dataset for Colombia for the period 1982-1998 we examine the interaction between market allocation, productivity and profitability. Given the important trade, labor and financial market oriented reforms in Colombia in 1990, we explore whether and how the contribution of reallocation changed. Our data include plant-level quantities and prices. Using plant prices, we propose a sequential methodology to estimate productivity and demand shocks. First, with plant-level physical output data, we estimate total factor productivity (TFP) using downstream demand to instrument for inputs. Then, with plant-level price data, we estimate demand shocks and mark-ups in the inverse-demand equation, using TFP to instrument for output. We characterize the evolution of TFP and demand shock distributions. Market reforms are associated with rising overall productivity that is driven by reallocation away from low- and towards high-productivity businesses; and, the allocation of activity across businesses is less driven by demand factors
more
fewer
Audience Level
0

1
Kids
General
Special
Audience level: 0.69 (from 0.11 for Job creati ... to 0.98 for Factor adj ...)
Related Identities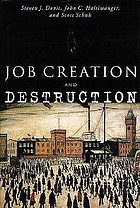 Languages
Covers