Haltiwanger, John C.
Most widely held works by John C Haltiwanger
Job creation and destruction
by
Steven J Davis
( Book )
21 editions published between
1996
and 1998 in
English
and
Undetermined
and held by 899 WorldCat member libraries worldwide
Economic turbulence : is a volatile economy good for America?
by
Clair Brown
( Book )
16 editions published between
2006
and 2008 in
English
and
Undetermined
and held by 844 WorldCat member libraries worldwide
"Every day, in every sector of our economy, a business shuts down while another starts up, jobs are created while others are cut, and workers are hired while others are laid off. This constant flux, or turbulence, is a defining characteristic of our free market system, yet it mostly inspires angst about unemployment, loss of earnings, and the overall competitiveness of corporations. But is this endless cycle of fluctuation really so bad for America? Might something positive be going on in the economy as a result of it?" "In this work, three economists seek to answer these questions by exploring the real impact of volatility on American workers and businesses alike. According to the authors, while any number of events - shifts in consumer demand, changes in technology, mergers and acquisitions, or increased competition - can contribute to economic turbulence, our economy as a whole is, by and large, stronger for it, because these processes of creation and destruction make it more flexible and adaptable. The authors also acknowledge and document the adverse consequences of this turbulence on different groups of workers and firms and discuss the resulting policy challenges. Basing their argument on an up-close look into the dealings and practices of five key industries - financial services, retail food services, trucking, semiconductors, and software - the authors demonstrate the resiliency of most workers and firms by turning turbulence into new opportunities."--Jacket
Measuring capital in the new economy
by
Carol Corrado
( Book )
15 editions published between
2005
and 2009 in
English
and held by 323 WorldCat member libraries worldwide
"In Measuring Capital in the New Economy, Carol Corrado, John Haltiwanger, Daniel Sichel, and a host of collaborators offer new approaches for measuring capital in an economy that is increasingly dominated by high-technology capital and intangible assets. As the contributors show, these resources affect the economy in ways that are controversial and notoriously difficult to appraise." "In this detailed analysis of the problem and its solutions, the contributors study the nature of this economic challenge and provide guidance as to what factors should be included in calculations of different types of capital for economists, policymakers, and the financial and accounting communities alike."--Jacket
The creation and analysis of employer-employee matched data
by
Jules Theeuwes
( Book )
15 editions published between
1999
and 2010 in
English
and held by 210 WorldCat member libraries worldwide
Consists of a selected subset of papers presented at the International Symposium of Linked Employer-Employee Data, held in Washington DC, in May 1998 - to address the creation and analysis of such matched data in an environment that safeguards respondent confidentiality
Understanding business dynamics : an integrated data system for America's future
( Book )
7 editions published in
2007
in
English
and held by 144 WorldCat member libraries worldwide
"The U.S. economy is highly dynamic: businesses open and close, workers switch jobs and start new enterprises, and innovative technologies redefine the workplace and enhance productivity. With globalization, markets have also become more interconnected. Measuring business activity in this rapidly evolving environment increasingly requires tracking complex interactions among firms, establishments, employers, and employees. This report presents strategies for improving the accuracy, timeliness, coverage, and integration of data that are used in constructing aggregate economic statistics, as well as in microlevel analyses of topics ranging from job creation and destruction and firm entry and exit to innovation and productivity. This report offers recommendations that could be enacted by federal statistical agencies to modernize the measurement of business dynamics, particularly the production of information on small and young firms that can have a disproportionately large impact in rapidly expanding economic sectors. It also outlines the need for effective coordination of existing survey and administrative data sources, which is essential to improving the depth and coverage of business data."--Jacket
A comparison of job creation and job destruction in Canada and the United States
by
John R Baldwin
( Book )
22 editions published in
1994
in
English
and held by 112 WorldCat member libraries worldwide
This paper provides a description and detailed comparison of new data series on job creation and job destruction, constructed using establishment-level data sets, for the United States and Canada. The paper begins with a description of the data sets used and discussion of measurement issues related to job flows. It then examines and compares time-series fluctuations of job creation and destruction in the two countries and disaggregates average annual rates of job creation and destructed by two-digit industry. The subsequent section of the paper develops a simple model of the dynamics of job creation and destruction in order to provide structure for interpreting the similarities and differences in the behavior of job flows in Canada and the United States. The paper ends with basic estimates of the relative importance of country, industry, and year effects
Downsizing and productivity growth : myth or reality?
by
Martin Neil Baily
( Book )
19 editions published between
1994
and 1996 in
English
and held by 95 WorldCat member libraries worldwide
The conventional wisdom is that the rising productivity in the U.S. manufacturing sector in the 1980s has been driven by the apparently pervasive downsizing over this period. Aggregate evidence clearly shows falling employment accompanying the rise in productivity. In this paper, we examine the microeconomic evidence using the plant level data from the Longitudinal Research Database (LRD). In contrast to the conventional wisdom, we find that plants that increased employment as well as productivity contribute almost as much to overall productivity growth in the 1980s as the plants that increased productivity at the expense of employment. Further, there are striking differences by sector (defined by industry, size, region, wages, and ownership type) in the allocation of plants in terms of whether they upsize or downsize and whether they increase or decrease productivity. Nevertheless, in spite of the striking differences across sectors defined in a variety of ways, most of the variance of productivity and employment growth is accounted for by idiosyncratic factors
Labor productivity : structural change and cyclical dynamics
by
Martin Neil Baily
( Book )
23 editions published between
1995
and 1998 in
English
and held by 85 WorldCat member libraries worldwide
A longstanding puzzle of empirical economics is that average labor productivity declines during recessions and increases during booms. This paper provides a framework to assess the empirical importance of competing hypotheses for explaining the observed procyclicality. For each competing hypothesis we derive the implications for cyclical productivity conditional on expectations of future demand and supply conditions. The novelty of the paper is that we exploit the tremendous heterogeneity in long-run structural changes across individual plants to identify the short-run sources of procyclical productivity. Our findings favor an adjustment cost model which involves a productivity penalty for downsizing as the largest source of procyclical labor productivity
Aggregate growth : what have we learned from microeconomic evidence?
by
John C Haltiwanger
( Book )
12 editions published in
2000
in
English
and held by 85 WorldCat member libraries worldwide
This paper provides a synthesis of what is known about the determinants of output growth based on studying microeconomic data sets. It starts with a summary of the theoretical explanations which help reconcile heterogeneous performance observed across establishments in the same sector. The related theoretical literature on creative destruction models of growth is also discussed. This is followed by a review of the recent empirical literature on the relationship between microeconomic and macroeconomic productivity growth. The final section discusses the main empirical findings, the caveats of interpretation and the main issues of interpretation underlying the relationship between reallocation and growth
Aggregate productivity growth : lessons from microeconomic evidence
by
Lucia Foster
( Book )
15 editions published in
1998
in
English
and held by 76 WorldCat member libraries worldwide
Abstract: In this paper, we exploit establishment-level data to examine the relationship between microeconomic productivity dynamics and aggregate productivity growth. After synthesizing the evidence from recent studies, we conduct our own analysis using establishment-level data for U.S. manufacturing establishments as well for selected service industries. The use of longitudinal micro data on service sector establishments is one of the novel features of our analysis. Our main findings are summarized as follows: (i) the contribution of reallocation of outputs and inputs from less productive to more productive establishments plays a significant role in accounting for aggregate productivity growth; (ii) for the selected service industries considered, the contribution of net entry (more productive entering establishments displacing less productive exiting establishments) is dominant; (iii) the contribution of net entry to aggregate productivity growth is disproportionate and is increasing in the horizon over which the changes are measured since longer horizon yields greater differentials from selection and learning effects; (iv) the contribution of reallocation to aggregate productivity growth varies over time (e.g. is cyclically sensitive) and industries and is somewhat sensitive to subtle differences in measurement and decomposition methodologies
more
fewer
Audience Level
0

1
Kids
General
Special
Audience level: 0.32 (from 0.05 for Measuring ... to 0.79 for Microecono ...)
Related Identities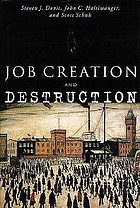 Alternative Names
Couch Haltiwanger, John 1955-

Haltiwanger John

Haltiwanger, John 1955-

Haltiwanger, John C

Haltiwanger, John Couch 1955-

Haltiwangwer, John 1955-

John Haltiwanger American economist

John Haltiwanger économiste américain

John Haltiwanger US-amerikanischer Wirtschaftswissenschaftler und Hochschullehrer

Languages
Covers