Jerne, Niels Kaj
Most widely held works about Niels Kaj Jerne
more
fewer
Most widely held works by Niels Kaj Jerne
Science as autobiography : the troubled life of Niels Jerne
by
Thomas Söderqvist
( )
8 editions published in
2003
in
English
and held by 1,641 WorldCat member libraries worldwide
"This biography probes the unusual mind, the dramatic life, and the outstanding scientific work of Danish-born immunologist Niels Jerne (1911-1994). Jerne's Nobel Prize-winning achievements in the field of immunology place him in the pantheon of great twentieth-century biomedical theorists, yet his life is perhaps even more interesting than his science. Science as Autobiography tells Jerne's story, weaving together a narrative of his experiences, emotional life, and scientific work, and arguing that the source of Jerne's extraordinary creativity as a scientist rested in his life story." "Drawing on Jerne's own extensive archives, on more than 150 hours of conversation with him, and on the recollections of over 90 friends, colleagues, and relatives, Thomas Soderqvist explores the myths and legends about Jerne - his unparalleled powers of concentration and analytical keenness, his preference for conversation in a Paris cafe over work in the laboratory, his problematic personal life, Soderqvist punctuates the book with Jerne's own voice and makes the argument that Jerne's life experience and view of himself became a metaphorical resource for the construction of his theories. The author also probes the moral issues that surrounded Jerne's choice to sacrifice the welfare of his family in favor of scientific goals and the pursuit of excellence."--BOOK JACKET
The Immune system
( Book )
12 editions published in
1981
in
English
and
Multiple languages
and held by 130 WorldCat member libraries worldwide
Current topics in microbiology and immunology = Ergebnisse der Mikrobiologie und Immunitätsforschung
by
W Arber
( )
2 editions published in
1969
in
English
and held by 74 WorldCat member libraries worldwide
This volume is dedicated to the memory of the late Professor WERNER BRAUN, one of the most devoted and active members of the Editorial Board of the Current Topics in Microbiology and Immunology, who passed away, after suffering a heart attack, in November 1972. Dr. WERNER BRAUN was born in Berlin, Germany, on November 16,1914. During his highschool days in Berlin he did research work on problems of genetics as a young guest in the Kaiser-Wilhelm-Institut fur Biologie, in the department of Prof. R. GOLDSCHMIDT. I remember his colourful description of his discussions during this period, while still a teen-ager, with OTTO WAR­ BURG. He studied biology and medicine at the University of G6ttingen and received a Ph.D. degree in biology in 1936. In the same year he left Nazi Germany and came to the United States first as a Guest Investigator in Genetics at the University of Michigan at Ann Arbor, and then in Berkeley, where he carried out his work in the Depart­ ments of Zoology and of Veterinary Science until 1948. He was engaged during this period in the study of problems concerned with physiological genetics, bacterial variation, immunology and biochemistry
Idiotypic networks
( Book )
1 edition published in
1984
in
English
and held by 54 WorldCat member libraries worldwide
Current topics in microbiology and immunology
by
W Arber
( )
2 editions published in
1975
in
English
and held by 54 WorldCat member libraries worldwide
The processes involved in herpesvirus replication, latency, and oncogenic transformation, have, in general, been rather poorly defined. A primary reason for this is the size and complexity of the herpesvirus genome. Undoubtedly, a better understanding of the functions of the viral genome in infected and transformed cells will be achieved through studies with temperature-sensitive (ts) mutants of herpesviruses since, theoretically, any essential gene function can be affected by mutants of this type. A. The Herpesviruses A consideration of the genetic analysis of members of the herpesvirus group necessitates a description, albeit brief, of the properties of the group and, most importantly, of their genetic material. The herpesviruses comprise a group of relatively large (100-150 nm), enveloped viruses. The envelope surrounds an icosahedral capsid enclosing a core which contains double­ stranded DNA (ROIZMAN, 1969). The group is thus defined on the basis of a common virion morphology. In addition to a common structure, members of the group share a number of biological properties such as a similar replicative cycle, the ability to cause latent and chronic infections, and the ability to induce antigenic modifications of infected cell membranes. Several herpes­ viruses have been associated recently with malignancies in man and animals (KLEIN, 1972). Herpesviruses are ubiquitous and have been described in over 30 different species (HUNT and MELENDEZ, 1969; WILDY, 1971; FARLEY et aI. , 1972; KAZAMA and SCHORNSTEIN, 1972; NAHMIAS et aI. , 1972; ROlZMAN et aI. , 1973). Their widespread occurrence in nature suggests a common ancestor
Current topics in microbiology and immunology :
by
Werner Arber
( )
1 edition published in
1972
in
English
and held by 46 WorldCat member libraries worldwide
Phenomena as diverse as tuberculin sensitivity, delayed sensitivity to soluble proteins other than tuberculin, contact allergy, homograft rejection, experimental autoallergies, and the response to many microorganisms, have been classified as members of the class of immune reactions known as delayed or cellular hypersensitivity. Similarities in time course, histology, and absence of detectable circulating immunoglobulins characterize these cell-mediated immune reactions in vivo. The state of delayed or cellular hypersensitivity can be transferred from one animal to another by means of sensitized living lymphoid cells (CHASE, 1945; LANDSTEINER and CHASE, 1942; MITCHISON, 1954). The responsible cell has been described by GOWANS (1965) as a small lymphocyte. Passive transfer has also been achieved in the human with extracts of sensitized cells (LAWRENCE, 1959). The in vivo characteristic of delayed hypersensitivity from which the class derives its name is the delayed skin reaction. When an antigen is injected intradermally into a previously immunized animal, the typical delayed reaction begins to appear after 4 hours, reaches a peak at 24 hours, and fades after 48 hours. It is grossly characterized by induration, erythyma, and occasionally necrosis. The histology of the delayed reaction has been studied by numerous investigators (COHEN et al., 1967; GELL and HINDE, 1951; KOSUNEN, 1966; KOSUNEN et al., 1963; MCCLUSKEY et al., 1963; WAKSMAN, 1960; WAKSMAN, 1962). Initially dilatation of the capillaries with exudation of fluid and cells occurs
Current Topics in Microbiology and Immunology : Ergebnisse der Mikrobiologie und Immunitätsforschung
by
W Arber
( )
2 editions published in
1968
in
English
and held by 46 WorldCat member libraries worldwide
Ever since arbovirus infections became known and their relative importance assessed, experiments were designed to elucidate the mode of transmission and the most important natural hosts responsible for perpetuating the infection in nature. Human infections and the disease in wild rodents, birds, and domestic animals were studied in relation to viremia and distribution of the infectious agent in the organism. With increasing epidemiological studies it became apparent that the neural manifestations of the disease are very uncommon, confined only to a small percentage of individuals of the most susceptible species. Various factors have been proposed to explain why in certain instances the virus becomes establish­ ed in the central nervous system and causes a serious or lethal disease. For example, differences in the virulence of the virus strains, varying susceptibility of individuals of one species, or intercurrent circumstances facilitating access of the virus to the central nervous system were alleged. Also, various possible routes of entry of the virus into the brain and spinal cord have been considered
more
fewer
Audience Level
0

1
Kids
General
Special
Audience level: 0.21 (from 0.05 for Science as ... to 1.00 for N.K. Jerne ...)
Related Identities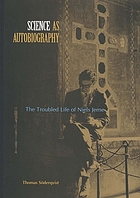 Covers
Alternative Names
Jerne, N. K.

Jerne, N. K. (Niels Kaj)

Jerne, Niels K. 1911-1994

Jerne, Niels Kaj

Niels Jerne

Niels K. Jerne immunolog brytyjski pochodzenia duńskiego, noblista

Niels Kai Jerne

Niels Kaj Jerne dänischer Immunologe und Nobelpreisträger

Niels Kaj Jerne Danish immunologist

Niels Kaj Jerne dokter asal Denmark

Niels Kaj Jerne immunoloog uit Denemarken (1911-1994)

Niels Kaj Jerne medico danese

Yerne Nils Kay

Ерне, Нильс

Нильс Ерне

Нільс Кай Ернэ

Нільс Єрне

נילס ק. ג'רן

نيلس يرني

نیل کاج جرنی

نیل کای یرنه

نیلز کاج جرنی

닐스 카이 예르네

イェルネ, ニールス カイ

ニールス・イェルネ

尼尔斯·杰尼

Languages