Krueger, Alan B.
Most widely held works by Alan B Krueger
What makes a terrorist : economics and the roots of terrorism
by
Alan B Krueger
( Book )
48 editions published between
2007
and 2018 in
English
and held by 2,155 WorldCat member libraries worldwide
Many popular ideas about terrorists and why they seek to harm us are fueled by falsehoods and misinformation. Leading politicians and scholars have argued that poverty and lack of education breed terrorism, despite the wealth of evidence showing that most terrorists come from middle-class, and often college-educated, backgrounds. In What Makes a Terrorist, Alan Krueger argues that if we are to correctly assess the root causes of terrorism and successfully address the threat, we must think more like economists do. Krueger is an influential economist who has applied rigorous statistical analysis
Inequality in America : what role for human capital policies?
by
James J Heckman
( )
20 editions published between
2002
and 2005 in
English
and held by 1,654 WorldCat member libraries worldwide
"Inequality in America What Role for Human Capital Polices? examines the ways in which human capital policies can address this important problem. Taking it as a given that potentially low-income workers would benefit from more human capital in the form of market skills and education, James Heckman and Alan Krueger discuss which policies would be most effective in providing it. Should we devote more resources to the entire public school system or to specialized programs like Head Start? Would relaxing credit restraints encourage more students to attend college? Does vocational training actually work? What is the best balance of private and public sector programs?"--Jacket
Myth and measurement : the new economics of the minimum wage
by
David E Card
( Book )
24 editions published between
1995
and 2016 in
English
and held by 1,209 WorldCat member libraries worldwide
"David Card and Alan B. Krueger have already made national news with their pathbreaking research on the minimum wage. Here they present a powerful new challenge to the conventional view that higher minimum wages reduce jobs for low-wage workers. In a work that has important implications for public policy as well as for the direction of economic research, the authors put standard economic theory to the test, using data from a series of recent episodes, including the 1992 increase in New Jersey's minimum wage, the 1988 rise in California's minimum wage, and the 1990-91 increases in the federal minimum wage. In each case they present a battery of evidence showing that increases in the minimum wage lead to increases in pay, but no loss in jobs." "A distinctive feature of Card and Krueger's research is the use of empirical methods borrowed from the natural sciences, including comparisons between the "treatment" and "control" groups formed when the minimum wage rises for some workers but not for others. In addition, the authors critically reexamine the previous literature on the minimum wage and find that it, too, lacks support for the claim that a higher minimum wage cuts jobs. Finally, the effects of the minimum wage on family earnings, poverty outcomes, and the stock market valuation of low-wage employers are documented. Overall, this book calls into question the standard model of the labor market that has dominated economists' thinking on the minimum wage. In addition, it will shift the terms of the debate on the minimum wage in Washington and in state legislatures throughout the country."--Jacket
Wages, school quality, and employment demand
by
David E Card
( Book )
10 editions published between
2010
and 2016 in
English
and held by 162 WorldCat member libraries worldwide
David Card and Alan B. Krueger received the IZA Prize in Labor Economics in 2006 for their outstanding contributions to the field. This volume provides an overview of their most important work on school quality, differences in wages across groups in the US, and the effect of changes in the minimum wage on employment and wage setting
Accounting for the slowdown in employer health care costs
by
Alan B Krueger
( Book )
16 editions published between
1996
and 1997 in
English
and held by 134 WorldCat member libraries worldwide
The most widely used measure of employer health care costs, the health insurance component of the Employment Cost Index, indicates that cost growth has decelerated since 1989. In recent years employer expenditures per hour worked have even declined in nominal dollars. This paper analyzes the components of changes in employers' health care costs over the 1992-94 and 1987-93 periods. We find that employer costs have decreased primarily as a result of a steady decrease in the fraction of workers with coverage and a large decrease in the rate of growth of insurance premiums. We conclude that the shift to managed care does not appear to be directly responsible for significant cost savings because managed care premiums are almost as high as those for fee-for-service plans, on average. Finally, we note that there is a significant need for improved data collection in this area
Why do economists disagree about policy? : the roles of beliefs about parameters and values
by
Victor R Fuchs
( Book )
13 editions published in
1997
in
English
and held by 130 WorldCat member libraries worldwide
This paper reports the results of surveys of specialists in labor economics and public economics at 40 leading research universities in the United States. Respondents provided opinions of policy proposals; quantitative best estimates and 95% confidence intervals for economic parameters; answers to values questions regarding income redistribution, efficiency versus equity, and individual versus social responsibility; and their political party identification. We find considerable disagreement among economists about policy proposals. Their positions on policy are more closely related to their values than to their estimates of relevant economic parameters or to their political party identification. Average best estimates of the economic parameters agree well with the ranges summarized in surveys of relevant literature, but the individual best estimates are usually widely dispersed. Moreover, economists, like experts in many fields, appear more confident of their estimates than the substantial cross-respondent variation in estimates would warrant. Finally although the confidence intervals in general appear to be too narrow, respondents whose best estimates are farther from the median tend to give wider confidence intervals for those estimates
A statistical analysis of crime against foreigners in unified Germany
by
Alan B Krueger
( Book )
21 editions published between
1995
and 1996 in
English
and held by 130 WorldCat member libraries worldwide
Germany has experienced a high and rising rate of anti-foreigner violence during the early 1990s. To analyze the determinants of crime against foreigners we assembled a new data set on the number and nature of such crimes at the county level based on newspaper reports. We find significant differences in the patterns of violence in the eastern and western parts of the country. The incidence of anti- foreigner crime is higher in the east and rises with distance from the former west German border. Economic variables like unemployment and wages matter little for the level of crime once location in the east is taken into account. The relative number of foreigners in a country has no relationship with the incidence of ethnic crimes in the west, whereas in the east it has a positive association with the number of crimes per resident and a negative association with the number of crimes per foreign resident
Measuring labor's share
by
Alan B Krueger
( Book )
14 editions published in
1999
in
English
and held by 125 WorldCat member libraries worldwide
This paper considers conceptual and practical issues that arise in measuring labor's share of national income. Most importantly: How are workers defined? How is compensation defined? The current definition of labor compensation used the Bureau of Economic Analysis (BEA) includes the salary of business owners and payments to retired workers in labor compensation. An alternative series to the BEA's standard series is presented. In addition, a simple method for decomposing labor compensation into a component due to raw labor' and a component due to human capital is presented. Raw labor's share of national income is estimated using Census and CPS data. The share of national income attributable to raw labor increased from 9.6 percent to 13 percent between 1939 and 1959, remained at 12-13 percent between 1959 and 1979, and fell to 5 percent by 1996
more
fewer
Audience Level
0

1
Kids
General
Special
Audience level: 0.32 (from 0.03 for Measuring ... to 0.85 for Studies in ...)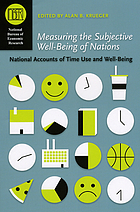 Covers
Alternative Names
Alan B. Krueger US-amerikanischer Wirtschaftswissenschaftler

Alan Krueger americký ekonom

Alan Krueger Amerikaans econoom

Alan Krueger amerikansk ekonom

Alan Krueger amerikansk økonom

Alan Krueger économiste américain

Krueger, A. B.

Krueger, A. B. 1960-

Krueger, Alan.

Krueger, Alan 1960-

Krueger, Alan Bennett.

Krueger, Alan Bennett 1960-

Крюгер, Алан

آلان كروجر

アラン・クルーガー

クルーガー, アラン・B

Languages