Ross, Colin A.
Most widely held works about Colin A Ross
Most widely held works by Colin A Ross
The Osiris complex : case-studies in multiple personality disorder
by
Colin A Ross
( )
10 editions published between
1994
and 2008 in
English
and
Undetermined
and held by 1,355 WorldCat member libraries worldwide
The purpose of this book is to provide understanding of the relationship between childhood trauma and serious mental illness. Dr Colin Ross, one of the most respected North American authorities on Multiple Personality Disorder, writes that his MPD patients have taught him that virtually all psychiatric symptoms are potentially trauma driven and dissociative in nature. He believes that MPD research will shift the paradigm of psychopathology in the direction of a general trauma model, and away from the two dominant schools of twentieth-century psychiatry, the psychoanalytical and the biomedical. The Osiris Complex is a collection of case histories illustrating the clinical roots of the paradigm transformation Dr Ross anticipates. Contrary to prevalent opinion, MPD patients do not have more than one personality; the so-called different personalities are fragmented components of a single personality, abnormally personified and dissociated from each other. Adult patients exhibit core symptoms: voices in the head and ongoing blank spells or periods of missing time. The voices are the different parts of the personality talking to one another and to the main, presenting part of the person who comes for treatment. Periods of missing time occur when aspects of the personality take turns being in control of the body and memory barriers are erected between them. Patients also experience symptoms such as depression, anxiety, eating disorders, substance abuse, sleep disorders, sexual dysfunction, psychosomatic symptoms, and symptoms that mimic schizophrenia. MPD patients have experienced the most extreme childhood trauma of any diagnostic group and therefore exhibit the psychobiology and psychopathology of trauma to an extreme degree. The good news is that once diagnosed, the MPD patient can be brought back to health. This book is important for all mental health professionals, and also for the general reader interested in psychiatric phenomena. It will play a powerful role in the social revolution necessary for the recognition of the preponderance, intensity, and hiddenness of severe childhood emotional, physical, and sexual abuse in our culture. -- Provided by publisher
Satanic ritual abuse : principles of treatment
by
Colin A Ross
( )
9 editions published between
1995
and 2008 in
English
and held by 1,311 WorldCat member libraries worldwide
"In recent years, the subject of Satanic ritual abuse (SRA) has incited widespread controversy, focused primarily on whether or not such abuse actually occurs. Much like child sexual abuse, SRA was initially dismissed as an isolated or even imaginary phenomenon. Although there is increasing evidence that ritual abuse does take place, clinicians working with individual patients cannot be sure whether they are dealing with fact or fantasy. Dr. Colin Ross, an expert in the treatment of dissociative disorders, has encountered more than three hundred patients with memories of alleged Satanic ritual abuse. In this book, he provides a well-documented discussion of the psychological, social, and historical aspects of SRA and presents principles and techniques for its clinical treatment." "Although Dr. Ross has found no evidence of a widespread Satanic network, he is open to the possibility that a certain percentage of his patients' memories may be entirely or partially historically accurate. In treatment, he recommends that the therapist adopt an attitude hovering between disbelief and credulous entrapment." "Dr. Ross has encountered memories of SRA primarily among people who suffer from multiple personality disorder, and the principles of treatment he outlines here focus on such individuals. Treatment is described in terms of both general principles and specific techniques, with case examples. Ross's recommendation that the same interventions be used regardless of the percentage of memories that are historically accurate bridges the gap between clinicians who adopt a 'believer' stance and those who take a false-memory stance." "This is the most detailed and comprehensive account of SRA from a clinical perspective available to date. As reports of SRA continue to escalate, it will be a valuable resource for all practising therapists and psychiatrists."--Jacket
Dissociative identity disorder : diagnosis, clinical features, and treatment of multiple personality
by
Colin A Ross
( Book )
11 editions published between
1996
and 1997 in
English
and held by 305 WorldCat member libraries worldwide
By providing an in-depth examination of this complex illness, Dissociative Identity Disorder not only facilitates a deeper understanding of people who have used dissociation to cope with years of childhood physical, sexual, and emotional abuse, but also reveals new insights into many other psychiatric disorders in which dissociation plays a role. Like Multiple Personality Disorder, this updated volume is an authoritative and indispensable reference for psychiatrists, clinical psychologists, psychiatric nurses, social workers and other mental health professionals, as well as researchers in these fields
Pseudoscience in biological psychiatry : blaming the body
by
Colin A Ross
( Book )
7 editions published in
1995
in
English
and held by 253 WorldCat member libraries worldwide
Lately, it seems that not a day passes without the media proclaiming yet another sensational breakthrough in the search for the physical origins of mental illness. But beyond all the fanfare and media hype, is there a single shred of hard, empirical evidence to substantiate the existence of "a gene for alcoholism," or "the brain chemistry behind schizophrenia"? More to the point, in fact, is it scientifically sound to limit the search for the roots of mental illness to processes occurring within the body, while dismissing socioeconomic, familial, and experiential influences as, at best, mere "triggering mechanisms"? And, if not, what harm is being done by psychiatry's current obsession with these somatic chimeras? This groundbreaking book offers answers to those questions and more. While Dr. Ross and Professor Pam clearly assert from the outset that biological psychiatry "is dominated by a reductionist ideology which distorts and misrepresents much of its research," this is by no means a raw polemic voiced by an overzealous opposition. Instead, it is a reasoned discourse based on a clear-sighted and methodical examination of the professional literature. Contributors to this volume include distinguished researchers and clinicians from the fields of psychiatry, psychology, sociology, and psychopharmacology. Their common purpose in coming together was to alert the mental health community to the ideological blind spots and conceptual errors in the basic logic and methodology of biological psychiatry, to demonstrate the need for a more scientifically based psychiatric practice, and to suggest alternative approaches to understanding and treating mental illness. Readers will find their arguments stimulating, provocative, and highly persuasive. Among the cutting-edge issues they explore are: the historical origins of biological psychiatry; genetics and mental illness; the current state of psychiatric training; psychopharmacology and drug therapy; the public health, legal, and ethical implications of biological psychiatry; and the funding, power, and politics of research. This book is essential reading for all mental health professionals. It also has many important things to say to health care administrators, political analysts, and public policy-makers
Schizophrenia : innovations in diagnosis and treatment
by
Colin A Ross
( Book )
11 editions published between
2004
and 2014 in
English
and held by 248 WorldCat member libraries worldwide
Learn about a pioneering alternative to antipsychotic medication for schizophrenia! In Schizophrenia: Innovations in Diagnosis and Treatment, Dr. Colin A. Ross?founder of the Colin A. Ross Institute for Psychological Trauma?presents a new theory of the existence of a dissociative subtype of schizophrenia. Dr. Ross determines that some patients diagnosed with schizophrenia have symptoms closely related to dissociative identity disorder?or multiple personality disorder?and have a history of psychological trauma. In these cases, this unprecedented book proposes that the disorder is treat
Domestic violence
by
Frederick Wiseman
( Visual )
2 editions published in
2006
in
English
and held by 32 WorldCat member libraries worldwide
"Dr. Ross interview a woman with a history of domestic violence. He plays the role of a worker at a battered women's shelter and Melissa Caldwell, Executive Clinical Director of the Ross Institute, role plays the woman. This is her eight visit to the shelter. The interview illustrates the two core principles of the Trauma Model: the problem of attachment to the perpetrator and the locus of control shift. Dr. Ross explains to the woman why she needs to learn how to tolerate and integrate her ambivalent attachment in order to make healthy decisions about her marriage."--Container
more
fewer
Audience Level
0

1
Kids
General
Special
Audience level: 0.19 (from 0.03 for The Osiris ... to 0.73 for Treating t ...)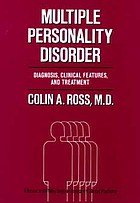 Covers
Alternative Names
Colin A. Ross Canadees psychiater

Colin A. Ross kanadischer Psychiater

Colin A. Ross psychiatrist

Ross, Colin.

Ross, Colin A.

كولن أ. روس طبيب نفسي كندي

로스, 콜린 A

ロス, コリン・A

Languages