Paldiel, Mordecai
Most widely held works by Mordecai Paldiel
Saving one's own : Jewish rescuers during the Holocaust
by
Mordecai Paldiel
( )
7 editions published in
2017
in
English
and held by 815 WorldCat member libraries worldwide
In this remarkable, historically significant book, Mordecai Paldiel recounts in vivid detail the many ways in which, at great risk to their own lives, Jews rescued other Jews during the Holocaust. In so doing he puts to rest the widely held belief that all Jews in Nazi-dominated Europe wore blinders and allowed themselves to be led like "lambs to the slaughter." Paldiel documents how brave Jewish men and women saved thousands of their fellow Jews through efforts unprecedented in Jewish history. Encyclopedic in scope and organized by country, "Saving One's Own" tells the stories of hundreds of Jewish activists who created rescue networks, escape routes, safe havens, and partisan fighting groups to save beleaguered Jewish men, women, and children from the Nazis. The rescuers' dramatic stories are often shared in their own words, and Paldiel provides extensive historical background and documentation. The untold story of these Jewish heroes, who displayed inventiveness and courage in outwitting the enemy-and in saving literally thousands of Jews-is finally revealed.--
Saving the Jews : amazing stories of men and women who defied the "final solution"
by
Mordecai Paldiel
( Book )
6 editions published between
2000
and 2011 in
English
and held by 539 WorldCat member libraries worldwide
The stories of righteous gentiles who saved Jews during the Holocaust are becoming better known with every passing year. Millions have seen the movie Schindler's List, about Oskar Schindler, the righteous German who saved hundreds of Jewish workers in his forced-labor factory under the noses of the Nazis. Many have heard of Raoul Wallenberg, the young Swedish diplomat who saved thousands of Jews in Budapest at the end of World War Two. Here we find other rescuers from all parts of Europe, from a humble farmer in Lithuania, to a nun in Paris, to a Turkish consul on the island of Rhodes. What they all have in common is that they have been honored by Israel's Yad Vashem Holocaust Memorial as Righteous Gentiles. The author, who heads the Righteous Among the Nations program, takes us behind the scenes and shows us how the decision was made in each case, how some did not qualify, and what has been learned from this ongoing search for the righteous. The purpose of this book is to highlight the positive aspects of human behavior during the darkest chapter in human history, by gathering the sparks of light which pierced the darkness of the Nazi world. These sparks represent glimmers of hope, helping us confront the Holocaust, and not lose hope in ourselves as responsible and caring beings. The hope is that the stories of the Righteous contained in this book will be used creatively as role models, for the mending of a world torn asunder by strife and senseless killings. The massive documentation available on the Holocaust clearly establishes that this murderous act was carried out as an official government policy, with the participation of an obedient bureaucracy, and with men in uniform. In other words, man the killer during the Holocaust was a person blindly adjusting his behavior to that demanded by his superiors, or his society. On the other hand, man the rescuer following blindly only his own conscience, even if it meant risking his own life. One may thus infer that when man acts on his own, and not at the behest or influence of others, he need not be the irresponsible egotistical and aggressive being portrayed by Hobbes and Freud. Quite the opposite, man the savage manifests himself in situations like the Holocaust, when he abdicates his individuality and acts according to the will and volition of others
The path of the righteous : gentile rescuers of Jews during the Holocaust
by
Mordecai Paldiel
( Book )
5 editions published in
1993
in
English
and
German
and held by 483 WorldCat member libraries worldwide
The Path of The Righteous by Mordecai Paldiel recounts the inspiring stories of several hundred "Righteous Among the Nations"--Heroic gentile men and women, in virtually all the countries of Nazi-occupied Europe, who put themselves and their families at risk in order to save the lives of Jews fleeing the Nazi terror. Drawn from the files of Yad Vashem Memorial in Israel, these stories are a badly needed corrective to the pessimistic view of human nature which has become all too common in the Holocaust's aftermath. They prove that decency, morality, and altruism can survive even under the most horrendous of circumstances, and that some people will always be willing to act selflessly. It also serves to disprove the cruel lie being promulgated by some that the Holocaust never took place, or did not take place as described in eye witness accounts. The courageous individuals whose tales are recounted in this book are monuments to the nobility of the human spirit. They did what they did not for the sake of reward or prestige, but because they believed it was right. Some of them were pious Christians motivated by religion. Others were energized by feelings of intense compassion. Neither the threat of punishment nor ostracism by relatives and neighbors deterred them. Love for their fellow human beings was a higher value. The book contains a foreword by Rabbi Harold Schulweis, founding chairman of the Jewish Foundation for Christian Rescuers/ADL, and an afterword by Abraham H. Foxman, National Director of the Anti-Defamation League and a Holocaust survivor who was saved by his Polish nursemaid, poignantly express their recognition of and gratitude to the untold numbers of righteous gentiles, many of whom will never be known by us
The righteous among the nations
by
Mordecai Paldiel
( Book )
3 editions published in
2007
in
English
and held by 412 WorldCat member libraries worldwide
In alphabetical order, presents brief biographies or personal accounts of one hundred and fifty non-Jews who helped to rescue Jews during the Holocaust, all of whom were awarded the title of "Righteous Among the Nations."
Sheltering the Jews : stories of Holocaust rescuers
by
Mordecai Paldiel
( Book )
5 editions published between
1995
and 2005 in
English
and
German
and held by 397 WorldCat member libraries worldwide
Paldiel highlights the role of non-Jews in extending aid and assistance to Jews inside Nazi-dominated Europe. From the testimonies and files housed at Yad Vashem, the Holocaust martyrs and heroes memorial in Jerusalem, Paldiel presents dozens of stories of the circumstances and odds facing Jews and those who would help them
Diplomat heroes of the Holocaust
by
Mordecai Paldiel
( Book )
5 editions published between
2006
and 2015 in
English
and
Japanese
and held by 207 WorldCat member libraries worldwide
Explaining the Holocaust : how and why it happened
by
Mordecai Schreiber
( Book )
5 editions published in
2015
in
English
and held by 137 WorldCat member libraries worldwide
This book tackles two questions that continue to be asked by people everywhere: Why did a highly civilized nation like Germany, in the middle of the twentieth century, commit the most heinous crime in all of human history? And if indeed there is a loving God who made a covenant with the people of Israel, why were millions of innocent, peaceful Jews dehumanized, starved, tortured, and systematically murdered? Explaining the Holocaust spares no one in discussing the enormity of the evil. But it also shows how the divine spark in human beings did not die during those years of darkness, and why we still have a glimmer of hope. -- Provided by publisher
Kol ha-meḳayem nefesh aḥat : ḥaside umot ha-ʻolam ṿe-yiḥudam
by
Mordecai Paldiel
( Book )
3 editions published in
1992
in
Hebrew
and held by 24 WorldCat member libraries worldwide
A textbook intended for use in schools. Discusses the activities of the Righteous Gentiles during the Holocaust, focusing on the following topics: assistance (hiding places and escape routes); the rescuers and the perils they had to cope with; issues related to the rescued; rescue episodes
more
fewer
Audience Level
0

1
Kids
General
Special
Audience level: 0.29 (from 0.15 for Saving one ... to 0.99 for Brief van ...)
Associated Subjects
Altruism
Antisemitism
Catholic Church
Christianity
Christianity and antisemitism
Clergy--Political activity
Diplomats
Europe
Genocide--Study and teaching
Germany
Hitler, Adolf,
Holland, Agnieszka,
Holocaust, Jewish
Holocaust, Jewish (1939-1945)
Holocaust (Christian theology)
Holocaust survivors
Interfaith relations
Jews
Jews rescue--World War)
John Paul--II,--Pope,
Judaism
Lemkin, Raphael,
Military occupation
Motivation (Psychology)
National socialism
National socialism--Religious aspects
Public opinion
Relations with Jews
Religion
Religion and politics
Righteous Gentiles in the Holocaust
Righteous Gentiles in the Holocaust--Psychology
Study skills
War--Causes
World War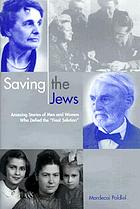 Covers
Alternative Names
Mordecai Paldiel Belgisch historicus

Mordecai Paldiel historiador belga

Mordecai Paldiel Jewish historian

Paldiel, Mordecai 1937-

Paldîʾēl, Mordeḵay

Paldîʾēl, Mordeḵay 1937-

Paldiʾel, Mordekhai

Paldiʾel, Mordekhai, 1937-

פלדיאל, מרדכי

パルディール, M.

パルディール, モルデカイ

Languages