Chiziane, Paulina 1955-
Most widely held works about Paulina Chiziane
more
fewer
Most widely held works by Paulina Chiziane
The first wife : a tale of polygamy
by
Paulina Chiziane
( Book )
7 editions published in
2016
in
English
and held by 376 WorldCat member libraries worldwide
In this, a ground-breaking publication in the canon of non-Western women's literary history, Paulina Chiziani -- the first woman from Mozambique ever to publish a novel -- lifts the lid on her country's values and its hypocracies. After 20 years of marriage, Rami discovers that her husband has been living a double -- or rather, a quintuple -- life. After Tony is forced to marry the four other women -- as well as an additional lover -- according to polygamist custom, the rival lovers join together to declare their voices and demand their rights
Ventos do apocalipse : romance
by
Paulina Chiziane
( Book )
32 editions published between
1983
and 2016 in 3 languages and held by 114 WorldCat member libraries worldwide
Balada de amor ao vento
by
Paulina Chiziane
( Book )
23 editions published between
1990
and 2016 in
Portuguese
and
German
and held by 104 WorldCat member libraries worldwide
O sétimo juramento : romance
by
Paulina Chiziane
( Book )
28 editions published between
2000
and 2016 in 5 languages and held by 103 WorldCat member libraries worldwide
Nos sumerge en un mundo fants̀tico, un mundo de fetiches y de tabe︢s, de magia negra y de fantasa̕, de sonidos y de pesadillas, de luces y de sombras.Perplejidad. Un mundo de contradicciones, en que el maniques̕mo es continuo y titǹico. Una vez la perplejidad superada, la realidad se vuelve real. El mundo se dibuja como se vive cada da̕ en muchas partes de la tierra. La destruccin̤ y la corrupcin̤; pero tambiň un mundo donde los valores de la tradicin̤ y la sabidura̕ secular destacan con una innegable belleza.De nuevo la perplejidad. Un mundo inquietante, aterrador, misterioso, pero esta vez hay una atraccin̤ que quiere llevarlo todo con ella hacia un abismo casi fn︢ebre. No obstante, surgen dudas frente a esta realidad del da̕ a da̕ que conocemos. Ms̀ de uno se preguntar,̀ leyendo este lindo libro de Paulina Chiziane, dn̤de empieza la realidad y dn̤de para el sueǫ
Niketche : uma história de poligamia : romance
by
Paulina Chiziane
( Book )
26 editions published between
2002
and 2016 in
Portuguese
and
English
and held by 102 WorldCat member libraries worldwide
"Rami, casada há vinte anos com Tony, um alto funcionário da polícia, de quem tem vários filhos, descobre que o partilha com várias mulheres, com as quais ele constituiu outras famílias. O seu casamento, de (papel passado) e aliança no dedo, resume-se afinal a um irónico drama de que ela é apenas uma das personagens. Numa procura febril, Rami obriga-se a conhecer (as outras). O seu marido é um polígamo! Na via dolorosa que então começa, séculos de tradição e de costumes, a crueldade da vida e as diferenças abissais de cultura entre o norte e o sul da terra que é sua, esmagam-na. E só a sabedoria infinita que o sofrimento provoca lhe vai apontando o rumo num labirinto de emoções, de revelações, de contradições e perigosas ambiguidades. Poligamia e monogamia, que significado assumem? Cultura, institucionalização, hipocrisia, comodismo, convenção ou a condição natural de se ser humano, no quadro da inteligência e dos afectos? Paulina Chiziane estende-nos o fio de Ariadne e guia-nos com o desassombro, a perícia e a verdade de quem conhece o direito e o avesso da aventura de viver a vida. Niketche, dança de amor e erotismo, é um espelho em que nos vemos e revemos, mas no qual, seguramente, só alguns de nós admitirão reflectir-se."--Page 4 of cover
O alegre canto da perdiz : romance
by
Paulina Chiziane
( Book )
18 editions published between
2008
and 2018 in 4 languages and held by 72 WorldCat member libraries worldwide
Delfina é uma mulher bonita, "uma negra daquelas que os brancos gostam". A história de vida desta Delfina, "dos contrates, dos conflitos, das confusões e contradições", é a história da mulher africana, a história da apocalíptica perda do sonho. Esta mulher debate-se entre "escolher o caminho do sofrimento", o amor que sente por José dos Montes, e "eliminar a sua raça para ganhar a liberdade", procurando o homem branco que lhe dará o alimento e o conforto que deseja. Mas o que é o amor para a mulher negra? Na terra onde as mulheres se casam por encomenda na adolescência? O problema arrasta-se ao longo do livro, aparentemente sem solução: "viver em dois mundos é o mesmo que viver em dois corpos, não se pode. Tu és negra, jamais serás branca". Mesmo assim a mulher negra "procura um filho mulato, para aliviar o negro da sua pele como quem alivia as roupas de luto". O sufoco das palavras outrora silenciadas, a valentia e a frontalidade gritam alto nos romances de Paulina Chiziane. Neste diálogo consigo própria, a conhecida escritora moçambicana, mistura imaginação, fantástico, misticismo, num retrato poderoso e peculiar da sociedade e da mulher africanas
Caderno de memórias coloniais
by
Isabela Figueiredo
( Book )
8 editions published between
2009
and 2018 in
Portuguese
and held by 39 WorldCat member libraries worldwide
"Isabela Figueiredo's literary memoir Notebook of Colonial Memories was originally published in Portugal in 2009 as Caderno de Memórias Coloniais. It traces the author's growing up in the 1960s and 70s in Mozambique, which was then still a Portuguese colony, and her "return" at the age of thirteen to Portugal (a country she had never seen) following Mozambique's independence. It offers an uncommonly candid and unsparing perspective on the realities of late Portuguese colonialism in Africa and on the political climate surrounding the "repatriation" to Portugal of hundreds of thousands of former colonial settlers, mainly from Angola and Mozambique. The critical introduction by Anna Klobucka and Phillip Rothwell describes these historical circumstances and contextualizes Figueiredo's text for the English-language reader, as well as commenting on the writer's complex exercise of remembrance, reconstruction and fictionalization of her experience in both Mozambique and Portugal. Keywords: Portuguese colonialism, Mozambique, decolonization, postcolonialism, memoir"
Le parlement conjugal : une histoire de polygamie
by
Paulina Chiziane
( Book )
6 editions published between
2006
and 2007 in
French
and held by 28 WorldCat member libraries worldwide
Rami est mariée depuis vingt ans à Tony, un haut fonctionnaire de la police de Maputo, avec lequel elle a eu plusieurs enfants. Se sentant négligée, elle soupçonne son époux de lui être infidèle. Mais, après quelques investigations, elle découvre que son mari entretient quatre autres foyers. Rami, en sa qualité de première épouse, se charge d'instituer un tribunal familial ... Premier roman
As andorinhas
by
Paulina Chiziane
( Book )
7 editions published between
2008
and 2016 in
Portuguese
and held by 20 WorldCat member libraries worldwide
A escritora Chope, filha de um alfaiate e de uma dona de casa, usa a contação de histórias para partilhar o percurso de três personalidades, desafiando os leitores com um debate sobre o passado e o presente de Moçambique
Na mão de Deus
by
Paulina Chiziane
( Book )
3 editions published between
2012
and 2016 in
Portuguese
and held by 16 WorldCat member libraries worldwide
""Na mão de Deus", evoca a experiência da autora durante um internamento numa psiquiatria. Através do relato da personagem Alice, a autora descreve o que lhe aconteceu durante a semana em que esteve internada numa ala psiquiátrica, em 2010, evocando todo o drama que diz ter vivido, desde as perturbações físicas e psíquicas, a "visões e vozes de entidades espirituais que se manifestavam de diferentes formas". O facto, segundo a própria escritora descreve numa entrevista que recentemente concedeu à agência Lusa, despertou-lhe para a mediunidade. "Não existe margem nenhuma entre a Alice e a Paulina Chiziane porque fui eu que fiquei doente, tive um transtorno mental, baixei na psiquiatria uma semana", disse a escritora à Lusa. A família, que a acompanhou no tratamento da doença, diz, nunca percebeu que se tratava do "despertar da mediunidade", fenómeno que é descrito à Lusa como "a capacidade de se estar num meio entre os planos físicos e extra físico", pela co-autora da obra, Maria do Carmo da Silva, uma médium e estudante de espiritismo."
more
fewer
Audience Level
0

1
Kids
General
Special
Audience level: 0.46 (from 0.00 for Il settimo ... to 0.99 for Home, or t ...)
Related Identities
Associated Subjects
Africa
African diaspora
Angola
Black race
Blacks--Race identity
Chiziane, Paulina,
Christianity
Civilization--Foreign influences
Colonization--Religious aspects
Dissertations, Academic
Ethnicity in literature
Exoticism in literature
Figueiredo, Isabela,
Gender identity in literature
Healing--Biblical teaching
Human beings--Origin
Interracial marriage
Jorge, Lídia
Lispector, Clarice
Literature and society
Magaia, Lina
Man-woman relationships
Mate selection
Mediums
Momplé, Lilia,
Mozambican fiction (Portuguese)
Mozambican literature (Portuguese)
Mozambique
Mozambique--Maputo
Mozambique--Zambézia
Oppression (Psychology)
Paixão segundo G.H (Lispector, Clarice)
Peace
Polygamy
Portugal
Portuguese colonies
Portuguese fiction
Portuguese literature
Postcolonialism
Postcolonialism in literature
Race in literature
Religion and culture
Social conditions
Sousa, Noémia de,
Spiritualism
United States
Women and peace
Women in literature
Women pacifists
Women--Social conditions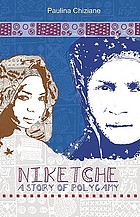 Covers Alternative Names
Chiziane Paulina

Paulina Chiziane écrivaine mozambicaine

Paulina Chiziane escriptora moçambiquesa

Paulina Chiziane escritora mozambicana

Paulina Chiziane escritora mozambiqueña

Paulina Chiziane idazle mozambiketarra

Paulina Chiziane mosambikanische Schriftstellerin

Paulina Chiziane mosambikisk forfatter

Paulina Chiziane Mozambican writer

Paulina Chiziane pisarka mozambijska

Paulina Chiziane schrijfster uit Mozambique

Paulina Chiziane scríbhneoir Mósaimbíceach

Paulina Chiziane scriitoare mozambicană

Paulina Chiziane scrittrice mozambicana

Шизиане, Паулина

Шизиане, Паулина мозамбикская писательница

Languages