Random House Mondadori
Most widely held works by Random House Mondadori
Bahía de los misterios
by
Roberto Ampuero
( Book )
1 edition published in
2013
in
Spanish
and held by 57 WorldCat member libraries worldwide
Joe Pembroke, professor of Voltaire College Chicago and a specialist in pre-Columbian culture, was killed in the port of Valparaiso in a creepy way: his head was found in the busy Emerald Street while his body was thrown off a cliff with an engraved scythe burned into his chest. In connection with the killing a number of possibilities ranging from revenge to a drug too dangerous secret affair investigate more open. Cayetano Brulé, Cuban detective settled in Chile, takes the case despite its many difficulties, and embarks on a new adventure that will take you around the world in search of clues dating back centuries and involve the foundations of civilization current. Bay mysteries lead us in new and unexpected ways of police narrative. An exciting and exquisite novel that literally grabs the reader
The house
by
Danielle Steel
( Book )
1 edition published in
2009
in
Spanish
and held by 35 WorldCat member libraries worldwide
A workaholic attorney, Sarah Anderson finds her life transformed by an inheritance from an elderly client and by a magnificent mansion, built in the 1920s by a wealthy Frenchman, a legacy that leads Sarah to architect Jeff Parker
Vacíos de poder en México : cómo combatir la delincuencia organizada
by
Edgardo Buscaglia
( Book )
1 edition published in
2013
in
Spanish
and held by 22 WorldCat member libraries worldwide
In this context, Buscaglia emphasized that organized crime is a social economic phenomenon and not a military phenomenon that can be eradicated by repression, making it clear that the problems that have threatened the Mexican-accented State since the presidency of Felipe Calderon need addressing beyond a police or judicial perspective. To combat organized crime a new institutional architecture of state capabilities require preventive controls that have the support of its citizens. To that extent, the author warns, political agreements without social consensus basis, as the "mirage of Mexico Pact" never compensate for the absence of controls. To strengthen human security and lead to a state of economic and social development, we must move from mere speech to effective implementation. How? In this work several answers to such questions are not be postponed
El arte de hacer dinero : una nueva perspectiva para desarrollar su inteligencia financiera
by
Mario Borghino
( Recording )
1 edition published in
2009
in
Spanish
and held by 21 WorldCat member libraries worldwide
La riqueza que usted obtenga en su vida no será producto del salario que recibe mes con mes, sino de la capacidad que muestre para administrar su dinero inteligentemente. Si usted es víctima del consumo y vive agobiado por las deudas y al paso de los años no ha podido acumular el capital que necesita para vivir con independencia económica, en este Mbook3 encontrará extraordinarios consejos que le permitirán reflexionar y tomar decisiones de inmediato. "El arte de hacer dinero" ofrece una perspectiva basada en los principios que guían la mente de las personas que han pensado como millonarios. Esos principios son universales y no importa cuál sea su situación actual, lo relevante es incorporar hábitos correctos para darse a sí mismo una vida con libertad financiera
Alicia en el país de las maravillas
by
Lewis Carroll
( Recording )
1 edition published in
2009
in
Spanish
and held by 18 WorldCat member libraries worldwide
El cuento de Alicia en el país de las maravillas, está lleno de alusiones satíricas a los amigos de Dodgson, la educación inglesa y temas políticos de la época. El país de las maravillas que se describe en la historia es fundamentalmente creado a través de juegos con la lógica, de una forma tan especial, que la obra ha llegado a tener popularidad en los más variados ambientes, desde niños sin dejar de cautivar a los adultos
Estuve en el fin del mundo
by
Eduardo Robles Boza
( Recording )
1 edition published in
2009
in
Spanish
and held by 16 WorldCat member libraries worldwide
Ésta es una novela destinada a cambiar la vida de los jóvenes que la lean. Lo que se narra en sus páginas es el testimonio crudo y totalmente real, de un grupo representativo de la juventud de este fin de siglo. Ocurre todos los días, en muchas partes de México y América Latina. Quienes son padres, y en general los adultos, también pueden sacar provecho de su lectura, ya que más allá de dogmatismos y prejuicios seudomoralizantes, los hechos que aquí se narran ayudarán a la comprensión del comportamiento juvenil. No se trata de juzgar a los hijos sino de entender por qué actúan como lo hacen. Eduardo Robles, tío patota, conoció a los protagonistas cuando aún eran niños y les escribía y contaba cuentos infantiles. Ya adolescentes, ellos le confiaron su historia ... y aquí está; en el lenguaje coloquial que lo caracteriza lo narra tal cual. Está escrita para ellos, fundamentalmente. Con sus propias palabras, santiago, el personaje principal de 19 años, cuenta su drama no exento de reflexiones y en el que la ternura, el amor y los valores que lo sustentan, se mezclan con la lujuria, el vicio, el desamor y la confusión que hacen mella en él y lo orillan ... al fin del mundo. "Al igual que los árboles y las estrellas -dice el autor-, tú también eres una criatura del universo y tienes derecho a estar en él, porque al iniciarse un nuevo siglo sé muy bien que ellos aspiran a vivir en paz."
Doctor Sleep : a novel
by
Stephen King
( Book )
1 edition published in
2013
in
Spanish
and held by 16 WorldCat member libraries worldwide
"Stephen King returns to the characters and territory of one of his most popular novels ever, The Shining, in this instantly riveting novel about the now middle-aged Dan Torrance (the boy protagonist of The Shining) and the very special twelve-year-old girl he must save from a tribe of murderous paranormals. On highways across America, a tribe of people called The True Knot travel in search of sustenance. They look harmless-- mostly old, lots of polyester, and married to their RVs. But as Dan Torrance knows, and spunky twelve-year-old Abra Stone learns, The True Knot are quasi-immortal, living off the 'steam' that children with the 'shining' produce when they are slowly tortured to death. Haunted by the inhabitants of the Overlook Hotel where he spent one horrific childhood year, Dan has been drifting for decades, desperate to shed his father's legacy of despair, alcoholism, and violence. Finally, he settles in a New Hampshire town, an AA community that sustains him, and a job at a nursing home where his remnant 'shining' power provides the crucial final comfort to the dying. Aided by a prescient cat, he becomes 'Doctor Sleep.' Then Dan meets the evanescent Abra Stone, and it is her spectacular gift, the brightest shining ever seen, that reignites Dan's own demons and summons him to a battle for Abra's soul and survival" -- from publisher's web site
Tonight I said goodbye
by
Michael Koryta
( Book )
2 editions published in
2010
in
Spanish
and held by 14 WorldCat member libraries worldwide
Un cadáver que se niega a enfriarse; un detective cínico, pero sentimental; una hermosa mujer con problemas que trae problemas; mafiosos rusos violentos pero con modales; agentes de policía que infunden poca o ninguna confianza y un triste y solitario desenlace final
Cuentos
by
Horacio Quiroga
( Recording )
1 edition published in
2009
in
Spanish
and held by 13 WorldCat member libraries worldwide
En cuentos de la selva, Horacio Quiroga exalta la vida en armonía, la soledad y el trabajo creativo. La ficción de los animales personificados en estos cuentos se presenta en la descripción realista del paisaje de la selva misionera y el bosque chaqueño, con sus peligros, acechanzas y una exuberante vegetación tropical. En este audio-libro de cuentos forman parte de los textos que escribió León Tolstoi con el interés de transmitir sus ideas; también incluye cuentos clásicos de la autoría de Jacob Grimm, Charles Perrault y Hans Christian Andersen
La tumba ; Ciudades desiertas : contemporánea
by
José Agustín
( Recording )
1 edition published in
2009
in
Spanish
and held by 13 WorldCat member libraries worldwide
La Tumba relata varios días de la vida de un muchacho sumido en las encrucijadas de la vida: qué puede satisfacer su vida?, ¿el amor o el sexo?, ¿el arte?, qué hacer para ser uno mismo?, preguntas todas ellas que ninguna generación puede eludir y que siempre siguen sin responder. En Ciudades desiertas, ambientada en el fantasmal pero no menos atractivo Estados Unidos, los protagonistas se encuentran para perderse y, más allá de la visión satírica de la sociedad estadounidense, respuesta a los tantos y tantos análisis superficiales sobre México escritos por intelectuales anglosajones, encontramos una reflexión sobre el hecho amoroso, la renuncia y la aceptación
more
fewer
Audience Level
0

1
Kids
General
Special
Audience level: 0.36 (from 0.10 for The house ... to 0.68 for 1492 : el ...)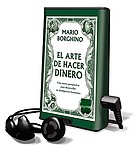 Covers
Alternative Names
Penguin Random House Grupo Editorial
Random House casa editrice statunitense

Random House editorial

Random House englischsprachiger Publikumsverlag

Random House könyvkiadó

Random House Mondadori

Random House Mondadori/Debate.

Random House uitgeverij

Рандъм Хаус

רנדום האוס

راندوم هاوس

랜덤하우스

ランダムハウス

兰登书屋

藍燈書屋

Languages